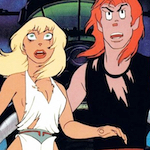 Somehow HEAVY METAL was not Canada's only rock-soundtrack-animated-fantasy-feature of the early '80s. ROCK & RULE (1983) combines the sci-fi/fantasy genre with a story about rock music, as the main characters are a band and the villain is (at least according to the opening text on the American version) a "legendary superocker." The opening credits list all the bands on the soundtrack before the cast.
This was the first feature film from Toronto-based animation studio Nelvana Limited, who actually turned down an offer to animate HEAVY METAL because they'd been developing this since the late '70s. Previously they'd done TV specials like A Cosmic Christmas and The Devil and Daniel Mouse, but I know them for their weird, rubber animation on the Star Wars Holiday Special, which led to them doing the Ewoks and Droids cartoons.
ROCK & RULE takes place in a post-apocalyptic future where (again, according to the text in the American version, unexplained in the original) "The War was over" leaving only dogs, cats and rats alive, and "a long time ago" those evolved into "a new race of mutants." In other words, it's a "funny animal" cartoon, where humanoid animals rule the earth and either humans don't exist or maybe they're being milked on a dairy farm or something off camera.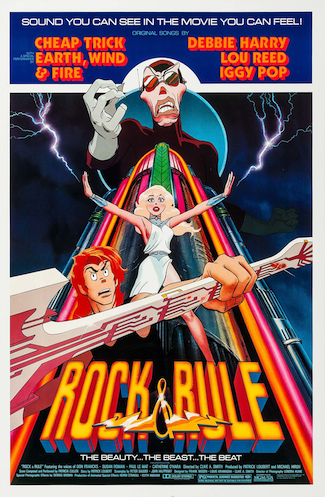 The aforementioned superocker Mok (Don Francks, also in HEAVY METAL) – who gets to have both Lou Reed and Iggy Pop as his singing voice – has retired from music to spend more time with his computers "deciphering an ancient code which would unlock a doorway between this world and another dimension." He's practically given up looking for "a very special voice" with the exact right frequency to "bring [him] a powerful being from another die-mension" when he goes to talent night at Club Lars and sees Angel (Susan Roman, also also in HEAVY METAL), who has Debbie Harry as her singing voice, so he invites her to his mansion.
Angel's sort of the Lauryn-Hill-in-the-Fugees of a band with her boyfriend/lead singer/guitarist/rat-person Omar, who was originally voiced by Greg Salata (GIRLS NITE OUT, TEENAGE MUTANT NINJA TURTLES II: THE SECRET OF THE OOZE), but he was redubbed with Paul Le Mat (AMERICAN GRAFFITI) in the American version. His singing voice is Robin Zander of Cheap Trick. He sits around acting jealous and making wise ass comments while Mok shows Angel around his mansion and tries to get her to sign a Faustian record contract. She turns him down since the rest of the band isn't included but then I guess he kidnaps her or something because they're at Carnegie Hall where she's supposed to do a comeback concert with him which is actually the demon ritual or whatever but we see on the news that a power surge blew up Carnegie Hall?
Before that I want to say a bunch of stuff happens, but it feels more like nothing happens. There's a weird disco scene set to "a special performance by Earth Wind & Fire" where the boys crawl around on the dance floor and funny stuff happens like there are nipples or a butt or a flasher. (This one is rated PG but occasionally seems to want in on that HEAVY METAL boner action.)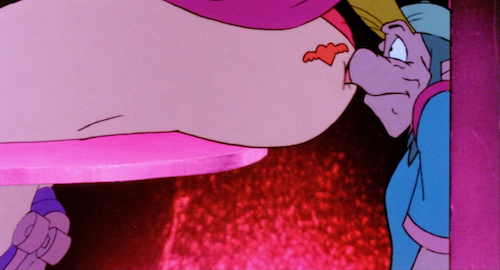 Catherine O'Hara (DICK TRACY) plays a character called "Aunt Edith" in one scene. She was still on SCTV at the time, but this was only her third movie, and the first of many voice acting roles.
If I had to choose a good scene for Mok, I would have to say it's about an hour in when he finally sings a song, "My Name is Mok" by Lou Reed, because he struts around kinda like Bowie and there's music video type imagery, so it seems to support that this super villain making evil speeches and stuff really did used to be a rock star, as they keep mentioning.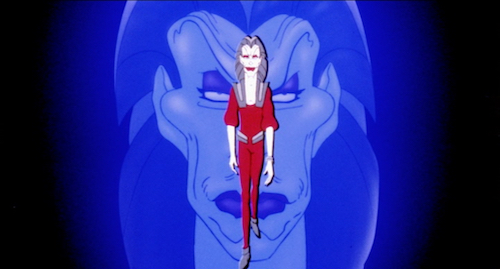 For the climax he has a giant concert at a power plant (no moment of silence for the lives lost at Carnegie Hall like a day ago) which involves Angel singing while bound up and Mok playing some kind of pipe organ thing that shoots lasers into a pentagram and summons the demon and then Angel and Omar sing her song and it sends the demon back. I guess, like Prince in PURPLE RAIN, Omar should've fuckin listened to the girl in the band whose song was obviously better than his. I read that in earlier drafts Mok turned Angel into a guitar and played her, which sounds more interesting, but not more interesting enough.
ROCK & RULE was directed by Nelvana co-founder Clive Smith, another YELLOW SUBMARINE animator (he also worked on the Beatles cartoon series). The screenplay is credited to Peter Sauder (Inspector Gadget, The Doodlebops) & John Halfpenny (one episode of Beetlejuice), story by Sauder & Patrick Loubert (125 ROOMS OF COMFORT), additional dialogue by Anna Bourque (Undercover Boss Canada), Greg Duffell (Intergalactic Thanksgiving), Larry Mollin (CHiPs, The New Gidget, WWE Smackdown), Deanne Stillman (Square Pegs) & David Young (Fraggle Rock, Mutant X). And look, animation – maybe even more than live action filmmaking – is a collaborative medium. Disney, Pixar and others have shown the value of teams of artists working together to pitch ideas and craft stories together. This seems like a different thing where you get that many people together to do their own parts of a vaguely defined half-premise that they either never finished fleshing out or completely lost track of.
In a retrospective interview in FPS Magazine, Smith said:
I don't think you could do a film like that again today, economically or just practically. We were terribly impractical. That's probably what was one of the great things about it. Today, you wouldn't embark on anything like this until you'd written a script and you'd spent five years bouncing the script around from one person to another and we're getting it rewritten over here and rewritten over there and thrown away and then reinvented.
Yeah, that would've been a shame if they'd had to write a good script!
I'm sorry to say that I had a really hard time getting through this movie. On a technical level it's obvious that a ton of work went into it. But the only nominal appeal of its story is "oh weird, some kind of futuristic rock thing," and its characters sure don't make up for that. I have no idea why this famous rock star Mok has turned into an evil scientist who wants to summon a demon for unknown reasons. Angel gets by on looks and a good theme song, but Omar is immediately unlikable and not in an interesting way. All we know about these lead characters is that they "want everything," meaning fame, and they hump in a car at the beginning, but otherwise have no signs of chemistry. So I'm really not invested in the drama, but the comedy parts are worse – stuff like Mok's henchmen "the rollerskating Sniffer brothers Toad, Sleazy and Zip," who are dumb and get mad and bonk each other and stuff. Do you get it?
American distributors MGM/UA were probly silly in thinking they needed to make up a logical explanation for why these Canadians would make a movie about humanoid rat musicians. But also I see where they were coming from. Instead of a fictional world that we get thrown into and have to explore, it seems like a fictional world where nothing makes any sense but everybody involved assumed it did. And I guess I should face that I am just prejudiced against this animal people conceit, whether they're mutants or just following in a long tradition of cartooning.
It's subjective, obviously, but personally I just can't stand looking at these fucking characters. A bunch of them just look like normal cartoon rats from a TV cartoon I wouldn't watch, but Omar straight up grosses me out. They try to make him look dreamy from the front…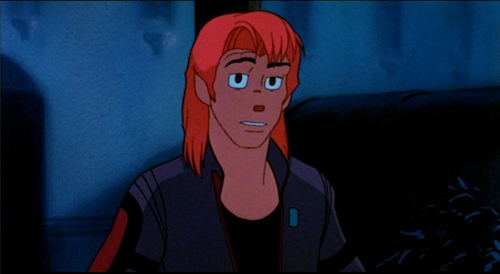 …but then he turns his head and he fucking looks like this: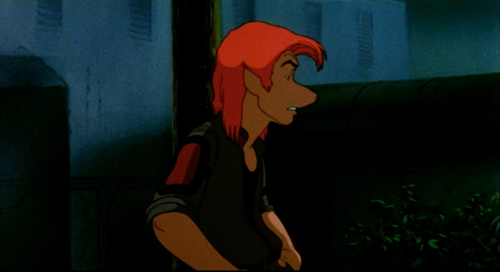 Who wants to look at that!? Okay, I know this animal-human-hybrid style of cartooning has become fetishized by a certain community, and I do not wish to pass judgment on them. But purely aesthetically I really, really do not enjoy looking at these lines that these people have drawn, and I believe drawing humans with snouts should be illegal. Keep in mind, the phrase "cartoon human with snout" does not appear anywhere in the Constitution.
Mok is a much more interesting design and intentionally gross, and I'm not sure what type of animal he's supposed to be. And Angel looks good. It helps that you hear Debbie Harry's songs coming out of her, but it's more important that they hide her pointy ears under her hair and just give her a little cat nose that can usually pass for a nose shadow. Also she plays keytar, and that's kinda hot I guess.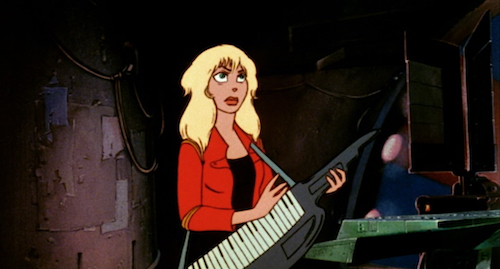 What can I say about this movie that's positive? The backgrounds are good, very detailed water color paintings, multi-plane photography adding dimension sometimes. The city is huge and futuristic and always spookily dark.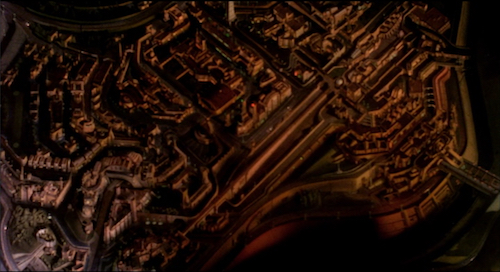 Mok has a car that looks like a precursor to the animated Batmobile. There's some good animation of machinery. The part where Omar is rocking out is well animated, I assume from live action reference. I like the shots of post-nuke New York with Patricia Cullen (THE CARE BEARS MOVIE)'s synth score. The animation of the monster at the end is cool.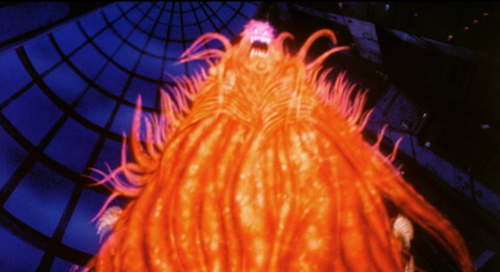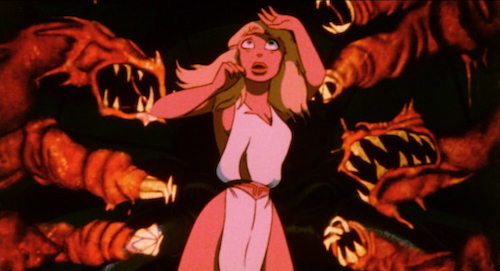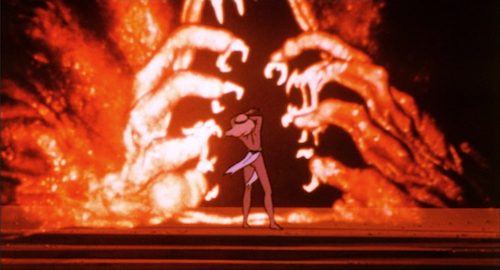 And Debbie Harry's song "Angel's Song" / "Send Love Through" is good. If they didn't play it so many times I don't know if I would've made it to the end. And man, somebody really fucked up because they never even released a soundtrack, they only had a promotional cassette for critics and then some of the songs were released by the individual artists in box sets and stuff years later. In 1989 Harry reworked "Angel's Song" into "Maybe for Sure."
(I actually prefer the movie version, so give them that at least.)
The aforementioned round table interview with 10 of the filmmakers is very informative about where they were coming from and makes me feel kinda bad about disliking the movie. They saw themselves as young rebels, mostly in their early twenties, dedicated to the studio more than home life. And animator Larry Jacobs says, "We were products of the '60s, and we were anti-establishment, and here was a chance for us to recreate an establishment type of medium. And ROCK & RULE, it was so cool, it was going to be an adult piece of animation that the public hadn't seen yet." Asked if Ralph Bakshi's films were an inspiration to them, he says "I think the stuff that we'd seen from Bakshi's up to that point was like, oh, we can do better than this. So it was an encouragement on that level."
(Agree to disagree!)
Though ROCK & RULE was a financial disaster for Nelvana, they managed to survive thanks to TV work including Strawberry Shortcake and the live action The Edison Twins, and then made the much more successful motion picture THE CARE BEARS MOVIE (1985). They did animated sequences for THE THREE AMIGOS and BURGLAR, and the cartoons of Beetlejuice and, most crucially, Free Willy.
(Sorry. Long ago I decided it was important to make as many people as possible aware that there was once a FREE WILLY cartoon with a cyborg villain.)
Another of their live action productions was T and T starring Mr. T, so they can hold their heads high. These days they do Hotel Transylvania: The Series and Bubble Guppies, I guess. I don't know if that means the establishment won, or what.
This entry was posted on Friday, March 5th, 2021 at 10:15 am and is filed under
Cartoons and Shit
,
Music
,
Reviews
. You can follow any responses to this entry through the
RSS 2.0
feed. You can skip to the end and leave a response. Pinging is currently not allowed.