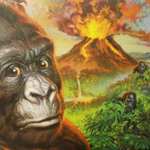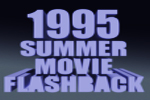 Here's a funny thing that was different back in 1995: Bruce Campbell was so worshipped as a cult star that the idea of him being in a blockbuster movie was thrilling to people. He had done the EVIL DEAD trilogy and the MANIAC COP pictures and did a couple seasons of The Adventures of Brisco County Jr. but that didn't really catch on in the mainstream. And he seemed like their secret but somehow they wanted everybody to know. He made it to the semi-big-ish time with little cameos in DARKMAN and THE HUDSUCKER PROXY, but people still wanted him to star in some big movie and be the next, I don't know, Kurt Russell or somebody.
And then he was in the trailer for this new Michael Crichton movie CONGO. Had the misguided dreams of horror nerds come true at last? Would they be able to finally share their hero not just with the Johnny-come-latelies who saw ARMY OF DARKNESS before the other ones, but with the whole world?
Well, the fact that the camera zoomed in on his screaming face during the trailer seemed to indicate that he wasn't gonna make it to the end. Still, word of disappointment spread fast when people saw the movie and discovered that he bites it in the opening scene. The whole movie is about a rescue mission to come find him, even though we got a pretty idea they're gonna be rescuing a dead body. (They do manage to find John Hawkes still alive, but catatonic, and then he freaks out and dies.) Anyway, I mention this movie to people 20 years later, that's still the first thing that comes up. The wound has not healed.
For others the disappointment probly came from comparisons to JURASSIC PARK. After that one Crichton's name could get anything off the ground: a movie about tornadoes, a show about emergency rooms, maybe something about some eaters of the dead, or Demi Moore sexually harassing a dude. Of all of them this one was the most JURASSIC-esque, being another summer adventure movie with scientist heroes and jungles and deadly creatures. Crichton's concepts and characters were a big part of the appeal of JURASSIC PARK. A bigger part was the dinosaurs, so it was hard for this movie with a brief gorilla attack climax to withstand the comparison. Also, director Frank Marshall (ARACHNOPHOBIA) may be Spielberg's producer, but not his equal as a director. Even if he was second unit director for the first three Indiana Jones movies.
But I never saw CONGO back then and watching it now I thought it was okay at least.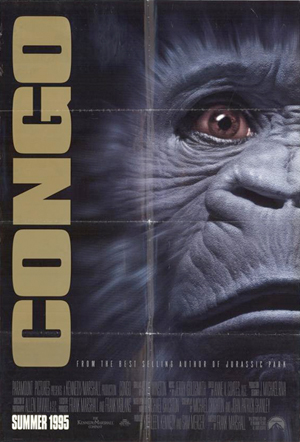 Laura Linney (ABSOLUTE POWER), in her first starring role, plays Dr. Karen Ross, an employee of the Travicom corporation who goes to Africa to look for Bruce Campbell after his group loses satellite contact in an apparent gorilla attack. They were looking for special diamonds for a new laser technology and, unbeknownst to the bosses back home, had discovered them in a lost city that looks like the outside of the Indiana Jones ride at Disneyland. Dr. Ross had once been engaged to Campbell, and probly considers WAXWORK II: LOST IN TIME underrated, so she accepts the mission despite reservations about the motives of her asshole boss R.B. Travis (WALKING TALL's Joe Don Baker).
To get into Zaire she sort of goes undercover, buying her way into an unrelated expedition where doctor Peter Elliot (Dylan Walsh, BLOOD WORK) is bringing his sign language-speaking gorilla Amy home to her natural habitat, as funded by the weaselly Georgian explorer Herkermer Homolka (Tim Curry, LEGEND, THE SHADOW) who doesn't tell them he's dedicated his life to finding the lost city of Zinj and believes Amy knows its location. Also, Grant Heslov (TRUE LIES) is Dr. Elliot's scaredy-cat assistant Richard and Ernie Hudson (THE SUBSTITUTE, BEST OF THE BEST 4) is their African guide Captain Munro Kelly. I was gonna say you know Richard is a weiner because he doesn't get a last name, let alone a title, but Captain Kelly has a deputy just named Kahega and that's Adewale Akinnuoye-Agbaje from BULLET TO THE HEAD, and who's gonna play the crocodile man in SUICIDE SQUAD. A big guy.
Anyway, I like Captain Kelly. His method of not worrying the white people by telling them what's going on (we're sneaking through customs, we're getting chased by soldiers, we're gonna jump out of this plane and let it crash) make him seem untrustworthy at first, but are actually a sign that he knows what he's doing. It's a good character for Hudson, whose commanding voice helps him get away with a pretty minimalistic African accent. (Or maybe not – Wikipedia says he's "a British man of African descent.")
Dr. Ross has an interesting trajectory. At first it just seems like she's a very capable corporate employee, and little things like smacking a soldier that tries to touch her come across like things that are supposed to show how spunky she is or whatever. But then, while being detained/questioned/extorted by the menacing militia leader Captain Wanta (uncredited and excellent as always Delroy Lindo [BROKEN ARROW] in a red beret), he mentions that her file says she used to be in the CIA. Then, when soldiers fire heatseekers at their plane for crossing the border, she knows exactly how to get rid of them, and she does it. It turns out she quit the CIA because she thought they were a bunch of crooks. So she must be frustrated working for Travicom now.
The best and most memorable part of the movie is actually Amy, who is played by people-who-are-good-at-playing-animals Misty Rosas (INSTINCT, THE COUNTRY BEARS) and Lola Noh (PRIMAL FORCE) in suits by Stan Winston Studios. I don't think many people appreciated this, but in that last decade before everything went digital there were a bunch of movies with really sophisticated ape suits in them: BUDDY, the MIGHTY JOE YOUNG remake, even the terrible Tim Burton version of PLANET OF THE APES had some impressive ones, and these are really good here. I'm sure they have to switch out animatronic faces to get different expressions so it's impressive how much they pull off. I mean I love what they did in RISE OF/DAWN OF THE PLANET OF THE APES with the performance capture, and these can't express as much but they do seem more like you're looking at real apes I think. And I guess if everything's gonna be perf-cap now then they represent the very height of their art.
Still, I think two years after JURASSIC PARK this movie seemed a little too old fashioned, not having any big show-offy digital parts. That might've been part of why it didn't catch on.
Anyway you know how there are apes that have been taught sign language? Amy sometimes wears a virtual reality glove which translates her sign language into a computerized voice. So she's a talking gorilla! On one hand this seems plausible enough that I wondered why they haven't really done it. On the other hand, Dr. Elliot knows sign language so what good does it really do to have her talk to him like that? And they don't have her wear it all the time so I guess that's kind of an admission that it's not that important of an invention.
She also takes it off in frustration when the gorillas in the wild don't respond to her. I think she senses that it makes her not fit in. Yeah, she's the most interesting character. She should've been the only survivor and then fly back herself and testify to Congress using her talking machine.
Anyway, the good news is there is a little part where they're shooting lasers at angry gorillas. You don't see that every day.
Post-script:
CONGO was a decent hit at the box office. It came in 16th for the year, but that puts it above movies we remember as successful such as BRAVEHEART, BABE, GET SHORTY, UNDER SIEGE 2: DARK TERRITORY, HEAT and CASINO, and movies that got sequels, like MORTAL KOMBAT, BAD BOYS, SPECIES and FRIDAY. But it got mostly bad reviews, and those shitbags at the Razzies nominated it for seven of their pretend-funny awards. Obviously they don't watch movies so they don't know that they were blowing it out of proportion but by coincidence they were kinda right because obviously this has not lived on in the public consciousness, even though there was a computer game, a pinball machine and a line of action figures.
Despite that, writer John Patrick Shanley later finally got up the guts to follow up his directorial debut JOE VS. THE VOLCANO with DOUBT, which got him his second Oscar nomination for writing (the first was for MOONSTRUCK, and he won).
Linney soon became one of Hollywood's most respected actresses, I'd say starting around THE TRUMAN SHOW in 1998. Walsh played the remake STEPFATHER. Hudson still works constantly, but this was probly his last big role in a big movie. Heslov became the writing/producing partner of George Clooney, has been nominated for 2 screenwriting Oscars and won best picture as a producer of ARGO, but more importantly was in THE SCORPION KING.
Crichton's books Sphere, Eaters of the Dead and Timeline were made into movies after this, none of them successful, though I think we agree around here that THE 13TH WARRIOR is pretty decent. His creations JURASSIC PARK and WESTWORLD live on in various sequels and TV remakes. At the time of Crichton's death in 2008, JURASSIC WORLD star Chris Pratt was known for being on Everwood and director Colin Trevorrow had only done a couple of shorts and a TV pilot.
Marshall has only directed one feature film since, the pretty good (and also animal-themed) EIGHT BELOW starring Paul Walker and a bunch of dogs. And he did some TV and a, uh, ad for some Nikes based on BACK TO THE FUTURE 2.