VICE SQUAD is a gritty 1982 movie about some L.A. cops trying to catch a murderous pimp. He's a redneck pimp named Ramrod, played by the Busey-esque Wings Hauser, who I last saw as the evil sorcerer in BEASTMASTER 2. Hauser also sings a crazy song called "Neon Slime" that's played over the opening credits and is so interesting it does an encore during the end credits so you can re-examine it. It takes two listens to really get it, I think.
Ramrod drives a Bronco, dresses kinda like Cowboy Curtis and has a gigantic photo of Elvis in his apartment. This guy is a real psycho, he gets rough with women in general and beats his hoes especially. One of them he beats so bad she dies, but he doesn't realize it at the time. The Vice Squad, led by Detective Tom Walsh (Gary Swanson), guilt a hooker friend of the deceased named Princess (Season Hubley) into wearing a wire and helping them bust Ramrod. She's hesitant but she does it, and it works.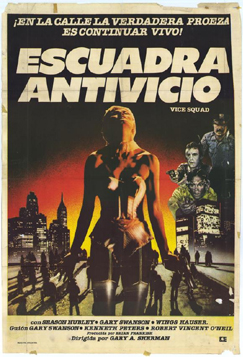 But while they arrest him, when she should be playing dumb like she's getting arrested too, she gets in Ramrod's face and reveals what she was doing and that he's wanted for murder. (all reviews required by trivia law to point out that she says "Make my day!" and this came out before SUDDEN IMPACT.) Wouldn't be a big deal, except the guy ends up escaping from the patrol car on the way to the station.
By that time Princess is out on the streets again, and cell phones haven't been invented yet, so the Vice Squad have to track down Ramrod and/or Princess before he finds her first.
Andrew Wright, my favorite critic at the Seattle alternative weekly 'The Stranger,' recommended this one to me. He also recommended the Cannon/Michael Dudikoff movie AVENGING FORCE a couple years ago, so I thought this was gonna be another goofy, funny kind of thing, especially since he mentioned the name of the theme song. So I was pleasantly surprised what a gritty and well-made movie it turned out to be.
I didn't know who director Gary Sherman was, but it turns out I've seen his Dan O'Bannon scripted DEAD AND BURIED (don't remember it too well) and I've heard good things about END OF THE LINE (RAW MEAT here in the States). Also I've seen the TV movie MYSTERIOUS TWO which was about the Heaven's Gate cult and made years before they hung up their Nikes. Anyway VICE SQUAD suggests it might be worth checking out his other stuff. Somehow he got Stanley Kubrick's cinematographist John Alcott, and the camera floats around very confidently, the way I like it. This is the same guy who shot 2001 and now he's on the streets shooting hookers. But he does it like the guy who shot 2001 would do it.
I don't know what it was about those first couple years of the '80s, somehow they were just the best time to capture a creepily sleazy vibe on film. MANIAC, EYES OF A STRANGER, THE HOWLING… maybe this isn't quite as dark as those, but in my opinion it's the most true to life prostitution movie of 1982 (besting NIGHT SHIFT and BEST LITTLE WHOREHOUSE IN TEXAS).
I like the OUT FOR JUSTICE type setup – it's basically this neighborhood, a short amount of time, the asshole is out there somewhere and they gotta get him before he hurts somebody else. And he knows his number is up so he's fearless.
Okay, so Ramrod isn't exactly the most realistic pimp I've seen in a movie, but at least he's not glamourized at all, and I haven't seen too many other movies that show what pimps do with coathangers. These streets are crawling with colorful characters (neon slime?) and you never know what's gonna happen. Princess has alot of weird johns, most of them seem pretty nice to her, but she still feels degraded by each one. The one that pisses her off the most is the weirdest, a rich guy who has her dress up as a bride and… well, it gets stranger. In fact, I'm positive that if The Beast Master went Through The Portal of Time into this neighborhood with his loincloth, sword, tiger, hawk and ferrets then Princess would take his money and not bat an eye.
The guys Ramrod goes around torturing for information aren't exactly standard issue either. For example the bald guy with the wraparound eagle-eating-a-snake tattoo covering the entire top of his head with a claw down his cheek and the snake dangling down his neck and chest all the way down to his studded leather S&M nipple holster. I think he's the inspiration for Joel Schumacher's 8MM. And the bitch who works the front desk at a hotel has this old Asian boyfriend who I swear could be Mr. Miyagi's brother. He even does old man karate on the cops.
One of my favorite parts is when Ramrod goes to this guy Roscoe's garage to get his cuffs sawed off. Roscoe (Stack Pierce, WEEKEND AT BERNIE'S 2) is willing to help but clearly despises this motherfucker. When stupid Ramrod is a dick to him and refers to his "black ass" Roscoe immediately lifts the saw up to his neck and lets him know what else he could do with that tool.
The cast full of not-at-all-familiar-faces helps too. When Fred Berry (as "Sugar Pimp") and Wings Hauser are the biggest names in your cast you know you don't gotta worry about overexposure. I guess Hubley played Priscilla in ELVIS and shows up somewhere in ESCAPE FROM NEW YORK, but I didn't recognize her. She actually reminds me most of another John Carpenter collaborator, Jamie Lee Curtis. She kind of resembles her physically and has a similar balance of strength and vulnerability.
I like all the people on the Squad, too. There's a couple of fuckup guys trying their best but always getting yelled at, a guy with Stevie Wonder Hotter Than July era beaded braids who's excited to try out the Jamaican accent he's been working on, and a short-haired black lady who wears kind of a bowler hat. She's cool enough to hang out with Cleopatra Jones every now and then.
It's a good, atmospheric thriller with plenty of action – car crashes, shootouts, chases, fights, but all pretty down to earth and brutal. It's not motorcycles going off jumps (not that I'm against that, obviously). If you're not sold yet then I have no choice but to bring out the big guns: actual footage. This trailer gives you a good feel for the type of crazy Los Angelistics you're in for here.
Enjoy!