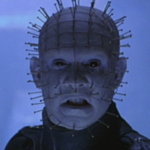 HELLRAISER: HELLSEEKER director Rick Bota and writer Tim Day return for HELLRAISER: DEADER, rewriting from a completely unrelated script by Neal Marshall Stevens (THE CREEPS, CURSE OF THE PUPPETMASTER, THIR13EN GHOSTS). This is of course part 7 of 9 in the HELLRAISER nonology, part 3 of the DTV section and part 2 of the Bota Trilogy. It's another one that follows the template of HELLRAISER: INFERNO more than the good HELLRAISER movies, doing another reality-bending is-this-real-oh-no-this-isn't-real-am-I-alive-or-dead-wait-a-minute-Pinhead-is-here storyline.
It opens in a decrepit drug den piled high with passed out dopers and crack smokers and what not. One of them wakes up and starts taking photos, which is weird. I believe flash photography is prohibited in most havens of iniquity, or at least considered rude. But these guys seem pretty chill so nobody stops her and somebody even offers her some crack. She smiles and says she got what she needs, holding out a tape recorder.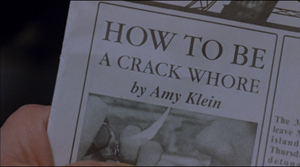 You see, she is Amy Klein (Kari Wuhrer, THE ADVENTURES OF FORD FAIRLANE, BEASTMASTER 2, ANACONDA), edgy American literary journalist and chronicler of the lurid English underbelly. She returns victoriously to the offices of The London Underground newspaper, apparently excited about a long day of transcribing whatever junkie gibberish is on those tapes. Fun! She's late for a meeting and she probly smells like tar and ass, but everybody's congratulating her on the publication of her most recent opus, "How To Be a Crack Whore."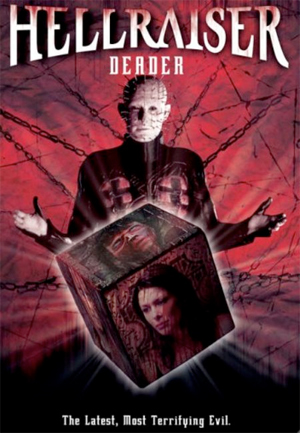 Amy's boss and old friend Charles (Simon Kunz, MATCH POINT) calls her in to show her a video, which seems to be a snuff film where a cult-like subculture called "Deaders" watch a woman get shot in the head. But then a weirdo Kyle McLachlan lookalike we later learn is named Winter (Paul Rhys, VINCENT & THEO) does some kind of magic CPR that seems to bring her back to life.
Amy is horrified but intrigued, and hops on a train to Bucharest to investigate. I would've been more skeptical, since the video has a bunch of edits in it. This is the argument I used to always have with people about FACES OF DEATH. But in this case I would've been wrong because it turns out to be real.
The trail leads pretty quickly to an address, where she bribes her way into an apartment containing a more artificial looking version of the type of squalor that Frank created in part 1 – dirty walls, rotting food, mattress on the floor. It should be noted, though, that this is a hugely spacious apartment. What the fuck man. You should see what I pay for a one bedroom, I should investigate these bad neighborhoods from horror movies, see if I can find a good deal somewhere.
Anyway, she finds the inhabitant dead on the toilet, strangled by a rubber tube attached to the wall, one rigor-mortissed hand clinging to a Lament Configuration. Amy is horrified but she's also a reporter, so she tries to squeeze past the body to grab a package on a table inside, and to steal the puzzle box.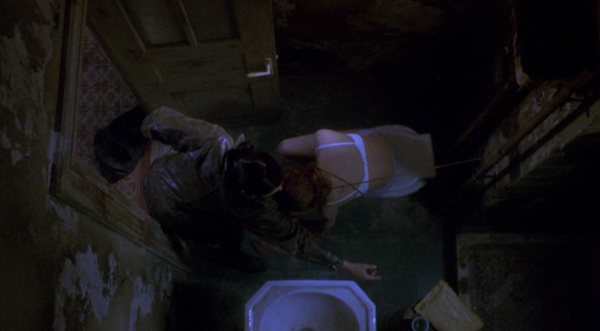 Shit. That's kinda poetic, you know? A dead body on the toilet clinging to the puzzle box. The perfect metaphor for Dimension Films's handling of this series.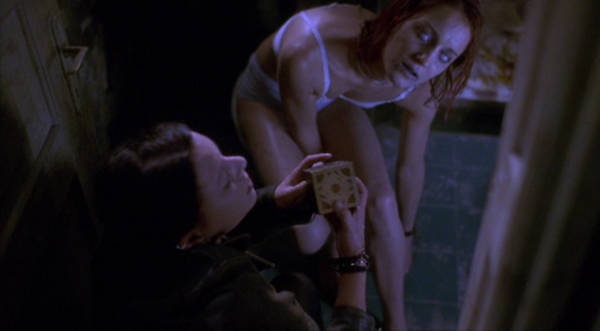 Amy also finds herself searching for a guy named Joey (Marc Warren, GREEN STREET HOOLIGANS), who she finds on some weird secret train that you get inside and it looks like the post-apocalypse, decorated with graffiti, mannequin parts and antique furniture and stuff. There are colored lights, mohawks, naked people walking around, topless women making out, people wearing goggles or covered in mud, getting tattoos or, uh, doing… some kind of performance art type business?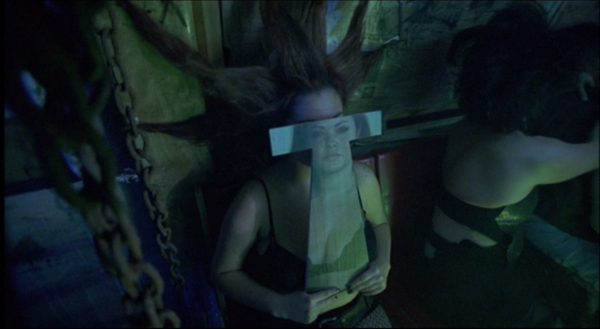 It's kind of a cool idea, this strange thing presented as reality, hidden in the tubes, only opening for the right people (but what if you were on your way to work and accidentally got on that train?) One mistake though was playing cheesy mellow electronical music for the whole scene. It kinda lessens the blow when it sounds like it's a softcore sex movie.
And of course eventually she runs into Pinhead (Doug Bradley), who explains that the "Deaders" are using her for a war against him, and because she has the box and opened it they need her, but she can only go through him, whatever that means. I like the idea of these people who are fighting the Cenobites instead of foolishly trying to get their jollies from them. I feel like there could and should be a way better execution of the idea, but still, I will give it credit. We also learn that Winter is related to puzzle-box-creator LeMarchand, but I didn't understand why it was relevant or if/how this fit into the timeline of BLOODLINE where that character was introduced and was destined to have a descendant who destroys Pinhead in space long after this bullshit here happens.
There are a few fever dream moments in this one that I appreciated. There's a scene where she's sneaking around looking for something and ends up crawling between two close-together brick walls that seem to get tighter and tighter until she can't turn around, and she doesn't see that there's a dude in a hoodie coming behind her with a big Michael Myers knife, who then starts slashing at her.
What the hell is she supposed to do? It doesn't matter, because she will wake up all the sudden and be okay. This is a common horror formula that I don't tend to like, making me luke warm on everything from most ghost movies to Lars von Trier's acclaimed ANTICHRIST. Weird shit, weird shit, weird shit, move on to the next scene with no apparent consequences. Weird shit, weird shit…
It's supposed to throw you off balance, which sometimes it does, but then you catch on and you realize none of the weird shit is gonna mean anything because then she's gonna wake up or otherwise find herself in a different place where she's safe until the next thing that will threaten her and then not turn out to be real (OR IS IT?)
But yes, at least some of the weird shit is up to snuff in this one. Another convincingly dreamlike part is when she finds blood on her hands, then notices a small piece of metal in her chest, then realizes it's the point of a knife that's stabbed all the way through her back. She has to turn around and wedge the handle into a cupboard to pull it out. Then she duct-tapes a towel to her back (and there really seems to be a big lump under her jacket after this) to continue her journey.
And then there's a scene where she's in a subway and she realizes she's leaving a trail of blood, and she worries about someone seeing it. Getting caught bleeding. She sees a cop or security guard type guy coming her way and she scrambles to hide the trail of blood under some newspapers. It's like trying to cover up a murder except she's the victim, not the perpetrator. I like that.
But then you got dumb scares like the part where she's in a mental hospital and a little girl patient offers to do a portrait of her. And it's really good. BUT IT LOOKS LIKE TWO FACE! OH NO!!!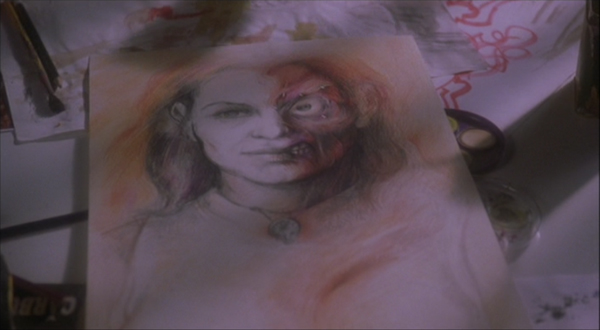 DEADER came at a period when horror movies had swung back to the brutal side, and the term "torture porn" was being thrown around by prudes. Movies that year included HOSTEL, SAW II, WOLF CREEK, THE DEVIL'S REJECTS. Remakes were also becoming popular, with AMITYVILLE HORROR, HOUSE OF WAX and THE FOG on the docket. Lots of ghost movies too, including HELLRAISER: INFERNO director Scott Derickson's hit THE EXORCISM OF EMILY ROSE (which came out a few months after this one). DEADER didn't really fit into any of these trends, nor did it blaze its own trail like that year's THE DESCENT.
One thing that made DEADER a little more tolerable than the last two is that it actually seemed like a pretty decent part for Wuhrer. A former model and MTV VJ, she's done alot of roles that are more about a sex scene or striptease than a personality. Here she's the main character, in virtually every scene of the movie, she does a full range of emotions and action, from crying to getting Hellraiser face-chained (not a spoiler because then it's a dream or something), but the most nudity she does is a little glimpse of underwear when she's changing clothes. She plays a tough girl in combat boots, cargo pants and a baggy leather jacket. I felt proud of her.
The good scenes are enough to make this probly the best of the DTV HELLRAISERs I've watched so far, but not enough to make it hold up against actual good movies, especially Barker's. Keep trying though, Bota.
By the way, DEADER is most notable for having the funniest HELLRAISER cover, the one where Pinhead does that beloved movie poster trope The Comical Shrug:

But, credit where credit's due, director Scott Derrickson had previously put Pinhead in that same hilarious pose during the climax of HELLRAISER: INFERNO: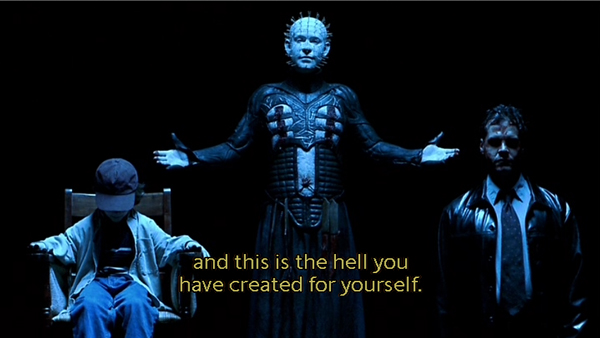 which in my opinion is 100% for sure why Derrickson got the job of directing MARVEL'S DOCTOR STRANGE and why Benedict Cumberbatch will be doing that pose in every other scene as well as on the movie poster and the action dolls and pajamas and stuff. As much as all Americans adore the Comical Shrug it is even a bigger draw for international audiences, who are the bread and butter of all Marvel and Hellraiser movies.
By the way have we really stopped to acknowledge that Pinhead has a bare midriff now? I don't think we have. He has some kind of bellybutton piercing. I don't know about that, you guys.
Biggest mystery of this one: it's produced by special effects genius Stan Winston, but it seems to have less creature effects than the other ones. He didn't come in and give them a new Engineer or anything. The only explanation of it was from Day, who rewrote the spec script DEADER to (allegedly) fit the HELLRAISER mythos. He wrote:
Deader had one of the greatest first acts I've ever read. It really hooked you into the story. Creepy as hell. Unfortunately by the middle of the second act it started to wander a bit and got real expensive with a lot of creature and prosthetic effects. Stan Winston was a producer on the project and his company was going to handle all of the creature effects. My take on it was to tone down the second half and ground it in reality a little more so we would stay hooked in to Amy Klein as a character and not lose the story's focus and still keep it creepy.
(That was apparently from a forum post he wrote on cenobite.com, which I found quoted on the official Clive Barker websight.)
So it sounds like Stan Winston was all primed and ready to put some cool monsters into this thing and liven it up, but they were like "Hey, thanks for your interest Stan, but some of us guys got together and we were talking about it and we were thinking, wouldn't it be, like, WAY better and more grounded if we went in the other direction, where instead of some amazing Stan Winston creations it was people in this one? Like, let's say there is a guy, and he's in a subway, to name only one example! More like real life."
"Well, my thing is, I am one of the greatest creators of cinematic monsters, and my company–"
"Right right right. But the thing is though, this 'no monsters' idea? It just stays more focused, you know what I mean? And people are gonna love this, Stan. You mark my words: there will be two more Hellraisers after this one which will go over with the same amount of complete indifference all around the world in all cultures and walks of life, or my name isn't The Guy Who Wrote Some of the DTV Hellraisers."
"There were DTV Hellraisers? Is that the one where he was in space?"
"I have to go."