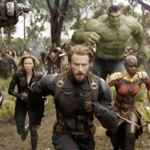 (Honestly it would be hard to spoil everything major that happens in this movie, because it's hard to keep track of it all. But this review is loose and reckless with SPOILERS)
I learned in 2012 when THE AVENGERS came out to never underestimate Marvel. So on the third AVENGERS movie, INFINITY WAR, I figured they could pull it off – they could combine most of the main characters developed over 17 previous movies (people from the IRON MAN movies, THE INCREDIBLE HULK, the CAPTAIN AMERICA movies, the THOR movies, the AVENGERS movies, the GUARDIANS OF THE GALAXY movies, DOCTOR STRANGE, SPIDER-MAN HOMECOMING and BLACK PANTHER) into one big super hero monster mash. But back when I had first learned that lesson, when they introduced the purple CGI space monster villain Thanos after the credits, I gotta admit I was still skeptical. I didn't know how they were gonna make that guy cool.
They did it. To me he's their best villain outside of Killmonger. It's a cliche to say that comic book characters are the Greek gods of the modern age, but Thanos (Josh Brolin, JONAH HEX) is the villain that most lives up to that description. In fact, one minor problem I had with the movie is that he seems so convincingly powerful I wondered what the hell the Avengers and the Guardians thought they were doing repeatedly going after him. Like, come on Star Lord (Chris Pratt, ZERO DARK THIRTY), why are you pointing a laser gun at this guy and acting like that's gonna do anything? Are you stupid? (read the rest of this shit…)
VERN has a new action-horror novel out called WORM ON A HOOK! He has been reviewing movies since 1999 and is the author of the film criticism books Seagalogy: A Study of the Ass-Kicking Films of Steven Seagal and Yippee Ki-Yay Moviegoer!: Writings on Bruce Willis, Badass Cinema and Other Important Topics as well as the crime novel Niketown.