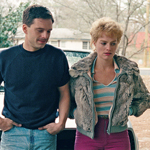 From the naming convention that brought you I, ROBOT and I, FRANKENSTEIN comes I, TONYA. I, Vern, was concerned about this one from the second the production company logos started. Obviously I'm all for movies kicking off with a blast of funk, but I couldn't see how such music represented Tonya Harding, the scandal-scarred bad girl of Olympic figure skating, icon of early '90s teased bangs, discussed in this movie as going to a Richard Marx concert, disparaged for her allegedly low class music choices in competitions ("Sleeping Bag" by ZZ Top), declaring herself a redneck, marrying a white man who wears a turtleneck under a cardigan.
Okay, they got a Chicago song on there, I buy that. But Violent Femmes? Siouxsie and the Banshees covering Iggy Pop? And yes, there's a prominent use of "Spirit in the Sky." All movies that aspire to hipness have "Spirit in the Sky."
Throughout the movie these wall-to-wall needle drops never said to me "This is the soul of Tonya Harding," but instead "Guys, this is like BOOGIE NIGHTS! This is like GOODFELLAS! Right Guys? It's like Scorsese!" An Entertainment Weekly  interview with music supervisor Susan Jacobs confirms that she sees it as "the soundtrack of AMERICAN HUSTLE or a Scorsese film." She says they chose '70s and early '80s music because "there's a warmth to the '70s that does not exist to the '80s and '90s." Sorry Richard Marx.
It's a small thing. Most people shouldn't care. But it felt false to me, and kept me a little skeptical. (read the rest of this shit…)