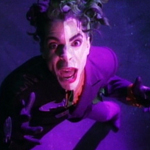 Today is June 9th, 2014 and I'm sure you know what that means: it's the 25th anniversary of Prince's "Batdance." I don't want to take away from your time celebrating with your families, and I'm sure the president will be making a speech and I don't want to overlap too much with whatever he says, but I'd like to add a few thoughts real quick.
It's the single that was released on this day in 1989, but I'm a movie reviewer, not an architecture dancer, so we're gonna talk about the crazy ass music video. Do you remember it? A fuzzy TV signal flashes on a bat-symbol shaped screen. Now, you gotta understand, this was a time of feverish Batmania. America was enraptured by the upcoming Batman movie, which was advertised mainly with that symbol and no text other than "June 23." Batman products of both official and illicit varieties were huge sellers. They would put a bat symbol on anything (and sometimes eyes on a bat symbol, if it was a bootleg t-shirt.) I remember they not only had Converse with bat symbols on them, they also had a phone that was shaped like Converse with bat symbols on them. So it is no surprise that Prince would own a TV screen shaped like a bat symbol. In fact I wouldn't be surprised if he had a library of movies specifically composed for that aspect ratio. (read the rest of this shit…)
VERN has been reviewing movies since 1999 and is the author of the books SEAGALOGY: A STUDY OF THE ASS-KICKING FILMS OF STEVEN SEAGAL, YIPPEE KI-YAY MOVIEGOER!: WRITINGS ON BRUCE WILLIS, BADASS CINEMA AND OTHER IMPORTANT TOPICS and NIKETOWN: A NOVEL. His horror-action novel WORM ON A HOOK will arrive later this year.