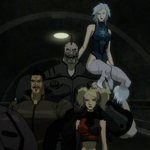 BATMAN: ASSAULT ON ARKHAM is one in a long series of DTV animated movies based on the super hero works of the DC Comics company (#20 out of 26 so far, according to Wikipedia). This is a particularly too-PG-13-for-kids one (a sex scene, exploding heads, a few naughty words, bullets going into a decapitated body, unceremonious deaths of characters your kid may love if he or she is weirdly knowledgeable of third-string DC villains), and although it's marketed as a tie-in to the Batman Arkham City video games it's actually a Suicide Squad cartoon with Batman as a supporting character.
We all know the concept of Suicide Squad now, thanks to this summer's live action version. It's a DIRTY DOZEN type team but instead of army troublemakers the members are the enemies of various super heroes. This version starts when shady government official Amanda Waller (CCH Pounder, FACE/OFF) oversees her SWAT team getting The Riddler (Matthew Gray Gubler, EXCISION) snatched out from under them by the fucking Batman (Kevin Conroy, YOGA HOSERS). They want Riddler for some secret black ops something or other, but Batman gets him into the regular legal system, locked up in Arkham Asylum. (read the rest of this shit…)
VERN has a new action-horror novel out called WORM ON A HOOK! He has been reviewing movies since 1999 and is the author of the film criticism books Seagalogy: A Study of the Ass-Kicking Films of Steven Seagal and Yippee Ki-Yay Moviegoer!: Writings on Bruce Willis, Badass Cinema and Other Important Topics as well as the crime novel Niketown.