BATMAN & ROBIN is 20 years cold, and

CHILLED TO PERFECTION!
"There's nobody else to blame but me. I could have said, 'No, I'm not going to do it.' I just hope whenever I see a list of the worst movies ever made, we're not on it. I didn't do a good job. George did. Chris did. Uma is brilliant in it. Arnold is Arnold." –Joel Schumacher to Variety, 2014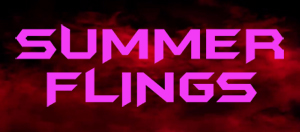 It was June 20, 1997, and I thought BATMAN & ROBIN was the stupidest, most tasteless, worst big budget movie ever made. After the wholesale awfulness of BATMAN FOREVER went over well with audiences willing to sanction its buffoonery, Warner Brothers allowed director Joel Schumacher to go full Schumacher for the next one. It's the same admirable, director-friendly approach that led to Tim Burton's BATMAN RETURNS, and the bean counters would come to regret it once again. Schumacher's purest artistic vision is like the aftermath of a rainbow sherbet fight in the costume storage warehouse for an ice skating troupe. He keeps the moody Elliot Goldenthal score and themes of mourning and vengeance, but buries them in a day-glo fantasia of overacting, bad puns, fetishistic rubber costumes and theme park stunt show style super hero battles. For me it became Exhibit A in any argument against the "It's Not Supposed To Be Shakespeare/Check Your Brain At the Door" school of summer blockbuster permissiveness.
I wasn't wrong. But twenty years later to the day, after many truly great summer movies, some of them even starring Batman, it's easier for me to appreciate the uniqueness of BATMAN & ROBIN – the outrageously tacky designs, the subversively in-your-face homoeroticism, the laugh-out-loud ludicrousness of the plot and dialogue and settings and action, and especially the spectacle of Arnold Schwarzenegger in a bulky metal costume and glittery blue makeup as Mr. Freeze, playing like a simultaneous parody of over-the-top Batman villains, blockbuster excess and his own penchant for groan-worthy one-liners. He makes more than two dozen ice or cold related cracks without losing his boyish, gap-toothed Arnold charm.
Today I am prepared to admit that I own BATMAN & ROBIN on Blu-Ray. And have watched it twice in that format. And on purpose.
Ah shit, you guys. I like this stupid movie now. (read the rest of this shit…)