I heard MONEYBALL was good, so I wanted to see it, but I was definitely skeptical. Steven Soderbergh tried to get this movie done for a long time, based on the non-fiction book of the same title. But he got the plug pulled a couple times, the studio thought the script wasn't entertaining enough and he wouldn't do what they wanted because he was trying not to dramatize and composite and shit, he wanted to try to make it as close to 100% true as he could. Well, after he finally bowed out they quickly got a new script by Steve Zaillian (SCHINDLER'S LIST, GIRL WITH THE DRAGON TATTOO) and Aaron Sorkin (SOCIAL NETWORK, West Wing TV show) and director Bennett Miller, and that's a good group of people, but these kinds of salvage jobs never turn out good.
Except this one did! It's an underdog sports movie, but not in the way you've seen before. Brad Pitt (COOL WORLD) plays Billy Beane, General Manager of the Oakland A's baseball team. (this is about baseball by the way, not some futuristic Rollerball type sport called Moneyball). After a good but anticlimactic season his 2 star players have left for more money, and he has to put together the new team. At the meetings with his veteran scouts (all grey hair and hearing aids) he gets frustrated at another year of trying to build a team like the Yankees using a fraction of their budget. It's like making the porno version of AVATAR – you can't compete on a technical level. But they found something they felt would overcome the lower production values (penises entering vaginas) and they went for it. That's what Billy wants to do, he wants to figure out how to penetrate Major League Baseball with a new approach that works with the resources he has.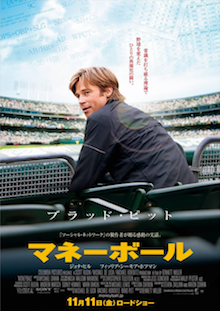 Luckily he happens to meet a young consultant in the Cleveland Native American Stereotypes Organization (Oscar nominee instead of Albert Brooks in DRIVE Jonah Hill) whose ideas impress him. This kid is a nerd for statistics and is very opinionated about teams not understanding the true value and potential of some of their players. Billy hires him and they figure out a strategy for replacing super-hitter Jason Giambi with three low-salary players whose combined stats add up to the same number. That works, right? I don't know, I'm not good at math. It actually sounds kind of wrong to me, but apparently it can work.
Like SOCIAL NETWORK these people are dealing with an idea that's ahead of its time, so most of the movie is about clashing with the forces of the old guard: the scouts, the manager (P.S. Hoffman), the reporters, players who think they're crazy.
They aren't crazy, of course, but that's not immediately clear. And it's kind of funny because Beane is shitty to alot of people. One of the funny lessons he teaches the kid is about how to fire people without feeling bad about it – the reverse of Pitt-buddy George Clooney's UP IN THE AIR. So the entertainment value of this story completely hinges on him being right. If the season didn't go well he would've been such a jackass and we would feel shitty if we ever identified with him. He probly should've been nicer either way.
But the movie makes you side with him, with the Management, a guy who from another perspective would be the asshole boss. And since he actually is right it almost feels like Sticking It To the Man when he fires or transfers the people who won't go along with his plan.
One of the biggest conflicts is with the manager. He doesn't believe in Beane's strategy so he's openly disgusted and just refuses to play the team the way he's supposed to. Hoffman is topnotch – he could easily have gone for watch-the-uptight-guy-get-upset chuckles, but he plays him with such convincing bitterness that all his scenes are genuinely tense. I think he would've been a shoo-in for a supporting actor nomination except there aren't any big screaming or crying clips they could use. Too subtle to be recognized.
The players are brought down to earth, treated as co-workers, some of them kinda dumb. But Miller does have reverence for the iconography of baseball. Beane is often sitting in an empty stadium contemplating shit in the sunbeams, and he's shot like an astronaut on the launchpad in a NASA movie. Pitt is good too. Probly too good looking for the role, but convincing that he knows what he's talking about. It's a romanticized role, probly real different from what Soderbergh would've done.
I like Hill, and he's good in this, and good for him for getting an Oscar nomination already, but I don't think he's really earned it yet. He's funny and does well in a more dramatic context than usual but it's not like he's reinvented himself here. I don't see why anybody would be surprised that he could do this role. They act like he was no good before or like it's amazing that he could still be nervous and smart-alecky without talking about dicks all the time.
Director Miller is Hoffman's buddy from CAPOTE, and it's an impressive sophomore non-slump. He's obviously good with actors, and I was especially impressed by the obviously-written-by-Sorkin dialogue as delivered by the scouts. In SOCIAL NETWORK and his various TV shows Sorkin gives mile-a-minute clever shit to smarter than-you-characters who spray it at each other as they speed-walk toward their next important meeting. I liked hearing it from regular old guys like the scouts, speaking from the wisdom of experience. It's recognizable Sorkin but it's a whole different spin.
Alot of the story has to be delivered through the media – news reports, color commentators, sports talk radio – but this is handled well (good, because phony-sounding news is a movie pet peeve of mine). I'm sure alot of this is bullshit, but even so it's an impressive achievement. How the fuck did they make a movie about using statistics to improve baseball rosters, and made it entertaining and comprehnsible to somebody who doesn't care much about baseball and hates math? I don't know, but they pulled it off.
Plus Soderbergh went off and made HAYWIRE instead. Everybody wins. Congratulations to Brad Pitt, Bennett Miller, me, baseball, Gina Carano, America, apple pie, etc.