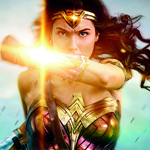 Remember when they first announced Gal Gadot would be playing Wonder Woman, and people complained? I remember, because to those of us of the Fast & Furious faith, we knew her as Gisele, and it offended us that they would disrespect her like that. We knew she could be good.
Turns out she's great. I can't imagine a more perfect actor for this interpretation of the character. She's the best thing about an overall sturdy movie.
In a quick prologue, young Diana – they never call her Wonder Woman, but I will, because I don't feel like I'm on a first name basis with her – gently defies her mother Queen Hippolyta (Connie Nielsen, SOLDIER, DEMONLOVER, 3 DAYS TO KILL) to train with her badass aunt General Antiope (Robin Wright, BEOWULF, MONEYBALL, THE GIRL WITH THE DRAGON TATTOO) to become a great warrior. She lives a good life of training montage and power discovery on the all-female island of Themyscira, until one day a fuckin dude floats up on shore.
It's Steve Trevor (Chris Pine, SMOKIN' ACES), a WWI flying ace and Allied spy shot down while trying to escape with stolen plans for a deadly chemical weapon. German soldiers attack and feel the wrath of the Amazons, a great action scene where Antiope gets the most badass move: a flip and mid-air simultaneous firing of three arrows that hit three different foes. So clearly Wonder Woman learned from the best. (read the rest of this shit…)