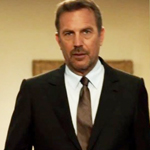 In 3 DAYS TO KILL Kevin Costner plays Ethan Renner, a CIA agent who finds out he has brain cancer spread to his lungs and three months left to live. The three days of the title refers to something separate from the three months to live. Don't worry about it. He has to catch a guy, but when his heart rate gets too high he hallucinates and then passes out, which can be inconvenient in this line of work (or I guess pretty much any line of work or even leisure activity). This may sound like Costner's version of DYING OF THE LIGHT, but in fact it's his turn at a TAKEN type old man action movie written and produced by Luc Besson.
This one's almost like TAKEN remixed. Instead of already having left the CIA he's forcibly retired after collapsing on the job at the beginning. Instead of having to go to Paris to save somebody he already lives there. In the tradition of Liam Neeson's Bryan Mills character he is still in love with his ex-wife Christine (Connie Nielsen in the Famke Janssen role) and wants to spend time with his teenage daughter Zooey (Hailee Steinfeld from TRUE GRIT), who barely knows him and calls him "Ethan" instead of "Dad."
Instead of a rescue or revenge mission the hook is that mysterious CIA hotshot Vivi (Amber Heard, ALL THE BOYS LOVE MANDY LANE) thinks Renner's the only one who could recognize elusive terrorist The Wolf (Richard Sammel, INGLOURIOUS BASTERDS), so she arranges to give him an experimental drug that may extend his life in exchange for one last job. He has to keep going around killing guys in between quality family time, hiding it from them because he promised he wasn't working anymore. Meanwhile he has hijinks with Jules (Eriq Ebouaney from FEMME FATALE) and his family of African refugees, who he legally can't stop from squatting in his flat until after winter (SPOILER: he may end up liking them and not wanting them to leave) and Mitat (Marc Andreoni, DISTRICT B13), an accountant for the Wolf who he duct tapes in his shower and transports in his trunk but starts using for advice about teenage daughters.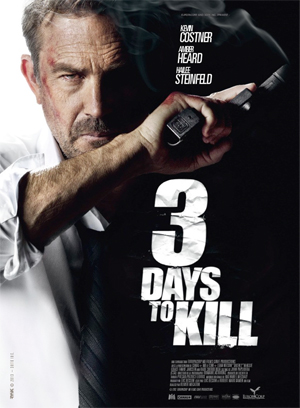 In subject matter and tone it's the prototypical Besson production, so I was surprised how much more lively the opening was than your usual Megaton or Morel joint. It looked sunny, not overcast. It had clever, comprehensible, well-timed action (using people's shadows on the ground as a guide to shoot up at them through a roof, then seeing their bodies fall over the side). And it leads into a nice looking-out-car-windows-contemplating-mortality montage set to a great soul tune I recognized from RZA sampling it ("Trouble, Heartaches & Sadness" by Ann Peebles, sampled on "Shadowboxin" by GZA, "Throw Your Flag Up" by RZA and "Shaolin vs. Wu-Tang" by Raekwon). When it finally got to the credit that said "directed by McG" it was a great "ah ha" moment for me. I had completely forgotten he directed this. Otherwise I probly would've seen it sooner.
I guess the world disagreed with me on this, since everybody said this movie was no good, but I think the humbled post-TERMINATOR McG and the factory-action-movie-producer Besson turn out to be a good match. I can't say this is what we wanted from TAKEN (an unflinchingly badass meat and potatoes revenge movie), but I do think it's a more successful version of what Besson was trying to do with that one (a movie about a badass operative trying to fix his broken marriage and relationship with his daughter).
In the TAKENs and UNLEASHED Besson is going back and forth between a violent action movie and a story about parenting or love or whatever. The relationship part is usually not very effective, seems tacked on and you wish they'd edited it down to get to the good shit faster. 3 DAYS is the first one where I really felt that was what the movie was about. Spending more time with his family and making them happy really is more important to him than work. Most of that is on Costner, Steinfeld and Nielsen, who all give real performances. Costner is playing it grittier than usual, talking in a raspy Clint Eastwood voice and seeming put out most of the time, so when he admits caring about people it's kind of a heart-warming Scrooge moment.
Just as a quick aside, I think he should be wearing the suit and tie all the time, I don't agree with the scarf. I know modern fashion is real concerned with men's neck warmth, but I believe that's mostly for the young guys with the tight jeans and stuff. I think Ethan Renner would know better. But I'm gonna give him a pass since he's in France and there are cultural differences and what not. And maybe your neck gets more sensitive to cold when you have that particular type of brain cancer, I don't know.
Alot of this really is about a guy that doesn't know how to be a dad trying to deal with his daughter getting herself into trouble. Steinfeld seems so innocent that it actually is surprising when she's deceiving him. Of course he does use his agency skills while looking out for her (for example beating up a bunch of guys trying to rape her at a rave) but it mostly stays away from making it into a broad joke like THE PACIFIER or something.
There are definitely some groaner comedy gags though. I think it's time to retire the one where the parent gets called in to school because the kid was fighting but then – gasp, spit take, faint – is proud of the kid beating someone up. On the other hand they do a pretty advanced version of the out-of-touch-dad-brings-bad-present-for-daughter move, last seen in TAKEN 3. Instead of a stuffed animal it's a bike, which she says she hates because it's big and purple. He stubbornly holds onto it, rides and carries it around for a while before he finds out she doesn't ride it because she doesn't know how. Because her dad wasn't around to teach her. (His bad parenting is also demonstrated by trying to make her ride the bike home in a skirt and stilettos.)
But most of the humor doesn't feel very French, and I like that most of the absurd parts of the story don't play as jokes. Like TAKEN 2 (and maybe FROM PARIS WITH LOVE from what little I remember) I have to wonder if some of the more extreme moments are meant as a sort of Verhoevien satire of American foreign policy. You got this CIA guy going around overseas killing all kinds of people, kidnapping a guy to torture, only to find they have alot in common. Besson likes to be uncomfortably casual or jokey about Americans roughing people up and I think most people take it as asshole-ishness, but I suspect it's sarcastic. Suspect. I'm honestly not sure.
Whatever it is, I like how he ends up friends with the guy he kidnapped. He even calls to tell him to put his seatbelt on before the big car chase/shoot out.
While I was enjoying all the family shit in this one I must've got distracted because my Early Predictor Syndrome didn't even pick up on (HINTED SPOILER) the twist that would bring the storylines together. That was nice. It's got that thing I like where the action climax and emotional climax happen at the same time.
Somehow I even found myself invested in the character of Vivi, despite her mostly being your basic sexually aggressive hot assassin lady. She's cool in that usual cartoonish kind of way, but there's something messed up and tragic about her too. The seductive way she injects him suggests a druggie past or present. I like the hint that Zooey thinks her dad has a cool boss when she hears about her. It seems like Vivi could be a much needed big sister figure to her. And then Vivi's apparently sincere affection for Ethan, demonstrated in the finale, is sweet and also sad, because what is she doing mooning after this guy? What happened to her? Maybe she doesn't think any other guy is her equal. Maybe she's right.
I'm surprised how much I liked this one. My standards for this seem to be different from everybody else's, but in my opinion this is one of the better products from the Besson machine. I liked it.
APPENDIX:
note: this has a Christmas scene in it if you are stretching for Christmas action movies some year. It does not have an overall Christmasy vibe, though.