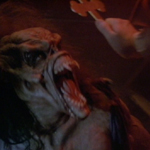 FRIGHT NIGHT PART II came out three years later, in 1988. Part I's writer-director Tom Holland had moved on to CHILD'S PLAY, bringing Chris Sarandon with him. Makeup FX genius Steve Johnson was doing NIGHTMARE ON ELM STREET 4. It was the year of PUMPKINHEAD, HELLBOUND: HELLRAISER II, THE BLOB, THEY LIVE, MONKEY SHINES, MANIAC COP, THE SERPENT AND THE RAINBOW, PHANTASM II and PAPERHOUSE. Maybe the world didn't feel the need to rehash FRIGHT NIGHT. But somebody was gonna do it, and they got William Ragsdale and Roddy McDowall to come back as Charley Brewster and Peter Vincent.
In the opening, a quick clip montage (as was the style in those days) and Charley's narration recap what happened in the first film, only for him to then say that he imagined most of it. Yes, Jerry Dandridge was a serial killer, but "vampires aren't real." Charley says he's returning to "the real world" after three years so I thought he'd been hospitalized, but I guess he just means he's mentally returning to a world where monsters don't exist. He says he's worried he'll run into Peter Vincent, which is weird because in the next scene he goes to visit him. (read the rest of this shit…)
VERN has a new action-horror novel out called WORM ON A HOOK! He has been reviewing movies since 1999 and is the author of the film criticism books Seagalogy: A Study of the Ass-Kicking Films of Steven Seagal and Yippee Ki-Yay Moviegoer!: Writings on Bruce Willis, Badass Cinema and Other Important Topics as well as the crime novel Niketown.