SAVAGES is the new crime film from Oliver Stone, about two young idealistic pot entrepreneurs taking on a ruthless Mexican cartel (which is one of the most common types of cartels). The tale is narrated to us by O (GREEN LANTERN's girlfriend Blake Lively) who is the shared lover of botany genius/philanthropist Ben (Aaron KICKASS Johnson) and Iraq vet/muscle-of-the-operation Chon (Taylor JOHN CARTER Kitsch). The two grew up together as surf bums in Laguna Beach and then one day decided to bring home marijuana seeds from Afghanistan and create a new strain. And the shit blew up like Apple.
That's the unique thing about this story is the way it treats the drug trade as one of these great American stories of a progressive business that starts small, grows due to its dedication to quality and tries not to sell out its original ideals. Ben (unrecognizable as Kickass with his dreadlocks, goatee and tattoos) is obsessed with Buddhist philosophy, has successfully removed most of the violence from his business and spends much of his time traveling to Burma and Africa building schools and helping with irrigation and shit. His crew includes a rail-thin supermodel-looking messenger with giant afro puffs, some hip young computer experts who look like they could be the interns on a TV show, and Emile SPEED RACER Hersch (starting to look like Jack Black), who's their accountant or something but wears bicycle gear in all of his scenes.
They never say it, but I bet these people all get good health insurance and shares in the company. They probly get to decorate their cubicles in creative ways and ride around on scooters like the people at Pixar. I think Ben thinks he's Bill Gates, or they're those kids in THE SOCIAL NETWORK or somebody.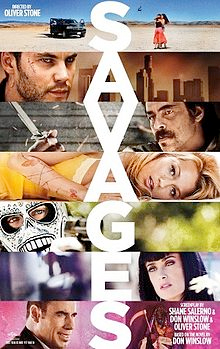 But Chon – and maybe this is the rare case where putting their names on the screen would've helped, because I kept trying to figure out if they were just pronouncing "John" weird or what – knows he's not running Ben and Jerry's. A bunch of his ex-SEAL buddies do the security work for their little startup, and they tend to be kept at arm's length – in the other room, in another car, on the hill watching through sniper scopes – like a strategic form of denial. But they're always there, and when things go wrong they're not gonna make peace, like Ben wants, they're gonna blow up a bunch of cars and shoot a bunch of people. Even before the events of the movie you know that Chon had to every once in a while go stab somebody as part of his job. When he gets a threatening email with a video of like 10 decapitated bodies he doesn't piss his pants, he just says "I've seen worse, and I'd do worse to them."
"Them" is the vicious Baja cartel, using Indian territory as a way of reaching into the U.S. for a hostile takeover of the "indie growers" like Ben and Chon. Before it's a drug war it's a business negotiation, people meeting and considering offers. It's really not just about money to them, it's about deciding the future of something they love, that they built from the ground up. The parallels to the corporate world are made explicit by their favorite crooked DEA agent Dennis (John FACE/OFF Travolta) when he advises them not to "fuck with Walmart."
Remember, Oliver Stone is the guy who wrote SCARFACE, so he's got a good track record for anti-hero drug empire epics. Here he gets ampersand credits with Don Winslow (author of the book it's adapted from) and Shane Salerno (ALIENS VS. PREDATORS VS. REQUIEMS). And I'm not saying this is nearly as good as SCARFACE but just as that one's very '80s and Florida this is very 2000s and California.
These kids are alot more laid back than Tony Montana. They're not street thugs, they're educated in business, and their knack for violence comes from going to war. Tony killed his best friend for falling in love with his sister, these two share the same girl and never once get jealous. The most vicious character in the movie calls them "savages" because of their PAINT YOUR WAGON lifestyle choices. They defy storytelling law by keeping the love triangle perfectly balanced at all times.
O is an interesting narrator because she's nice, but not too bright. When her two men are having a life-or-death philosophical debate about how to handle this threat she cluelessly interupts, puts her hands on their shoulders and says, "Oooh, the testosterone!" Then gets them to take her out for drinks. Before running away to Indonesia to hide out from the cartel she insists on going shopping for outfits, even has a guy put all her bags in the back of her convertible for her. While being held hostage in a dirty little cell with little more than a mattress and a bucket she demands a video conference with the cartel leader to beg for access to weed. They torment her by watching some Real Housewives show with her – not sure if it bothers her because it's so horrible, or because she misses the lifestyle it depicts.
The head of the Cartel is Elena, played by Salma Hayek, my favorite part of the movie. Man, when was the last time she stole a movie? Good for her. I thought she'd be a real over-the-top superbitch type of villain, instead she's weirdly sympathetic. She turns out to have inherited the position somewhat reluctantly and has a daughter she wants a better relationship with
Is it a ridiculous coincidence, for symbolism's sake, that the daughter lives in Laguna and shops at the same place and time as O? I like to think it's no coincidence, that Elena found out about their weed from her daughter. But maybe not. At any rate I like how she tries to be a better mother even while being a heartless druglord and a ridiculous rich person (it's not just that she owns horses, those fancy saddles they wear look fuckin expensive). At times she can't help but be a little motherly to her hostage, seeming concerned about how long the girl's been smoking pot. And O seems to lash out at her as a substitute for the mother who's never around (apparently played by Uma Thurman, but cut from the movie).
I also think it's kinda charming that Elena doesn't seem to understand what Chon means when he says "you want us to eat your shit and say it's caviar," but takes offense and keeps calling him "Mr. Eat Shit Caviar." She's got guys chopping off heads for her but she can't stand this vulgarity.
Another great character is her sicko enforcer Lado, played by Benicio Del Toro. Made me realize I've missed this crazy bastard, he'd only done THE WOLFMAN since the two CHE movies 4 years ago. There are alot of weird little Del Toronian touches to the character, one of them being that he seems to be against eating fruits and vegetables. O complains that he never brings her salads, so he feeds her steak. When he steals a sandwich from John Travolta he takes the tomatoes off before eating it.
He's a great villain – scary and funny and gross, and when he gets a chance to beg for his life you find out there's another level of scumbaggery to him. But of all the great things he does in the movie the best is when he makes a gesture for an underling to execute a witness. He can't say it out loud because he's in the middle of making a threatening phone call to a rival.
It's also kinda exciting to see Travolta in this. It's not as big of a character but he's not too hammy and willing to play kind of a dork, even using his real hairline. The opposite of his trying-way-too-hard-to-be-awesome character in TO PARIS WITH LOVE.
There's a weird little thing in the movie where O is trying to compare their situation to BUTCH CASSIDY AND THE SUNDANCE KID (don't they always in movies like this?) but she doesn't know the title, says "it's just like in that movie," and one of them jokes, "AVATAR?" It's a funny line, and then a little later they're with their computer experts and one of them is none other than Joel David Moore, computer expert from AVATAR. He shows up with lines in a later scene, but it would've been funny if they'd left it as a random walk-on.
If you're wondering, this is a fairly straightforward Oliver Stone, it's not nearly as NATURAL BORN KILLERSy as the trailer makes it look. I mean yeah, there's little clips here and there like a marijuana bud dissolving into a lotus flower and then into a Buddha, and a couple uses of deliberately overbearing classical music, but stylistically it's tame compared to NBK or even U-TURN. It shows more of the seasoned professional side of Stone than the excessive weirdo side. He knows how to put it all together and keep it moving at a sprint.
I have only one major complaint about the story but it's a big SPOILER because it's about how they do the ending. It comes to a good conclusion, then O says that's how she imagined it happened, but what really happened was… and it rewinds back and then basically has an alternate ending. I think they tried to set up this device earlier, but it sure didn't fly with me. Why was she daydreaming about different shit happening? I don't get it, and I like the first ending better. The second one would've seemed perfectly acceptable if you didn't first present me with a different choice. I don't know what they were going for here but it just seems like they couldn't decide on an ending so they used two.
It's a solid, entertaining crime movie though, with good characters, tense moments, some real good performances by actors who don't get enough chances for that these days, and some unique spins on a familiar genre that I enjoy. I think it deserves more credit than it's getting so far. What's it gotta do, put on a skeleton mask and start kidnapping people?