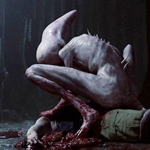 More like ALIEN: LOVIN'INT, am I right?
I don't know.
Hello everyone. I don't think it would be appropriate to discuss the sequel that Ridley Scott decided to make to PROMETHEUS until we first bow our heads in a moment of silence for the completely insane one we imagined when PROMETHEUS ended with Shaw in a stolen Engineer ship carrying a severed robot head on an impossible mission to stick her foot up the ass of the Space Jockeys on their home turf.
PROMETHEUS 2
b. June 8, 2012 – d. May 19, 2017
R.I.P. the way better movie in our minds. Gone too soon. Sleep well my sweet baby prince.
Instead of that legendary greatness we have something pretty good: ALIEN: COVENANT, a hybrid between what-people-expect-in-an-ALIEN-sequel and weirdo-philosophizing-PROMETHEUS-shit. Scott, with returning cinematographer Darius Wolski (CRIMSON TIDE, DARK CITY), gives us another gorgeous-looking sci-fi horror, this time with a script by John Logan (THE LAST SAMURAI) and Dante Harper that's not as outwardly dunderheaded as PROMETHEUS at its worst, though not as imaginative as it at its best. It starts out with circa 1979 pacing (very effective) but eventually throws a modern amount of frantic action at the screen (pretty enjoyable too).
(WARNING: spoiler-heavy analysis ahead) (read the rest of this shit…)