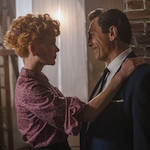 BEING THE RICARDOS is a straight-to-Amazon movie, the latest from playwright turned TV show creator turned screenwriter turned director Aaron Sorkin. It tells the story of one week in the lives of '50s sitcom icons Lucille Ball and Desi Arnaz, when a radio show had reported on Ball registering to vote as a communist in 1936, and they went ahead preparing an episode of I Love Lucy thinking their careers might be over.
Because this is Sorkin, and a movie, it's about how a beloved American icon could've been taken down by the red scare, but it's also about the nature of comedy genius, the struggle for artistic freedom, workplace dynamics, and marital strife. Sorkin piles on the separate events of Lucy telling the network she's pregnant and of discovering Desi's infidelity, leading to the end of their glorified-on-television marriage. I spent the whole movie thinking "These couldn't possibly have happened in the same week, could they?" and of course no, they did not. (He also changed which episode was being filmed.)
Promoting the film, Sorkin told Collider
"I thought, 'Well, I'm not perverting history, or defaming these people, if I take those three events and make them happen during one week, compress time, and have the whole thing take place during one production week of, I Love Lucy, Monday table read to Friday audience taping.' So that's what I did. Dramatists get to do that."
But the first line of the movie is "It was a scary week," and Sorkin intercuts between a bunch of fake documentary interviews of actors playing older versions of the I Love Lucy crew all agreeing "it was a scary god damn week" while giving figures about how many people watched the show compared to a popular show today. The movie is absolutely saying "Let me educate you on this, truth is stranger than fiction, can you believe all this happened in one week?" And the answer is no, actually I can't.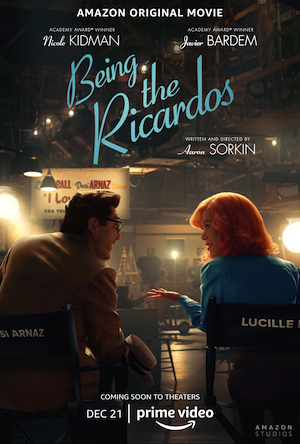 I honestly went into this thing very open-minded, but was rolling my eyes at one of my absolute most hated narrative conventions. If there's a value to having fake interviews about a real thing, it is not demonstrated in this movie. If you're going to dramatize these events then accept the responsibility to dramatize these events.

Many rejected the casting of Nicole Kidman (BATMAN FOREVER) and Javier Bardem (THE COUNSELOR) as Lucy and Desi, which I agree is distracting at times. Kidman is such an identifiable actress that it's hard not to see her constantly peeking out from behind the makeup sculpting her into the shape of an even more identifiable actress. And since pregnancy is such a big part of the story it's hard to forget about these two being 12-15 years older than the ages they're playing (with larger gaps in the flashbacks).

When you can get past that, though, I do think they're both good in the roles, with Kidman doing a better Lucy voice than you might expect, and Bardem really capturing that vibe of a guy who is so used to getting what he wants from his outsized charisma that he lets his weaknesses get out of control. Which is at least how the character is portrayed here, and I don't really remember what he was like on the show, I didn't watch Nick at Nite that much.
J.K. Simmons (THE LADYKILLERS) and Nina Arianda (RICHARD JEWELL) play co-stars William Frawley and Vivian Vance. The latter has conflict with Lucy over her looks. She's sick of jokes about her character not being pretty enough, so she's been losing weight and trying to change her wardrobe. She thinks Lucy is jealous because she's sending others to trick her into eating more, and then Lucy insults her by telling her she's an identification character for regular, not-pretty-enough viewers. I'm unclear whether this is based on known facts about Vance's feelings on the matter, or if it's Sorkin's attempt to interrogate and/or find drama in the treatment of female sidekicks in '50s sitcoms, but it kinda works as behind-the-scenes drama.
Frawley is portrayed as an alcoholic grump who insults everybody but is warm and supportive of Lucy when it counts, a formulaic role that of course Simmons can do in his sleep. He's a professional, though, so he stays awake.
Tony Hale (AMERICAN ULTRA) plays the showrunner/co-creator who's always exasperated with Lucy and Desi and trying to stop them from doing what they want to do so he doesn't get yelled at by the network or the sponsor, Philip Morris. (The cigarette, not the guy, I think.) Pretty sure this isn't an autobiographical character for Sorkin. There are lots of scenes about going in and out of offices and writer's rooms as he argues with the stars and with the two writers, who are portrayed as hating each other. Bob Carroll is the kind of semi-likable but oblivious doofus that Jake Lacy (CAROL) excels at, while Madelyn Pugh (Alia Shawkat, WHIP IT, GREEN ROOM) is the wittier, more acerbic one with higher standards for the jokes, who seems to annoy the men by pointing out power imbalances, but also gets into it with Lucy.
I believe Sorkin has already done three TV shows about the making of TV shows, the comedy one being Studio 60 on the Sunset Strip, which morbid fascination caused me to watch in its entirety. Launching the same season as 30 Rock, it was the one hour drama version of the "behind the scenes of a Saturday-Night-Live-like live sketch show" premise. The actual comedy writers behind 30 Rock were smart enough to make any sketches seen or referred to on the show intentionally dumb – Lamazwell: Lamaze class meets Roswell, Prince William and Prince – Time Traveling Fart Detectives, etc. On Studio 60 the unfunny sketches seemed like they were meant to actually be funny, because so much of the show was characters pontificating about the artistic genius, edgy subversiveness and massive historical, cultural and political importance of their show.
One Studio 60 detail that stuck with me enough that I already brought it up in my review of the Sorkin-scripted STEVE JOBS was when the cast member played by Nate Corddry mentioned Abbott and Costello's "Who's On First?" routine to his parents and, because they were regular working class joes from Ohio, they had no idea what he was talking about. As if it's some kind of arcane text only known to the most dedicated scholars of comedy history, and the guy didn't realize this because of the comedic greatness bubble he lives in. Though Sorkin is good at writing witty quips, he just has an odd view of comedy, the making of comedy, and what other people know about comedy.
Another Studio 60 example that's relevant to BEING THE RICARDOS is the ongoing story about Sarah Paulson's character being a cultural phenomenon because she's a conservative Christian and yet undeniably funny. But of course, she does not seem to be a funny person. BEING THE RICARDOS continues that strange perspective of funny being an innate talent for understanding a set of mathematical formulas that really smart people love to dryly explain in long motor mouthed monologues. Like all Sorkin characters Lucy has smart ass quips, but she's a genius because when they're working on the show she will go into a daze staring at a board and telling people to be quiet, and then suddenly joylessly announce what she's come up with (which we are supposed to take as unfathomable brilliance, though we don't get to really see what's so funny about it).
For all I know Sorkin researched the shit out of this and has portrayed each one of these individuals with utmost authenticity. However, much of it does not ring true to me.
One of the threads is Lucy insisting that "we should go back to the dinner table," a scene everyone else is satisfied with that she keeps trying to modify. It seems like she's channeling her stress about other things into perfectionism, but they have a hard time convincing her of that. It culminates in a scene where she has discovered evidence of Desi's infidelity and then drags her co-stars out of bed in the middle of the night to go over the scene again. She makes all these changes and, while picking up on the emotional crisis she's experiencing, they're also in awe of her improvements to the scene.
Which is fine, but the first of her changes really got me. In the blocking session Frawley and Vance sat at the front of the table with the camera looking at the backs of their heads, but now Lucy moves them around to the other side. It's supposed to be like "Ah ha! She makes this one subtle adjustment, and the whole thing transforms like magic!" But of course it's more of a "No fucking shit" situation. You're telling me it took a middle of the night burst of inspiration by a legendary comic mind to figure out that the characters in the scene should be facing the camera!?
Of the many Sorkinian preoccupations explored in the movie, maybe the most interesting is the political conflict between Lucy and Desi. Lucy doesn't want to fudge the details of what she did to make it sound better, because she doesn't think there was anything wrong with it, and thinks it would be an insult to her socialist grandfather. Desi keeps minimizing it saying that she just checked the wrong box by mistake, and seems like he's just trying to protect her image until he blows up and yells about his family fleeing communist Cuba. It doesn't really seem like one of them is more right or wrong than the other. Sorkin also seems to admire his fictional Frawley for hating McCarthyism even more than he hates commies.
The title tells us this is about a state of being, specifically a state of being The Ricardos, and I found the relationship story fairly compelling. I like that their first scene turns into passionate couch sex. The old way of doing this was to try to show the bowdlerized image of American family life in '50s TV as hypocritical. This part, at least, shows that not being like their TV counterparts isn't a strike against them. It just means they know that sex can be fun and good.
Unfortunately, some of the portrayal of Lucy becomes retroactively silly when you realize it's all structured around forcing deep meaning into the catchphrase "Lucy, I'm home." An idea so corny I never saw it coming.

Studio 60 had an arc about everyone being sure Paulson's character's career was going to blow up after starring in a biopic of Anita Pallenberg. Even if Sorkin burned that idea as a movie-within-a-show instead of trying to make it for real, I am positive he ruined a few dinner parties monologuing about the BARBARELLA villain who dated two Rolling Stones. In my review of his directivational debut MOLLY'S GAME I wrote, "Sorkin seems like a guy who obsesses over some story he read about in a magazine a while back and he won't fucking shut up about how fascinating it is and you're like 'Okay Aaron… sounds great Aaron anyway I gotta get going,' but then when he makes the movie you realize he was right, it really was a compelling story when presented exactly as he knew how to present it."
Except this time it's a little less clear that this was a movie and not an anecdote, at least as he presents it. It's also a little bit like his second movie, THE TRIAL OF THE CHICAGO 7, in that it's about topics I accepted as important while growing up on boomer-based media, but returning to them now makes me think maybe it's time to move on from "Can you believe it, they couldn't say 'pregnant' on TV! They had to have separate beds!"
But that part's on me. I didn't have to watch this.
I don't want to sound like I don't respect Sorkin. I think THE SOCIAL NETWORK is incredible, and I also liked MONEYBALL, STEVE JOBS and MOLLY'S GAME. And I know many people who love two of his shows that are not Studio 60. When his stuff works it really works. But when it doesn't, the distinct in-a-committed-relationship-with-the-sound-of-his-own-voice, mansplaining feel to his writing becomes overwhelming. (Variations on "here's what you got to understand" in this one: 5.) Here's hoping on the next one he stares off into space for a while and then suddenly formulates the perfect way to do it.