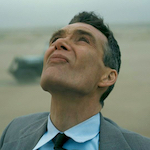 First thing I want to say is that I've been calling this movie "Oppy" while having no idea that it's what everyone calls him in the movie. I guess it's just the natural, instinctive nickname that comes to mind for J. Robert Oppenheimer, even before "J.R."
Second thing I want to say is that I was so wrong about the phenomenon of OPPENHEIMER! I had been confused as to why people were talking about it as a sure-thing blockbuster smash, but here I am finally having seen it after 3 weeks of sold out shows at the Imax. I had to give in and buy the tickets a week in advance, and the show did sell out in the same theater that never filled up for DEAD RECKONING, JOHN WICK 4, CREED III, DIAL OF DESTINY, etc. There's lots of hype about it being shot for Imax format, and this is is the only full Imax format screen in the state, so that's important context. But still – a 3-hour R-rated drama about a scientist selling out every show every day for weeks? Just because Christopher Nolan directed it? Hooray for the auteur theory!
This could be a positive development for the future of "grown up" movies made for the big screen (and on big budgets), and also for the survival of directorial vision in the studio system, where they're trying so hard to make directors less important than brands. Unless you believe way more than I do in the lure of the Oppy i.p. then this is a pretty clear cut case of audiences going purely because they trust the director. And remember, Hollywood's top corporate villain of the moment, Discovery-Max-Content-Properties-Express (formerly Warner Bros.) CEO David "The Deleter" Zaslav came in and chastised his company for sticking by their decades long relationship with Clint Eastwood by giving CRY MACHO a theatrical release. His predecessors had just chased off Nolan by streaming TENET – his eighth movie with them – before he wanted them to. He went shopping for a studio that would let him do what he wanted, Universal let him make this, and it's an unequivocal fucking smash. A win for the good guys.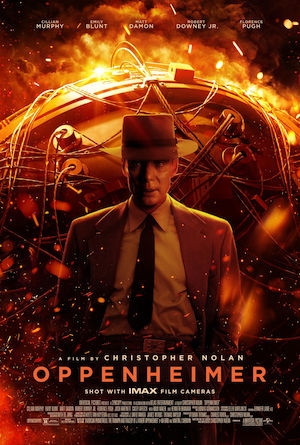 I was less surprised by the actual movie OPPENHEIMER. I figured it would be just like Clint's J. EDGAR or JERSEY BOYS – movies I would skip if made by Joe Schmo, that I see and enjoy because of Clint. As expected it's a quite captivating drama with high level, bombastic filmatism that was absolutely worth waiting to experience on the giant screen and bone-rattling sound system. Also, it's one of these "I got obsessed with this subject that may not sound that exciting to you but I'm gonna try to convince you of why it's so god damned fascinating" type of projects, and on that count, for me, it's successful… for a while.
Cillian Murphy (RED EYE) is obviously great as Oppy, the awkward, distant genius physicist who created the atom bomb (Boooooo! Just my 2 cents). We first meet him later, in a small room answering hostile questions about his life because he once had a casual interest in communist adjacent issues. And there's another time period, in black and white, when Lewis Strauss (Robert Downey Jr., U.S. MARSHALS) is facing a confirmation hearing for Secretary of Commerce and getting questions about his association with Oppy during his time as commissioner for the Atomic Energy Commission. He didn't agree with Oppy politically, he says, but respected him and recruited him as director of the Institute For Advanced Study in Princeton, where one of the teachers was Albert Einstein (himself) (no, just kidding, it's Tom Conti [STREETDANCE 2]).
You know how Nolan is about jumping around in time – he's for it. The main story, for a while anyway, is the rise of J.R. Oppy, troubled, wild eyed and wild haired weirdo science student haunted by nightmarish visions of molecular, uh… science particles or whatever, almost murdering his teacher (funny story), becoming a rock star professor due to groundbreaking new concepts, donating to the Spanish Civil War, somehow charming multiple ladies, and being appointed by General Leslie Groves (Matt Damon, THE GREAT WALL) to head the Los Alamos National Laboratory, bringing together a super team of the best scientific minds to take the next step from atom splitting to building a bomb that will murder hundreds of thousands of innocent people and/or end all wars (but probly just the former). In their defense, they know all the quantum physics nerds around the world saw the atom split and started thinking the same thing, so they figure it's better for them to do it to stop the Nazis than for the Nazis to do it first.
My dad was a chemical engineer, like Dolph, but I did not inherit a brain for science. It is fair to say that at no point did I have the most remote clue what the fuck these geniuses were talking about throughout the movie. But it's pretty easy to go with the flow. "Don't try to understand it. Feel it," as Clémence Poésy said in TENET. It works as a tense team-of-experts problem solving movie, like APOLLO 13 except we know they're gonna kill a whole lot of people instead of save a few. It's an absolute cavalcade of recognizable faces, many of them without much dialogue, since Nolan didn't want to use any composite characters, he wanted somebody playing everybody that was really in the room, whether or not it was gonna be explained to the audience. It's really smart because I may not follow who exactly the characters are, but I can remember okay, that's David Dastmalchian (THE SUICIDE SQUAD), that's Jack Quaid (SCREAM [2022]), he was the guy that said such-and-such in that other scene. Otherwise they would definitely blur together.
David Krumholtz (BATTLE FOR TERRA) has one of the best supporting roles as Isidor Isaac Rabi, who operates as the closest thing to a best friend or comic relief sidekick for space case Oppy, even though he's a Nobel Prize Winner whose groundbreaking research on magnetic resonance will lead to the invention of the MRI. Josh Hartnett (BUNRAKU) is also a standout as close colleague Ernest Lawrence (Nobel winner for the invention of the cyclotron). I've been a proponent of Hartnett from HALLOWEEN H20 to 30 DAYS OF NIGHT to Boy Sweat Dave in WRATH OF MAN, but even I was surprised how well he works as this charismatic professor. He kinda looks like Richard Gere at times. As portrayed here he's a nice guy and loyal friend but middle of the road politically. When Oppy presses him about fighting for racial integration he says he wants to vote for it, but not talk about it.
I was also excited to see Dane DeHaan pop up as Major General Kenneth Nichols. DeHaan blew up so suddenly after CHRONICLE, but was an odd fit as leading man even in movies I liked like A CURE FOR WELLNESS and VALERIAN AND THE CITY OF A THOUSAND PLANETS. Here he's back in his seething weasel groove. Good for him. Other good for hims: Alden Ehrenreich (COCAINE BEAR) as an aide to Strauss, Alex Wolff (PIG) as another Nobel winner, Macon Blair (MURDER PARTY, BLUE RUIN, GREEN ROOM, HOLD THE DARK, director of the TOXIC AVENGER remake) as Oppy's lawyer, Scott Grimes (CRITTERS) as another lawyer, Matthias Schweighöfer (safecracker from ARMY OF THE DEAD) as Werner Heisenberg. Academy Award winner Rami Malek (BATTLESHIP) is in what turns out to be an important role and unfortunately every time he bugs his eyes out I'm reminded of how much I do not care for his performances. Some other people feel he's good in this, though, as tends to happen.
There are 7 or 8 other well known male actors in here, but you're probly already skimming, so I'll skip to the women. Nolan has often been accused of having weak female characters (despite always working with female producer Emma Thomas and now editor Jennifer Lame [HEREDITARY]). Unfortunately he didn't find a way to change that in this male dominated story. The two important women in the movie are Oppy's girlfriend/mistress Jean Tatlock (Florence Pugh, THE COMMUTER) and wife Kitty (Emily Blunt, THE WOLFMAN). As always Pugh is a standout, making a huge impression in a few scenes about a turbulent relationship. Blunt has the larger role but I think her best scenes are weakened by us seeing so little of the basis of their relationship and so much of her being crushingly disappointed in it (seemingly leading to cartoonish always-carrying-a-bottle alcoholism). I think the performance is good but the role could be better.
Interestingly (to me, at least), Blunt voiced the wife in the English dub of Hayao Miyazaki's THE WIND RISES, which has some interesting parallels as a story about a genius working and compromising to create something for the military, and feeling guilt about its deadly application in WWII. There her character gets tuberculosis instead of alcoholism.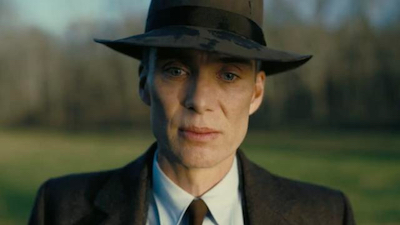 The most cracking part of the story is the build up to the Trinity test. Nolan wraps us in the excitement of getting closer to their goal while dreading it because… it's the fucking atom bomb. When it's done they detonate it, it's awe inspiring, it doesn't set the atmosphere on fire and destroy the entire planet as had been considered a possibility (and yet they still pushed the button). Then they cheer and celebrate like they won the Super Bowl, but we know what they actually won, and most of them have figured it out too, whether or not they admit it yet. Hitler's already dead, Japan may be near surrendering, but they're gonna go through with using it anyway. They try offering suggestions: Maybe just tell them we have it so they'll back down. Or use it in a remote area. Or at least warn civilians to leave. The military brushes these ideas off and Oppy tries to tell his colleagues that it's out of his hands without sounding like it's a cop out.
In one of the movie's most chilling scenes, Secretary of War Henry Stimson (James Remar, MORTAL KOMBAT: ANNIHILATION) discusses the plan to drop not one but two atom bombs on Japan, and notes that he crossed Kyoto off the list of potential targets partly because he and his wife had their honeymoon there and it was lovely. I don't pretend to read the minds of my fellow filmgoers, but the way people chuckled at that like it was light-hearted comic relief made the scene all the more stomach-churning. (By the way, it should go without saying that people who think this movie is pro-nuke or nuke-agnostic, though their hearts may be in the right place, are bad at watching movies. If anything it's a little insulting in how much it feels it has to lead our hand on that issue.)
I'm not proud to say that the movie somewhat lost me in the post-bombing portion. It becomes a story about Oppy being torn apart in public for his past political beliefs, Kitty telling him/us that he doesn't need to but it's some kind of self-flagellation over his guilt for his crimes against humanity, and (more puzzlingly to me) about how Strauss set him up and will later pay for it. I'm all for not-obvious approaches to telling stories, but while viewing OPPENHEIMER I really couldn't wrap my head around why the rivalry becomes the climax of this telling. It plays like THE USUAL SUSPECTS when Strauss' true motives are revealed, and like a stick-it-to-the-man triumph when a certain character turns on him and derails his confirmation for what he did to Oppy. It's all interesting but left me scratching my head as to why that would be Nolan's emphasis.
One suggestion I've heard is that (like THE WIND RISES) there's a parallel to studio filmmaking here. When General Groves basically tells Oppy okay, you made the bomb, go home now, we'll take it from here, he may feel sort of how Nolan felt when he was done with TENET and they didn't do what he wanted with it. The pressure of the Manhattan Project could be compared to the responsibility he felt to help the theatrical experience survive COVID and greedy, shortsighted CEOs. The "can't put it back in the box" feeling of creating the bomb could (very mildly) be compared to Nolan helping to launch today's super hero movie dominated film landscape. Etcetera. These are all interesting ideas to me and no doubt some of them informed the movie, whether consciously or not. But I'm gonna need a climax that's at least as important on the literal level as on the metaphorical one, and I don't think that type of inside baseball would ever be Nolan's primary interest.
In fact, I've seen Nolan saying he was excited to not use a metaphor, as he did in TENET, instead putting you into the shoes of the guy who actually did struggle with creating a potentially world-ending technology. Amazingly, Nolan was inspired to make the movie because TENET compared the fictional invention of "inverted bullets" to Oppenheimer, so Robert Pattinson bought him a collection of Oppenheimer speeches as a wrap gift.
I asked on Twitter for Nolan interviews or personal theories about the emphasis on Strauss, and I got some helpful replies. Rob Girvan pointed me to this very interesting video of Nolan and Murphy visiting a video store in Paris, where Nolan says that the rivalry in AMADEUS was an influence (and mentions CHARIOTS OF FIRE). But otherwise I think he'll leave it for the viewer to interpret (or give up and ask people on Twitter to interpret).
Christopher Dole wrote that "the film comes down to the notion of chain reactions that reverberate long after the initial explosion… It's a movie about an arrogant theory guy (who's explicitly 'bad at math'/practical stuff) who keeps setting off bombs without understanding how this stuff will be put into practice, and how those bombs/chain reactions reverberate across time."
Yeah, that's very true. Like, he ignores warnings about his political associations will hurt his career, he doesn't think how his affair with Jean will affect both her and Kitty, etc.
Brian William Pachinger told me that it's all about building to the final scene, in which Oppenheimer and Einstein, "two geniuses who understand the weight of what has been unleashed," are contrasted with "a bureaucrat worried about a slight."
I like that reading. Brilliant people whose creations are at the mercy of petty jerks. And since the creations affect all of humanity us regular dummies are at their mercy too. Strauss lost his political career, but there are limitless free refills of politicians way worse than him. I wonder, then, if the movie's celebration over the downfall of Strauss was throwing a bone to the audience looking for something to feel good about, or if it was meant to be as hollow as the applause after the Trinity test, and the deafening bleacher-pounding at the pep rally where Oppy played along and pumped up the crowd while haunted of visions of their skin melting off? Didn't feel like the latter to me, but I'll take it that way anyway.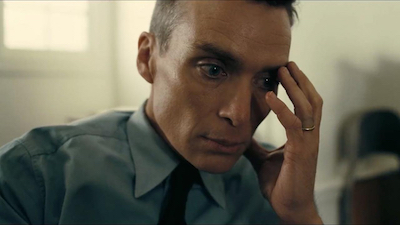 This is obviously Nolan in Big Important Mode. I think he's earned that right and he's good at it. It's a must-see for filmmaking craft alone, even if I'm a philistine who's always gonna be more excited for his movies about Batman and science fictional shit. I also gotta say I'm suspicious of people who panned TENET because its backwards logic was challenging to follow but are now acting like they kept up with the quantum physics talk, non-linear storytelling, massive cast and convoluted political machinations here. In either case it will all become more clear with repeat viewings, but I gotta face that this is not the one I'm gonna feel like sitting down to rewatch very many more times, if ever.
But many people will, and I'm happy for them. Let's appreciate it now before the reverberations of its popularity take hold and we're all sick to death of these lazy fuckin scientist biopics Hollywood can't stop cramming down our throats.