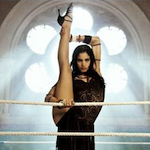 "I'm just thinking. What if people don't get it? I mean our Street-Latin fusion. Dancing with just us is one thing, but, a street dance battle, I just don't…"
Recently I reviewed STREETDANCE 3D (2010), an enjoyable street-dancers-team-up-with-a-ballet-class movie that I saw as the U.K.'s answer to STEP UP. It didn't go on to have as many sequels as STEP UP, but it did have one, in 2012, so it was my duty to check it out.
The sequel also reminds me of the STEP UP movies, and that's a compliment. It sort of follows the first one in the way that STEP UP 3(D) follows STEP UP 2 THE STREETS: it introduces new male and female leads, but also elevates a younger, charmingly geeky supporting character to a more central role. Or if you prefer action movie comparisons, it's kinda like NEVER BACK DOWN 2, which promoted Evan Peters' character Max from nerdy underground fight fan to hotshot promoter.
This time the main character/narrator is Ash (Falk Hentschel, Mariah Carey backup dancer, WHITE HOUSE DOWN, Hawkman on DC's Legends of Tomorrow, looks kinda like Stephen Dorff), who's introduced as a popcorn vendor at a big dance battle, stopping to watch the current champion of dancing or whatever, Vince (Anwar Burton, also a dancer in YOU GOT SERVED and STOMP THE YARD) and his two-time Final Clash winning crew Invincible. To everyone's shock, Ash steps out onto the floor, uniform and paper hat and everything, to challenge Vince. And he starts doing a bunch of acrobatics and shit and he's amazing… until he bites it. Invincible and the entire crowd laugh like bullies – like it's a bad dream, really – and they even throw the popcorn they must've just bought from Ash at Ash (answering the question "Why would people buy popcorn at a dance competition?")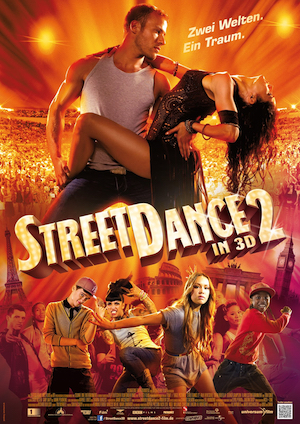 So Ash is utterly humiliated, but on his walk home a young man approaches him to compliment his bravery in going up there, to say that he sees something in him, and to propose becoming his manager. Ash doesn't take him seriously at first but we, as huge fans of the movie STREETDANCE 3D, know that's Eddie (Britain's Got Talent Series 2 winner George Sampson). Previously he was a funny kid who worked at the sandwich shop with main character Carly and at the climax used his boombox and his breakdancing skills to delay the proceedings at the dance competition until the ballet students showed up. Now he's traded in his baggy street gear and sideways caps for cozy cardigans, and he must not deliver sandwiches anymore because he convinces Ash to travel with him to Paris, recruiting multiple dancers along the way to form a crew and train to take on Invincible at Final Clash.
One thing I really enjoyed about this movie is that recruitment sequence, which could easily be in a STEP UP but also a FAST & FURIOUS or an OCEAN'S. They stop in these different cities across Europe and somehow Eddie is so plugged in he knows exactly the street corners, beaches and grocery stores to go to find the most highly qualified "mavericks, people like us, loners, genuine freestylers, people with their own moves and their own styles." Some are old friends, some he just knows about from myths and legends. They have different specialties and accents (but limited dialogue) and they all say yes except some guy from part 1 rivals The Surge (I like that kind of continuity – I was so excited when, in the middle of the movie, there's a little side quest "underground dance battle" challenge from The Surge.)

They end up with quite a squad of dancers with names like Terrabyte (Kaito "Kite" Masai) and Skorpion (Brice Larrieu), and there's a little kid named Junior (Akai Osei, also in the shopping mall scene of the first film, as well as an episode of Drunk History). And this is one case where instead of just being glimpsed in other crews the cool looking female dancers get pretty big roles – like the tattooed Bam Bam (Elisabetta "Betty Style" Di Carlo) and YoYo (Delphine "Deydey" Nguyen). And carrying over from the first film is Steph (Stephanie "Lil Steph" Nguyen, YOU GOT SERVED: BEAT THE WORLD). One complaint – it would've been cool if Academy Award nominee Charlotte Rampling, part 1's ballet teacher who was established to be a famous former dancer, was a member of the crew. Huge missed opportunity there.
Once they're in Paris and Ash believes they have the best possible crew, Eddie brings him to a bar… not actually to celebrate, but to see the one totally unexpected ingredient that, if they could figure out how to cross-pollinate it with street dance, would make them totally unstoppable! That is Latin dance. Which at this bar they do in a boxing ring for some reason, and they make it seem like a battle. Ash doesn't see what use he could possibly have for this style. Until he sees Eva, who we recognize as…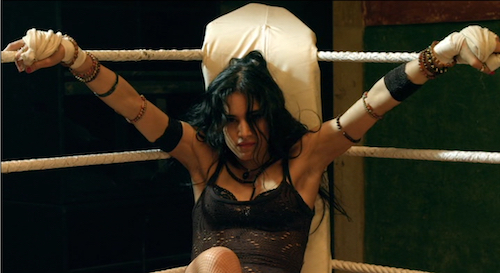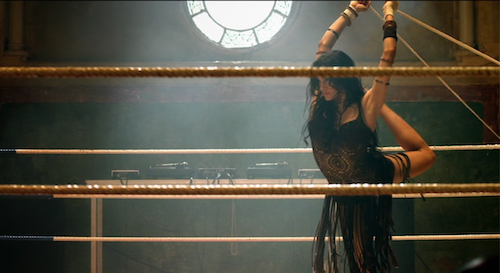 …motherfuckin Sofia Boutella! Before she had razor blade legs in KINGSMAN: THE SECRET SERVICE or played that badass alien in STAR TREK BEYOND or kicked ass and made out with ATOMIC BLONDE or was THE MUMMY or drank the spiked punch in Gaspar Noe's CLIMAX or stayed at HOTEL ARTEMIS, she was a dancer who was in some Madonna videos and a posthumous Michael Jackson one. This is actually her second movie, though – she was also the love interest in a 2002 French breakdancing movie called DANCE CHALLENGE, which I unfortunately can't find.
Ash is challenged to stay in the ring with her for one dance, and I don't really understand how that works, but I don't need to. After some slightly stalkerish behavior he convinces her of his concept, so Latin dancing takes the place of ballet as the discipline the street dancers have to learn from. But mostly just Ash, because they kind of scare off Eva's friends by doing that part 1 thing of rudely making fun of their traditional style, and then he gets lessons from/gets in the pants of Eva. There's kind of a Mr. Miyagi factor where he's impatient to get to the fancy tricks or to show off and she has to snap at him and teach him how to feel it with your heart or whatever. She makes him dance blindfolded and says stuff like "Tango is a shared language. There are no secrets, no lies, just… the dance."
Also the bar is owned and run by her uncle Manu (Tom Conti, who's given a famous-person type introduction, I guess because of MERRY CHRISTMAS MR. LAWRENCE?) who threatens to break his legs if he hurts her and unfortunately does not follow through even after finding her in tears at the end of a boxing-themed dancing-it-out montage. That would've been a cool third act twist if Ash couldn't walk.
It's almost entirely the same filmmaking team as the first movie: same directors (Max Giwa & Dania Pasquini), writer (Jane English), cinematographer (Sam McCurdy, THE DESCENT, THE DEVIL'S DOUBLE, THE COLLECTION, THE LEGEND OF HERCULES), editor (Tim Murrell, 21 BRIDGES), production designer (Richard Bullock), art director (Alex Marden), costume designer (Andrew Cox), music supervisor (Lol Hammond, BRONSON, ACCIDENT MAN) and composer (Lloyd Perrin), but it's new choreographers – Rich & Tone Talauega (Michael Jackson's GHOSTS, lots of Madonna stuff, RIZE, The Get Down, ALVIN AND THE CHIPMUNKS: ROAD CHIP, dancers in GHOSTS, SAVE THE LAST DANCE and YOU GOT SERVED).
I think it's a much better looking movie, though. It seems alot more shot-for-3D than the one with 3D in the title, and not just because they throw hats toward the camera and have a big pillow fight with feathers flying everywhere. It definitely seems like they studied the look of STEP UP 3D, with one battle scene really resembling my favorite from that movie (The Battle of Red Hook, of course).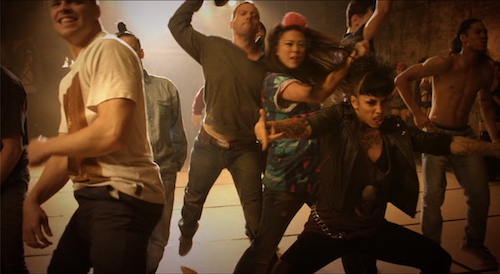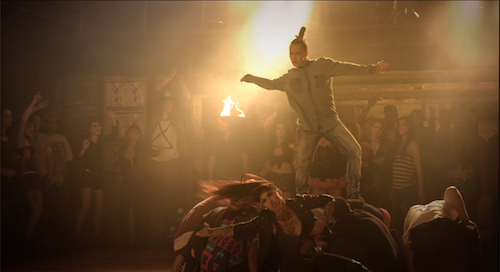 I think the ballet story of part 1 is maybe a little more appealing, but this one is way more stylish and goofy. Again following the STEP UP series pattern (which come to think of it is the BREAKIN' pattern) it seems to feel permission to abandon reality more and just do what they think is fun, like the boxing ring battles, or a random foot chase during the recruiting part, or Eddie dancing as much as everybody else even though he's just supposed to be the manager, or the ability for someone to be in an empty bar and suddenly turn around and the entire dance crew has covertly slipped in and is standing in this pose: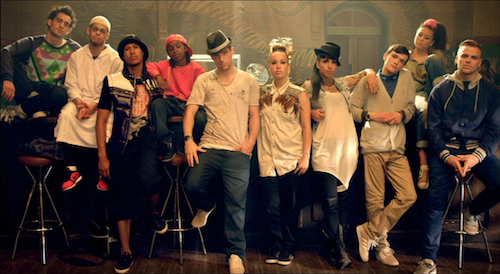 Also I just love Boutella, who it goes without saying is aggressively hot, but also just has such a cool way of moving, and even this early in her movie career is a good enough actor that you really couldn't find a better lead for this kind of thing.
Since I've commented on the over-competitive attitudes of the dancers in these movies (poor dancemanship?) I should note that in this one the "bad guy" is not evil, he just was a jerk about Ash falling on his ass during a battle. So his crew make lots of dismissive faces and gestures during the big competition, but when they lose he shakes hands with Ash, hugs him and hands over the trophy with a look of respect. I like that.
STREETDANCE 2 didn't do nearly as well as the first one, maybe in part because it was released against THE HUNGER GAMES. Apparently there was also outrage from some Algerians who, rather than being proud of Algerian Boutella being so cool, were offended by her sex scene and sexy dancing. Whatever the deal was, its too bad the adventures didn't continue. What if they had been able to do a Street-Ballet-Fusion/Street-Latin-Fusion Fusion? Would it have been too powerful? Would they have had to cut it with line dancing or something to make it safe? I guess we'll never know.