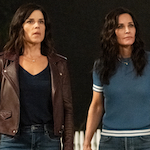 We interrupt this Sam Raimi series so I can have a semi-timely review of the new SCREAM movie.

I have some bad news. SCREAM – a teen horror movie that came out when I was older than a teen but I enjoyed it along with the younger people anyway – is 25 fucking years old! And you remember how it was a trilogy and we assumed that was it, but a little while back kind of out of the blue they made a way late part 4? Well, I'm sorry to say that even that happened eleven god damn years ago. How is that possible? It's not. But it happened. We are old, my friends. Very, very old.
But some of us still like SCREAM and the i.p. gods or whoever decided that the time has come for another one in another era. Many things have changed since the last one. Obviously horror has changed, as it always does. But more importantly the director of the original four, Wes Craven, has passed away, and (in better news) the Weinstein Company has died and gone to Hell, so this is the first time the series has been continued by a new set of people. The rights were picked up by Spyglass Media Group, James Vanderbilt (THE RUNDOWN, ZODIAC) & Guy Busick (READY OR NOT, Castle Rock) wrote the script, and Matt Bettinelli-Olpin & Tyler Gillett (the team behind READY OR NOT) directed it, in the Craven spirit but not trying to be a throwback or anything. (There's even a joke about overlit '90s movies.) Original writer Kevin Williamson did give his blessing and sign on as executive producer, and has given many interviews (such as on Mick Garris' podcast Post-Mortem) verifying that he really was involved and is excited about the movie.
Speaking on behalf of the earth, we were all pretty open to this team doing the movie, and then sort of annoyed when they changed the title from SCREAM 5 to just SCREAM. That's because, as noted, we're old. And suspicious. It only occurred to me the morning before going to the movie that of course it has to be called just SCREAM – this is the meta horror series, obviously it's addressing what's going on in horror movies now. Nobody's putting numbers on their horror sequels these days. Having seen the movie now it's even more clear that that's the only correct title. The original characters from SCREAM (1996) join new characters related to the characters from SCREAM (1996), and realize they're being manipulated into living a legacy sequel (they also use the term "requel") to the original movie, which to them means to the the original murders, and/or the movie STAB based on the original murders.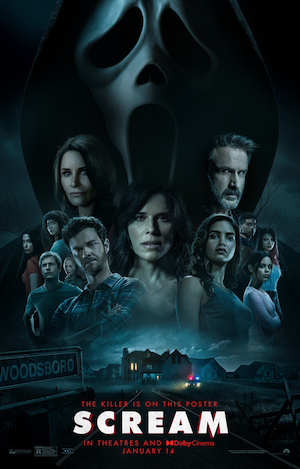 It opens, as it would have to, with an homage to the other SCREAM's famous opening, where Drew Barrymore as Casey Becker is home alone in a big house at night and gets a call from a stranger who quizzes her on "scary movies" and then kills her when she gets an answer wrong. Jenna Ortega (THE BABYSITTER: KILLER QUEEN), who plays Tara, is only a couple years younger than Barrymore was, but looks much more like a high schooler to me, and I don't know if this is the changing standards of horror casting or (again) me being old.
But this is definitely 2022, so Tara ignores her mom's ringing landline at first, texting with her friend Amber (Mikey Madison, Better Things, ONCE UPON A TIME IN HOLLYWOOD) about it. When she gives in and answers she hears that familiar SCREAM voice (Roger L. Jackson, Powerpuff Girls), leading her to believe he's her mom's new boyfriend, and eventually asking her about her interest in horror movies.
After the attack we meet our new protagonist, Tara's older sister Sam (Melissa Barrera, IN THE HEIGHTS), who moved away when she turned 18 and there are hard feelings about it. But she comes back to Woodsboro when she gets a call from Tara's friend. Here's the thing, though (EARLY SPOILER) – Tara survives that opening scene! She's injured, but alive enough to be one of the main characters. I thought that was great, because the Drew Barrymore scene lifted a trick from PSYCHO to catch us off guard, then it became the format of the SCREAM movies going forward. The simple act of not killing a character tells us from the beginning that it's not always gonna be beholden to the template of the old movies. (It mostly is, though.)
Sam's boyfriend Richie (Jack Quaid, THE HUNGER GAMES, LOGAN LUCKY) insists on coming along, an outsider who provides some exposition as he catches up on local history by watching the STAB movies on Netflix. They meet up with Tara's group of friends (who she used to babysit), including Liv (Sonia Ben Ammar), Wes (Dylan Minnette, DON'T BREATHE) and the twins, Chad (Mason Gooding, BOOKSMART) and Mindy (Jasmin Savoy Brown, LAGGIES). They realize the attacks seem to be happening to people connected to the original killings. That's a problem for the twins, who are niece and nephew of original slasher rule explainer, bad opinion haver and part 2 victim Randy Meeks. And Wes worries about his mom, Sheriff Judy (Marley Shelton, WARRIORS OF VIRTUE, GRINDHOUSE) since she's a character in one of the STAB movies (she was introduced as Deputy Judy in SCREAM 4). Don't worry, Mindy says. "Nobody cares about the inferior sequels."
Good joke, but not true. A quick Google search will find you a lifetime supply of essays arguing that either SCREAM 2, 3 or 4 was unfairly maligned and is actually the best SCREAM movie. SCREAM (2022) knows this and does acknowledge the sequels, but its primary concern is the characters who have been there since the beginning. Sam knows to get help from somebody who's been through this before.
SCREAM (1996) differed from the specific subgenre it was paying homage to after it became a series. The other whodunit slashers that got sequels did it by sticking with a permanent killer (FRIDAY THE 13TH, SLEEPAWAY CAMP) or being more of an anthology (PROM NIGHT). The SCREAM series is unique in that the heroes continue and it's the killers that are disposable. And though we all made fun of the need for pretty faces from TV in the Kevin Williamson/Dimension era of horror, I think the casting and the attempt to focus more on characterization did contribute to raising the standards of acting in this type of movie, which had not always been up to Jamie Lee Curtis's level.
Still, I was surprised to get a little emotional seeing these characters again. They track down Dewey (professional wrestler David Arquette), still in Woodsboro, now retired from law enforcement and living alone in a trailer. He calls up Sidney (Neve Campbell, WILD THINGS) but only texts his ex Gale (Courteney Cox, MASTERS OF THE UNIVERSE, COCOON: THE RETURN), because they haven't spoken in years and he clearly regrets whatever happened between them. He tells them it's happening again, and to please not come back. Take a guess how long they listen to that advice.
Some of the best stuff in the movie is just seeing them reconnect and show their care for each other, and the bond they have from going through what we know they've gone through together. (That we know Arquette and Cox got married during the series and have since divorced but are now willing to work together is touching in its own way.)
I don't think Sidney really has an arc in this movie, which might bother some people. But I found it kind of comforting that after so much tragedy in Woodsboro (and at college) she seems to have found a happy life somewhere else with a family and a leather jacket and whatever job she does. And she feels a responsibility to make sure they are not endangered (the family, at least – she brings the leather jacket right into the belly of the beast) and also to pass on what she's learned to the next generation of hopeful slasher survivors. The movie is not about her, but she's more than a cameo. Kind of a guest star. (Her photo credit at the end is "and NEVE CAMPBELL" but I wish it had a "as Sidney Fucking Prescott," as she refers to herself in the movie.)
Dewey really gets more of a role and (SPOILER SPOILER SPOILER) that may be partially because he gets Han Solo-d. We all worried that they would pull some HALLOWEEN: RESURRECTION bullshit and kill off Sidney or another main character in the opening, and luckily they didn't. Dewey of course tries to stay out of it, but ends up going with the kids and explaining his version of "the rules," which are not rules to surviving a horror movie, but rules to surviving these killings that happen in Woodsboro, which of course are rules to surviving a horror movie. He still has some humor, but he's mostly playing the gravitas the character has earned by surviving 9 killers or however many it is now.
You may or may not be aware that in SCREAM 2 a piece of Hans Zimmer's score for BROKEN ARROW is used as Dewey's theme. I've always loved that, but have found that many people are bothered by it, including composer Marco Beltrami. According to the L.A.Times at the time, "the producers" insisted on putting it on the temp score as sort of an Ennio Morricone-esque western theme. Beltrami says he made his own version that Craven loved, and was disappointed to see at the premiere that the repurposed Zimmer somehow stayed in the final cut.
That's weird, but he says his version was "a little more tongue-in-cheek," which sounds entirely wrong to me. The beauty of the theme is that it's not tongue-in-cheek. It treats Dewey as cool, like we know he is inside, despite sometimes being a comic relief character. It's not even a juxtaposition, it's more like sticking up for this underdog character. In SCREAM (2022), "Dewey's Theme" from BROKEN ARROW is back, and he's a more serious character now, as if he's grown into it. (No word if score composer Brian Tyler [SIMON SEZ] tried to stop them.)
I appreciate that Sam doesn't seem very Sidney-like. Williamson played with the idea of the "Final Girl" as originally explained in Carol J. Clover's Men, Women and Chainsaws. One of the features was that she would often be the "good" girl in her friend group, which Williamson exaggerated into a supposed rule that only virgins survive in horror movies. Sam instead is a "bad" girl, or at least she was – after her father left she started using drugs and getting into trouble, Sheriff Judy doesn't trust her because of their history, she also has hallucinations when she doesn't take her pills, etc. In ELM STREET terms she's not Nancy, she's Rod.
The other part of that is the biggest SPOILER I can give you, but let's dig in. Sam reveals that the real reason she acted out so much, and the reason she's a target for the killer, is the secret she discovered that (long story) her real father was Billy Loomis.
So the biggest, weirdest SPOILER I was glad I didn't know about but I'm about to SPOILER it so turn back now, is that Skeet Ulrich is actually in this movie as Billy, appearing to her in visions! I don't know what de-aging tricks they did, but it's 51 year old Ulrich playing a teenager again. It's ridiculous, and I respect that about it. Though in some ways I think SCREAM (2022) doesn't diverge enough from the template to be memorable on its own, it is definitely crazy that at the end our heroine is encouraged to stab the shit out of the killer by a vision of the first movie's killer, who then looks on with pride like a Star Wars force ghost. This also seems somewhat of a piece with READY OR NOT, where the heroine beats some of her evil in-laws to death and ends the movie smoking a cigarette while covered in their blood. The bad girl good guy.

I've been avoiding mentioning that Sam's last name is Carpenter. Man, naming horror characters after the top five horror directors was already old hat when SCREAM came out. But I will give them credit for giving her a name that can be considered masculine, like Sidney, another detail I believe is an homage to Men, Women and Chainsaws.
Obviously being the first SCREAM movie in 11 years means it's gonna acknowledge current horror trends. Tara uses the term "elevated horror." There's mention of "toxic fans" and people who think social messages are being forced into their horror, though it's not nearly negative enough about them considering there are already dipshits making videos on Youtube calling this not even social message-y at all movie "woke trash," presumably because it has some non-white people in it.
This stuff is all so obviously relevant that it seems like they have to mention it, and therefore it feels a little underwhelming when they do. What I think is more interesting is the differences we can see between horror in 1996 and 2022 just by contrasting the two SCREAMs.
In 1996, Casey "likes scary movies" – she's about to watch one, and says she likes HALLOWEEN and A NIGHTMARE ON ELM STREET. Sidney pointedly does not like horror movies, and Tatum finds them "insulting." Randy is the big horror fan, so he was well liked by the horror fans watching, but it's definitely supposed to be comical (and possibly suspicious) that he gets so worked up analyzing them. It seemed like a big deal to have a character who cared about this stuff as a main character in a mainstream movie.
But horror has a different place in society now. Tara is a horror fan and we're told her mom (who we never see) is also. Two generations! And there's a recognition that there are different types of horror movies to be into – Tara's favorite is THE BABADOOK, and she gives an academic explanation of why. She's only vaguely familiar with STAB not only because it's old but because she's more into stuff like IT FOLLOWS and HEREDITARY.
Mindy is the one who theorizes that the killer is making a requel or legacy sequel, and explains what she means by it. Yes she's related to Randy and yes, they have a shrine to the uncle they never knew and are implied to be an entire family of horror loving people. But the point is that all of the friends, who do not as far as we see identify as lifetime Fangoria subscribers or anything, get exactly what she's talking about. They don't have to be told that Jamie Lee Curtis came back for a new HALLOWEEN called HALLOWEEN. Horror is not a niche thing now, it's mainstream. In their world, I assume, that's partly because of the success of STAB.
Consider also that in 1996 the cast of SCREAM went on talk shows calling it a "thriller" so as not to limit the audience. In 2022 SCREAM was sure to get on the cover of Fangoria and release a new line of t-shirts from Cavity Colors. That's the audience they want now.
Another way things have changed is that Craven had to fight with the MPAA and finally speed up and edit a shot of Casey's intestines in order to avoid an NC-17 rating. This one has three or four acts of violence that are far more graphic and disturbing than that, and yet it wouldn't rank on the high end of goriness today. I'm happy about that. We've come a long way, baby.

SCREAM (1996) is a horror classic and SCREAM (2022) is a movie I enjoyed. It could never be as good as the original, and never will be, but ask me years down the line when it's old and I've revisited them all and I can figure out if it's the best of the sequels. I think it might be – it seems less full of shit about movies, and about young people, and it's more exciting to see the progression of the characters all grown up and weathered than to just see them a couple years later with different hair and new friends.
But the problem with SCREAM (2022) is the problem with any SCREAM (1996) sequel: it's not the first time. Every added chapter makes the larger story less real, no variation on the premise seems as new as when we first experienced that original premise. SCREAM 2 said "what if we apply that to sequels?," SCREAM 3 said "I guess we just pretend horror trilogies are a thing" and then SCREAM 4 mostly tried to update for a new generation of teens raised on social media, with results some say were prescient though they seemed somewhat laughable at the time.
Now SCREAM (2022) updates the premise for the era of David Gordon Green's HALLOWEEN, TERMINATOR: DARK FATE and STAR WARS: THE FORCE AWAKENS. And the smart thing about that is that because the SCREAM series was so much more about checking in on the good guy characters it really is exciting to see them together again at this late date and very different stage in their lives. I think there's also some accuracy in the updated killer motive. They're not psychos made more creative by horror movies, they're psychos who feel entitled to dictate what happens in their favorite horror franchise. Billy and Stu for the post Ain't It Cool/movies-raped-my-childhood generation of armchair studio executives.
When Williamson introduced the movie-within-the-movie STAB (based on the events of SCREAM) in SCREAM 2, it was a funny joke. I think it was also supposed to be some kind of satire about media exploiting violence (a popular target in the '90s), which I've always felt was off target since there is nothing in horror that's anything like STAB.
But all these years and sequels later the STAB movies serve a different purpose in the story – Tara has seen STAB once and sort of vaguely remembers it because that's what plenty of horror fans her age could say about SCREAM. And the voice on the phone can quiz her about the SCREAM movies by quizzing her about the STAB movies. And now when they talk about "the rules" they're describing how this specific movie series has always worked instead of making broad and sometimes inaccurate generalizations about the entire slasher genre or sequels or whatever their target is.
So other than maybe there could've been some more tension in some of the stalking, I'd say this is about as good of a SCREAM 5 as possible unless someone can come up with some brilliantly surprising reinvention of the premise that we don't see coming… and the thing is, if they did that, I'm positive it would not be as well received. Within the reality of the movie, STAB 8 was a widely hated movie that brought the series in a new direction. Though directed by Rian Johnson, the clip of a buff Ghostface with gold mask and blowtorch makes me think we're supposed to believe it really is some dumb bullshit, and if I'm not mistaken all of the characters including non-killers seem to agree it sucks.
I wish at least one of them stood up for it. Even if they were a weirdo for liking it. I would feel seen and consider this a fuller portrait of the horror community. 'Cause I bet you money STAB 8 is better than people say, if not one of the best of the series. It's probly not as solid as SCREAM (2022) but it seems to take bigger swings, and we need more of that.
tune in tomorrow for BRUCE CAMPBELL VS. ARMY OF DARKNESS