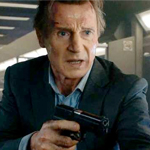 Liam Neeson is… The Commuter, starring in his self-titled, totally solid addition to the catalog of Neeson vehicles directed by Jaume Collet-Serra (UNKNOWN, NON-STOP, RUN ALL NIGHT). Written by previously unknown Byron Willinger and Philip de Blasi, this is a gimmicky suspense thriller taking place almost entirely in the limited location of a New York City commuter train, but it manages to also mix in a couple of impressive action exclamation points, not to mention the director's endlessly playful computer-assisted camera show-offery.
The Commuter is Michael McCauley, an ex-cop who is suddenly fired from his current job at an insurance company, and then finds himself under siege in dark territory on the ride home. It's the train he's been riding for ten years, and most of the passengers know him by name, make small talk with him and ask about his wife (Elizabeth McGovern, ONCE UPON A TIME IN AMERICA, CLASH OF THE TITANS) and kid (Dean-Charles Chapman, Game of Thrones). The usual sameness of his mornings is cleverly illustrated in an opening scene that shows him getting up, having breakfast, talking to the family and getting dropped off at the train, jaggedly cutting between seasons, emotions and conversations to show the passage of time without interrupting the flow of the daily routine.
He's had a few hours at the bar with an old buddy (Patrick Wilson, AQUAMAN, as a non-robo-cop for some reason named Alex Murphy) and somehow is calm enough about his abrupt life change and dire financial situation to sit and read a book, but some lady (Vera Farmiga, star of my favorite Collet-Serra joint, ORPHAN) rudely sits down by him and starts talking him up. She presents to him a hypothetical situation about what he would do if offered a large sum of money to do a task, and before you know it wait a minute there really is some cash hidden in the bathroom, this isn't hypothetical is it, lady? Oh shit. He's now being told to find a vaguely described mystery person on the train, and in case the money's not enough to force his hand they also threaten his family and make a scary demonstration of how serious and powerful they are. They seem to have eyes and people everywhere.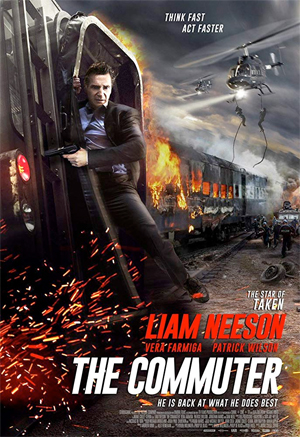 So there are many layers of suspense. There's the mystery of which passenger they're looking for, and how McCauley can find them. There's also the question of what the people who put him up to this are trying to accomplish, and whether he can live with himself if he does their let's-face-it-it's-gotta-be-something-sinister bidding. But just like Peter Cushing's banker character in CASH ON DEMAND he has his family to think about, so he does what they say. He uses his old detective and problem-solving skills to try to puzzle it out, snooping around the train looking at people's tickets, starting conversations, asking questions. He does everything from falsely accuse somebody of having a bomb to sabotage the air conditioning to force everybody into the same car to find and hide a dead body. His behavior seems crazier the more he has to try and the more desperate he gets, to the point where he's reported as suspicious and has to hide under the train while police search it. Which is just not something anybody wants to deal with during a commute even if it's not a shitty day where they've been fired and their family has been taken hostage.
Obviously this is an over-complicated conspiracy. Seems like people with so much power could figure out a simpler way to cover up whatever nefarious deed they're mixed up in. And McCauley's relationships with the other commuters, as well as their character types (grizzled working class buddy [Jonathan Banks, CROCODILE DUNDEE IN LOS ANGELES], angsty nose ring teen [Florence Pugh, OUTLAW KING], ex-Goldman Sachs American Psycho [Shazad Latif, THE SECOND BEST EXOTIC MARIGOLD HOTEL]) are completely contrived. Also there's a twist that I bet you, like me, will both see coming and guess how it will be revealed. But these things are all forgivable.
For the most part this seems like a digital age popcorn movie take on a Hitchcock or DePalma or at least Larry Cohen type of high concept thriller. But there are two specific scenes where they seem to think "This is a Liam Neeson movie, we better have an action part here," and I appreciate the gesture. Sort of out of the blue there's a big CG train derailment disaster, like one of the more far-fetched FX-based stunts in the DIE HARD sequels. It feels less like a climax they've been building toward than a little thank you for your patience.
My favorite action part though is a fight scene that's done up as if in one take. It doesn't have the highwire feel of an actual long take – instead it seems to be a series of carefully orchestrated and pieced together stunts and gimmick camera moves. At one point his head is smashed through a window and the camera follows him outside of and then back inside the train. (Fight choreographer: Roy Taylor. Director of photography: Paul Cameron [SWORDFISH].)
By the way, this is the rare movie where Neeson is specified as being from Ireland, even though it's not important to the plot. Usually he follows the Schwarzenegger precedent. Also of note, there's a minor character on a skateboard played by Letitia Wright, who the month after this had a much more memorable role as BLACK PANTHER's genius sister Shuri. This is in the tradition of her co-star in that movie, Lupita Nyong'o, playing a flight attendant in Neeson/Collet-Serra's NON-STOP which was released between 12 YEARS A SLAVE coming out and getting her an Oscar.
This is not some transcendent classic, but it's a studio mid-level genre movie that happily delivers the exact type of silly bullshit we need. It's got your complex conspiracy, your corruption, and your honorable family man who is smart and tough and, along with a cross-section of New York City workers, stands up bravely for what's right. Plus there are explosions and punching and he goes flying through the air at one point. THE COMMUTER arrives right on schedule
(I don't know)