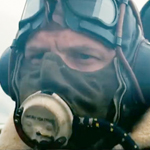 Git 'r dun, kirk! Well dun, kirk. Done 'n dunk, kirk. What have you dun, kirk!? You know you dun kirked up, don't you? You know that, right?
DUNKIRK is Mr. Christopher Nolan's WWII (World War 2) movie, a sweeping epic in visual terms but kind of an intimate story; a historic event depicted through the perspectives of three groups of lightly developed characters. I saw it in Imax, and I'd guess 98% of the movie fills the entire gigantic screen from top to bottom. They cropped it briefly inside a small boat (probly didn't want gigantic closeups) but otherwise your field of vision is filled with sky, sand, water, helmets, bodies, smoke. And Hans Zimmer's stress-inducing score frequently mimics a ticking stopwatch as we watch these thousands of British soldiers trapped on a beach in France waiting to see whether they're gonna be miraculously rescued or bombed to shit.
Nolan gotta be Nolan, so he gave a simple story a uniquely tricky structure. He intercuts between the soldiers on the beach, some citizens in a small boat and a few pilots in the sky, but titles tell us that their stories encompass one week, one day and one hour, respectively. You never feel like you're skipping around in time, but it's an illusion, a timeline repeatedly expanding and contracting until it gets to the end.
The land portion is about desperation and fear. These brave young enlisted men have presumably fought valiantly, but now there's no one to fight. They're painted into a corner, waiting, wondering where the Air Force is, who fucked up, how long they have left. In a harrowing sequence they cower as Nazi plans fly over, and there's nothing to do but hope their bombs hit somebody else.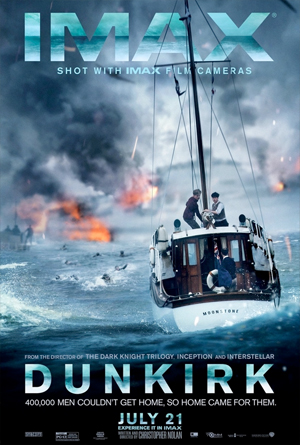 The two main guys we follow – sometimes through long dialogue-free stretches – climb up under a dock and do other sneaky things trying to cheat their way onto a boat before their turn. They even carry a wounded guy on a stretcher as a cheap ploy to cut in line. Eventually they're hiding with some other soldiers below deck in a small fishing trawler that takes some bullets and starts filling up with water. Like the people in the ferries in THE DARK KNIGHT, some crack and start turning on each other, trying to throw each other under the bus. Or in this case into the water to be shot by Nazis. They turn into their worst selves, their inner rich-people-car-in-TRAIN-TO-BUSAN, the cowards who will gladly pick somebody else to be sacrificed in their place. But also like in DARK KNIGHT somebody speaks up for doing the right thing. Unfortunately it is not Tiny Lister in this one, just a skinny British kid.
The whiniest soldier is played by Harry Styles, a British boy band singer guy. I guess some people are annoyed by the casting because they find it distracting. Should've thought of that before you were born in a year where you were young enough to know who that is. Also I have some shocking new to share with you about Will Smith and Mark Wahlberg.
The sea portion of the movie is about a feeling of duty. Mr. Dawson (Mark Rylance, BLITZ) is a private citizen who decides to take his boat across to help with the evacuation. With him are his son Peter (Tom Glynn-Carney) and younger deckhand George (Barry Keoghan), who they didn't expect to go but he insisted. Dawson, whose older son was a soldier, seems to be an avid follower of warfare and military hardware, which helps them understand the things they encounter.
They rescue a soldier (Cillian Murphy, TRON: LEGACY) floating on some wreckage after a U-boat attack. He's in shock and freaks out when they tell him which direction they're headed. So they end up having more of a threat from the guy they're rescuing than the enemies they're rescuing him from.
The air portion is about Tom Hardy. A dashing flying ace, he spends almost the entire movie in the cockpit with his mask on, but is still the character I cared most about. I appreciate that the distortion of the mask made him sound a little like Bane, and that he continues to be this generation's greatest cinematic grunter. He offers air support for as long as he can, knowing his fuel won't last forever and – with the gauge broken – that he won't know he's out until he's out. Still he circles around and flies in to the rescue during some of the most exciting moments.
Nothing against the movie as is, but I would maybe prefer a LOCKE type deal where the whole thing is only Tom Hardy by himself in the plane. Or another possibility is that it's the same movie they made but with Hardy playing every character.
You don't get much of a chance to feel like you fully know these people, but you watch them survive (or not survive) incident after incident. They get bombed, shot at, shot at again, they get sunk, almost drowned, caught on fire. If it's not this it's that and if it's not that it's another thing and another thing after that, like trying to escape the world's most relentless Texas chain saw massacre with 300,000 of your closest friends. And Nolan pulls out his most polished filmatism to put you in the middle of that. I did alot of wincing as people got it or almost got it.
I have to confess I misread some of the events and got slightly confused. At the beginning, Tommy (Fionn Whitehead) is stuffing propaganda leaflets in his waistband, apparently to use as toilet paper. But then he meets Gibson (Aneurin Barnard, IRONCLAD), who has stolen a dead soldier's uniform, and Tommy's is so clearly way too big for him too, and we never do see the leaflets come out, so it started me thinking that he too had stolen his uniform and was trying to stuff it to make it fit better. This seemed to be supported by him getting into the wrong line, like he didn't know what he was doing. Is he too young to enlist and faking it because he wants to help? That would be dumb in this particular battle. Is he a German spy? Maybe we're supposed to wonder at one point, but obviously he doesn't turn out to be. I really thought it was telling me he was an impostor, so I spent the movie thinking I had missed something important at the beginning about what his deal was.
But I guess it's an innocent explanation: he just had a uniform that was too big for him and had to take a shit real bad. That second issue he never does resolve, by the way, but maybe it's in the novelization.
Like all technically masterful directors, Nolan is accused of emotional coldness and distance. I don't think it's quite that. Here we don't really know much about the characters except for what they are willing to do in this life and death situation. We don't have the scene where they sit around and talk about their home towns and their fiancees and shit. They lack specifics, but they're universal. If you're not a little moved by watching humans go through this, maybe it's you.
I think this is an impressive filmatistic work that should be seen by anyone who likes such things. And I have great respect for Nolan and all of his movies. But I also have to confess that I don't like this or any of his "grown up" movies, unless you count INCEPTION, as much as I like his Batman pictures. There's something about his grand seriousness that for me is heightened when combined with the pulpy quality of super heroes. It can feel Heavy and Triumphant but still be extremely fun. In fact, I kind of suspect that's the David S. Goyer factor – the joyous moments of levity or badassness or trickery, the things that connect DARK KNIGHT and BLADE but not DARK KNIGHT and INTERSTELLAR.
Not that I want that in his WWII movie. I'm just saying the Nolan magic is, to me, at its most potent with that extra ingredient of crowd-pleasing. But I'm glad he makes movies like this too. Let him do whatever he wants. So far that's worked.