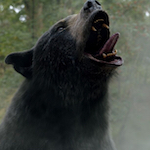 COCAINE BEAR is a kind of funny new horror comedy written by Jimmy Warden (THE BABYSITTER: KILLER QUEEN) and directed by Elizabeth Banks (Rita Repulsa in the POWER RANGERS movie). I kind of enjoyed it and I'm certainly on board for this type of movie – pretty gory, not serious about anything, spending $35 million of Universal Pictures' money to get very good bear animation FX in what is otherwise kind of on the level of a PIRANHA or ALLIGATOR sequel.
It's just a silly goof with a simple nature-gone-amuck premise: a drug smuggling plane dumps its payload in the Chattahoochee National Forest, a black bear finds and eats some of the cocaine, now she's angrily rampaging around eating tourists and the people searching for the other bags. And she'll do anything to get more of that stuff. Fiending for it like a bear to honey.
It's pretty funny how much Banks pushes the disingenuous idea that it's a true story by showing a real news report about Andrew C.Thornton II, a drug smuggler whose parachute failed when he abandoned his plane and he landed in a Knoxville, Tennessee driveway on September 11, 1985. Yes, a bear really did eat this man's cocaine, but then it didn't do jack shit to anybody. They just found the poor thing dead. So this is really more Based On Events That Would've Been Funny than on True Events.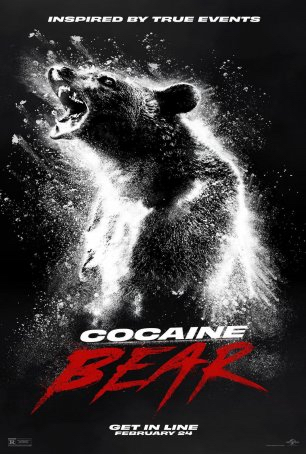 The movie keeps the year, maybe so they don't have to deal with cell phones, or as an excuse to put Depeche Mode's "Just Can't Get Enough" on the soundtrack, or perhaps just for mustache purposes. Ray Liotta in his final completed role (though IMDb lists three more on the way) plays Syd, a drug lord desperate to reclaim the lost shipment before the Colombians come down on him. He wants his son Eddie (Alden Ehrenreich, SOLO) to take care of it, even though he quit the drug business and is mourning the recent death of his wife. Syd gets Daveed (O'Shea Jackson Jr., INGRID GOES WEST) to push Eddie into it, so the embark on a wacky, violent mismatched buddy road trip. They don't know that a cop named Bob (Isiah Whitlock Jr., DA 5 BLOODS) has very accurately guessed where the dead parachutist they found would've dumped the rest of his drugs, and is headed in the same direction.
The first people to encounter the bear besides some doomed Norwegian hikers (Kristofer Hivju [AFTER EARTH] and Hannah Hoekstra) are two little kids, Dee Dee (Brooklynn Prince, THE FLORIDA PROJECT) and Henry (Christian Convery, Sweet Tooth), who are playing hooky to paint a waterfall (?). There's very little about this movie that's genuinely transgressive, but I was surprised and amused that it's the kids who find the coke, and that Henry (in a classic little kid lie) claims that he has done coke before, which leads to them "doing" some of it by trying to eat it. Then the bear shows up and wants in on that.
Dee Dee's mom Sari (Keri Russell, who IMDb describes as "Actress, Felicity (1998-2002)" – not sure what that's about, I know her from ANTLERS) figures out where she's headed, and goes looking for her accompanied by park ranger Liz (Margo Martindale, BOBBY Z). Sari wears historically accurate white nursing shoes and a Barbie pink jumpsuit and though I bet she had a great time playing a less heavy character than usual she plays it admirably straight. She finds Henry hiding in a tree and they have to save Dee Dee, who has been dragged off to a cave.
The characters all have their wacky business they're distracted by before running into the bear: Ranger Liz is transparently annoyed to be helping Sari because she has a crush on wildlife inspector Peter (Jesse Tyler Ferguson) and wants to be alone with him; Detective Bob is trying to adopt a dog but is uncomfortable with the prissy one they gave him; Eddie's obviously very understandable grief shows itself in silly bits like breaking down over Jeffrey Osborne's "On the Wings of Love" playing on the car radio. It's another reminder of how good Ehrenreich always is, even if it's not the best material.
The least successful characters are the Duchamps – Stache (Aaron Holliday, Sharp Objects), Vest (J.B. Moore, Young Wallander) and Ponytail (Leo Hanna) – a trio of deluded dorks with cartoon redneck accents who pass for notorious criminals in the forest. They try to mug Daveed in a public restroom, which they will regret. I was a little disappointed that Banks (who had pretty good action in her CHARLIE'S ANGELS movie) chose to just do kind of a comedy slap fight instead of real choreography. And no toilets are broken. But I do like that you can see there's lots of piss on the floor.
Most of the characters have some funny part or line – maybe Henry gets the most laughs, being precocious with his cussing – but the star of the show is obviously the bear, and fortunately her FX by Weta are really good. She seems convincingly agitated, ramming against trees, seeming belligerent and deranged, roaring, huffing, and drooling, dried blood and snot smeared all over her maw. And they really capture the weight and strength of a bear, so it's very menacing when she books through the woods or up a tree. Cocaine bear, bouncing here and there and everywhere, high adventure that's beyond compare, she is the cocaine bear.
For a studio movie it's pretty mean. The first death scene gets us laughing at Olaf and Elsa (they're in the middle of arguing about whether or not his brother's terrible band can play their wedding when they encounter the bear) but it's hard to entirely brush off seeing a guy scream as his fiancee is torn to shreds by an animal. Life is cheap in this forest. We get used to laughing at the bear mauling people just to lick coke off of them. There are accidental shootings, and major bodily injuries that are taken surprisingly lightly in some cases. In the epilogue as the survivors are walking away relieved (SPOILER FOR A GREAT PART) they walk past a poor dead character smashed under a wheeled stretcher on the side of the road from an earlier catastrophe. Henry averts his eyes, then says he kinda wants to look.
My second favorite part is (SPOILER FOR MY SECOND FAVORITE PART) when the bear snorts cocaine off of a severed leg. My first favorite part (SPOILER FOR MY FIRST FAVORITE PART) is when a (cocaine) bear cub slurps up Ray Liotta's intestine like a noodle.
The real bear ate 40 plastic containers of cocaine, and the medical examiner said its stomach was "literally packed to the brim with cocaine," though it only absorbed 3 or 4 grams into its bloodstream. So take that as a tip. You can eat quite a bit of it before you o.d., kids. The bear was taxidermied and is on display at a mall in Lexington, Kentucky.
This event also inspired season 4 of Justified, which revolves around the missing cocaine of a smuggler who fell out of the sky in 1983. I don't believe there were any bears involved, though.
On a basic level COCAINE BEAR does deliver on some of what was required: the bear looks cool, Banks doesn't hold back on gore, once it gets going it keeps a pretty good pace. On the other hand, it's not one of those movies like, say, CRAWL, that takes an elegantly simple hook and then knocks your socks off by overachieving filmatistically.
Ah, hell. I'm gonna say it. It achieves the bear minimum. There's nothing too wrong with it, but it's a lightly amusing and then quickly forgotten experience. Many would say that's the best one could expect from a movie about a bear on cocaine with the title COCAINE BEAR. I disagree. Compare it, for example, to ALLIGATOR, to see how treating a knowingly silly rampaging animal movie with a straighter face and maybe some light satirical underpinnings can give something like this way more of a punch.
But maybe this is also a problem of modern entertainment. This movie is doing very well, because it was a funny idea, and they did a good job of promoting it. Had they done a poor job of promoting it, and I hadn't seen ten thousand "ha ha, they really made a movie about a COCAINE BEAR!?" posts and articles on the computer machine over the past few months, surely I would've come to it fresher and found it a little more exciting. If a movie is too complicated to explain it will fail, and if it's beautifully easy to explain they'll run it into the ground well before opening day.
Oh well. Okay is okay. Here's the one thing I will definitely remember about COCAINE BEAR: composer Mark Mothersbaugh (SLAUGHTERHOUSE ROCK) uses my favorite cheesy synth sound, Digital Native Dance, prominently in the score. I think it's the first time I've heard it used during this century, and it has got to be the most expensive movie it's ever been in.
So congratulations to all the digital natives.


Note: An earlier version of this review changed the lyrics of the Gummi Bears theme song to say "narcotic rampage that's beyond compare," but then I realized that the original lyric "high adventure that's beyond compare" already fit, so I changed it. I regret the error.
This entry was posted on Tuesday, February 28th, 2023 at 7:04 am and is filed under
Reviews
,
Comedy/Laffs
,
Horror
. You can follow any responses to this entry through the
RSS 2.0
feed. You can skip to the end and leave a response. Pinging is currently not allowed.