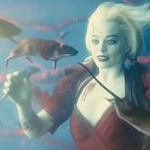 THE SUICIDE SQUAD, from writer/director James Gunn (SLITHER, SUPER, writer of TROMEO & JULIET and DAWN OF THE DEAD) is kind of miraculous as far as these big ol' corporate franchise movies go. Imagine the odds against a director starting out as a writer at Troma, making some well-liked-but-not-super-successful hard-R comedies, then going mainstream with two beloved Marvel hits, then being temporarily fired by Disney due to right wing trolls feigning offense at his old tweets, and spending his time off going over to a different comic book universe to make a super gory and death-filled but heartfelt sequel to someone else's widely-hated part 1, building off of his horror comedy past, the skills he built on his GUARDIANS OF THE GALAXY movies, and what was fun about that first SUICIDE SQUAD movie, to make something really special?
Though I didn't hate David Ayer's 2016 SUICIDE SQUAD the way most seem to have, I had many complaints. I suspect he had a more sensible version before the studio literally hired the trailer company to re-edit it, but even in its present form I think the movie deserves praise for establishing a rowdy, cartoony take on the DC Universe that BIRDS OF PREY and now this were able to riff on and use as a jumping off point. And of course even bigger than that is its casting of Margot Robbie (THE LEGEND OF TARZAN) as Harley Quinn, as close to a universally beloved character and portrayal as has ever come out of such a widely hated movie.
Please note for future movie news reading reference that what was originally announced as a "reboot" is of course what we once knew as a "sequel" – a continuation of the same concept with some of the same characters. Scary agency head Amanda Waller (Academy Award winner Viola Davis, BLACKHAT) once again forces some of the super villain prisoners of Belle Reve Prison, including Harley and Captain Boomerang (Jai Courtney, I, FRANKENSTEIN) to go on a dangerous mission for the U.S. government under the leadership of elite soldier Colonel Rick Flag (Joel Kinnaman, RUN ALL NIGHT).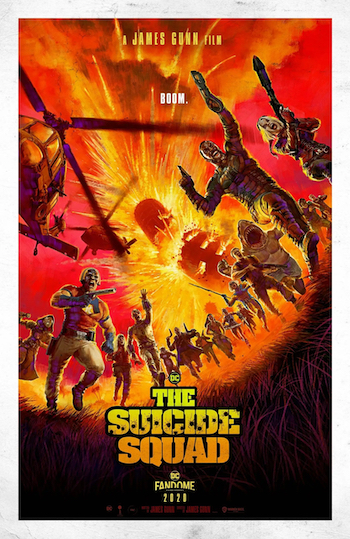 The new Task Force X is activated in response to a new regime in the DC-Universe-country of Corto Maltese, and this is a movie happy to bring back previous characters and surround them with a bunch of fun new ones knowing it will extravagantly slaughter some of each. The opening is a nice little vignette about the beginning of the mission, with an ironic closer to it and credits spelled in spilled blood (the various ways of lettering chapter titles in this are a legitimately comic book-y choice we don't see in many comic book movies).
I'm not gonna keep complaining about the first film, but to me the big disappointment about it was that they have this great set up of a DIRTY DOZEN type team made up of expendable super villains, but then they didn't really give them much of a team mission. They go fight some magic lady as a group, there's not much strategy or using their specialties. This one does much better with that. They invade enemy territory, trek through the jungle, set up camp, meet with a contact, do some side rescue missions. There's delegating different parts of the mission, finding out new information that changes everything, betrayal, disobeying orders, all that. Harley gets a pretty great spin on the thing where the female lead is romanced by a suave villain (Juan Diego Botto, 1492: THE CONQUEST OF PARADISE). Didn't see where it was going there.
There are a whole bunch of fun new characters. Idris Elba (PROM NIGHT) plays Bloodsport, not the classic movie but the honorable mercenary who, we're told, shot Superman (no context ever given). Though it's obvious that he just filled the slot of Will Smith's character after he opted out, it's still one of the only big movies to actually use Elba well. He has a rivalry with Peacemaker (John Cena, THE MARINE), a cornball quasi-patriotic fascist who has similar abilities but enjoys slaughtering people to, he believes, create peace. The nicest character is Ratcatcher 2 (Daniela Melchior), who has a device that controls all rats and has one rat named Sebastian who sits on her shoulder and wears a cute little backpack.
I also gotta shout out Weasel (Sean Gunn, "Traction Sailor," PEARL HARBOR), a weirdo mocap character reminiscent of Bill the Cat from Bloom County. And Mayling Ng (LADY BLOODFIGHT, DEBT COLLECTORS) as the orange-skinned Mongal (one person in the control room asks if she's an alien or some kind of god, for betting purposes). And Gunn really figures out an interesting use for Polka-Dot Man (David Dastmalchian, SUSHI GIRL, PRISONERS), a harmless '60s Batman villain in a white bodysuit with colorful spots that he can throw and turn into weapons. He looks very retro and silly, and he's a funny character, but in this version the dots are an inter-dimensional virus that he has to expel twice a day or they glow under his skin and create giant painful bulges. I do believe this is the prettiest-colored body horror we've ever seen. It will be interesting to see if this interpretation makes its way into the comics and revives the character the way the Mr. Freeze tragic backstory from the animated series did.
One of the most lovable characters, although he's also responsible for the goriest deaths, is King Shark, voiced by Sylvester Stallone. His strong appeal is mostly a combination of the basic concept (a huge man with a gigantic shark head who likes to eat people) and the cute storyline (after he tries to eat Ratcatcher 2 in her sleep and the others plan to kill him, she promises to be his friend if he won't eat her, and he gets excited about making friends). But it's also the little details – the way he lumbers around, the way he waves hello to people, that he wears jean shorts, the labored breathing that his size and/or gills make necessary, even when he's not going up stairs.
(King Shark is also my favorite on the Harley Quinn cartoon, in a higher-functioning interpretation voiced by Ron Funches.)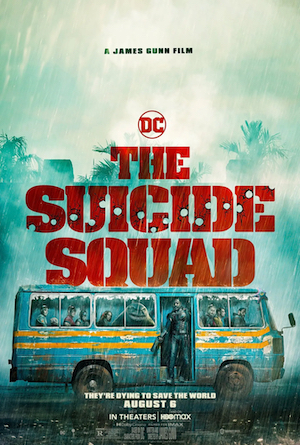 Most of the fun here is character-oriented, but I really appreciate that this, like BIRDS OF PREY, actually qualifies as an action movie. The fight coordinator is longtime Rothrock co-star/FURY ROAD Prime Imperator Richard Norton, stunt coordinator is Tim Wong (TRIPLE FRONTIER) and supervising stunt coordinator/second unit director is Guy Norris (FURY ROAD). There are legit battles and fight scenes, well choreographed, shot and staged. My favorite is the one with Harley gunning down all the soldiers in the palace. It would be one of the best scenes even if she didn't start hallucinating psychedelic flower petal blood and cartoon bird companions, but she does, so it becomes twice as good.
Note that this is one of the rare comic book movies with one writer/director. Unless I'm forgetting something pre-DECU the first SUICIDE SQUAD (David Ayer) is the only other DC movie with that distinction, and the only Marvel ones are Joss Whedon's two AVENGERS movies and GUARDIANS OF THE GALAXY VOL. 2.
It also has a unique quality for a modern comic book movie in that despite being part of a series it isn't really beholden to continuing anything. You figure they wouldn't kill Harley Quinn, but they can and do off plenty of other characters we like, and they have no responsibility to set up threads for future movies, since none are necessarily planned, and Gunn might not be available. (There is a post-credits set up for a Peacemaker show that's gonna be on Home Box Office Maximum, but that was something Gunn decided to do after the movie, during the pandemic, for fun.)
One of my favorite things in this world is fun, well-made genre entertainment that also has something under the surface that speaks to me as a person. I appreciate that THE SUICIDE SQUAD actually is about something, has some heart to it, and even some politics. I've written a few times about trying to come to terms with how some of the action movies I enjoy indoctrinate us (intentionally or not) to be more okay with militarism. My whole life I've hated war. I was one of the only kids I knew upset about the Panama Invasion and the first Gulf War, and I wasn't into war movies either – I wouldn't even watch SAVING PRIVATE RYAN when it came out! But eventually I turned around on the movies and after a million of 'em I started getting a little too fascinated with the abilities of the elite soldiers with the lingo and the big vests and shit.
So I love that THE SUICIDE SQUAD follows some of the traditions of the special ops mission movies (and the comics also inspired by them) in a context that's unambiguously critical of American ends-justifies-the-means foreign policy.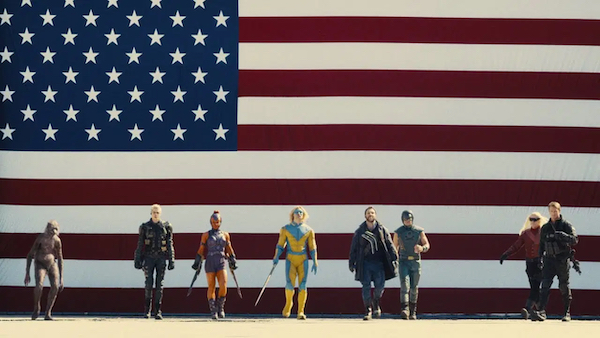 It's right there in the premise and in the image of a group of comic book super villains slo-mo strutting in front of a giant American flag. And in the way scary-ass Amanda Waller (whatever people may think of Davis being in these movies, she's legitimately great in them) matter-of-factly explains that they have bombs in their heads and have to help stop the new dictators because they're more anti-American than the last dictators, and even her employees seem unsure if she was serious about threatening to imprison Bloodsport's daughter. Hurting kids is a line drawn by super villains, but not the United States government, throughout the movie.
The dangers of Wallerism are painted with a Verhoevian painful laugh when the camp of soldiers joyfully massacred by our anti-heroes to rescue Rick Flag turn out to be freedom fighters who saved him and were protecting him. I'm not sure if Waller was thinking of "U.S. interests" when she told the Task Force to kill everyone they saw in those woods, or if she just fucked up, but it kinda doesn't matter.
If that's too subtle for anybody (or they got distracted by all the gore and the brief dick shot) the plot eventually comes to a point when U.S. involvement in (spectacular sci-fi) atrocities and their attempt to cover it up become the soul focus and point of contention between the characters.
But the message isn't just "war is for super villains." A goal of these movies, particularly well done here, is to blur the line between "hero" and "villain," to show that "good guys" are not always what they're cracked up to be, that they can fuck up too, that not all people who fucked up have to be "bad guys," and that even if they are maybe there is some amount of redemption possible for them. They're forced into this mission under the guise of redemption, but they really find it when they turn against the mission to protect innocent people. Hopefully none of us have been responsible for any evil plots, but plenty of people have been assholes or had bad addictions or fucked up relationships or embarrassed themselves or failed to become who they thought they would or starred in a ROBOCOP remake that people didn't like or have a past of making tasteless jokes on Twitter to show off how edgy they are. If so they can use this tale of larger than life fuck ups as a reminder that even if you think you're a piece of shit, or other people do, or the law does, you can still do good things, and find good friends, and you can be better and things can be better.
It goes without saying that the GUARDIANS movies and THE SUICIDE SQUAD are both mega-budget franchise products where a team of hired artists mine the "intellectual property" of comic book companies the corporation bought to make mainstream entertainment, selling tickets, downloads, subscriptions, t-shirts and trinkets. Gunn has gotten really good at making a very effective version of that with a sense of humor and some oddness and a celebration of camaraderie among misfits that are all good things to be putting into our pop culture. So far THE SUICIDE SQUAD is the only one of those that's humorously gory and anti-war and finds sympathy for a giant alien starfish and beauty in Harley floating in the aqueous humor of a giant eyeball while a swarm of rats swim in and chew on its veins. So if I had to choose a favorite, this is the one.
This entry was posted on Wednesday, August 11th, 2021 at 10:46 am and is filed under
Action
,
Comic strips/Super heroes
,
Reviews
. You can follow any responses to this entry through the
RSS 2.0
feed. You can skip to the end and leave a response. Pinging is currently not allowed.