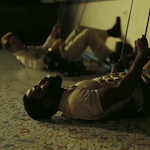 I like Christopher Nolan's movies. So, had things gone reasonably in the world, Christopher Nolan's TENET by Christopher Nolan is a movie that I for sure would've seen right away in a theater. But… you know. So I didn't.
Now, after having played some theaters in some parts of the world where some people think it's safe to go to theaters, with months having passed since the professionals moved on to other topics, many seemingly unimpressed, TENET is on blu-ray, so I have seen it. And I will just say up front that I am very pro TENET. I really enjoyed it. People around these parts call me Bad Lou TENET, Port of Call This Movie Is Great.
First, let me start by pointing out that this entire review has been written as a palindrome. I'm just kidding. I could do it for sure, I know how, but I don't want to show off. Christopher Nolan, however, has zero qualms about showing off, and I love him for it.
I love that combination of hyper-intelligent overthinking and flashy pop thrills. There aren't many directors who would spend 20 years carefully constructing a screenplay full of puzzles and palindromes, and also do an action scene that requires driving a real jumbo jet through the side of a building, and have them be the same movie. This one reminds me most of INCEPTION, but also quite a bit of DARK KNIGHT, but seeming slightly less self-serious than either, which is not something I would've requested, but it's kinda nice. If Nolan wants to make some grand statement in a cool movie I'm all for it, but also if he realizes that he can just make a cool movie and we're gonna be able to appreciate it and say "it's backwards!" and don't mind that we're not saying "mostly, of course, it's about grief and trauma" or some shit like that, that's a good lesson for him to learn, I think.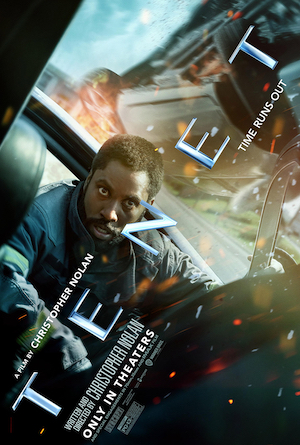 I heard somewhere that this is Nolan's version of a James Bond movie, and even though it's very much a sci-fi film I think that describes its spirit pretty well. It has the intrigue, the international on-location shooting, the large scale action, and the unflappable hero who looks great in suits. John David Washington (BLACKKKLANSMAN, THE OLD MAN & THE GUN) plays a secret agent, first for the CIA. After proving his loyalty by going to spectacular lengths to swallow a (it turns out fake) suicide pill, he's officially considered dead and is recruited to an ambiguous, maybe international, not even necessarily governmental (?) agency called Tenet. Unlike 007 he doesn't even get a number; only because I had the subtitles on did I realize they never say his name, so he's generically referred to as "Protagonist." (There's something meta about this – characters talk more than once about protagonists and antagonists, but I don't think there's anything deep about it.)
Tenet don't have some known palindromic rival organization like Racecar or Top Spot or UFO Tofu or something. Their opponent is some unknown entity in the future manufacturing "inverted bullets" – their molecular structure (or whatever) reversed so that they travel backwards in time. They unfire from bullet holes back into guns. And once you understand that those exist you can believe that their proliferation in the present is fucking up our reality in such a way that we, in our capacity as the future's past, could be completely erased.
When scientist Barbara (Clemence Poesy, IN BRUGES, 127 HOURS) is explaining and demonstrating this stuff to John T. Protagonist she says, "Don't try to understand it. Feel it." I like that because I remembered it throughout the movie whenever I couldn't really grasp how the backwards shit works. There are fights, car chases and shootouts where the participants are progressing through time in opposite directions. So gravity works differently for one guy than it does the guy he's fighting or chasing. Some explosions and gun shots and car crashes are in reverse. And sometimes we revisit the same events going the other direction and it flips. How the fuck does that work? I don't know. I don't understand it. But I feel it. And it feels cool.
The story is normal spy intrigue/investigation type stuff, with Protagonist following the trail of the bullets through an arms dealer (Dimple Kapadia, DABANGG 3), an art forger (Elizabeth Debicki, WIDOWS) and her abusive Russian oligarch husband (Kenneth Branagh, KENNETH BRANAGH IS MARY SHELLEY'S HUNKY FRANKENSTEIN). He starts to grow protective of the forger, though it does not turn into a love story as it would if it was a Bond movie. This is tricky because on one hand when the story goes this way you gotta wonder if somebody was uncomfortable showing a white woman with a Black man. On the other hand it's such a cliche for the lead to fall in love every god damn time he has an adventure and most of the time it feels way more perfunctory than romantic, so this is the preferable approach in my opinion.
The most James Bond aspect is that Protagonist can handle pretty much any crazy shit that gets thrown at him, stay cool and even keep a sense of humor about it. He has a ton of funny smart ass lines that he delivers dryly enough to come across as a confident guy mocking his foes rather than a quipster taking this shit too lightly.
To me Washington doesn't look much like his dad, Denzel, which is lucky for him – it avoids comparisons to the point that I'm sure some people don't even know they're related. But often he'll say something, or give a look, or he'll walk like Denzel, and I like those little reminders. So this is the closest we'll get to Denzel playing James Bond. For now.
Equally as cool as Protagonist is Sidekick, played by Robert Pattinson from the Cronenberg movies. Okay, actually this character is named Neil, but few movies are perfect. Neil reminds me of Tom Hardy's character in INCEPTION – the witty, arrogant colleague who can totally be counted on. It's so fun to have capable characters like this and just know they're on the team and not have to worry about if they're secretly a traitor or something. Set up as Neil's contact, he would fit right into the OCEAN'S movies because you can pretty much give him any problem and he'll have both the most audacious idea possible for how to approach it and the tremendous resources required to pull it off. For example, when he needs to break into a place he quickly decides to crash that 747 into it, and he knows exactly the guy to do it (Himesh Patel, YESTERDAY).
Based on this one viewing I don't think I like TENET quite as much as INCEPTION (which, admittedly has had the advantage of repeat viewings). But one cool thing I think it has over all the other Nolan movies is an impressive ratio of thrilling-set-piece to in-between-stuff, especially considering the convoluted concepts that require explanation. There's a rhythm to it, I never felt like there wasn't enough time to breathe, but it also feels like the movie is mostly made up of missions and raids and heists. And those are what Nolan is best at. His filmatism makes you high. The opening raid on an opera house unfolds much like the Joker's bank robbery in DARK KNIGHT, except you have no idea yet who these people are or what they're up to. But again, you don't need to understand it. You feel it. He makes you feel it.
The hand-to-hand fights in Nolan's Batman movies often incorporated a disorienting style that worked well enough for the story but lacked the punch of his great vehicle action sequences. So it's really cool how much clarity there is in the fights here, even while having to incorporate the complex reverse gimmicks. The fight coordinator is Jackson Spidell, who doubled Keanu in all three JOHN WICK movies.
But, as usual with his movies, I think the best action sequence is car related. I don't know if they built their own freeway like the Wachowskis did for THE MATRIX RELOADED, but it sure seemed like they did. And they're doing stuff that, when you think about it, could be in a FAST movie (it involves transferring from one vehicle to another), but it has a completely different weight to it. You're very aware that landing on a car will not break your fall.
Here are the actors I didn't recognize: Aaron Taylor-Johnson (KICK-ASS, SAVAGES, GODZILLA) and Fiona Dourif (CURSE OF CHUCKY, CULT OF CHUCKY). They both play soldiers wearing tactical gear, so they don't look like individuals. They're good characters, though. I did recognize Martin Donovan (THE OPPOSITE OF SEX, SABOTAGE), who plays the CIA boss. Interestingly, Nolan forgot that he'd directed Donovan in INSOMNIA and instead cast him on the basis of his work in AGENT CODY BANKS [citation needed].
The score is by the great Ludwig Goransson (CREED, BLACK PANTHER, The Mandalorian), but sounds to me more like the style of Nolan's usual composer, Hans Zimmer. That seemed to me like kind of a waste of Goransson, but then I read that he created melodies that sound the same backwards as they do forwards, so obviously he wasn't phoning it in.
Nolan also has a new editor, Jennifer Lame, best known for Noah Baumbach's movies, plus MANCHESTER BY THE SEA and HEREDITARY.
They all do good work. It will be exciting to see more of it on the big screen again, I hope, some day. Fingers crossed.
This entry was posted on Thursday, December 31st, 2020 at 11:20 am and is filed under
Action
,
Reviews
,
Science Fiction and Space Shit
,
Thriller
. You can follow any responses to this entry through the
RSS 2.0
feed. You can skip to the end and leave a response. Pinging is currently not allowed.