BUNRAKU is a weird combination of elements. It takes place in a post-apocalyptic world where swords have replaced guns. It has fights choreographed by Larnell Stovall (UNDISPUTED III, NEVER BACK DOWN 2). It stars Josh Hartnett and a Japanese pop star named Gackt (so you know, like, lay off McG for a while) plus Woody Harrelson and Demi Moore. It takes place in a highly stylized, DICK TRACY-esque city – I think built on sound stages more than digital – designed to look like origami or miniature models, or maybe a puppet theater stage, since the title comes from a Japanese form of puppet theater. Anyway it's all angles and solid colors, no curves or decay or complex shapes.
The movie opens with paper puppets and animation, and whenever the camera pans through the city the buildings fold up like pop-ups. At one point Harrelson explains to Hartnett the parable of "The Arachnid" (an off-brand Spider-man) by showing him a pop-up book about it. The bad guy is Ron Perlman, who wears a giant Witchypoo type hat. When he takes it off he has long, matted hair and an ax, as if he filmed it on the way from one barbarian or viking movie to the next.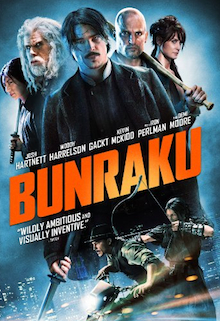 So it's a weird-ass, uncategorizable movie, but it still manages to be full of  stale notions, bringing back the archetypes of the quiet stranger from out of town, the western saloon, the gangster with the fedora, all that type of shit. This is far from the first or best movie in the last couple years to try that, or to have main characters with generic names like "The Drifter" and "The Bartender." And that would be fine if they didn't have painfully self-conscious pseudo-hard boiled third person narration pointing it out all the time. The singer Mike Patton (I AM LEGEND) was enlisted to do this, and nothing against him but it's unbearable and way too frequent. This world would seem interesting if it slowly revealed itself to us through situations and what not. Instead it's all told to us in a really grating, self-satisfied tone. It's the old cliche that just because you point out it's a cliche doesn't make it not a cliche.
Occasionally he says tough guy lines, like when Hartnett punches a guy and he says "Happy birthday, fucker!" I don't even know what it means.
It's also another one of those movies with killers ranked by number trying to get the number one spot, like PISTOL OPERA, or the beginning of WARRIOR'S WAY, or the cartoon AFRO SAMURAI. In this one little cartoon signs pop above their heads to tell you their numbers. #1 is Perlman, #2 is his henchman played by Kevin McKidd (Lucius Vorenus from Rome). He's a smooth, bowler-hat-wearing gent with a sword cane. He does dance moves while elegantly killing 20 attackers. The fights are well choreographed and shot and edited clearly. And of course the sets are cool. The movie is actually produced by Alex McDowell, the production designer of THE CROW, FIGHT CLUB, FEAR AND LOATHING IN LAS VEGAS, THE CORPSE BRIDE, WATCHMEN and other nice looking movies.
My favorite scene would have to be the poker scene. Hartnett manages to get into a game with the reclusive Perlman. But because the crime boss is so untouchable he plays from out of the room, projected onto a screen (somehow from scratchy black and white film even though it's live). The game is rigged, with lackeys standing above the ceiling with opera glasses, looking at people's hands and communicating tips to Perlman via teletype. But Hartnett's been established as good at card tricks, so it's still a battle.
Later there's a pretty cool car chase shot from above like a video game, and a breaking-a-guy-out-of-jail scene with a similar style. Like SCOTT PILGRIM, it makes old fashioned video game sound effects as he knocks out the different guys.
So what is it supposed to be? Is it supposed to be like a video game? Yes. And also origami, and a children's pop-up book, but also a puppet show, but a western and a gangster movie or musical but a samurai movie, and also it does that thing where the live action gets traced over and it turns into really shitty comic book drawings for a little bit. I like that they're putting a bunch of crazy shit in there but I feel like none if it has any reason or purpose, it's just a list of shit with no subject at the top. I mean, I'm glad they were excited. But I feel like it could use either a meaning or a purpose or a vague sense of an internal logic of some kind or a plan for what it was supposed to be about or something like that. It should seem like the person who made it had thought it through somewhat.
That person who doesn't seem to have done that is writer/director Guy Moshe, from a story by prolific b-action producer/writer Boaz Davidson (DELTA FORCE 3, US SEALS II, MANSQUITO, UNDISPUTED II, MEGA SNAKE, NINJA, THE LAST AMERICAN VIRGIN). I guess you could say Moshe shows potential because he's at least trying to do something ambitious and unusual, but in my opinion he needs to learn how to focus it into a real story.
Hartnett's kind of an interesting phenomenon. He's hunky and often seems kind of flat and not so smart, and he's in some bad movies, but you gotta admit he's pretty adventurous in his choices. I mean, he's not even 35 and he's already worked with Robert Rodriguez, Sofia Coppola, Michael Bay, Ridley Scott and Brian DePalma, and played Michael Myers's nephew and was pretty good fighting vampires in 30 DAYS OF NIGHT. So I can see why he would say yeah, I'll wear a fedora, grow a mustache and learn martial arts for this origami, uh, Japanese post-apocalyptic puppet video game western comic strip thing or whatever. I was spacing out when you explained it but I trust you that it is a thing that makes sense and everything.
In my opinion Woody Harrelson is wasted as the bartender who explains alot of the stuff in between the parts where the narrator is explaining all the stuff. If he's supposed to be Woody from Cheers when he's older then he grew up to be not as funny. "The Bartender" is supposed to be their fighting mentor, but he just watches them fight and doesn't show them anything. But I guess that's the idea. I guess this character is arguably a little better than the one he was wasted playing in 2012.
In alot of ways this is like a much weirder version of WARRIOR'S WAY. Both are American movies that combine a samurai type story with a western, and put more emphasis on stylized visuals than the other aspects of the movie. But WARRIOR'S WAY is much more focused, it seems to have a specific idea of what it's trying to do and it does it, rather than just squirting a bunch of random shit in all directions – samurais over here, KUNG FU HUSTLE guys over there, video game sound effects, origami, comics, whatever.
It's an interesting movie to exist, and to look at, but not so much to watch.
This entry was posted on Thursday, November 3rd, 2011 at 5:45 pm and is filed under
Action
,
Martial Arts
,
Reviews
. You can follow any responses to this entry through the
RSS 2.0
feed. You can skip to the end and leave a response. Pinging is currently not allowed.