I don't know what this has to do with BLUE JASMINE, but it's pretty good as a standalone.
I saw alot of film festival acclaim for BLUE RUIN as a movie about how bad and ugly revenge actually is. I gotta tell you I was skeptical, because I didn't want to hear some joyless lecture about the wrongness of something most of us never experience, especially as punishment for our inherent enjoyment of classic action movie formula. DEATH SENTENCE and others prove you can make that point and still have fun.
Luckily my assumptions were unfounded. As the writer Harry once told Flavor Flav, "Don't believe the hype." BLUE RUIN isn't trying to teach us a lesson, it's actually a fairly traditional and enjoyable thriller about a murder and ensuing mess, spiraling out of control like that time the Cat in the Hat came over and ate cake in the bath tub. It's just that it comes from young independent filmatists so it feels more like it's happening to some dude you know than the usual slick Hollywood players. It's quiet, naturalistic, and you have to piece together the backstory from what's happening, you don't get alot of obvious exposition. The avenger is a pretty non-descript nerd named Dwight (Macon Blair). Big, sunken eyes, a little doughy, bad haircut, no cool motorcycle jacket or shades or nothin. Just a normal guy. Could work at Best Buy or something.

Actually, when we first see him he's a sloppy, shaggy-bearded homeless guy. We later find out he kinda snapped and disappeared after his parents were murdered. Now the convicted killer is getting out on a plea deal so he tries to find a weapon and track the guy down. And like the aforementioned Kevin Bacon gem that starts the ol' unending cycle of revenge between the families.
At first it kinda plays like a weird HANGOVER sequel where that guy that carries the baby tries to get away with a murder. He talks like him and everything.
When will this new age of shaggy beards ever end? Actually, come to think of it he kinda looks like Hercules, too. A skinnier, sadder Hercules.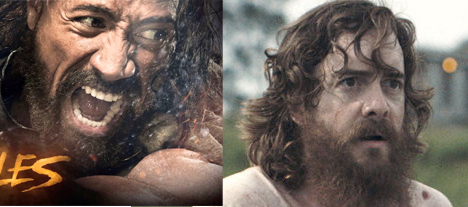 Luckily he later shaves.
Part of the appeal is Dwight's lack of resources. He especially has trouble getting his hands on a gun to murder somebody with. At one point he manages to steal one from a pickup truck, but then he breaks it trying to break the lock off of it with a rock. Some things you just need tools for.
He takes some battle damage and he can't go to the cops, so he attempts one of the most gruesome and least macho self-surgeries I've seen in a while. He's no Rambo. But he does get pretty clever for a regular dude who never had to do this stuff before. He gets some practice at stalking, abducting, breaking and entering, ambushing, etc. Instead of all out action you spend alot of time alone with him, sneaking into a house, for example, and waiting with a gun in his hand, not sure when or if this guy's ever gonna come through the door. Lots of tension and suspense.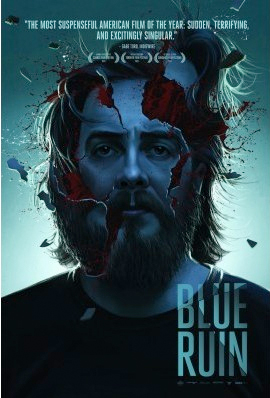 One of the best parts in the movie is when Dwight goes to visit his sister (Amy Hargreaves, BRAINSCAN). She obviously has the same pain that he has from the loss of their parents, but she has chosen to go on with her life, she has kids and lives in the suburbs. It's this jarring change from the seedy opening and clumsy restroom murder to the real world. He's been gone so long he has trouble remembering how to talk to people, and there's a sense that he may have been a coward to run away the way he did, and definitely hurt his loves ones who didn't know what happened to him. His need to confess what he did and the way she reacts are very powerful.
Blair's Regular Guyness does make some parts of the movie ring false though. I can believe this dude got in over his head, but I have a harder time believing that he has an old rock 'n roll and strip club buddy back home (Devin Ratray, from HOME ALONE I guess) who has an arsenal of guns and ammo, is willing to kill for him because of their childhood together, and gives brooding speeches about what it's like to kill a man. Usually in a not-trying-to-be-realistic action movie it's the old friend from the hood who is now a gangster or arms dealer (see MONEY TALKS), but this is the white version of that.
Also, the family he's dealing with are basically like a crime syndicate who all go after him and try to kill him, not that much more down-to-earth than the gang in DEATH SENTENCE. And can we really believe that this regular dude's dad fell in love with the matriarch of this family of last house on the lefters? Possible, but unlikely. It seems like this is supposed to be more realistic than the average revenge story, but it can't resist dipping into a bunch of Movie Shit.
In a case of pretty good stunt casting that I didn't pick up on, one of the family members is played by Eve Plumb. I didn't realize it was Jan Brady I was looking at, but she has the right look for this role, glaring at him with tired, hateful eyes. (and to be fair it's not really stunt casting because I read that the director didn't realize she was Jan either. But having a Brady in the family of killers is a nice touch.)
Despite my minor misgivings it's a worthwhile ride that does a good job of piling up more and more complications. It already seems at the beginning like there's no clean way out of this, he's gotta at best go to prison for murder. But it manages to keep getting worse for him without matters of legality even coming up. It's just a mess.
I must be Goldilocks though because I was worried it would be too grim and then I actually thought the occasional jokes were the movie's biggest weakness. They're very dry, just little awkward moments of him not knowing what to say while on a revenge killing spree. They're fine, but I think making light of the situation kind of makes it feel more like a midnight movie for laughs and less like the ugly punch in the balls that I think they're going for. But that's not a crime or anything. No need to avenge it.
Maybe my problem is I had no idea that the director, Jeremy Saulnier, is the guy that did MURDER PARTY. I guess I didn't review that, but it's a clever and very creative low budget horror comedy. I liked that movie but I gave up waiting for him to do another one and never made the connection this was him. I think if I had known then I would've been a little more ready for the tone.
anyway, didn't see HANGOVER III but this was definitely better than II.