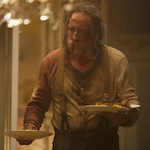 PIG is an unusual new Nicolas Cage joint that I was happy to have as my second post-vaccination theatrical experience. But this one is about as different from an F9 type spectacle as can be achieved by science. When you see the trailer or hear the premise (somebody steals Nic Cage's truffle pig and he goes to the city to get it back) you might think about TOM YUM GOONG/THE PROTECTOR (where somebody steals Tony Jaa's baby elephant and he goes to the city to get it back) or maybe JOHN WICK (where somebody kills Keanu's dog and he goes on a rampage to get back at them). The truth is that it only shares the emotional center of those ideas (people form bonds with and assign meaning to their animal companions) – it's decidedly not an action movie or even a revenge thriller. It's a slow burn character piece and parable that doesn't even have much violence, and will probly be pretty boring to some people, especially if they came in with the wrong idea. But it was just what I wanted.
Cage's character Rob is a loner who lives in a cabin in the woods somewhere outside of Portland, Oregon. He seems very enamored of his nameless pig, who comes when he whistles and helps him dig up truffles in the forest. When he makes himself a "rustic mushroom tart" for dinner he shares it with her. The rest of the truffles he puts in a cooler to sell to the young hot shot Amir (Alex Wolff, HEREDITARY), who drives in every Thursday in his bitchin' yellow Camaro. It feels like a drug transaction. Amir tries to make conversation, but Rob doesn't so much as grunt.
Then one night someone kicks the door in, knocks Rob over the head and steals the pig. He wakes up in daylight, his drying blood sticking him to the floor like glue. He pathetically tries to whistle, just to make sure. But she's gone.
He doesn't have a phone, and his shitty old pick up truck doesn't run long enough to get him far. He makes it to a diner where he asks for someone who they say died ten years ago. So he's a little out of touch.
He calls Amir, who tells him this isn't his problem, but reluctantly drives Rob through a trail of truffle hunters and chefs to find the responsible party. It's told like a criminal underworld story, but people are only fighting over scarce ingredients, and the only serious crime is the pignapping.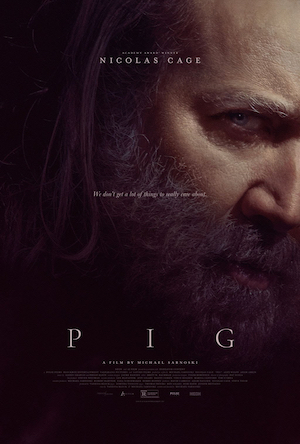 There's a certain amount of pulpy exaggeration. Rob combines Amir's connections with his past knowledge to get into back rooms leading to a literal underground fighting circuit – a place where people fight not for rich degenerates, but for restaurant workers. (I guess they deserve some kind of perks!) But don't expect any real Kumite action, this is just one strange detail of this world.
Both Rob and Amir are being coy about who they are. Rob became a recluse after his wife died, but before that he was a brilliant and legendary Portland chef. In fact, so legendary that Amir, when he hears his full name, realizes this is the guy who once cooked a meal that his parents found so delicious they actually got along that night. For Rob's part, he hasn't mention that his dad Darius (Adam Arkin, HALLOWEEN H20: 20 YEARS LATER) is "Portland's own rare foods king," and that they are bitter rivals. He has to pull some strings to get Rob reservations for a restaurant Darius sells to, and then is scared he'll get in trouble for being there.
I love that Rob returns to this world he abandoned with absolutely no shame or self consciousness about what he has become. He sits in a place that serves food smoked in a glass bowl with a burning pine cone and he doesn't care that he's this hairy mountain man with blood all over his shirt and head. We know he doesn't own a shower, and he has not cleaned up at all since arriving in town, so I'm guessing you can smell him from a distance. Seeing this mess of a man intrude into high class spaces makes for a funny image and some good reactions, but I think it also represents what's under the surface – he doesn't care about anything superficial anymore, has no interest in appearances, and doesn't hide that he is damaged.
Amir, on the other hand, is all about his clothes and his car, inside which he listens to an audiobook about classical music, trying, I assume, to fast-track some of the type of cultural knowledge that would seem impressive to his dad, or to people impressed by his dad. The narrator talks about "important men." Rob tries to turn it off a couple times. He doesn't give a shit about seeming important.
There's a little bit of a magical realism here to the power of food, the abilities of a chef and of this particular chef. I suppose that we can bring up JOHN WICK again to note that people react to the legend of Chef Robin Feld with an awe not unlike that of the Baba Yaga. In one of the best scenes, a fancypants chef (David Knell, TOTAL RECALL) tells Rob that he actually worked briefly as his line cook – Rob not only remembers, but recalls way more about it than the guy did, and within a couple of minutes makes him question his entire life and philosophy of cooking. Rob recognizes before he does that he's drifted from what he originally loved about cooking and is crushing his soul with this trendy bullshit.
I think a fair criticism of PIG would be that we have seen a pretty sizeable number of movies where there's a guy who's lonely and mysterious and it turns out it's because his wife died and he never got over it. In fact we have seen so many of them that it's hard for such a story not to lose some of its punch and feel a little bit like a cliche. But for me PIG overcame that when it became clear that losing his wife was not the thing they added to make Rob sympathetic, it's the specific topic of the movie.
It would also be fair to say that these days there are as many movies "about loss" as about super heroes, and even as someone who lost both his parents in the last several years and benefited from the catharsis of everything from MIDSOMMAR to fuckin BUMBLEBEE, I'm starting to wonder if filmatists need to cool it a little bit with that topic. Fortunately I found what this one says about it to be, while less visceral than some of the others, ultimately wiser.
This is gonna require A BIG FUCKIN SPOILER to discuss, so here it is: Rob does not get his pig back. Turns out they didn't know what they were doing when they stole her and she died. An accident. We don't see this happen. It's done with. There's nothing he can do about it, and no point in taking it out on anyone. At first he wishes he never even came looking for her, because then he could still tell himself she was alive. But, as Amir says, she still wouldn't be.
(spoiler paragraph #2) So he just goes home and he listens to a tape of his wife singing a song for him. And that's it. It felt a little odd to me because we're used to stories — in fact, we love stories — with artificial solutions. Solve the mystery, avenge the death, save the pig, whatever. If a story ends in a less satisfying way than you expect then yeah, maybe that's more realistic, but it's still less satisfying – and by the way we don't need to be told that life isn't satisfying. No fucking shit, dude. But this one really worked for me when I thought about what that means for "a story about loss." Because he lost his wife just like he lost his pig and there's no changing or avenging or feeling better about either of those things. But in losing his wife he seems to have found himself, jettisoning the things in his life that don't actually matter to him. Darius lost his wife and turned into a bastard, but Rob turned into a weirdo who's at peace with himself out in the woods digging up mushrooms and cooking them for himself. He has found a purity. Earlier in the movie he pretended that the value of his pig was her ability to sniff out truffles, but the truth is he knows how to do it without her. Actually, he just loved her. The value of pigs, and food, and other things in life, has nothing to do with transactional value.
(spoiler paragraph #3) And I think he teaches Amir a lesson or two about life and I think he even has a real friendship with him now. But I personally I think it would be nice of him to take a shower just as a courtesy to him especially if he ever gets in his car again.
(end of spoilers)
This is a great performance by Cage even though it's entirely un-mega. You know I love the mega, but this is one of the other sides of him. Sad, subdued, sometimes vulnerable. Still funny at times, and capable of intimidating people when needed, but there's not a drop of Castor Troy in him.
Writer/director Michael Sarnoski (who shares a story by credit with Vanessa Block) has done some shorts and web series, but this is his feature debut. And it's a hell of a start.