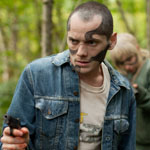 GREEN ROOM has a pretty good spin on a classic setup: a touring punk band in a siege movie. This shitty young band called The Ain't Rights, living out of their van and crashing with strangers, spending more on beer than on gas, going out of their way for questionable gigs in The Middle of Nowhere, Oregon, end up locked in the dressing room of a scary skinhead club because one of them walked in on a murder. The Punks Who Knew Too Much.
If there's not already an ad that says "it's ROMPER STOMPER meets ASSAULT ON PRECINCT 13!!!" then here it is available to cut and paste, A24 Films.
I have very little experience in the world of punk rock, but from my ignorant perspective this comes off as a more authentic depiction than any of the other movies I've seen about it. That includes RETURN OF THE LIVING DEAD. And I don't consider Cherry Bomb from HOWARD THE DUCK to be punk at all. Anyway I'll be interested to find out if my musician friends find more fault with it than I did. To me it feels like writer/director Jeremy Saulnier might've come up with the idea while playing in a band like this, or if not he must've known people in this life. Like his first movie MURDER PARTY (a horror comedy in the world of Brooklyn hipster artists) it seems to be inspired by subcultures and people he knows from life, not movies. And like his second movie BLUE RUIN (an indie revenge drama) it goes out of its way to make violence messier, uglier and more difficult than in most movies. Like, what if it wasn't Bruce Willis, but a regular dude like you who had to fight his way out of a corner using sharp objects he finds laying around?
But it comes a little closer than the other two movies to straight up embracing its genre. It even uses the always enjoyable action movie move of one of the band members getting referred to as "Jiujitsu" and then it turns out he really is a practicioner of said martial art. His armlocks and chokeholds come in handy.
Pat is sort of the lead character, and he's played by Anton Yelchin (young Chekov, young Kyle Reese, "Boy in Burning Building" from 15 MINUTES). Also there's Callum Turner (VICTOR FRANKENSTEIN), Joe Cole (SECRET IN THEIR EYES) as the jiujitsu guy, and most notably Alia Shawkat, who is from Arrested Development, but unfortunately that's the TV show, not the rap group, even though she's playing a musician, so obviously they should've gotten the rap group, and I don't know what they were thinking. But she's good.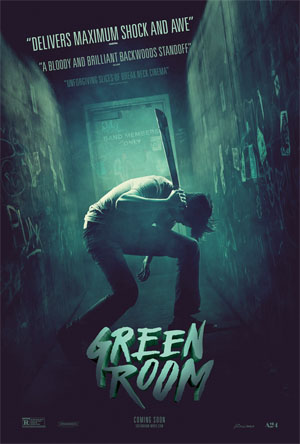 On tour they sort of have to depend on the kindness of strangers, so it's too bad the strangers they end up with are white supremacists. In search of a small payday they end up at this compound in the woods. The manager guy Gabe (Macon Blair, star of BLUE RUIN) seems okay at first, but if he was a nice guy why would he be working here, you must ask. Once they're trapped in the room they find themselves negotiating through the door with the professorial white power cult leader Darcy (Patrick Stewart, WILD GEESE II), who tries to act very reasonable before sending in his army of skinhead goons and their hungry pitbulls to chop them up with machetes but try not to hit the bone.
It doesn't feel like there's time for a lesson about consorting with bad people for a paycheck. But let me assure you that The Ain't Rights are not fans of these people even before they're in a death match against them. Before playing Yelchin says "I have a bad idea" and I guessed what he had in mind: they're gonna go up there and play The Dead Kennedys' "Nazi Punks Fuck Off." A punk reference that I knew. Maybe that means the movie's too obvious, but I was still proud of myself. (do you guys think I should get a mohawk?)
Trapped in the room with them is Amber (Yelchin's FRIGHT NIGHT co-star Imogen Poots) and she's on their side because it was her friend that got stabbed to death. But she's at this place on purpose. She wants out now, but that means at one point she wanted in, and that's hard for me to overlook, especially when she gives a variation on the "a black guy did something to me one time so I take it out on his entire race and all non-white people" excuse. In ASSAULT ON PRECINCT 13 we can be told that the hero is in jail for murder, but respect him for his honorable actions during the movie, because it's in this heightened modern western type world made of broad strokes and symbolism; a world that's easy to let exist only in the present, and not extend our imaginations into its past or future. GREEN ROOM is more grounded in the real world, so I feel like maybe this recent-racist doesn't deserve the forgiveness that Poots's charm and hair cut trick us into giving her.
"She's a bad girl, she gets into all kinds of trouble!" is a character I can easily accept and root for. "I guarantee you she uses the n-word!" is different. (Something Tarantino used to mess with us in THE HATEFUL EIGHT.)
But it's nice to see a movie that's not playing around. There are some horrifying injuries, vividly depicted, and given less than ideal medical treatment (by which I mean they are wrapped in duct tape). When one of them happens it's followed by a whole lot of screaming and crying. A more realistic amount of anguish than you usually see in a movie. It's upsetting. There are stakes.
Although I liked the movie quite a bit, I did feel at the end like it was not quite climactic enough, I didn't feel that "phew, they just made it" relief of, say, Sally in the back of the pickup truck in THE TEXAS CHAIN SAW MASSACRE. Maybe they went through the wringer enough, but I think it wasn't timed out quite right. They certainly go through many challenges, but then at the end it's… kinda easy?
I think this is a consequence of an intentional artistic choice to not follow some of the usual storytelling conventions. In Saulnier's world there is no mercy. Major characters can die suddenly, even in rapid succession, and then the others have to keep moving and barely even acknowledge it. New characters can be added just to get your hopes up and then take them away from you. And guns in this world are guns, you're pretty much done if you get hit, so there aren't alot of long, elaborate duels.
Most of the creativity and fun is used up in the battle against some lower-on-the-totem-pole guys. Then it feels like it's gotta take it to the next level for a big ending… and it doesn't. That might be intentional. Obviously it wasn't gonna end in a big car chase or warehouse shootout. But starting at a scream and ending on a whimper is not the most satisfying flavor of subversion.
Full disclosure, though: a fire alarm went off in the theater and I had to miss a couple minutes as the shit was hitting the fan. Also I saw it in a giant theater with the modest crowd all spread around. I'm sure an uninterrupted experience with a more compact audience would be ideal for the tension in this movie.
Even without that, though, this is a pretty good one, and best of luck to Saulnier with what I assume will be his next movie, RED SONJA. Also I hope he gets a chance to do GREEN ROOM 2: THE METAL YEARS. The bad guys could be Christian extremists who believe the band are devil worshipers.