I took my time writing about BARBIE, the smash hit pop culture phenomenon from director Greta Gerwig (LADY BIRD, LITTLE WOMEN) and Mattel Films (MONSTER HIGH, TEAM HOT WHEELS, MAX STEEL), so all the takes have pretty much been taken, and I'm sure everybody who hasn't seen it has heard by now that many people love it. I'm another one of those people. I'll try not to go on too long about it, but I want to pay my respects, and I promise some of the aspects I'm most interested in are not what most of the other reviews focus on.
In this time of Barbiemania I don't need to go into detail about all of the movie's joys, but indulge me on a few of them. First of all, I'm a sucker for a movie with this extreme of a dedication to creating a stylized, artificial world. It's comparable to movies like POPEYE, SPEED RACER or BATMAN RETURNS in that respect. And what the hell, I'll say THE FLINTSTONES too, though I want to stress that especially in that example I'm just talking about the heightened sets, props and costumes, not equating them in overall quality.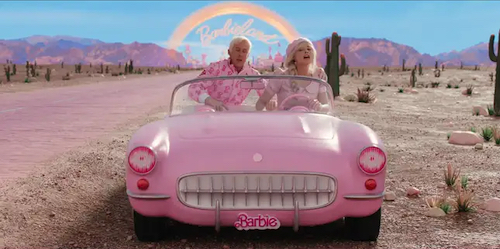 We're blessed to also have ASTEROID CITY this summer, but generally these beauties don't travel in herds. Much of this movie is set in a theatrical, soundstage world, filmed on what amounts to 1:1 scale miniatures, or life-sized playsets – Dream Houses, a beach equipped with solid plaster waves, flat cut-out suns, moons and dolphins, a fake highway with a painted backdrop loop on hand-cranked rollers. I was amused to hear that Barbie's pink convertible is not a full-sized car, but one scaled for Margot Robbie to stick out as high as a Barbie doll would stick out of a Barbie car. Of course, but it looks so natural within the world of the movie that it never would've occurred to me.
There are choreographed dance numbers. Ken sings a rock ballad. There's a great Lizzo song that acts as narration (though Helen Mirren [SHADOWBOXER] is the actual narrator, who at least once interjects with a point we're all thinking). But Robbie is the best gimmick in the movie because between this and her Harley Quinn movies (SUICIDE SQUAD, BIRDS OF PREY, THE SUICIDE SQUAD) she's proven to be a genius at the very specific and unusual art of playing a character that's both a cartoon and a human, each side strengthening rather than voiding out the other. I think there are many other people who could play a good Barbie, but I can't imagine who could match the layers she gives hers.
Much of the movie takes place in Barbieland, where Barbie (Robbie, THE LEGEND OF TARZAN) lives in the Barbie Dream House, takes showers with no water, drinks from empty glasses of milk, floats from the open bedroom at the top of her house to her pink car as if carried by a child's hand, throws nightly parties and sleepovers for all her female friends, who are also Barbie.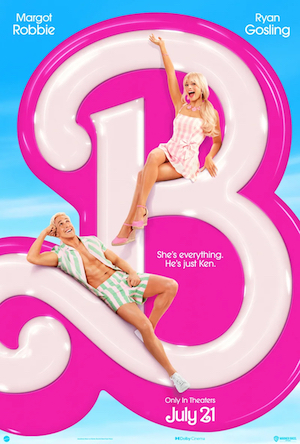 Everything seems amazing, and honestly it is. This is not a Lynchian "the happy surface belies the ugly truth" kinda deal. But life is never perfect, and there are issues bubbling beneath the shiny Pantone 219 veneer of Barbieland. For one thing, Barbie has been thinking about death lately, and no one knows what the fuck to do with that when she blurts out a confession about it during her dance party. For another, her boyfriend Ken (Ryan Gosling, ONLY GOD FORGIVES) seems kinda lost. He's jealous of other Kens (especially Simu Liu, recurring role, season 1 of Taken) when they talk to Barbie, and wants more attention from her, though he doesn't understand why.
Barbie (who later learns that she's Stereotypical Barbie, as opposed to President Barbie [Issa Rae, THE LOVEBIRDS], Writer Barbie [Alexandra Shipp, X-MEN: APOCALYPSE], Journalist Barbie [Sharon Rooney, UNDER THE SKIN], etc.) decides to visit the only outcast in Barbieland, Weird Barbie (Kate McKinnon, BOMBSHELL), who's like a doll that a kid got bored with or grew out of and decided to cut her hair crazy and draw on her face and stuff. Weird Barbie tells us the (luckily very loose) rules of the universe: that there is a "real world" where each of the Barbies and Kens are being played with, and whoever plays with Stereotypical Barbie in the real world must be going through some shit, causing these thoughts about her mortality. So, reluctantly allowing Ken to tag along, she travels to the real world to find out what's what.
There are so many movies with some variation on somebody coming from a magical land to "the real world" and experiencing fish-out-of-water hijinks – ENCHANTED, FAT ALBERT, BEASTMASTER 2. I love that BARBIE heads in that direction but quickly says, "Don't worry, it's not the real real world," and doesn't get bogged down in reactions to the craziness of Barbie walking around. As soon as she's spotted, the executives of Mattel (led by CEO Will Ferrell, BEWITCHED) are notified and they immediately understand the situation, knew it would happen eventually, just act like it makes perfect sense and don't have to explain it. Other people who meet Barbie only act like it's unlikely, not impossible.
Barbie does find the family her doll counterpart belongs to, and tries to get to know sullen teen Sasha (Ariana Greenblatt, LOVE AND MONSTERS) and her Mattel employee mother Gloria (America Ferrera, LORDS OF DOGTOWN) to get to the bottom of things. She's surprised to learn that the real world is more complicated than Barbieland, that women don't run things here, and that some people don't like her and don't mind expressing all the negative things that the famous doll has come to be associated with – unattainable beauty standards, etc. Sasha even calls her a fascist.
That's all for girls. I'm a boy, so I play with He-Man and only relate to the Ken parts of the movie. Obviously. While Barbie takes care of business, Ken walks around Century City and notices things he's never seen in Barbieland: a group of business men ignoring a woman. Guys lifting weights. Posters of Sylvester Stallone. He starts to feel differently about himself. He starts strutting. He learns the word "patriarchy" and gets really excited about it, though he only partly understands it.
When he brings this idea back to Barbieland it grows into a caricature of masculinity somewhere on the spectrum between stereotypes that are actually pretty accurate and things that only exist in beer commercials. Suddenly all the Kens have chin up bars and jars of protein powder everywhere. They get really into sunglasses, headbands, fingerless gloves and big screen TVs. Ken starts to associate cowboy imagery, wild stallions and the ruggedness of the wild west with manliness – either that or he just likes horses – so the TVs are always showing a horse running. Inspired by one of the Stallone photos, he wears a full length fur coat (with the added personal touch of horse-head-print lining). It's a good-natured ribbing of common male fixations and signifiers, and it's not only the meatheads who get zinged; there are at least two really funny jokes about movies particularly popular with a certain type of dude (both movies I really like; a BOONDOCK SAINTS gag would've also worked though). I can laugh because I recognize it, I know it's true. But that's not me. Wait a minute, that's not me, is it?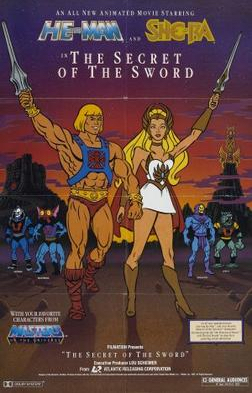 One of the many backburner essay ideas I never got around to was a piece about the movies G.I. JOE: RETALIATION and JEM AND THE HOLOGRAMS. Both were pretty disappointing movies but I thought it would be interesting to compare how director Jon M. Chu approached a "boys toy" vs. a "girls toy" in his back-to-back Hasbro adaptations. That would've been me reading into those movies, but BARBIE actually digs into similar themes of its own accord. I'm fascinated by the absurdly exaggerated gender representations in the cartoons and toys we children of the '80s were raised on. My favorite work in the Mattel oeuvre took place in a world where almost every male, including the nerdy prince and the evil skeleton wizard, had a body that could win a Mr. Universe contest, and the very best person on the planet was called He-Man. The spin-off series meant for girls starred his sister, a blonde waif named She-Ra. I wonder if pushing these extremes so hard helped any kids we'd now describe as gender-non-conforming see that they didn't gravitate to one or the other? Or maybe they just saw through it and laughed it off. My wife, who's hardly a tomboy, tells me she watched He-Man, so she found it patronizing when She-Ra came along with her comb-able hair. For girls. Still, I think she had to stick to the "girl aisle" in the toy store.
In the Netflix animated mini-series Masters of the Universe: Revelation, it's established that anyone who raises Prince Adam's magic sword can get the "fabulous secret powers" of He-Man, and I thought it might be interesting if Teela used it and called herself She-Man. Maybe in season 2.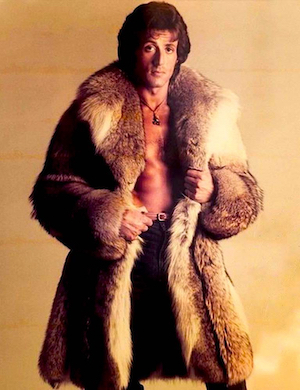 He-Man is not mentioned in BARBIE, but another musclebound '80s icon of malehood is. I can't believe there's a movie about Barbies that still hit me in a personal place just because of a couple meaningfully displayed posters of Sylvester Stallone – I don't know of a better representation of heightened masculinity in all its glory and folly. He is and has been a role model and inspiration to so many of us, and in a way there are as many Slys are there are Barbies. He's an athlete, a writer, a painter, a filmmaker; a poet of the underdog, the ham-and-eggers, the inarticulate goons with hearts of gold, the stubborn but well-meaning, those who can change and if they can change and you can change everybody can change. He's an idol, a double self-titled-franchise star, a former restaurant chain co-owner, a statue on a stairway, a comeback kid, a comeback grandpa. He has also at times been a symbol of vanity, ego, unattainable physique, oiled muscles, human growth hormone, and occasional overconfidence. A human tiger jacket. He triumphs and he falls and he gets back up and triumphs again. He's an Oscar nominee and an all time favorite target of the stupid fuckin Razzies. He maybe went too far by putting the robot in ROCKY IV, but then he second guessed himself and took it out of his director's cut after we'd loved it for decades. We aspire to his greatness and yet he reflects our flaws. He is everything. So I get it, Ken. I see what you see.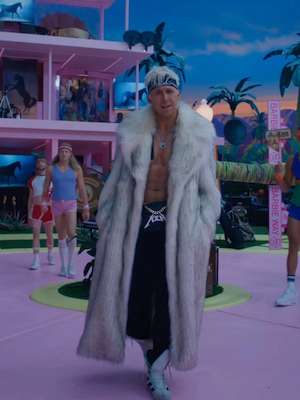 Yes, to me BARBIE is partly a movie about the meaning of Sylvester Stallone. What's crazier is that newly confident Ken's gait made me think of John Travolta's iconic strut in SATURDAY NIGHT FEVER, what it said about fragile masculinity in that movie, and how Stallone as director continued that exploration in STAYING ALIVE, but I figured I was reading too much into it because I had just watched and written about those movies. Then Mike Ryan did this great interview with Gerwig for Uproxx where she confirms that "everything that we have, or that we reference, in the movie is only ever stuff that we love. And I mean, I love Sylvester Stallone." She raves about how "he really adorned himself as a man" and the interview ends up being dominated by a discussion of the ROCKY movies. Also, I could hardly believe it but she says, "Another thing we were looking at was also, obviously, great song-and-dance man of the '70s, John Travolta. And also Sly Stallone directing John Travolta in STAYING ALIVE," a movie she says is "incredible!" I agree.
I think Gerwig approaches Barbie kind of like I try to approach, say, the films of Steven Seagal, or the DIRTY HARRY series, or the music of Ice Cube: this is what I love about it, this is what's fucked up about it, we don't have to pretend that only one or the other is true. And I think she's an overall positive person so she can have a fun celebration of Barbie at the same time as an honest assessment. She has the same attitude toward the dolls' cartoonish ideas of femininity and masculinity – they can be fun, as well as stifling. When Ken creates the male-dominated society of Kendom he has a good time for a while, but trying to live up to that image doesn't make him happy either, and he finds that he still isn't really being true to himself. Other than his appreciation for horses.
I love how the movie pumps up these gender roles not to knock them down, but to say that they're not everything. Barbie's ultimate girly lifestyle isn't enough to suppress thoughts of death and yearning for something else in her life, but that doesn't make it bad in itself, if she enjoys it. It looks like fun. And it's not lost on the movie that when the Kens replace girliness with their confused interpretation of manliness they feel liberated, because they've never been allowed to indulge themselves before. Ultimately Ken realizes that this charade of manly ideals is not him, is not good for women or men, and Barbie realizes (unprompted) that she's never really treated him fairly. But also doesn't feel obligated to pretend she loves him.
By my understanding of the word I consider myself a feminist, no question. But also I'm very aware that I'm a dude, and one who couldn't tell you jack shit about feminist theory or what the different waves are or anything like that. So I will just note that there are at least a few people out there academically dissecting the themes of BARBIE in ways I feel are over my head and out of my jurisdiction. I do not believe the adaptation of Mattel's Barbie is the ultimate all-encompassing statement on and solution to all gender issues. But as far as movies go I think it conveys a nice world view.
It's easy to imagine a reality where some other director tries to do the BARBIE movie and doesn't crack it, and a couple years later it's a forgotten movie released on a budget double feature DVD with BRATZ, JEM AND THE HOLOGRAMS or one of the less popular AMERICAN GIRL movies. But Gerwig hit it out of the park with the bases loaded, as if channeling Made To Move Baseball Player Barbie, The Ultimate Posable Barbie. This movie is better, and has done better, than almost anyone could've imagined.
But I'd actually been anticipating it for a while, because long ago there was a version being written by Diablo Cody, and I thought "I don't know what the fuck that is, but if Diablo Cody's writing it, she probly has something interesting in mind." Same thing when it became Gerwig. The way I and I think many others thought about it was yeah, it's silly that they're doing a Barbie movie, I hope she doesn't get stuck doing stuff like this all the time, but she's great, it will be fun, she'll have a fun time, and it will get her some money, maybe even help her get other projects made. And it is fun, it does seem like she had a fun time, and hopefully she will get a fair cut and some clout from the fact that the movie has literally made more than a billion dollars.
But actually I don't think that's the way to look at it anymore. BARBIE transcends just being good for a movie based on a toy, or for a goof in between Gerwig's "real" movies. I think it's as worthy of her filmography as the other two. It's a personal expression, cultural statement and pop art object that could only be done through this specific multi-generational toy phenomenon. There's no non-doll version that works, there's no non-Barbie version (where she's called Angie or Tammy but you know she's like Barbie) that works as well. So it's not a matter of "it's good for what it is." It could only be this.
* * *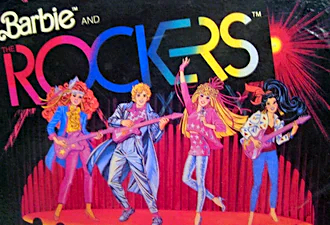 SPECIAL PATREON BONUS:
BARBIE has plenty of fun digging into the Mattel archives to reference oddball Barbie products from throughout the years (a pooping dog, a teen with growing breasts, one with a built in camera, etc.) but one I was surprised not to see was Barbie and the Rockers, their 1987 attempt to compete with Jem and the Holograms. I decided to watch the tie-in TV special/home video and write about it as exclusive Patreon bonus material. So you can read about Barbie's amazing rock 'n roll career while supporting my equally impressive writing career. Enjoy!
This entry was posted on Friday, August 18th, 2023 at 2:51 pm and is filed under
Reviews
,
Comedy/Laffs
. You can follow any responses to this entry through the
RSS 2.0
feed. You can skip to the end and leave a response. Pinging is currently not allowed.