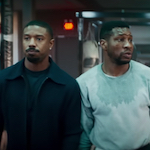 You know I love the CREED movies and the ROCKY movies. ROCKY V is easily the weakest of all of them, and I even like that one. I don't expect there ever to be another one as impressive as CREED, a miraculous rebirth by a brilliant director who deeply loved Stallone's movies and evolved them into something new, so I enjoyed CREED II for what it was. I was thrilled that it brought back Dolph Lundgren as Ivan Drago and let us care about him the way I always wanted to. As I wrote in my review at the time, "He was a human specimen in ROCKY IV, and now he's a human."
CREED II is a solid sequel, but CREED III is a truly great one. It's the directorial debut of Michael B. Jordan, and being populated only by characters from the CREED part of the series it stands more on its own, less on our nostalgia and good will. It follows the ROCKY sequel template in that it checks in with Adonis Creed (Jordan) at a new stage of his career and life, catches up with his family, introduces a new rival, and builds up a conflict that will result in a big match wrapped up in personal meaning. To his credit, Jordan also introduces a bit of stylization in the fight scenes that stands out from the others in the series. But most importantly he tells a story that genuinely has things to say about life and relationships that to me is as exciting as any of the boxing.
The reason CREED III is able to achieve that is that it has by far Creed's greatest opponent, "Diamond" Dame Anderson, who captures the "oh shit, this guy is gonna murder him" physical presence of Clubber Lang or Ivan Drago, but with much more thorough and layered characterization, a complex life-long relationship with Adonis, and an honestly awards-worthy performance by Jonathan Majors (HOSTILES, DA 5 BLOODS, THE HARDER THEY FALL). That's not to say that those other iconic characters were lacking anything, but that this is a thrillingly different approach to the material.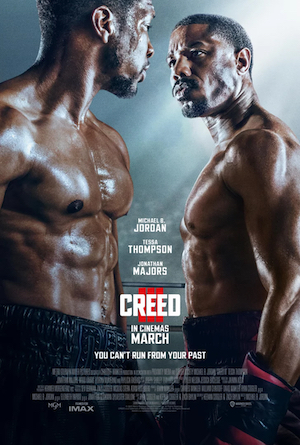 When we first met Adonis in CREED, he didn't know he was Apollo Creed's son, and he was in a juvenile detention center. Dame is a friend from those days. When they got out it was Dame who seemed to have the brightest future in boxing. We see it in a cold open, set in 2002, with 15-year-old Adonis (Thaddeus J. Mixson) sneaking out at night as if to get into trouble, but it's really to watch 18-year-old Dame (Spence Moore II) box. He wins the fight and they're in a celebratory mood until Adonis happens to run into an adult he knows named Leon (Aaron D. Alexander, Sonnny Liston from ONE NIGHT IN MIAMI…) and starts beating him up.
The rest of this event will be left ambiguous until later. Most of the movie takes place in the present, with Adonis having retired from the ring three years ago. He runs L.A.'s Delphi Boxing Academy (in a fancier gym now) with family friend and trainer Little Duke (Wood Harris, SOUTHLAND TALES). They've mentored the current world champion, Felix Chavez (boxer Jose Benavidez), who's preparing to defend his title from Viktor Drago (Florian Munteanu, SHANG-CHI AND THE LEGEND OF THE TEN RINGS).
Adonis's wife Bianca (Tessa Thompson, MAKE IT HAPPEN) stopped performing her music because of her hearing loss, but is a very successful producer/songwriter. Their daughter Amara (Mila Davis-Kent) is at an age where she makes him play tea party but also show her how to punch.
When Dame unexpectedly shows up outside the gym one day, Adonis takes him to lunch and we learn that the reason they haven't seen each other in so long is because Dame just got out of prison. There's a sense of uneasiness – Adonis feeling embarrassed to have so much in front of someone who has so little, feeling like an asshole when he tries to give him money and is turned down. All Dame wants is to box again, so Adonis hooks him up with a gig as sparring partner for Felix. And he tries to reconnect, inviting him over for dinner. Bianca is excited to meet him and quickly picks up that there's alot Adonis never told her – she never even knew he lived in a group home.
The ROCKY movies love Adrian, but the CREED movies respect Bianca. She supports him in his boxing but has her own passions that he gets to support. In this one I get the feeling she might be more famous than he is – seriously, how many people give two shits about boxing, versus how many listen to music? Nevertheless, when Adonis humbly tells Dame it's his wife and daughters' house, "I just live here," he's surrounded by a wall full of his belts and a billboard-sized photo of himself. He's a kind and good person, but we all have our issues.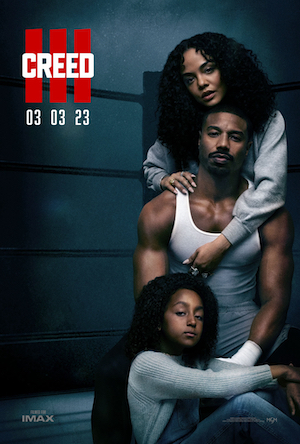 I think Adonis has a closer connection to his kid than Rocky did to his. Not including the childhood prologue, Adonis's first and last CREED III scenes are goofing around with Amara. And I can't say it doesn't make me happy that she's learning to box and they probly have it in the back of their minds that there could be an AMARA CREED movie some day just like I requested in my part II review. I like that he sees her going through things that he did even though her circumstances are so different from his. Bianca has to chide him for being surprised that a school for deaf kids has bullies and fights like any other school. But raising Amara together connects Adonis and Bianca even further. Since he learned ASL for them, Bianca can talk to him from the crowd while he's in the ring.
Dame seems honored to meet the family, but he tends to bring up things to Adonis and Bianca that are a little uncomfortable – I thought you'd always keep the old gym, you never answered my letters, I was surprised you moved out of the hood, doesn't it feel weird to see someone else performing your song. I think we're meant to think this is manipulation, and maybe it is, but couldn't it just be Dame sincerely expressing his point-of-view? It seems like a pretty understandable one.
As much tension as there is between these two old friends, it's actually worse than we knew: the crime Dame did time for was pulling a gun to back up Adonis in that fight he started with Leon. When the police came, Adonis literally ran away, and he didn't keep in touch with Dame when he was locked up. So there's tremendous resentment on one side and guilt on the other. Still, I don't think their friendship is a lie. I think Adonis genuinely wants to help, and Dame genuinely doesn't want anything but the shot he thinks he deserves. It's unfair when he asks for more than the sparring gig, for an actual title shot, but he makes it sound a little less absurd by reminding us that it's basically the entire premise of the ROCKY series that Adonis' dad fought an unknown schlub as a promotional gimmick. Why did Rocky deserve that more than him?
And Dame does have that underdog spirit. CREED III echoes ROCKY III in the sense that Clubber Lang was such a mirror image of Rocky's past – a true underdog, a fighter who didn't have anything handed to him on a plate. Yet he was the bad guy, because he was just such an asshole! Dame is a more complex version of that. He's more likable than Clubber, more humble, so at times it seems like we might start rooting for him. We see him in a tiny apartment doing pushups, shadowboxing, inspiring himself with newspaper clippings on the walls and the bathroom mirror.
This series has taught us to love the guy who trains in the meat freezer, the snow or the hospital stairwell, so that should be our guy. But Dame wants it so bad he cheats, he fights dirty, he does things that are much too dishonorable to forgive right away, and when he's called on it he turns bully, basically calling Adonis a bitch and telling him he doesn't need him anymore. There's a twist I saw coming and you will too. That's okay. It gives Adonis a damn good reason to come out of retirement to fight Dame.
I need to mention Sylvester Stallone, who is credited as creator and producer, but is not in the movie, even in photo form as far as I noticed. He obviously started all this, from the characters and the format to the path that Jordan is taking from star to star/director. And his character and performances are the heart of CREED and CREED II. So it's kind of sad for him not to be in the movie, and very sad that he feels screwed over by the producers of the series and has such bad feelings about it that he has said he will never watch CREED III. It's just too bad. I hope somebody figures out a way to make it right.
But what's good about it for part III is that it's really a chance for Adonis to stop looking as much to the past and forge his own path. Apollo and Rocky are mentioned a little bit, but Adonis does not seem to be in either of their shadows. It's cool to see Adonis's previous opponents, now as his friends, but that just seems like the natural progression of this series. It doesn't feel like a callback. Nobody was saying "Ricky Conlan is back. The fans are gonna go crazy for this!"
The script is credited to Keenan Coogler (SPACE JAM: A NEW LEGACY) & Zach Baylin (KING RICHARD), who share a story credit with Ryan Coogler, and they do a great job of both building the skeleton and putting meat on it. There are minor things that could be nitpicked with the story as it ultimately ended up on screen; I know we're all supposed to love movies being as short as possible, but Mama Creed (Phylicia Rashad, SOUL)'s part in this one is a little too economical. It still got me because she hits her important emotional character points, but it would work better if she had more time in between to just be that character. The pay off for going a little light on family members, though, is the tremendous focus they're able to put on Adonis and Dame.
Vyce Victus of Action For Everyone called CREED III "a fascinating snapshot of the African American male psyche in 2023," and I get the sense that's part of Jordan's intent. I think he indicates it visually when he shows the red black and green stripes on the back of Adonis's cape, intermingling with the red white and blue inherited from his father's ring attire, then shows Dame's trunks, adorned with red black and green diamonds. When Apollo Creed first wore the stars and stripes in ROCKY it was almost trolling; in ROCKY IV it was a more sincere "I represent America" statement. Even your average Paulie on the street who can't stand a cocky Black man being at the top of the sport could set that aside and get behind Apollo to beat the commies. I think Adonis's new cape honors his dad, acknowledges what he got from him, and represents his own achievement of the American dream, but it also says he won't allow you to separate his American-ness from his Blackness. Do you remember in DO THE RIGHT THING when Pino explained to Mookie that his favorite athletes, comedians and musicians are Black because "I mean, they're Black but not really Black. They're more than Black. It's different"? Well, Adonis doesn't want to be that guy.
Dame's outfit is more aspirational. His symbol is a diamond, because diamonds represented his idea of success when he was young, and therefore the dream that was deferred during his 18 years of incarceration. But he chose the same Pan-African color scheme that Adonis did. Two men coming from, in many senses, the same background, ending up at different places. But also the same place.
So there are definitely some culturally-specific ideas here, but the movie will speak to all kinds of people in different ways. When Bianca says "You need to talk to someone – if not me, then someone," and Adonis later doesn't want to talk to her because he doesn't feel like "a therapy session," I get the idea that she believes in therapy but he resists it, and she doesn't want to push it on him. My family didn't put a stigma on mental health care like some do, but I still somehow grew up with the unconscious belief that masculinity requires keeping your emotions inside, that showing them is weakness, that it's better to deal with those things in private, on your own. And in my adult life I've really had to fight to get past that, to learn how to talk openly about things that matter, for myself and for my marriage and friendships. It's maybe the most important grown up shit I've managed to learn, so it hits me hard to see a fucking boxing movie that's all about that – especially in a series that has glorified some of those ideals of manly stubbornness that we, and Adonis, need to get over in order to be better people. What's the point of training-montaging your body until each individual muscle is like a rock that could crush a human skull, if you're not willing to put any effort into improving the actual human being encased inside those fuckin things? CREED III knows the appeal of macho bullshit, but gently shows us why we need to unlearn some of it.
Before Adonis and Dame do that, obviously they're gonna box, and I think what has impressed many people most about Jordan as a director is how well he (with supervising stunt coordinator Clayton J. Barber [BLADE II, BLACK PANTHER, THE PRINCESS, Gangs of London] and choreographer Mark R. Miscione [assistant fight coordinator for THE GRAY MAN]) put together these fights. I personally don't think they top the intensity of Coogler's, but Jordan does his own thing. He shot them in Imax, and the movie looks great in that format. Much of the promotion has revealed that Jordan is a big anime fan, and I noticed that young Adonis has a few anime posters on his bedroom wall. Sure enough the influence comes out in many extreme closeups of eyes, slow motion punches, some angles that make their bodies look bizarrely proportioned like very expressive drawings, and vivid details like the shot of Adonis being hit hard in the gut followed by a shot of sweat flying off of his back from the impact.
The biggest stylistic swing is when Adonis and Dame become so focused that the crowd disappears and they battle it out in a sort of psychological plane, as if Freddy Krueger caught them. I'm happy that I haven't yet encountered the rat soup eating motherfucker who will make fun of that touch. I loved it. But what got me even more than that is between rounds when Adonis looks across the ring at Dame and in his mind Dame is still young. So Adonis is remembering that this is the kid he abandoned, who lost everything for trying to help him in a fight he started.
That's great, but the kicker is when the real Dame, the adult, looks across at Adonis and also sees the young version. The kid he lost everything for, and never heard from again, until he got out. So at this crucial point in the match, and in the story, Jordan as director is forcing us to sympathize with the opponent who he's built up to make us root against. He's reminding us that it's way more complicated than good guys and bad guys.
And maybe that wouldn't work if Majors weren't so damn good in it. Even after all these years of super hero makeovers it was kind of awe-inspiring to see him transform into this ridiculous muscle monster and perform feats of strength like the seemingly real shot of double rope climbing in the training montage. He achieves so much with physicality that I'm afraid people will overlook what an incredible performance it is also in the more traditional sense of creating this vivid person through voice and expression and presence. (I think this is a regional thing but I kept noticing him sounding like Ryan Coogler.)
I hope you haven't read this whole review if you haven't seen it yet and you're trying to stay fresh, but I'm about to drop what I'd consider a BIG SPOILER for the structure of the movie and why it becomes next level at the end. We get the triumphant ending to the match, and there's a sense from previous ROCKY movies and other sports movies that it could go to the credits right there. "Yo Adrian!," freeze frame, credits. But I was so relieved it kept going because the "unfinished business" Adonis said he had when he left boxing doesn't feel like it had anything to do with boxing. He's facing his past and his fear and his guilt in the ring, but still, that's just boxing. The lesson he's learning from Bianca in the movie is to talk about things, not hold them in, and not think he can solve them by punching. So the real way to face his fear, and his guilt, the real way not to run, is to talk to Dame. That's why the climax of the movie is not the fight – it's after the fight when Adonis finally gets the courage to talk to Dame about the uncomfortable truths he's been dancing around, that Dame has been using as weapons against him. They clear the air, so now when Dame tells him to go celebrate with his family, we know it's not some psychological game, it really is a friend talking to a friend.
CREED III is beautiful because it has something real to say about friendships, marriages, and masculinity, and it fully recognizes that that's more important than a fuckin sports triumph. But it gives you that too. The unified champion of sports and life.
Music post-script, presented separately so I don't lose you in the middle of the review by going on too long about the use of one song:
Ludwig Göransson, whose score for CREED is one of its many facets that seemed almost too good to be true, is only credited as score producer for CREED III. The composer is Joseph Shirley, who did programming for the previous CREEDs, and scored episodes of The Mandalorian and The Book of Boba Fett. He does a good job of adapting the old themes and adding new ones that follow in the same spirit of mixing triumphant orchestral music with modern electronic sounds.
But there's a particular musical choice in the opening scene that kinda made me fall in love with the movie right away. (It's not on the score album, so I don't know if Shirely is responsible.) As 2002 Dame and Adonis drive to the boxing venue the music gradually reveals itself as a re-orchestration of "The Watcher," the opening track on Dr. Dre's The Chronic 2001, and then it goes into the actual song. It just sounds so fucking good, and seems believable for what those two might be listening to. And thinking about it afterwards I realized that the song reflects things that end up happening to both characters. Some of the first verse sounds like Dame in prison, resentfully watching time pass as other people live his dreams ("I've seen 'em come, I've watched 'em go / Watched 'em rise, witnessed it and watched 'em blow / Watched 'em all blossom and watched 'em grow.")The chorus sounds like when he got out. "Everywhere that I go / Ain't the same as befo' / People I used to know / Just don't know me no mo'." Then part of the first verse sounds like Adonis, specifically things Dame pokes him about: "I moved out of the hood for good, you blame me?"
Since I'm old enough to have bought Chronic 2001 at Tower Records at midnight the night it came out (after multiple false alarms when the album was delayed) I'm afraid I do not know who Dreamville is, but he did most of the song soundtrack, which is pretty effective in the movie. There's a training montage song – "Adonis Interlude (The Montage)" by Dreamville with J. Cole – that mixes "The Watcher" with Göransson's CREED theme and has the line "arms crossed and confident like you was from Wakanda" – referencing another Jordan, Coogler and Göransson joint!