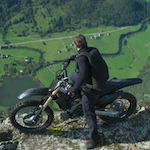 MISSION: IMPOSSIBLE DEAD – RECKONING PART ONE is a top shelf spy action blockbuster. There's plenty for people to quibble with about how it compares to its six predecessors, but to me it's another strong variation on and evolution of a series that has managed to go for 27 years and still feel special each time out.
After only a few weeks of release, conversation in movie lover world has already moved on, except to note that DEAD RECKONING is unlikely to make back its huge budget in theaters. I'll be sure to send a sympathy card to the bean counters, but I appreciate this case of a movie going overbudget to (on top of COVID delays) allow leeway for the filmmakers to tinker with it and take the time to try to meet their enormous ambitions. Director/co-writer Christopher McQuarrie has a weird, partially improvisatory way of building these that other filmmakers shouldn't copy, but it sure seems to work better than rushing everything to meet a deadline.
Part of the magic of these movies is their mixture of simple and complicated. They're simple enough that they can advertise this as the one with a motorcycle jump and a train crash and know we don't need more than that. And boiled down the premise is as simple as that a nefarious A.I. known as "The Entity" has infiltrated all databases around the world, including the entire knowledge base of every intelligence agency, threatening to mix it all with bullshit to destroy our whole civilization's understanding of reality, so various parties are fighting over two literal keys they believe lead to the only way to get at The Entity. Everyone wants to control it, except Ethan Hunt (Tom Cruise, LOSIN' IT), who wants to destroy it.
The complications come in with the convoluted missions they undertake to achieve each individual objective on the path toward saving the world, and the even more complex workarounds they have to improvise each time something doesn't go as planned (which is most of the time). These involve the old standbys such as disguise and impersonation, hacking, augmented reality glasses, parachutes, motorcycles, knives, guns, druggings, a swordswoman, sleight of hand, and a whole lot of pickpocketing.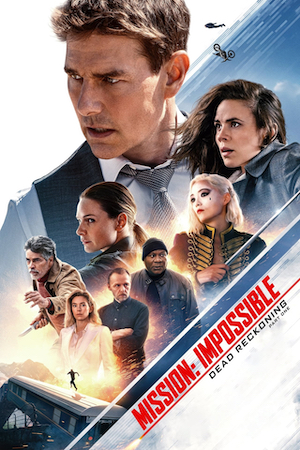 The newest elements are a villain named Gabriel (Esai Morales, SUPERFLY [2018]) and a heroine named Grace (Hayley Atwell, JIMI: ALL IS BY MY SIDE). Gabriel is a ghost, a mystery man from Ethan's past, also a chaotic force of nihilism, very well dressed, all that shit. What makes him different from previous villains of this type is that he's not necessarily a mastermind, he's probly just a stooge following what a computer screen is telling him to do! He serves The Entity, willingly doing what it tells him, so it's not always clear what kind of 4D chess he's up to, or if he even knows. I really think he's just following along – he may have his theories, but he's in just as much suspense as anyone to find out where this is all going, like they're all watching the same TV show as it nears its finale.
Grace is a highly skilled pickpocket hired by another party to steal one of the keys. Ethan spots her while trying to get it himself, and immediately sees how she can help and how to convince her it's in her self interest. It's not an instant conversion (deceit and betrayal are tools of the trade for everyone involved) but they get stuck in enough shootouts and car chases (many of them while handcuffed together) to become a team. I think the movie stays on the side of Ethan genuinely wanting to help Grace and others, but it burns when Gabriel brings up the interpretation of him as a serial manipulator and doomer of women. Come on, man. That's not fair. Is it?
One thing about Grace is she's an excellent new female lead in a series that already has one: Rebecca Ferguson (HERCULES, DOCTOR SLEEP) as Ilsa motherfuckin Faust, already the highlight of MISSIONs: IMPOSSIBLE ROGUE NATION and FALLOUT. She starts the movie outnumbered by bounty hunters in the middle of the desert with one half of the mcmuffin around her neck like an '80s latchkey kid. I thought Ethan and Ilsa were in love, but I guess some people think they're just ride-or-die besties. Whatever the case they have a romantic night seeing the sights in Venice and they also have some time to exercise their craft together. Seeing the IMF team, currently consisting of Ethan, Ilsa and their tech support department of Luther (Ving Rhames, DEATH RACE 2–3) and Benji (Simon Pegg, READY PLAYER ONE) operate has been a big part of the joy of this series, especially since part III. And seeing the shots where they just stroll around together, often in small open boats, always looking very serious and confident because they're very aware of their own awesomeness, is another big part of it.
I'm a fan of the badass nod in cinema – a gesture of mutual understanding between badass motherfuckers. These characters achieve the feel of a badass nod without moving their chins. They don't have to nod. It's all in their eyes. They know.
Ethan and Ilsa do most of the running, leaping, dropping, kicking, stabbing, slashing, choking, wrassling, scissoring, chopping, infiltrating, etc., but Ethan especially couldn't do all of it without the nerd and the cool guy with the hat being in his ear telling him which hall to go around and warning him of shit. They do good work. And they're so accustomed to the insanity that while they're guiding Ethan to steal the key from a guy in Abu Dhabi International Airport they get involved in a side quest to find a suspicious piece of luggage and disarm a nuclear bomb via riddles without even telling him about it. He's busy.
I rewatched Brian DePalma's MISSION: IMPOSSIBLE for the first time in a while because I knew about the return of Kittridge (Henry Czerny, THE A-TEAM, SCREAM VI). That really wasn't necessary for understanding anything, but it's a good movie, so I recommend it. Kittridge was the IMF director back then, basically Ethan's uptight boss who falls for a frame up and thinks Ethan is the bad guy until the end of the movie. He was the one meeting with Ethan in the restaurant when Ethan blew up the aquarium with explosive chewing gum. Now he's the head of the CIA and (though who knows what twists lie ahead in Part Two) he seems to have a begrudging respect and trust of Ethan and know he's the only one he can count on to get these keys.
A standout non-action scene in this chapter is at the beginning when we learn about The Entity in an emergency meeting between the heads of all the intelligence agencies. It's one of those very stylized scenes where it's basically a big monologue of exposition but it's delivered by a series of characters picking up from each other like they share one mind. This is where Kittridge proposes using Ethan, though he doesn't say his name. And one of the big jokes of the scene is that Director of National Intelligence Denlinger (Cary Elwes, NEVER ON TUESDAY) has never been told about the Impossible Mission Force and is incredulous about this idea that there's a guy "we leave word for" to do whatever none of the agencies know how to do.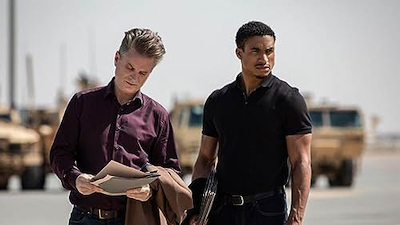 One guy who seems pretty familiar with the capabilities of the guy they leave word for is Jasper Briggs (Shea Whigham, ALL THE REAL GIRLS, BAD LIEUTENANT: PORT OF CALL NEW ORLEANS), who has the Tommy-Lee-Jones-in-THE-FUGITIVE role of the exasperated blowhard who leads a team chasing down our guys. Whigham is one of those character actors I'm always happy to see pop up in anything, so I was pleasantly surprised what a big role they gave him here. Since he played the gruff boss of Atwell's title character in season 1 of Agent Carter, this is also a reunion. For both of them I'd say this is the biggest spotlight they've gotten in movies so far. Briggs has that Shea Whigham grumpy likability, he makes some good speeches, but he doesn't seem that far away from his (as of part one) more questioning-of-orders partner Degas (Greg Tarzan Davis, TOP GUN: MAVERICK).
In a bunch of weird ways that mostly have to be coincidental, DEAD RECKONING almost seems like a summary of recent action movies. Specifically, it has a bunch of odd parallels to FAST X. Both are late entries in their series that for the first time are trying a two-parter. Both have a part with a submarine under ice. Both have an actor I like playing a guy from a government agency who chases the heroes and makes big speeches that are meta about the tropes of the series. Both have a big, destructive car chase in Rome, using many of the same landmarks. I think DEAD RECKONING's car chase is the more thrilling one – it feels much more real and dangerous, more on location, less digitally enhanced, more special. But I don't say that as a knock on FAST X. That was some good, cartoony shit that also had plenty of real stunts in it. But this one is more masterful.
It also has people in disguise fighting over a valuable object on a train, like INDIANA JONES AND THE DIAL OF DESTINY did just a couple weeks earlier. And I read that they filmed on the same bridge! As with FAST X, the DEAD RECKONING version seems much more real. I've seen people complaining about some digital effects, which is their right but very funny to me because these filmmakers went through the trouble of creating an entire working train to shoot on for real and to dump off a bridge for real, with cameras attached to it, which you watch and think "oh shit, that was definitely real, they attached a fucking camera to a fucking train and dumped it off a fucking bridge – movies are amazing, I love movies!" Or at least that's what I say, but I have learned from Twitter that others say "too fakey, CGI, computers, Hollywood, etc."
But again, I also loved Indy's scene, which was done more practically than people assume, but does have a stylized look to its world that's almost painterly, and that's what I like about that one. Two very different things, released in the same month, filmed in the same place. Movies!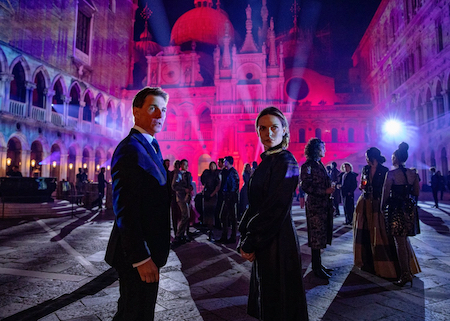 The one I noticed that might actually be an intentional reference is when Ethan and Ilsa infiltrate a meeting at a club in Venice and come face to face with Gabriel, Grace, and arms dealer Alanna "The White Queen" Mitsopolis (Vanessa Kirby, JUPITER ASCENDING). As far as I know this is not a location from a JOHN WICK movie, but it seems so much like one – a gigantic dance club lit in purple, blue and red, with techno music, laser show type abstract animation projected on screens, an ultra-rich, ultra-glamorous, ultra-European clientele, all surrounded by historic architecture and what not. There's a goofy idea that they realize they are "inside" the Entity, it's watching them, so the screens become sort of the HAL-9000 eye staring at them, creeping them the fuck out, even though they know better than anybody what sort of a surveillance state they're in no matter where they go. (That's not a complaint. I like some absurdity.)
If this is a deliberate nod to JOHN WICK then maybe the point is that in this scene The Entity decides to have Gabriel kill one of the people important to Ethan in order to get a certain reaction out of him. So he realizes, especially after a big talk about it from Luther, that it's essential to not get revenge against Gabriel for what he did; it seems The Entity is trying to get him to kill the only person who knows what the keys do. Even still, when Ethan gets Gabriel at knife point he considers killing him. (Unless he was up to something more tricky, like testing if Briggs would stop him.)
So in that sense DEAD RECKONING becomes the opposite of JOHN WICK's initial revenge plot. But I like to think people who make movies this good are capable of seeing that there's more to JOHN WICK than simple revenge fantasy, so I won't take it as a swipe.
There's also a big nod to He-Man toys, because the two keys connect together sort of like how He-Man's sword and Skeletor's sword connect together. Not in the cartoon, but in the toys. All boys know about the connecting swords, even McQuarrie and Cruise. This will probly be more important in Part Two.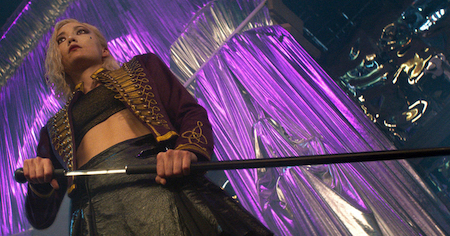 Speaking of swords, I've yet to mention another Wickian touch and great new character, Gabriel's top henchwoman Paris. She's played by Pom Klementieff (INGRID GOES WEST), last seen as Mantis, my favorite part of GUARDIANS OF THE GALAXY VOL. 3. Since I mainly know her with bug eyes I would never have known it was her except by her occasional yelps of wicked joy during fights. I've read that some consider "silent killer" to be an Asian stereotype, and it's not my place to determine whether Paris qualifies, but I will say this is a fucking topnotch performance and character and that in general the idea that good performances and characters require lots of dialogue is just an incorrect assessment of how art works, especially in action movies, where the more words you speak the less likely you are cool (John McClane being a rare exception). I love Paris' cocky style, strolling into this club wearing a marching band jacket that Turbo could've worn in BREAKIN' 2, and some kind of mime makeup, and carrying a god damn sword in public, like she's Blade. I also enjoy what a great time she's clearly having driving a truck over various parked vehicles and other unfortunate objects.
She's just an absolute delight. I love her. I hope she will be my friend. Just an idea for Part Two, there could be a part where she mentions that we're friends. No pressure, we're just brainstorming here, there are no bad ideas.
An appreciation of Christopher McQuarrie: he came onto most of our radar winning an Oscar for his second movie, THE USUAL SUSPECTS. For a while I thought complicated twists were his thing. I thought they muddied up his very impressive directorial debut WAY OF THE GUN. He spent a decade as Bryan Singer's guy (script doctor on X-MEN) but in the middle of that was VALKYRIE, which switched him over to being Tom Cruise's guy (script doctor on GHOST PROTOCOL). Yeah, I know – problematic in a different way. But they turned into a really good team for making very high quality mainstream spectacle. McQ did a fine job as writer/director of JACK REACHER before graduating to permanent MISSION: IMPOSSIBLE helmer. He also had a hand in the screenplays of EDGE OF TOMORROW, THE MUMMY (sorry, I enjoyed it) and TOP GUN: MAVERICK. He's a type of filmmaker I really appreciate: not highfalutin, but smart, and absolutely striving for excellence. Never condescending toward the art of mainstream popcorn movies, but always trying to take it to the next level. A writer and director with an ever-growing appreciation and understanding for the craft of filmmaking through economy of storytelling and characterization. Dedicated to upping the ante every time out, but also converted by his experience on MAVERICK to a big old softy who wants even the train-falling-off-a-bridge movie to be deeply rooted in emotions.
DEAD RECKONING PART ONE excels at the same things McQuarrie's previous MISSION: IMPOSSIBLEs do: thrilling and well put together action setpieces built around insane stunts actually performed by Cruise; a great tone mixing serious threats with light-hearted dialogue between cool IMF friends; tons of clever spy tricks that are absurd and far-fetched but well thought out enough that we can buy them; scorching hot actors looking cool but also giving legit acting performances, etc. Each time McQuarrie deliberately reinvents his filmmaking style (he doesn't believe in repeating himself), and I have seen complaints about the cinematography, none of which I registered or had a problem with at all – I thought it looked great.
Of course the choice that changes this most from the formula of the rest of the series is this Part One business. They did two-parters and even a three-parter on the show, but it's new to the movies, where we're gonna have to wait years for the next episode, not a week. This is not exactly a cliffhanger (they have an objective, which they achieve), but for the first time we're left to find out how they get from having the key to saving the world to actually saving the world.
What that really changes is that ambiguities about what anybody's up to are not yet resolved. Gabriel could actually want control of The Entity, Kittridge might not be up front about what's going on, etc. The one that left me most curious was where Paris is at, but that might be a matter of misinterpretation. (SPOILERS of course…) There's a scene where Gabriel stabs Paris and tells her she's going to betray him and tell Ethan what the keys are for, since Ethan spared her life in an alley fight earlier. I took this as Gabriel/The Entity's instructions for her. I thought she was devastated by the abandonment, that no matter what happens she's not going to be with Gabriel anymore. She does as described: saves Ethan's life, tells him about the key as she bleeds out. But then she survives and, I'm guessing, joins the team. So I thought the conflict was that she followed her orders, but seems like she could actually be sincere, could've genuinely switched sides.
But the way Wikipedia puts it, Gabriel "attempts to kill Paris, who the Entity has determined will betray them, because Ethan had spared her life in Venice." That's much simpler. Gabriel doesn't tell her to do it, just that his computer master predicted it would happen. He fails to stop her, and the computer was right about what she'd do. Is that correct? I like mine better. More dramatic. But theirs has her as unambiguous cool-bad-guy-turned-good-guy. And you know I love a cool-bad-guy-turned-good-guy. So I'll accept it if that's what it is.
I have exactly one complaint about the movie, which is a big enough spoiler I'm gonna keep it to a postscript. But the bottom line is, this is a thrilling action/spycraft blockbuster on a level that doesn't come around too often. If you appreciate that sort of thing, I definitely recommend seeing it in a theater while you can.
P.S.
SPOILER SPOILER SPOILER. My one spoiled fan complaint is that I personally was totally fine with the stakes as they were and did not require them to be raised by killing best character in the series. Yes, there's a legitimate story purpose – the theme of Ethan protecting the people he cares about is central, and the concept that Gabriel killing the person who means most to him would push him to want to kill Gabriel, which would serve the Entity's purposes, makes sense. But this is a series that's fun because it has this great team who have learned to get out of these things. I don't think weakening that aspect by taking away the MVP is a worthy trade off for the drama achieved by killing her. (Of course it's also a series where it's not out of the question that they faked her death as part of the plan, and there are a few reasons to believe that could be the case, but I'm trying not to get my hopes up.)
P.P.S. I should probly mention that the motorcycle stunt is great, and technically a one-upping of the part in UNDER SIEGE 2: DARK TERRITORY where Ryback has to get back onto the train.