SANTA'S SLAY is an enjoyably dumb killer Santa movie. It's from 2005 but it's in the '80s b-horror tradition of cheesy acting and dialogue and sort of pretending to be serious but with an intentionally asinine premise. Not quite as campy as KILLER KLOWNS FROM OUTER SPACE or RETURN OF THE KILLER TOMATOES, but less serious than the SILENT NIGHT, DEADLY NIGHTs. Actually the movie it reminded me of most is from the year before, Jeff Lieberman's SATAN'S LITTLE HELPER. That was a Halloween movie, though.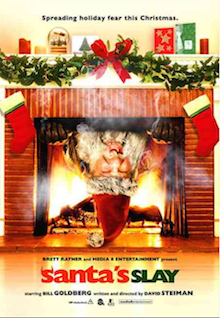 According to the backstory (told in stop motion animation of course), Santa is the son of Satan (not biological though, 'cause they say it was a virgin birth) who likes to raise hell every Christmas. But an angel invents curling and wins a bet forcing Santa to be jolly and deliver presents. Now, little does dorky teenager Nicolas Yuleson (Douglas Smith) realize that his eccentric grandpa (Robert Culp) is that angel and that Santa has tracked him down for violent revenge.
Definitely the highlight is the opening scene in which a family of rich assholes played by Chris Kattan, Rebecca Gayheart, Fran Drescher, the twins from CRUEL INTENTIONS 2 and an uncredited James Caan (!) are having a bitchy Christmas dinner when Santa (Bill Goldberg from WWE and HALF PAST DEAD 2) suddenly busts out of the fireplace Kool Aid Man style and massacres them. It's kind of like that opening of PUNISHER WAR ZONE, just a big maniac going way overboard with not context about who or why. He combines Christmas-themed gimmicks (tree topper as throwing star, etc.) with wrestler shit (tackling, punching, kicking and bodyslamming people through furniture and structures) and just horrible violence (setting Drescher's hair on fire, pinning Caan's hands to the table with the good silverware).
After that great intro it becomes the story of Nicolas and his gun-loving girlfriend (Emilie de Ravin – after Lost, before THE HILLS HAVE EYES) uncovering "the truth about Christmas" and trying to stop Santa's rampage. It's the rampage that makes the movie funny, though. He just stomps around murdering everybody, including at a strip club (the bouncer calls him "fat boy") and a deli (he impales Saul Rubinek on a Menorah, causing his last words to be "There is a Santa.") You know how Jewish people have to put up with Christmas being shoved in their faces every year? There's a running joke here about how the Gentiles have no clue that there are even Jews in town. After the murder at the deli one cop wants to talk to some Hasid witnesses, he says "Grab that Amish group outside."
Goldberg is really funny as Santa. He plays him kind of like Cain played Jacob Goodnight in SEE NO EVIL, except with some later-Freddy type one-liners. He's like a demonic, dirty-bearded Santa, then he takes off his jacket and has a wrestling-type belt and a sleeveless vest so he can show off his guns. His transportation is a flying sled, they say it's pulled by a reindeer but it looks like a buffalo to me. As the official secular replacement for Jesus, Santa crashes his sled right through a Nativity scene. He uses exploding gift boxes, he stabs a mugger with a candy cane, he breathes fire, throws ornament smoke bombs. Interesting note: Santa is apparently a germophobe, because he cleans a stripper pole with Windex before tearing it out and using it as a weapon.
The hero (whose name – I really wanna emphasize this – is Nicolas Yuleson) decides he needs to "finally put an end to Christmas," and he might be able to do it by shooting Santa with a defective nutcracker that he keeps in a back sheathe like a sword. Santa's gonna put up a fight though. For example he throws a hard cover copy of A Christmas Carol at Nic's head.
One-time writer/director David Steiman was Brett Ratner's assistant on THE FAMILY MAN, RUSH HOUR 2 and RED DRAGON. Not his assistant director – his assistant. So Ratner produced the movie and, I don't know, he must be tight with James Caan or something. So that sort of explains what's going on here. But I'm not saying he did a bad job. I mean there is some cheesy acting and shit in here (oh shit – the Christmas rap song the kids play in their car!) but it's a funny movie. And the action is actually really well done, but I'm guessing that might fall at the feet of Andy Cheng, a member of the Jackie Chan stunt team who is credited as second unit director and fight choreographer. He was Jackie's stunt double in MR. NICE GUY, WHO AM I and SHANGHAI NOON and he did choreography for THE SCORPION KING and THE RUNDOWN. He was fight choreographer and second unit director for Isaac Florentine's U.S. SEALS II. And he knows how to make an exciting scene about a wrestler dressed as Santa Claus killing everybody in a strip club, it turns out.
I've been skipping this one for a few years because I pictured a different type of cheesy than what it actually is. SANTA'S SLAY is alot of fun and I hope you will share it with your family and loved ones this holiday season. Or give it to the poor.
This entry was posted on Monday, December 19th, 2011 at 2:03 pm and is filed under
Comedy/Laffs
,
Horror
,
Reviews
. You can follow any responses to this entry through the
RSS 2.0
feed. You can skip to the end and leave a response. Pinging is currently not allowed.