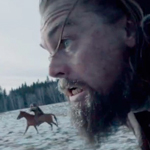 Right now THE REVENANT (from executive producer Brett Ratner) is being marketed as an Important Awards Contender type movie. It's the year's most Oscar-nominated film and the winner of the Golden Globe for Best Picture – Drama, so until THE BIG SHORT won the Producer's Guild award the other day it seemed like the frontrunner for the coveted title of Answer To Trivia Question About Which Lesser Movie Got Best Picture Instead Of MAD MAX: FURY ROAD.
It's the latest from Alejandro G. Iñárritu, the least fun of the Three Amigos, but the one who got best picture, director and screenplay last year for BIRDMAN. He's also a guy who talks real passionately and is charming in interviews, but in print or out of context can sound like a pretentious asshole, for example when he said that his excellent new western is not a western because it transcends pathetic human genre:
"Western is in a way a genre, and the problem with genres is that it comes from the word 'generic', and I feel that this film is very far from generic."
(Genre actually comes from the French word for 'kind' or 'type'.)
But fuck all that. That's a distraction. On its own, THE REVENANT is the kind/type/genre of pure, undiluted, immersive filmatism that I love. Unafraid to go long stretches without dialogue, or to have the minimal exposition mumbled through an unintelligible accent, it plunges us into a world (1823 fur trappers and hunters under siege by Arikara Indians) and doesn't give us any instructions on how to get home. It trusts that the dense atmosphere and simple, action-based narrative will lead the way.
Leonardo DiCaprio (POISON IVY) plays Hugh Glass, who along with his half-Native son Hawk (Forrest Goodluck) is on this six month expedition that is ambushed, massacred and relieved of its pelts. As the survivors make their escape, bitter, racist John Fitzgerald (Tom Hardy, MINOTAUR) can't stop bitching about it being all Glass's fault. So when Glass is mauled by a bear (more on that later), Fitzgerald is awfully quick to argue for "the decent thing to do" of snuffing him out like a run-over deer. Then, when the asshole is foolishly trusted with the responsibility of staying with Glass until he dies and giving him a proper burial, Hawk ends up murdered and Glass left for dead in a shallow grave. So this is the story of Glass trying to 1. survive out in the frozen wilderness while cut up and smashed by a giant beast and 2. go get that asshole who killed his son.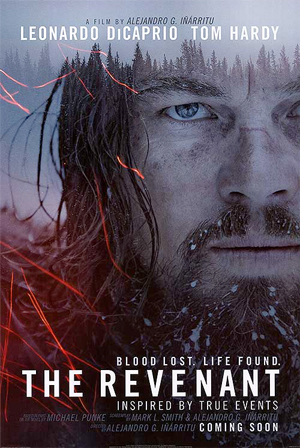 It's a world without good guys, exactly. Glass's Native American wife and son assure you that it's not the old western "cowboys vs. Indians" routine, but you do see the Arikara… I'll say it… savagely attacking them, and later another Native character has been wronged by the Sioux. The Arikara themselves turn out to be on a mission to rescue a kidnapped daughter, but their scorched earth approach to the problem is still pretty scary. Also our protagonist only fights a personal battle of revenge against a member of his party. He doesn't go Dances With Wolves. He never seems to regret being part of an invading force of wildlife plunderers.
In that sense it's like most post-9-11 war movies. It's characters in the middle of a conflict without an end goal, that they know better than to try to understand. Their life is just endless war, that's all they need to know.
Does it mean anything? Ultimately, it's about nothing. It's a package, and you open the box, and there's another box, and another, and it doesn't lead you to the truth. I'm just kidding, that wasn't me talking, that was a quote from Iñárritu about super hero movies. If there is something meaningful in THE REVENANT, maybe it's that this unit is not even military, they're workers for a corporation, acting like soldiers. Domnhall Gleason is very good as their honorable-but-in-over-his-head leader. (Good for him getting good roles in this and EX_MACHINA and THE FORCE AWAKENS all in one year.)
Anyway that quote is sort of how I feel about Iñárritu's movies sometimes, but that doesn't matter if he makes them this exquisite. They don't have to be as good as he says they are to be worth watching.
DiCaprio continues on his WOLF OF WALL STREET trajectory of showing what a great physical actor he can be. He spends most of the movie crawling, stumbling, limping, moaning in pain. There's a vain sort of anti-vanity in showing how over-the-top disgusting he can get: drooling and gurgling, hairy, dirty, covered in messy open cuts and scars, his lips cracked and slimy, his mustache covered in frozen snot globs. It's an extremely gory movie, not just in terms of violence but in terms of infected, festering wounds you gotta look at, and things like him drinking water and then it pours out of a slash in his neck. The real life Glass (yes, this is sort of based on a real historical figure) allowed maggots to eat his dead flesh to prevent gangrene. I'm surprised they didn't go for that, it seems right up this movie's alley.
I bet DiCaprio could've been just as good without getting all Method about it, but it makes for some funny stories. Apparently when he bites into a raw bison liver and pukes it was real. Nice try bud but Nicolas Cage didn't puke when he ate a roach. Anyway, there's a 1971 Richard C. Sarafian movie called MAN IN THE WILDERNESS where Richard Harris plays Hugh Glass (called "Zachary Bass"). So I bet Leo was thinking "I gotta beat Richard Harris's performance. I gotta eat something disgusting."
Hardy doesn't do any eating stunts, but to me he's the acting highlight. He plays a gruff, murderous dirtbag, but also the biggest whiner and coward in a large crew of people in a bad situation. Fitzgerald's positions sometimes could be considered reasonable – cold but realistic about what must be done to survive – but Hardy sells that he's really just making excuses because he's a chickenshit and doesn't mind sacrificing a guy he has a grudge against so he can get the fuck out of there. Later he has to lie a bunch to cover up what he's done, and sometimes it's blackly humorous how poorly he does it. It may be that he's a bad liar, but I suspect he just doesn't give enough of a shit to try to be convincing. Almost like a taunt. Like, "Oh yeah, my story sounds like bullshit? Are you gonna call me on it?"
Although this performance is not entirely inward like Max in FURY ROAD I wouldn't say it's very mega either. He's a pretty convincing character. I hope Hardy never gets tired of figuring out how to do crazy new accents. He's so fun to watch because he always seems to be trying to invent a new version of himself.
As good as these two are taking turns in the battle of the marble-mouthed mountain men, the real star is cinematographer Emmanuel Lubezki (THE TREE OF LIFE, THE CAT IN THE HAT). That's not just a cute thing to say, it's an honest assessment of what most makes this movie so worth watching. Yes, there are some long takes (not as extreme as in Lubezki's CHILDREN OF MEN, GRAVITY OR BIRDMAN) but mostly this is about finding different ways to put you into the action along with the character. Lots of closeups of DiCaprio as he's surrounded by battle, riding a horse, getting arrows shot at him, etc. You're practically sitting on his lap.
At times it feels like an amazing theme park ride. You drift through a section of woods where the crew are hacking open piles and piles of animal carcasses, then you're hearing battle around you and flaming arrows are coming from above, you're spinning around trying to figure out which way to run, seeing people across the way get arrows through their heads and drop.
(Side note: the arrows in this thing are so powerful they seem like those giant Na'vi arrows from AVATAR. They seem like they could go right through a car.)
Not only does it plunge you into the thick of battle, it surrounds you with nature. It takes the time to depict the beauty, the terror, and the quiet of a snowy landscape. It's evident in most of it that they went out on location. I was surprised to find out they started a real avalanche, that was maybe not necessary, but whatever they feel they gotta do to get into the mood, I guess. Like all movies now they make a really big deal about not using digital effects, which is an outrageous lie because there are tons of ILM animal sequences that might as well be dinosaurs for how much the human brain believes they are really there. But yes, it was wise to go out into real snow and use digital cameras to shoot in natural light.
About that bear. I knew he was gonna get attacked by a bear. I didn't know (SPOILER) he was gonna go the distance! He goes three rounds, takes an early beating, but gets the TKO. And then he has to heal up for the title defense against Fitzgerald at the end.
That mauling sequence is some kinda mini-classic. The bear is obviously a special effect, but it's an incredible feat of animation because the bear mentality is so convincing. Her behavior is inscrutable: viciously protective, then seemingly playful, then seeming to forget all about him, then coming after him again. When she stands on his head and sniffs around she doesn't necessarily seem like she's trying to hurt him. You can't know what a bear is thinking. You haven't been through what a bear has been through. You haven't lived the bear experience.
I love how the scene just keeps going. The bear seems to be done with him and then she's like What was I doing again? I got sidetracked… oh, duh. I was mauling that bearded weirdo that was snooping around my cubs. Here he is. I'll finish up.
And there's an excellent "oh jesus, what now?" punchline to the fight that's one of the few parts of the movie where I felt like it was okay to laugh.
After the bear attack Glass kinda acts like a bear, crawling around grunting, with a bear fur slung over his back. Leatherfacing it. Later, in a J.J. Abrams style EMPIRE STRIKES BACK reference, he cuts open a horse, digs out the gigantic horse-guts, and sleeps inside the shell to survive a snow storm. When he crawls out in the morning, naked, bloody and refreshed, clearly the symbolism is birth. He is reborn from a horse. So why doesn't he act like a horse for the rest of the movie? He should be galloping and whinnying and stuff. That's why this isn't gonna win best picture. HUGE plot hole. Man, the boys at Red Letter Honest Trailer Riffs are gonna have a field day with this blunder.
In my opinion the poster should say "FROM A PRODUCER OF UNDER SIEGE." Sure, Arnon Milchan is better known as producer of ONCE UPON A TIME IN AMERICA, BRAZIL and 12 YEARS A SLAVE, but this one has a few action movie tropes in it, which you know I always appreciate. For one thing you got a part where he's sneaking up to steal horses from a camp and happens to witness a rape happening, so he saves her. Usually it would be in an alley and it would be some kind of punk rocker gang doing it, but it's the same idea. Later, having saved that particular woman will cause some mean bastards to let him go, so now that I think about it it's exactly the same ending as TRAINING DAY.
And thankfully you got a climactic showdown. It's based on the book The Revenant: A Novel of Revenge by Michael Punke (adapted by Mark L. Smith, VACANCY), so happily Glass (spoiler) gets his revenge. Or, actually he does the way more common movie thing of going to get revenge and then deciding at the last second that revenge is morally wrong, so then instead of killing him he does a different thing that will indirectly kill him and he pretends that's some kind of loophole that makes it not count as revenge. Give me a break, Glass. You did kill him, you did get revenge. Stop lying to yourself.
In real life Glass tracked down Fitzgerald and did not kill him. He did get his gun back, though. REVENGE IS SWEET.
Anyway, the scene is a great, brutal ax vs. knife fight between two seriously injured opponents. It's like in the early UFC when it was a tournament and in the later rounds you had two guys who shouldn't even be standing up trying have a fight. Glass takes a couple John McClanes worth of damage throughout this movie. Only through magical Indian healing is he able to ride a horse again, and then he crashes the fuckin thing off a cliff into a tree. Who does he think he is, Evel Knievel? What he needs to do is curl up inside a dead horse and rest, but he insists on looking for a fight.
And there's this beautiful moment where they're facing off along the river and you can see cliffs way in the background and all the sudden a sliver of golden sunlight hits the cliffs, and then in the next shot it spreads across. Unless Iñárritu is full of shit this was all shot in natural light without touchups, so I'm gonna assume/hope that was the real deal.
But it doesn't matter either way. I don't think THE REVENANT speaks to me on an intellectual level, if it's supposed to, but it speaks to me on a more primal one. It uses imagery and sound to put me into a place, make me feel like I'm experiencing something. Like his friend Cuaron's GRAVITY, Iñárritu has created the halfbreed son of a serious, arty movie and a summer popcorn spectacle. Forget about awards and grand statements about indigenous cultures and all that shit and just respect that it's a movie that takes advantage of every inch of a giant multiplex screen, every surrounding speaker of its sound system, to do things that only this medium can do. It's a real fuckin MOVIE.