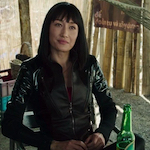 I don't know if Maggie Q thinks of herself as an action star. She's a good actress, and in recent years she's been in horror movies and thrillers and on Designated Survivor, and she has a new sitcom coming soon. Maybe one of her best known roles was the title character in Nikita, where I assume she kicked a multitude of asses every week, but it's not like anybody puts the original TV Nikita Peta Wilson or the original movie Nikita Anne Parillaud or the second movie version Bridget Fonda in a category with Jean-Claude Van Damme and those guys. They're just actors without much association to the genre.
But I respect that Q specifically came out of Hong Kong martial arts films. She's American, but as a young woman she worked as a model in Japan, Taiwan and Hong Kong, where she was discovered and trained by Jackie Chan. Some of her Hong Kong films were Benny Chan's GEN-X COPS 2, Ching Siu Tung's NAKED WEAPON and Daniel Lee's Seagal-produced DRAGON SQUAD, before coming to Hollywood for cool supporting parts in MISSION: IMPOSSIBLE III and LIVE FREE OR DIE HARD. She's been in a bunch of stuff since then, including the DIVERGENT series. A lesser known one I thought she was cool in was PRIEST. But I kinda thought she'd moved on from that, so as an action fan I was so thrilled when I first saw the trailer for THE PROTÉGÉ and realized she not only had a legit starring role action vehicle, but one that was made to be released in theaters! And it really happened! I saw it in one!
This was a few weeks ago, many of the reviews I saw were negative, and it's probly pretty much gone already, but it's on VOD now and on disc soon. So I want to put in a good word for it.
It's directed by Martin Campbell (DEFENSELESS, THE MASK OF ZORRO, CASINO ROYALE) and written by Richard Wenk (VAMP, 16 BLOCKS, THE MECHANIC, THE EXPENDABLES 2, THE EQUALIZER, THE MAGNIFICENT SEVEN, JACK REACHER: NEVER GO BACK), so it makes sense that it's sturdier-than-average for mainstream action. I thought Campbell gave a good international role to Q's mentor Jackie Chan in THE FOREIGNER a couple years ago, but that was a co-lead at best, so there were stretches where I was mostly looking forward to him showing up again. This one, to its great credit, is all Maggie.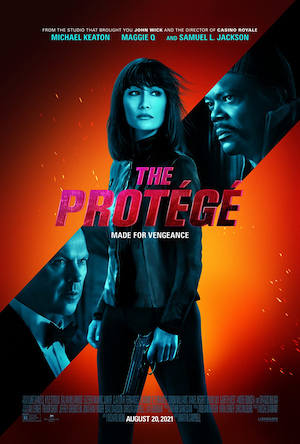 She plays Anna, a (you guessed it) elite assassin raised by Moody (Samuel L. Jackson, THE RETURN OF SUPERFLY), a Vietnam vet and blues fan who found her as a child at the site of a massacre in Da Nang. Oh – not during the war. She was kidnapped and she killed the four dudes who did it. It was her massacre. So he taught her some more techniques.
We see Anna and Moody working as a team to take out a Romanian mob boss in spectacular fashion. They kidnap his son and she goes in to collect the money, but ends up taking none of it after getting what she really came for. Moody can't understand why she'd do that, but neither of them are hard up for cash.
Then Anna finds Moody dead at home. He was semi-retired but tinkering with a case like a hobbyist, trying to find someone. And he leaves her a clue hovering outside the window on his toy drone. That's what I need to express here is that the tone is serious but not joyless. Jackson is having fun acting-wise, his character is playing with toys, and Anna retains a dry wit in the face of varying levels of danger. It's not some silly-ass xXx type business, but it doesn't drown the fun in quasi-realism like some of these spy movies that care what respectable people think about them.
She digs into his investigation, other people end up dead, there are twists and turns, she's captured and tortured (don't worry, she can get out of this), and it's all connected to some shady guy called Rembrandt (Michael Keaton, also in the less good AMERICAN ASSASSIN) who likes to quote poetry to show he's not like the other guys. They have sort of an OUT OF SIGHT thing where they fight but are clearly intrigued with each other even before they go from wrestling in the living room to just going ahead and fucking to get it over with.
This is a world of people paid enormous amounts of money, and they all traffic in expensive items. Anna owns a rare book store in London, is an expert on first editions, and uses buying books as cover for her assassination-related-travel (or maybe uses missions as an excuse to buy books). She buys Moody an ultra-rare 1958 flying-V guitar and a B.B. King live record. The bad guys all have art hanging in their places; she uses one's love of fancy cigars against him. But Anna and Moody both have a passion for the artistry of this stuff, while their opponents make wreckage of it. When Moody is attacked (at least in Anna's imagination of it) a closeup emphasizes the damage done to the guitar as it's knocked off a table. When she's ambushed at the store, machine guns tear shelves of books to pieces, their chopped up pages pouring down on her like snowflakes. That Rembrandt can quote from one of the books and claims he never would've destroyed her store like that either sets him apart from the others or is his attempt to be set apart from the others.
I don't really buy that Anna would be so immediately into this guy (Michael Keaton, yes – Rembrandt, not really) but having an actor as charismatic as Keaton in the role makes it much more interesting than the standard European or South American dreamboats they usually have in the "he's evil but she fucks him" slot. Also, it's cool to see Keaton (and his double Stiliyan Marvrov) get a pretty good fight scene.
(Fight choreographer: Georgi Manchev [HELLBOY, RAMBO: LAST BLOOD].)
Like Q herself, Anna seems to have been born to a Vietnamese woman and a white American soldier who met during the war. I like that her heritage is specified, because in American movies we rarely see Vietnamese or Vietnamese-American characters outside of a war context. She never wants to go back to Vietnam but is forced to. Meanwhile, old family friend Billy Boy (Robert T-1000 Patrick) seems to have never left there after the war, still roaming around with an American biker gang. It's great to see her buddy up with him.
Much like the films of Keanu Reeves, Jason Statham or Wesley Snipes, Q's very specific physicality is one of the main attractions – the way she's clumsy and awkward getting pushed around at the beginning, before the reveal that it was a ploy so that she would be captured, so then she turns rigid, upright and precise; the way the skinniness of her frame plays into her cat-like movements and surgical strikes.
I mean, check out this still: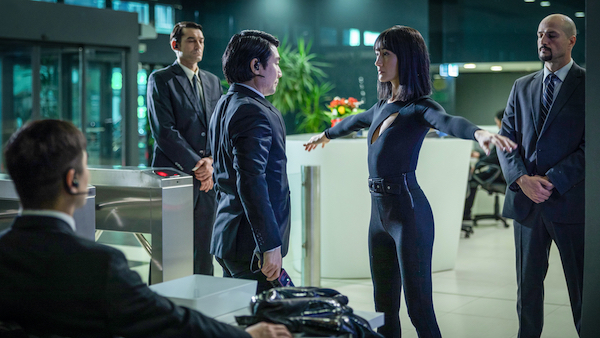 She comes in to talk to a dangerous guy, offers herself up for security check, and unless those guys are idiots they can tell just by the way she carries herself that she knows something they don't about who's gonna get fucked up real quick and how.
There's a rappelling-on-a-firehose gag that's great even though it's kind of a less-than-one-upping of a scene in ATOMIC BLONDE. Behind-the-scenes materials confirm that Q did the stunt herself. When she scurries between floors and drops through the ceiling onto somebody I wondered if Campbell actually watched her movie NAKED WEAPON, where something kinda similar happens.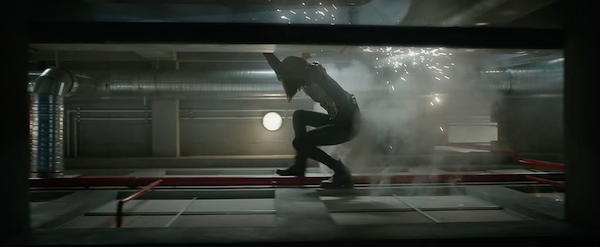 Of course this is Martin Campbell, not Ching Siu-Tung, so it's not nearly as crazy of a movie as that, but it's got a little more spice than many Hollywood films. I definitely appreciate that every single time someone gets shot they fly through the air and slam against a wall. That's what I want to see. And there are some good gimmicks about fancy pants ways she sneaks weapons into secure locations. I agree with the movie's weighting of coolness over plausibility.
The other thing is her attitude – the absolute blankness of her face as she flees from an assassination, unimpressed by the dangers she faces; the smart-ass banter she has with both her mentor and her antagonist. I just love this type of performance – the cool, cold warrior exterior that occasionally slips so you can see the interior. She's so good at it.
I am thankful for this Maggie Q movie. I hope we get more Maggie Q movies. And when the fuck are they gonna bring her character back in a MISSION: IMPOSSIBLE? What's the deal with that?

P.S. MAJOR SPOILER FOR LAST ACT: When Moody suddenly turns out to have faked his death (that Samuel L. sure likes to die in the beginning and not have to be in the middle part and then show up alive again at the end!) I'm totally down for it but I kinda lost the plot a little… it's like, "Oh good, you're still alive, now you can help me in my mission to avenge your death." They still go blow the guy up! I know it was explained what the guy was up to, but I didn't follow all that. Not that it mattered much.
You know what's great is when Anna, Moody and Billy Boy are sitting at the table making a plan, and they make a cool team even before it occurs to you that they're cast members of DIE HARDS 2, 3 and 4. The only existing DIE HARD sequels. I love it!