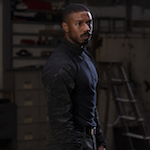 TOM CLANCY is simply WITHOUT REMORSE is a new loosely-based-on-a-Tom-Clancy-book action movie starring Michael B. Jordan (RED TAILS) as John Kelly, the character who I guess is later played by Willem Dafoe in CLEAR AND PRESENT DANGER and Liev Schreiber in THE SUM OF ALL FEARS. It was meant to be a major theatrical release, but after, you know – all this – Amazon bought it, so you gotta watch it on Prime. But you should do that if you can. This is a good one.
I am absolutely not a Tom Clancy guy, not even in movie form. One reason this is more my shit: less military hardware. It's a more Seagal-ian premise: Navy SEAL's wife is murdered, he goes out to avenge those responsible whether the agency will help him or not. In the book I guess that meant he killed a bunch of drug dealers, here it's reimagined as a conspiracy related to a mission he went on, and I think it makes a statement against nationalism and even militarism. Kelly is very matter-of-fact about the violence upon his family being an extension of the violence he committed for the government. Of course, the film's main objective is just to work as a military thriller, but it also seems cognizant that this stuff shouldn't be thoughtlessly glorified, and I appreciate that. (Maybe it should be called NOT WITHOUT SOME REMORSE.)
An adaptation of this book has been in development since it was published in the '90s, and maybe it would've been a different type of my shit, because at one time John Milius was set to write and direct. More recently Christopher McQuarrie tried to do it with Tom Hardy, and of course I would've been excited to see that. But this version that was ultimately made is directed by Stefano Sollima (SICARIO: DAY OF THE SOLDADO), so he got his buddy Taylor Sheridan (SICARIO, HELL OR HIGH WATER, WIND RIVER) to rewrite the script by Will Staples (Call of Duty: Modern Warfare 3). And their touch is unmistakable.
Many reviews have been bad, and I was triggered seeing one that used the word "generic," because I think there's something truly unique about this hybrid of a crowd-pleasing '90s studio action thriller throwback and the SICARIO style. You know that kind of feel I'm talking about? I've called it arthouse badass, but you could also call it (to borrow a controversial horror term) elevated action. I personally believe the best movies in the world are the ones where people do flips for no reason and jump motorcycles into helicopters, but I can also appreciate this broody realistic strain of action, which maybe comes out of raw '70s thrillers, or maybe the shootout in HEAT, but I sense some of it in all of Sheridan's movies as well as SPARTAN, REDBELT, THE AMERICAN, THE LIMEY, MIAMI VICE, BLACKHAT, A VIGILANTE, ZERO DARK THIRTY, things like that. It doesn't always give you the pleasure that a roundhouse kick would – instead you keep getting a feeling that this must be more what it would really be like than what you usually see in the movies. And that feels very exciting and dangerous.
If the plot is more generic than the style, well, that's kind of its job here, and at times it seems beside the point – I was invested in a revelation about the truth and implications of Kelly's situation, but more excited that he figured it out while trying to take out two snipers across the street so he and his team could escape an exploded building surrounded by police in hostile territory.
At the start of the film, elite soldier Kelly has decided to retire early to be with his pregnant (oh, god damn it) wife Pam (Lauren London, ATL). But he's just a little too late. One night all the other soldiers who were on a hostage rescue mission gone wrong in Aleppo are ambushed and killed at home. Kelly manages to get the drop on his attackers, killing three of the four, but he and Pam are both shot. Pam dies, of course, but John Kelly is hard to kill.
The dead guys turn out to be Russian operatives, but the higher ups, of course, decide they can't retaliate. Secretary of Defense Clay (Guy Pearce, LOCKOUT) says his hands are tied after CIA Deputy Director Ritter (Jamie Bell, FLAGS OF OUR FATHERS), who was in Aleppo and already rubbed Kelly the wrong way, told him that it's a 'no' from Director Dillard (Lucy Russell, FOLLOWING). Clay can't contradict the director, who he just calls "Sarah."
Kelly's old Lt. Commander Karen Greer (Jodie Turner-Smith, THE NEON DEMON) breaks the news to him and, sighing that she's gonna get arrested for it, shows him some files that will get him started on his hunt for his wife's killers. Greer is a really cool character, more by-the-book than Kelly, and sometimes in opposition to him, but they clearly love and respect each other and absolutely have each other's backs. This type of bond is always appealing in movies, but if I've ever seen it with a male-female friendship I can't think of what it is.
Kelly's crusade starts with vigilante attacks on Russian nationals with security detail, but he obtains information to use as leverage to work with the secretary and the CIA for his purposes. So there's intimate DEATH WISH shit and men-on-a-mission teamwork shit and also some spectacle – I really have never seen anything quite like the plane crash, which is followed by an even more intense sequence in which he stubbornly insists on getting the mission gear out of the back of the plane while underwater.
That shit is top shelf, but my favorite action beat by far is a little smaller scale. I won't give away any details, but it's a scene where he's in prison and realizes they're gonna try to kill him so he looks at the few resources he has available to him in his cell, makes a plan for how to use them to his advantage, and steels himself for an uphill battle. I guarantee it is some of the most badass shit you will see this year.
(Also did it remind anybody else of the opening scene of BLOOD AND BONE? With a touch of the best scene in LOST BULLET?)
The action is more gun oriented than fight oriented, which is not my preference, but seems authentic here. Kelly does get to do a little bashing, and seems adept at it – the fight coordinator is Can Aydin (POINT BREAK remake, and Keanu stunt double in THE MATRIX 4).
There is occasional corniness. Kelly trots out the ol' "compare everything to chess" saw several times, and I laughed at seeing some of the letters of the word "HOTEL" blinking outside of a window. Normally Sollima is a director who would trust us to figure out he's in a seedy hotel just by seeing what the room looks like. I'm betting this was the one contribution from producer Akiva Goldmsan (LOST IN SPACE, BATMAN FOREVER). He was probly pushing for an onscreen SEEDY HOTEL subtitle with computer typity typity sounds, and Sollima compromised with the neon letters.
But there are only a handful of those type of groaners and a whole bunch more distinctive little details. During the home invasion he and an attacker shoot each other, and a dropped flashlight rolls around in a circle until it illuminates the other guy's face, making it possible to identify him later. In another scene he interrogates a man inside a burning car, and the eery sounds of the windows beginning to crack from the heat act as sort of a countdown.
In story outline this could be a Seagal movie, but it's not the same. Jordan's idea of an action hero is generally stoic, and hyper-masculine in terms of sculpting his body to ridiculous proportions, but it does not preclude showing emotion. He includes the ugly, sobbing grief at his loss that most action heroes of previous eras would replace with, like, looking sadly out a window while touching their wedding ring.
I don't consider it Jordan's best performance or character (I prefer CREED), but it's so obvious he's putting his all into it that you gotta admire it. Here's a tiny thing that I'm not entirely sure about but I think it's a good summary of his attitude toward this performance. He clearly had to do a bunch of Tom Cruise style holding-his-breath underwater stunt work. Of course I don't know how much of that is illusion or stunt doubles, but it never looks like a special effect, and definitely some of it is him really doing it. But there's a scene where he's submerged underwater, and he's just sitting there thinking. A very emotional moment. I don't know if he's actually underwater. It almost looks like it could be just a lighting effect, except his face looks weird – pushed around by the pressure of the water. I asked out loud, "Is he acting underwater?" I really think he might've held his breath in a tank for a scene portraying emotion through his expressions. If not, well, this is still the type of movie where you believe he would do that.
And it's a good cast overall. Lots of rugged dudes I'm not familiar with as his capable allies. Cam Gigandet (PANDORUM) is in it too, but he's kind of like Emilio Estevez in MISSION: IMPOSSIBLE, if you catch my drift. I really like Bell and the way he and Jordan bounce off of each other here, and only when I started working on this review did it occur to me that oh shit, they were two of the FANTASTIC FOUR together. They could become this generation's Woody & Wesley.
When they announced this film they also announced a sequel, based on a Tom Clancy video game, THE RAINBOW BUNCH. (That's not what it's called but I have retitled it because I am an author too and have sold literally hundreds of books, so I think I know a little bit about what sells today.) Sure enough they set up that sequel at the end here, and predictably, cynicism toward pre-planned franchises is a preoccupation in many of the negative reviews I've seen. But it's one little scene during the credits, you don't even have to watch that scene, let alone the movie (if they make it), so who gives a shit?
What matters is that this is a good director, writer and star taking the template of a very normal type of movie and making something distinctive and better than required with it. If this counts as generic then things are looking up in the world of action.