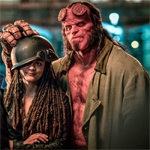 I'm not gonna totally contradict the conventional wisdom that HELLBOY (2019) is bad. I kinda thought it was bad for a while. But then it sort of won me over. I had more fun than expected, and talking about it with other people made me realize that yeah, overall I think I liked it.
Yes, it's sloppy and choppy and takes itself less seriously than I'd like. I wasn't surprised to read that there were tensions with the producers and that director Neil Marshall (THE DESCENT, but also DOOMSDAY) didn't have final cut. The many rock 'n roll needledrops (including a Spanish version of "Rock You Like a Hurricane") and electric guitars on the score by Benjamin Wallfisch (IT, SERENITY) make it seem like it's making a joke out of folk tale stuff that I think would be much cooler if treated respectfully, and the combination of a lower budget and higher volume of digital FX than Guillermo Del Toro's two movies make it look chintzy by comparison. But there are tons of cool monsters, funny lines, colorful bits of mythology, and a splattery, lowbrow rowdiness that's pretty fun whether or not it's in the Hellboy spirit.
Marshall and writer Andrew Cosby (no relation) stay closer to the source material than Del Toro, or at least pull more from it. The best bits are little short story vignettes or tangents. He fights a luchador that transforms into a cool bat monster when unmasked, hunts three giants, fights some of the weirdest creatures that ever attacked a city, recalls an encounter with a pig monster disguised to replace a baby that was stolen by fairies.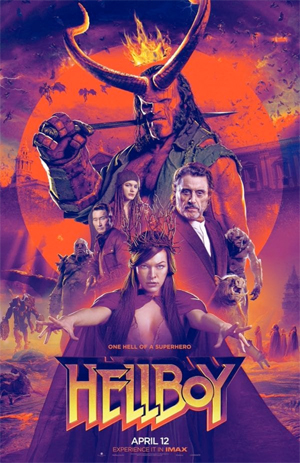 Translated into live action, that monster (called Gruagach and voiced by Stephen Graham, PIT FIGHTER), like Hellboy's arch-nemesis, the Russian witch Baba Yaga (voice of Emma Tate, CORPSE BRIDE), can't match the unique vibe of Mike Mignola's drawings. But I mean, it's a talking animatronic boar head with cg enhancements, and a bizarrely tangled up hag monster (performed by contortionist "Twisty" Troy James) who slurps on bowls of human-child-soup, believes Hellboy owes her one of his eyeballs, and lives in a house that walks on giant chicken legs. Of course I get some joy out of that!
I also dug the movie's lead villain, Nimue the Blood Queen, played by Milla Jovovich the Digital FX-Laden Action-Horror B-Movie Queen. Her body parts are reunited centuries after King Arthur (Mark Stanley, a Knight of Ren from THE FORCE AWAKENS) chopped her up and spread her around Europe. Although she originally got killed for creating the Black Plague, she doesn't act like she thinks she's evil. She thinks bringing on the apocalypse is a great unifier, and tries to convince Hellboy of this. She also has a couple scenes as a spiteful talking severed head, and one with a cartoony dangling eyeball after half her head gets blown off. I like her.
(Note: I didn't catch that she's the "Lady of the Lake." Alot of gratitude King Arthur showed her for tossing him Excalibur.)
Controversially, Hellboy has been recast. I do prefer Ron Perlman's interpretation because he seems a little less immature, his makeup is much more appealing and he understands that he looks better with his hair up. But I had no trouble accepting David Harbour (A WALK AMONG THE TOMBSTONES) in the role. He gets a bunch of laughs, like when BPRD agents find him face down on a bar and he claims he's not Hellboy, but some guy name "Josh" who looks similar.
Sometimes it seems like it was made for people who didn't know there were other Hellboy movies. It doesn't play very well that Hellboy is shocked to find out he's supposed to bring on the apocalypse, because that was the basic premise of the previous movies. And it hardly seems like a thrill when the mid-credits sequence hints at bringing Abe Sapien into the movies, since we already saw him as a main character in the two other movies. "Oooh yeah, FINALLY they're gonna do him not as well as the first two times." Seems like they coulda teased some character we haven't seen in a movie.
It also seems to have been made to only be watched for a few years and then be completely forgotten. Otherwise why would you have punchlines about Uber and Twitter? You get it, because Hellboy knows about Uber and Twitter. They're apps. (I admit I did laugh that he kept cracking the screen on his phone trying to touch it with his stone-like fingers.)
I'm glad they ditched Del Toro's idea that Hellboy has to keep his existence secret like the Men In Black or some shit. Here sometimes he wears a hoodie to keep a low profile, but mostly he can just walk around in public and be himself because that's the premise. There's a Hellboy. Deal with it.
Hellboy seems most competent when he's referring to things that happened off screen. I like that they talk about different adventures and don't have to flash back to all of them. It would also be cool if there were more members of his team who he already has relationships, but the introduction of British agent who hates him at first Ben Daimio (Daniel Dae Kim, 15 MINUTES) is pretty effective. And there's a sweet big brother relationship with Alice (Sasha Lane, AMERICAN HONEY), who he knew a long time ago and forces the bureau to accept her on the case. I wish there was more than the epilogue to see these three acting comfortably as an established team.
In that sense there's some origin here (and they quickly revisit Hellboy's birth, this time with Leni Riefenstahl [Kristina Klebe, Lynda from Rob Zombie's HALLOWEEN] filming it for Nazi propaganda), and there's a sequel set-up during the credits. But overall I think this plays like a comic book movie from before extended cinematic universes. They throw Hellboy into a whole lot of crazy shit – it never feels like they're saving things for later. And that was a wise decision, because I don't think there will be a later. Cramming so much in there makes for a messier story, but I appreciate that it keeps things exciting. Is it elegantly told? No. Does it have a character who vomits out a long tentacle that forms itself into the shape of dead people so they can speak to the living? Yes. I'm not saying a combination of the two isn't possible, but I'm willing to settle for just one when I have to.
This entry was posted on Tuesday, July 30th, 2019 at 12:41 pm and is filed under
Action
,
Comic strips/Super heroes
,
Horror
,
Reviews
. You can follow any responses to this entry through the
RSS 2.0
feed. You can skip to the end and leave a response. Pinging is currently not allowed.