MCCLANE. JOHN MCCLANE. THE WORKING MAN'S JAMES BOND
BRUCE WILLIS'S DIE HARD 2

Well hell man I guess for those of you who read the title there's no point in explaining my premise here. You see I just watched Die Hard part 2 for the first time since you know what and I realized that John McClane is a James bond for OUR people. The people who AREN'T rich and who don't always get the breaks this motherfucker james gets.
Bond is the ultimate secret agent, who the government agencies go to for help. McClane is just a badass that happens to be there when the shit goes down, and the government agencies try to STOP him from helping but they can't do it cause like the title says this mother fucker is HARD.
Bond has connections everywhere and can go anywhere and do just about anything he wants, but McClane has to save the whole fucking airport just to get these motherfuckers to let him out of a parking ticket. Bond drives snowmobiles and sports cars provided by the government and jumps off of them and blows them up. McClane steals the snowmobiles he uses but also jumps off of them and blows them up. Even when he drives a car at the beginning, its a piece of shit borrowed from his mother in law, and that one gets impounded.
Bond wears expensive suits and dapper uniforms. McClane wears a dirty maintenance man snow jacket he BORROWS from somebody else. If McClane was EVER in a casino, he'd be wearing a sleeveless undershirt, it would be on the Indian reservation, and he'd be losing. My man john doesn't know the MEANING of the word dapper. He's a rough and tumble type dude, and if I didn't know he was a cop i'd swear he done time, cause this is the type of motherfucker that knows how to bite a guys hand during a fight. thumbs up for that one mcclane.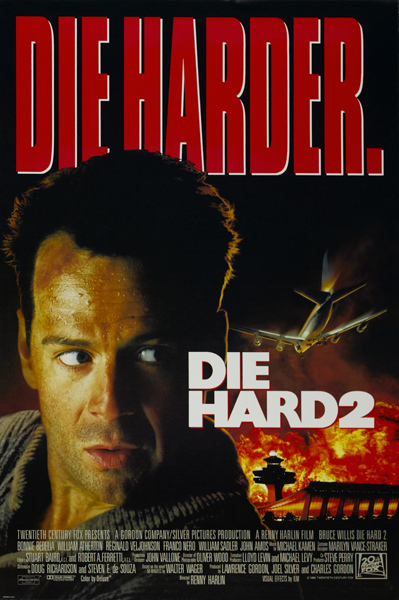 Bond has a team of experts at his disposal, but McClane just has the fax number for Reginald VelJohnson who can run fingerprints for him. Bond has this Q dude who lives in a secret lab, makes fancy gadgets for him and helps him out. McClane has a crazy janitor named Marvin who lives in a basement and finds the bad guy's gadgets laying around and tries to sell them to McClane. Bond has the greatest possible technology at his disposal, McClane has to make a torch or tie a fire hose around his waist if he wants to get fancy.
While Bond travels the world in search of intrigue, McClane just sticks to one limited location and the shit comes right to him. Bond is on a fancy ass mission trying to stop a bad guy but shit man McClane just wants his fucking wife off the plane so he can go home. Women fall for both Bond and McClane but McClane is just trying to save his wife so he shows them his wedding band. He doesn't have time for off screen sex with exotic named gals.
McClane also has the vernacular, the language of the people. Bond is all elegant with the british type shit but McClane swears like an american. Bond performs these fantastic, death defying type stunts but keeps cool and says funny oneliners in that accent of his. McClane does basically the same thing but instead of keeping cool he yells "OH SHHIIIIIIITTTTT" or "MOTHERFUCKER!!!" Bond says "Bond, James Bond" and "shaken, not stirred." McClane says, "Yippee kay yay, motherfucker!"
In short, fuck james bond. John McClane is the type of hero we can admire. to be frankly honest james bond is a fucking baby he needs all that shit to stop the bad guys. Give me a fucking break rich boy.
Now die hard part 2 is a pretty good movie in my opinion. At first it seems to be coasting on Bruce Willis alone. The story begins with bruce getting his mother in laws car impounded by the pigs. Even though he himself is a pig with the badge to prove it they won't give him a break. This shows right off the importance of bad luck. Bruce is having a bad day already and just wait till the mercenaries take over the airport.
there is also a theme of coincidence. by coincidence, bruce bumps into the man who will later be revealed the leader of the merc terrorists. This fits because its also a fucking big coincidence that bruce would just HAPPEN to be coming to see his wife ON CHRISTMAS during a terrorist attack, just like in part 1. And bruce himself points this out, "How can the same shit happen to the same guy twice?"
In this part of the movie Bruce is at his best acting in my opinion. he acts without words, watching suspiciously in the crowded airport as some military bastards are passing around suspicious packages. You see the curiosity in his eyes as he struts around, sucking a cancer stick, using his badge to get into the luggage department to follow these guys and see whats what.
The high stress level of the airport is something you can really feel floating off the tv screen. When the mercs take over the tower and make it impossible for the planes to land, there is a scene where the board full of ON TIMEs switches to DELAYED, DELAYED, DELAYED all the way across and you hear panic and anger spread across the crowd.
In a way this movie also has a little more of the christmas spirit than the first one. John and Holly are back together now living in the same city but they are visiting hollys parents and came into town at different times. so now instead of marital type strife we just have these two wanting to celebrate the holidays together as soon as they get these merc motherfuckers out of the way.
Through the whole movie it is snowing and i think you will agree that special twinkle of the winter snow is pretty fuckin christmasy if you think about it.
One problem, i think they tried to force bruces humor a little bit. There is a couple scenes where i think they just dubbed the joke on later. like when the parachute falls over him and right away he goes, "where the fuck is the door?" It doesn't really work. sorry bruce, no offense. Theres also this tom and jerry type shenanigans on the plane where holly happens to be on the same plane as that prick reporter from part 1, and she makes fun of him and then shocks him with a stun gun while he's reporting live. kinda stupid although i remember it was funny at the time.
Also, the south american drug lord character is pretty fucking fake. At one point i think he calls bruce a bandejo. I'm surprised he didn't say ay carumba this John McClane is loco. This time the bad guys aren't krauts, their american soldiers and i like that. the movie acts like the "drug war" of the time was totally on the level, but this fits the movie because what the fuck does a working class james bond like john mcclane know about what goes on in the governmental cia type shit. he just wants his fucking wife back, man.nTh I
One other thing about this movie and how it further proves bruce willis is one of the top action stars out there. You want proof Bruce is tougher than that kraut Schwarzenegger? Well go no further than the scene early on where bruce takes on robert terminator 1000 patrick, playing a painter that goes crazy from the fumes or whatever and decides to kill bruce. It took Arnold the whole 2 hours of terminator part 2 to wipe out this little prick. Bruce dusts him off in about 20 seconds and the dude doesn't even morph or anything. I believe these were filmed around the same time so i'm sure robert patrick was at a similar level of physical and mental training during both fights. the answer is clear bruce could bite arnold's fucking throat out with his bare hands.
Die hard part 2 is a good followup to die hard part 1. It takes basically the same type of shit but puts it on a "larger canvas" you might say, establishing bruce as james bond for men. sure it is flawed but it is one of the better action sequels and in my opinion like part 1 it will some day be a large influence on the action movie genre.
thanks.
–Vern