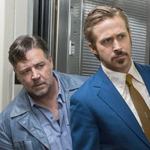 Holland March (Ryan Gosling, Kung Fu: The Legend Continues) is an alcoholic widower single father bottom-feeding private eye hired by an old lady (Lois Smith, KILLSHOT) for a case that has him following a young woman named Amelia (Margaret Qualley, PALO ALTO). Jackson Healy (Russell Crowe, NO WAY BACK) is a divorced thug hired by Amelia to beat up the people following her, i.e. March. When some other guys (Beau Knapp, the great Keith David) attack Healy at his apartment asking for Amelia he decides to go back to March and hire him to help find Amelia and ask her what's going on. So by trying to cut down on getting beat up this unlikely pair gets gummed up in a case involving a dead porn star and a corporate collusion conspiracy.
Of the two, the detective seems like the dumb one. But he has good luck and a smart daughter, 13-year-old Holly (Angourie Rice, WALKING WITH DINOSAURS 3D) who nancy drews him through the mystery. March is also a total coward who screams like a little girl and gives up information at the slightest threat. Healy behaves much more professionally, though he still does stupid shit like forget his brass knuckles at home when he goes to beat somebody up. And then it's too late to drive back and get them.
That's because this is the latest from Shane Black, as both director and writer (with Anthony Bagarozzi), so it's a twisty, complex mystery, a serious detective story but with frequent laughs from characters doing the wrong thing or the weird thing or saying what you're not supposed to say. Goofing on tropes but also respecting their usefulness.
We have all of Black's obsessions here: Los Angeles, washed up alcoholic and/or divorced detectives, quips and one-liners, first person narration, precocious children who say inappropriate things, scuffles at mansion parties, weirdo henchmen, even a tiny bit of Christmas since it's late November and there's some holiday music and decoration in a bar. This time he gets to use a backdrop of late '70s L.A., with lots of cool visual details like billboards for JAWS 2 and SMOKEY AND THE BANDIT, the Sunset Strip Tower Records, and particular love for The Comedy Store, which Healy lives above. The marquee lists Tim Allen, Elaine Boosler, Richard Lewis and others, and I believe a stand-up who we only see from behind is supposed to be a young Charles Fleischer. There's also a big porn star party with a facsimile Earth Wind and Fire performing. Healy and March strolling through history. FORREST GUMP, eat your heart out.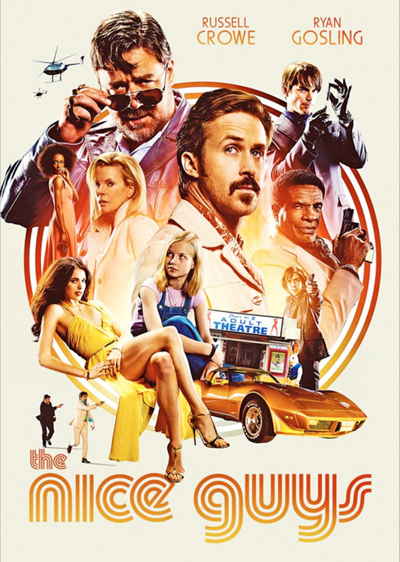 Though overall similar in tone to KISS KISS BANG BANG, Black goes a little broader for some jokes than in the rest of his filmography. Mostly it works. There are some weird hallucinations, and a great background gag about fully clothed March swimming through a tank to talk to some mermaids.
Of all the Black motifs I mentioned, I think the one he pushes the furthest is the precocious kids. After THE MONSTER SQUAD they've been supporting characters liked the foul-mouthed daughter in THE LAST BOY SCOUT and, more prominently, stranded Tony Stark's young inventor buddy in IRON MAN THREE. Mop-headed Ty Simpkins also cameos here as a kid enjoying a porno mag, but young Holly March is a full-on co-lead, stubbornly stowing away with the adults and helping them solve the mystery. This is a cliche of silly kids' movies (stay tuned for AMERICAN NINJA 5), but feels slightly subversive in a violent R-rated action movie like this. She acts as designated driver, hangs out with porn stars at a boozy party, is involved in the climactic battle and even aims a gun at someone (though she's against violence and stops the grown ups from killing a few people).
The child endangerment also extends to her friend getting picked up by a hitman (Matt Bomer from the MAGIC MIKE movies, who made the young women in the audience gasp even playing a creepo) and thrown through a window. It's usually taboo to show things like that supposedly happening to kids. The only better one I could think of was the classic scene of the kid rolling off the roof in AVENGING FORCE.
In a way the daughter acts as mom and the dad as son. March and Healy are childlike in many ways. They try to be responsible and keep Holly out of danger, but they have zero follow through, and quickly give in and let her do what she wants. When she follows them to the party her dad doesn't drive her home, he just puts her in a cab. When Healy discovers her still at the party (and watching hardcore pornography) he tells her she's not supposed to be there, but exerts no further effort to get her to safety. Hey, I tried, he must figure.
In a way I think this is a more successful LAST BOY SCOUT. Don't get me wrong, I really dig that one, but this is a similar sort of burnt out dirtbag private eye bickering buddy team vs. dangerous hitmen working for corporate conspiracy movie that feels like a more solid mystery story and consistent tone. It's what happens when you keep Black in charge and don't get a bunch of people butting heads about what to do with his script. Also, this is a version that has very flawed heroes but doesn't make them so despicable that they declare a hatred of funk, rap and Prince. That was going too far, Hallenbeck. Luckily our society has progressed beyond that type of thing.
There's enough shootouts and beat downs to call it an action movie, but they're more in the crime movie tradition of explosions of mayhem than in the DIE HARD cool-action-scene vein. People are running around trying not to get shot, getting banged around, falling off of things, through windows. Our heroes seem to get away with minimal injury/death but it feels like it was more dumb luck than skill. The violence always feels messy, dangerous, stupid. Totally innocent bystanders get shot, including by the good guys if I'm not mistaken. But it plays more like a grim joke about life than a serious bummer.
And maybe there's a tiny bit of something going on beneath the surface. It has an interesting theme of using low art to get across important messages, which is not really something I associate with Black's filmography, but come to think of it he (I think, depending on how much he was rewritten) made racist South Africans the villains in LETHAL WEAPON 2 during the fight to end apartheid. (While AMERICAN NINJA 3 was filming there.) THE NICE GUYS has a pretty pessimistic world view, that the bad guys always win, even when the good guys win, but it also argues that you gotta keep fighting the good fight. Save the girl. Show people the porno. Do what you can.
The movie's greatest strength, besides the script I suppose, is this team of Gosling and Crowe, both being showcased brilliantly in roles that are different from what they're known for. Gosling, after elevating his career with these stoic, posturing characters like in DRIVE, THE PLACE BEYOND THE PINES and ONLY GOD FORGIVES, turns out to also be just as good as a whiny, jibber-jabbering slapstick idiot who sometimes thinks he's a cool guy. And Crowe I suppose has played many variations on the cynical bruiser, but I haven't seen him play a character so natural for what mean people call the "fat Russell Crowe" part of his career. His current size is perfect for his occupation; that we remember him thinner is perfect for the wanting-more/questioning-his-decisions stage of life he's in. When he first meets March, beating him up at his home, he asks something like "You can afford a nice place like this on a private eye salary?" March thinks he's questioning the veractiy of his story, but I think he's considering whether that would be a better line of work for him.
The movie doesn't seem to be a hit, and since most people have traded renting or buying movies on video for squirting "content" from Netflix, I think we've left behind the world where a FRIDAY or an AUSTIN POWERS or something would do nothing in theaters but catch on huge on video and get a bunch of sequels. Too bad, because it seems like they're a team who would go on to have many other cases, and I'd love to see those.
Well, who knows? Maybe we'll get a quickly-cancelled TV show with Val Kilmer and Cam Gigandet. Or a porn version. If not we still have THE NICE GUYS. That's more than we would've expected after THE LONG KISS GOODNIGHT when Black disappeared off the map for 9 years. The bad guys keep winning, but I'm glad he still takes the case.
Hey, check it out: Hard Case Crime founder Charles Ardai wrote and published a novelization of THE NICE GUYS. I'm planning to get it so I'll let you know what I think.