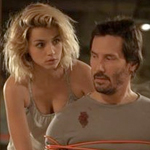 Knock knock. Who's there? Two young girls that say they're looking for some party and their phone is dead and Keanu Reeves lets them in. Two young girls that say they're looking for some party and their phone is dead and Keanu Reeves lets them in who? Two young girls that say they're looking for some party and their phone is dead and Keanu Reeves lets them in and at first it seems innocent but then they keep flirting with him and he keeps trying to be good but then they get naked and throw themselves at him and he puts up a good fight but eventually the boner seizes power. And then things get bad.
Reeves is playing a guy named Evan, and in the pre-knock-knock part of this latest Eli Roth movie we see what a good life he has. A beautiful wife (Ignacia Allamand, THE GREEN INFERNO) who's a successful sculptor, a big fancy house in the Hollywood hills, two loving kids who make him breakfast for Father's Day, and who he likes to play with and do funny voices for. He's an architect, but a cool one who used to DJ and still has his vinyl collection to listen to while he works.
So when the rest of the family is away on a beach vacation while he finishes up some work, and these young girls (Lorenza Izzo as Genesis and Ana de Armas as Bell) show up at his door in soaked-through party outfits, he has every reason to not succumb to their charms. And the most fun part of the movie is the long, drawn-out attempt to just be cool and adult and take them at their word and just help them out. As they start to get more personal and then talk frankly about sex, and sit close to him and find excuses to touch him, he keeps trying to steer the conversation back to appropriateness, and repeatedly gets up and moves to other furniture, a somewhat comedic game of musical chair harassment avoidance. When suddenly they're naked and straight up offering sex he's angry and trying to get them to leave.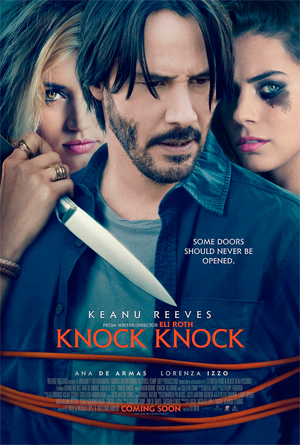 This might make me a bad guy, but I don't blame Evan that much for giving in. Betraying his wife is wrong and it ruins his life, but it would be hard to do otherwise in his situation. To put it bluntly, once they have it in their mouths it would be difficult to be intelligent about it and not give in to animal instinct. So I don't buy Genesis and Bell's subsequent moralizing about all the dudes who claim to be family men but who give in to them. Evan put up a valiant effort, and would have always been loyal in any other circumstance. This is entrapment, ladies, plain and simple.
So when it escalates to shamed-husband-trying-to-get-the-psychopaths-to-quit-messing-up-his-house-and-leave (the Cat in the Hat Comes Back portion of the proceedings) it's easy to root for him. Keanu gets to go a little Nicolas Cage in his willingness to yell at and push these little crop-topped gremlins with boobs. But he's not John Wick or Neo. He's just an architect. And not a Paul Kersey type architect. He has the opposite of a death wish, so they always have him under control.
They torment the shit out of him. They're like the worst stoner houseguests who you can't get rid of after the party combined with toddlers who run around and fuck up the house and you can't keep up with them combined with Jigsaw from the SAW movies coming up with complex schemes to trick and humiliate him and get him in dutch with the wife and make him blubber.
This is Roth's first movie that's not gory, and his first that's not about dumb young people traveling to somewhere they shouldn't and getting mutilated. In fact it's the reverse. Now we're older, we're not even safe in our own homes! But it's very Eli Roth in that it has well-executed tension, some laughs, some boobs, and if you make the mistake of looking for something more under the surface it kind of fits with Roth's (not entirely fair, I hope) reputation as kind of a douche. Because it's easy to read as some kind of paranoid delusion of male victimhood. Poor me, I had a threesome and then they were mean and they made up lies about me and why won't they leave so before my wife finds out?
I don't think it's that though. I think we're supposed to get a kick out of poor, hapless Evan's misery and root for these little terrors. I mean, look at 'em: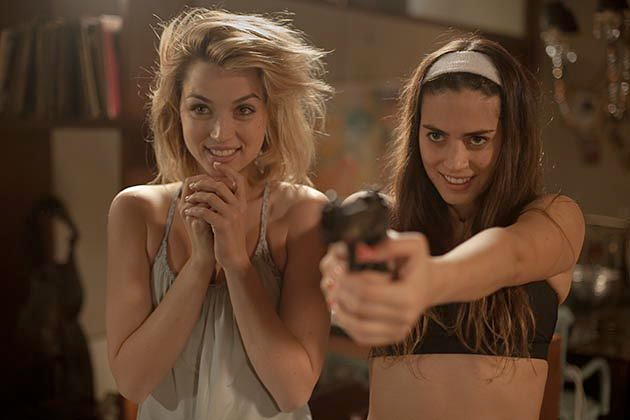 They're a lovable kind of evil. Check out Bell on the left there. Could there be a more pure "Ain't I a stinker?" expression?
This is actually a remake of a 1977 movie I haven't seen called DEATH GAME. In the original it was Sondra Locke (who you know from six Clint Eastwood movies) and Colleen Camp (DIE HARD WITH A VENGEANCE, GAME OF DEATH) tormenting Seymour Cassel. Locke and Camp are credited as executive producers on KNOCK KNOCK, and Camp has a part in it.
I have enjoyed all of Roth's films so far, but I'm afraid the six year break he took from directing might have stunted his directational growth. To me there was a huge leap between HOSTEL and HOSTEL PART II that made me take him more seriously as a filmatist. But when his followups, GREEN INFERNO and this, were finally released in rapid succession in 2015, they were kind of a step back. Enjoyable one-timers, but not movies I expect to return to over the years.
Then again, five decent horror movies is more than most directors have been able to pull off. So I'll keep watching.