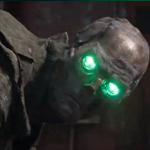 You might've figured a new sci-fi/fantasy produced and written by Peter Jackson and his fellowship (Fran Walsh, Philippa Boyens), and directed by his storyboard artist/effects guy since DEAD ALIVE Christian Rivers, would be a pretty big deal. I had hoped to see it in 3D, but it came out the same week as THE MULE and SPIDER-MAN: INTO THE SPIDER-VERSE and then the next week I wanted to see AQUAMAN, MARY POPPINS RETURNS and BUMBLEBEE and since the movie flopped the showtimes dropped precipitously and it was gone before I got to it. Plus, everybody said it sucked.
Wrong! I am happy to report that MORTAL ENGINES is pretty fuckin cool! It's based on a young adult book, and there are some costumes and characters that follow a sort of steampunk or HUNGER GAMES city dweller style that I'm not into it, but it's an adventure in an interesting world with cool characters and the spectacular effects of Weta at their best.
The movie centers around futuristic London, which is a "predator city," meaning the whole fucking thing drives around the wastelands like a giant tank looking for resources, which they get by "ingesting" smaller cities to steal their machines and citizens. In the opening scene they chase down a small mining town and swallow it up. When I saw the Londoners on the fancy top deck watching the chase and cheering I fell in love with the movie.
This sort of mortal engine kombat is called "Municipal Darwinism," and the "anti-tractionist" rebels who fight to protect "static cities" are demonized as terrorists. Our heroine, Hester Shaw (Hera Hilmar, THE FIFTH ESTATE), is on neither side. She's a lone wolf intent on assassinating London's golden boy Thaddeus Valentine (Hugo Weaving, V FOR VENDETTA), Head of the Guild of Historians, for killing her mom. Hester, wearing a scarf over her lower face that manages to both cover her scars and make her look like an anarchist, manages to get on board and take a stab at it, but the attempt is foiled by low level apprentice historian Tom Natsworthy (Robert Sheehan, THE MORTAL INSTRUMENTS: CITY OF BONES – no relation). He starts out way too Newt Scamander-y for my tastes, but at least tones it down a little as he becomes the leading man.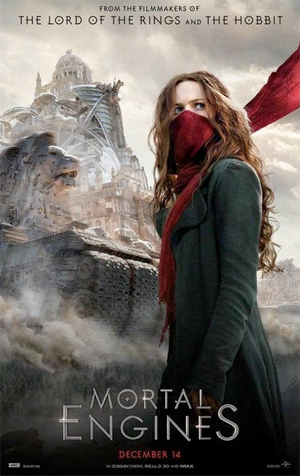 Despite his heroism, Tom is thrown off the city Selina-Kyle-style for having discovered too much about Valentine's plan to rebuild a superweapon with the "old tech" he's been gathering. So Hester and Tom become reluctant partners climbing through the enormous tread tracks left by the city, meeting different allies and opponents, trying to stop Valentine's evil plan.
The opening city chase is incredible and unlike anything I've seen before. It brings to mind some kind of cross between a giant robot battle and FURY ROAD (partly, I'm sure, because the score is by Junkie XL.)
But the best part of the movie is Shrike (Stephen Lang, BAND OF THE HAND – I had no idea it was him until reading it just now), a monster that Valentine's people catch in a box and then release at his command when they realize it's after Hester, whose name it won't stop screaming. Shrike is a top shelf Weta digital creation, like those cool orc type guys in the HOBBIT movies, and he's some combination of robot and dead flesh, a zombie with green headlights embedded in his eye sockets. They say he's a "resurrected man," "the last of the Lazarus Squad," and he comes at her like a Terminator. In one scene an entire city has to be evacuated just because of the damage he does trying to get at Hester.
If he was just a monster chasing after her he'd already be cool, but he's even better once you learn his backstory and his motive.
Second best supporting character is Anna Fang (South Korean singer Jihae), a badass rebel who shows up dressed fresh and kicking ass like an escapee from the MATRIX sequels. I think aside from Hester's mouth scarf, Fang is the only character who wears red, and also the only one with a red airship. Making a whole color hers, like Prince. One movie I was reminded of a little bit was NAUSICAA OF THE VALLEY OF THE WIND, with all these cool, elegant flying machines and dwellings in styles familiar more from artwork than live action movies.
A friend of mine couldn't get past the premise – he thought they needed to explain why the hell they would move around like that, when it must be so wasteful. To me that's part of the beauty of it. People ask the same thing about ROAD WARRIOR – if gas is so precious, why are they always driving around in circles? Well, why do countries keep invading Afghanistan? Why do gun massacres only make people buy more guns? Why do we keep burning carbon? Because humans don't always do the smart thing.
I'm probly not paraphrasing my friend's objection accurately. He said he wasn't looking for realism, just internal logic. But I feel like if cities chasing and eating each other isn't logical then I don't need logic. The outlandishness is the joy of it.
When I saw the trailer I thought Hester looked like a character Milla Jovovich would've played in a less expensive version. They would've had to rewrite her to be much older, but maybe with her name on the poster it would've made its money back. The good news is that even though this is from the first in a series of four books, the story stands completely on its own. I checked Wikipedia to make sure it was only adapted from the one book and not all of them, since it didn't have a "tune in next time, folks" cliffhanger like ALITA: BATTLE ANGEL or HUNGER GAMES: CATCHING FIRE.
I'm not gonna claim I give a shit about Valentine's daughter (Leila George, MOTHER MAY I SLEEP WITH DANGER?) finding out the truth or her relationship with the hunky dude with the very HUNGER GAMESy name of Bevis Pod (Ronan Raftery, THE SIEGE OF JADOTVILLE), whatever that shit was about. But that's okay. I'd put up with three boring Bevis Pod subplots if that was required to get to the Shrike scenes. This is a thoroughly unusual movie infused with pockets of greatness. It can't help but catch on eventually.