ELITE SQUAD is a 2007 Brazilian movie about BOPE (Batalhão de Operações Policiais Especiais), the titular squad of Brazilian military police. They're basically a special forces unit, but unlike in the U.S. their job is to go after their own citizens. If you saw CITY OF GOD you know how the drug gangs control the favelas of Rio, so you can imagine what the supercops would have to be like in that world. They wear berets and they got a logo straight out of STARSHIP TROOPERS.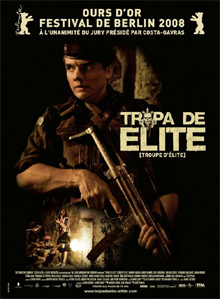 This is not an action movie, it's not even exactly a police procedural, it's more like a war movie. One of my buddies told me he thought it was fascist and glorified abusive cops, but I completely disagree. I think it's more like a movie like THE HURT LOCKER that just shows some humans stuck in the middle of an insane, endless conflict with no possibility of a solution or a victory. They kinda know it's pointless but they're in it, what are they gonna do? They just go with it.
It even has a section of the movie that's a little like the boot camp scenes in FULL METAL JACKET (or at least the WWE reality competition show Tough Enough), as a huge group of rookies is hammered and tormented and abused until only a few remain to join the squad.
I assume we've all seen CITY OF GOD by now. (It took me for fuckin ever, so you guys had a good window of opportunity there.) ELITE SQUAD is by the same writer, different director. It feels very similar: beautifully shot on location, visually overwhelming because of all the texture of the favelas, fast paced and stylish, chaotic and handheld but pretty easy to follow, jammed full of characters with complex relationships but not confusing about it (and it doesn't even have to write their names on the screen in this one). But it's totally different just because it's from the perspective of the police. It's actually based on a book written by a sociologist and two BOPE officers, so it's somewhat inspired by real events.
The movie is constantly narrated by the leader of the squad, Nascimento (Wagner Moura) who looks like Michael Ironside with a dash of Michael Shannon. The guy never shuts up with the narration – if there's an English dubbed version he must be played by Morgan Freeman – but somehow it doesn't kill the movie.
I don't really see how you could say it's glorifying cops going over the line. Maybe humanizing it. But it's a story about officers trying to be honorable in a sea of corruption, and not necessarily succeeding. The way Nascimento tells it he's one of the few clean cops, but then you see him in action. He's getting information out of some rich white kids (called "playboys" in Brazil I've noticed) who are dealing pot. At first it seems like it'll be funny to see these kids get the shit scared out of them, but then he's putting plastic bags over their heads, calling them faggots and making them think he's gonna kill them. I guess that kind of thing would be played for laughs if it was TRUE LIES, but here it's like a punch to the nuts.
In fact he forces one of these guys to talk and then lets him go, which gets the guy killed by the more serious higher ups in the gang. And it's not like that's a surprise when that happens. For the rest of the movie Nascimento's losing it from the guilt. He knows it was an indirect murder. In his quest for redemption he leads a team on a mission to find the corpse so at least the kid's mother can bury him. He's so single-minded about it that he's out there looking for the body on the night his wife is giving birth. Not very glamourous. And there's no LETHAL WEAPON guitar and sax to help him out.
He's flipping out enough that he decides he has to quit, and therefore he's on a quest to find his replacement. He thinks it should be one of two rookies, but he's not sure which one, so the movie becomes their story too. They get stuck working in the auto shop, and they get constantly fucked over by other cops stealing parts from the cars and shit like that. They get so fed up that they plan a heist to steal another cop's bribe money and use it to buy the parts they need. Maybe we need something like that to make up for all the budget crises we have in all our city, county, state and national government right now.
Meanwhile one of these guys is in school studying to become a lawyer. There's a scene where the class discussion turns to police brutality, and he sits there and fumes while all these privileged white kids complain about the cops. And eventually he tries to speak up. I know it's a smart movie because somehow it made me identify with the kid who wants to be a cop.
The story takes place during a time when the battle between drug gangs and the elite squad is extra-vicious because they've been asked to clean up the streets before an impending visit from the Pope. Nascimento knows it's a recipe for disaster, so he protests, he's shut down, then he does his job like a professional. At one point when someone gets killed he says, "Put him on the Pope's tab." It's one part badass, two parts depressing.
The structure of the story really works. It starts in the middle of a shitstorm with a police shooting at a huge outdoor dance party. Then it starts telling you Nascimento's story, his explanation of daily BOPE life as his is beginning to fall apart. And it introduces his two potential replacements, contrasting the kind of out of control dumb guy to the more timid intelligent guy. Eventually it catches up to the opening scene so we figure out what was happening there, then to the boot camp where it becomes a competition between those two characters to take over. Within that pretty simple structure though there are many characters, factions, plots, philosophical disagreements and outbursts of violence, so it feels pretty epic. Actually, it's about cops but now that I think about it it kind of reminds me of GOODFELLAS.
The director is Jose Padilha, who had previously only done a documentary called BUS 174 that I'm gonna have to see. His followup to this was ELITE SQUAD 2 in October of 2010, which was so popular it actually beat AVATAR in Brazil. I'm keeping an eye out for a DVD with English subtitles 'cause I'm dying to see that one.
Right now, I kind of doubt this will really happen, but Padilha's replaced Darren Aranofsky as the current "guy who's gonna remake ROBOCOP." It's an interesting choice and it's hard to predict where he would go with it. On one hand his work so far is so based in the gritty realities of Brazilian life that it's hard to imagine his version having the comic book feel or blunt-force satire of Verhoeven's original. And maybe it needs to be different to not be total blasphemy, but maybe that would be going too far away from what makes it great? On the other hand this is a guy who's obviously immersed in and knowledgeable about the out-of-control militarization of the police. So they're choosing a director on substance, that's unusual these days.
Like I said, this is not exactly an action movie. When shit pops off it's all the handheld COPS type of pseudo-documentary feel. It works well for this story though because it's like you're embedded with the troops, you're just trying not to catch a bullet. If the shootouts were HARD BOILED awesome that might be inappropriate for this subject. But if this guy does do ROBOCOP and maintains that style that could be an issue, might take the joy out of the robot.
Anyway thanks to Diego M., Ricardo S. and anyone else who told me I should see ELITE SQUAD. It's a good one.