Remember how the driver in Walter Hill's THE DRIVER didn't get a name, he was just "The Driver"? The driver in Nicolas Winding Refn's DRIVE is so minimalistic he doesn't even get a 'the.' Or an 'r'. Ryan Gosling plays said driver, a mysterious toothpick-chewing dude who's a masterful getaway driver and does stunt driving for the movies. He also works at a garage for Brian Cranston, who helps set up his jobs and prepare his getaway cars. When not working Drive is sparking up a relationship with his neighbor, Carey Mulligan and her son. He's better with the kid than you might think – even offers him a toothpick.
I'd say this guy is about 70% Steve McQueen, 20% The Terminator, 10% Edward Scissorhands. It's a great character and performance for Gosling. When he's not on the job he seems like kind of a savant, a sweet, quiet guy with a goofy smile, doesn't talk much even when it would be socially preferable. Then when it's time he turns steely and intense, all business. He never carries guns but sure knows how to use them when necessary. "When necessary" is not that much considering how good he is with just fists and feet or sharp metal things. Like Stuntman Mike he has a silver jacket that he always wears, even as it gets more and more bloodied. It has a scorpion on the back. He says something about a scorpion one time late in the movie, implying that it has some unspecified significance to him.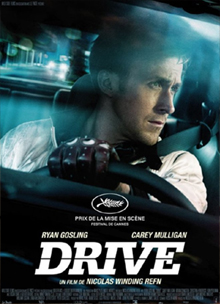 There are tense car chases, bursts of surprisingly brutal violence, and nerve-racking scenes of waiting in the getaway car, watching the front door of an establishment, hoping not to hear shots fired inside. It opens with a fuckin wallop, a great getaway scene that shows his skills as a driver, his clever strategy and his extreme cool under pressure. Its declaration of badass intent is Gosling wearing sunglasses, driving, some kind of throbbing Blondie-esque keyboard throbbing from the radio and his credit in purple with the RISKY BUSINESS font.
Alot of the style of the movie is a tribute to a rare commodity: '80s cool, not ironic, ages well. Basically Michael Mann circa THIEF. Quiet, sparse, broody, night, Los Angeles. This is a solid new entry in the arthouse badass category along with THE LIMEY, GHOST DOG, THE AMERICAN, etc.
That might cause trouble in some multiplexes. I could've done without all the sighing in the auditorium. There was a dude in my row who angrily muttered at one point "There better be a gunfight after this." Later, "I'm gonna walk out of this movie." But he didn't. I actually think it might've got him at the end, I'm not sure. It doesn't go all VALHALLA RISING on us – I mean, it's ambiguous about some important questions but it does build to a traditional showdown type climax, not a bunch of poetic weirdness. But at the end I heard a girl in the theater say "It was soooooooo slow!" and I've heard reports of this type of reaction across the country.
It's kinda funny. Why is it that the people least open to seeing a different type of movie than they expected are the same ones that don't know how to take 2 minutes to read what a movie is before they go see it? But it's also kinda befuddling. I can sense that this style is gonna be challenging for certain people but I can't really understand exactly why. I mean it's not THE TRANSPORTER 2 but it's not exactly LAST YEAR AT MARIENBAD either. It's only 100 minutes long, it begins, middles and ends with a bang, it has several really interesting characters played by recognizable and good looking Hollywood actors, some strong relationships, scary bad guys, better action than is generally allowed these days (cars, guns, punching, stabbing), a couple laughs, a bunch of shocks.
But it's quiet. That's it. They don't talk alot, and Refn likes to let the camera sit still and watch an actor's face. I guess these days people can't even wipe their ass without watching part of a youtube video, sending 3 text messages and updating their Teen Friendpalz status to "wiping ass watching part of y-tube v. & texting x3 ;p"  so to ask them to enjoy a little mood and atmosphere for more than 10 seconds is equivalent to some horrendous torture Torquemeda would've come up with during the Inquisition but was too timid to try it out.
I honestly believe if they took this exactl movie and just played songs from the 2 FAST 2 FURIOUS soundtrack non-stop from beginning to end that these same people would've liked it. But for some reason that quiet just pisses them off. They don't want to be alone with their thoughts, I guess. I paid to be entertained, not to be entertained well.
Anyway, DRIVE chose not to use the 2 FAST 2 FURIOUS soundtrack. It's not wall-to-wall music, but it's really good music. It's the second best type of soundtrack: the one where it's not the kind of music I would normally listen to, but in conjunction with the images it gives me chills. Just hearing a clip of the opening credits song during a podcast I wanted to get up and go to the theater right then to watch the movie again. The score by Cliff Martinez is also the second best type, the moody old school keyboard type deal. (First best type is blaxploitation funk, obviously.)
Everybody's really good in this one. For example you got Perlman, a small time gangster but a scary one, partly because he's desperate to claw his way up to the top. I know Perlman's played a gangster sort of like this a million times, but here the movie is more worth his efforts. So it's nice to see him in a good role, and no 8 hours in the makeup chair.
But for sure the most brilliant casting idea is Brooks as movie producer turned underworld figure Bernie Rose (the director of CANDYMAN did this?). He's scary, but he's still Albert Brooks. He seems kind of nice actually, but with the underlying threat that if you cross him or if he no longer needs you there could be trouble. I kept wondering if he really would rather just be friends than kill people or if that's just his sick way of terrorizing people. I decided he's for real, he does want to be your buddy, but business is business.
Oscar Isaac has a similar ambiguousness as Mulligan's husband, just back from the joint. I want to believe he's a nice guy but I have more reason to believe he'll want to kill our driver. I mean, nobody's gonna be happy about the young handsome guy that's been "helping out" while they were locked up. Careful with that one, ladies.
I kept trying to remember where I knew this actor from, and as soon as I saw his name on the end credits I remembered that's Blue, the guy that runs the imaginary brothel in SUCKER PUNCH. Most people I know hated that movie but I hope they'd admit he was good. In that one he was clearly the villain but he makes these little speeches about how he's doing what he's doing because he cares about the girls, and it seems like he really believes that shit. He must be a master of playing the evil nice guy.
I guess you could say our driver blurs the line too. We like him because he's interesting to watch, and then we start to think he's okay because he's obviously sincere about taking care of this girl and her son. And even her husband. But he's a criminal, he's a very good killer, and business is business for him too. He's crazy. There's a point where he wears a disguise to follow somebody, which I enjoyed because I'd just seen a 50 Cent movie that annoyed me because he kept being really obvious about following people and I couldn't believe they didn't see him. This guy puts in the effort to make it believable. But then there's these great shots where he's standing rigidly in the dark, stalking this guy, and it's like holy shit, have I been rooting for Michael Meyers this whole time?
There's a great moment where he does something way more crazy than we knew he was capable of, and he does it right after kissing the girl, and then there's a long shot of her, probably still in shock, and her expression is not quite readable but not what you'd expect either. I think there are alot of ways you could read it, and I like that.
Oh shit, this whole movie is ambiguous. Might be a metaphor for Christianity's encroachment on the Norse religions. Or it might just be understated. I'll have to see it again to be sure.
This is the third Refn movie I've seen after BRONSON and VALHALLA RISING. Each one is better than the last. Like those ones it's a serious-minded, arty type of filmatism, derivative of the masters, but I don't see that as a bad thing. Here he has it all under control better than I've seen before.
Since seeing the movie I've heard a couple interviews with Refn, who says that it's about a man who drives around at night listening to pop music because it's the only way he can feel, and that it was based on Grimm's fairy tales and that the mask part was him turning into a super hero, that he considers himself "a fetish filmmaker," that it's an autobiographical story about how he'd do anything to protect his wife. And I've read about Ryan Gosling saying that it's about the fakeness of Hollywood and a guy who thinks he's in a movie. And I've read people calling it "existential," because if a guy is driving around being quiet you gotta figure it means he's contemplating his existence or whatever.
I didn't really pick up on any of those things while watching it. And sometimes I think a certain type of movie buff has to call a movie like this "existential" as a phony justification for watching an awesome movie. If it was just a normal crime movie they would look down on it but if it's "existential" they can praise it to the sky, it seems like. But you only get one existence, pal. You oughta let loose, live your existence and enjoy awesome movies.
All those interpretations are legit, but to me the important thing about DRIVE is that it's a great genre movie done with style, atmosphere, restraint, and patience. And with enough quiet moments in between that your brain can fill it in with whatever poetical interpretation it wants.
*
*
*
there were two clever gimmicks I wanted to mention at the end 'cause they're sort of spoilers
1. the scene in the garage where Cranston walks past a long row of badass car after badass car while talking about the one he prepared for the kid, and when he finally gets to it it's a Chevy Impala.
2. the reveal of his day job after the opening robbery, where he's wearing a police uniform for a movie role, and for a second you think "Holy shit, this guy's a cop!?"
It's a movie that constantly impresses with ideas like that, but never nudges you and says "hey, lookit this, you see what I'm doing here?" It impresses with little details like the blase look on a hooker's face when the driver storms into the dressing room wielding a hammer, or with brief injections of utter strangeness, like the musical scene of the scary-mask-wearing driver walking up and staring dumbly into the window of Perlman's pizza parlor.  I don't know why you want these people to be talking all the time. They say so much more with their mouths shut.