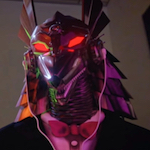 A GLITCH IN THE MATRIX is this year's documentary from director Rodney Ascher, known for that THE SHINING thing, ROOM 237, and that sleep terrors thing, THE NIGHTMARE. I haven't actually seen those, so I knew him from the 2001 DJ Qbert animated movie WAVE TWISTERS, which he was an editor on. That film's co-director Syd Garon is the animation director for this one.
It's about people who believe in various forms of simulation theory – the idea that whoah, what if, like, life isn't real we're just, like, some dude playing a video game? I don't think depiction equals endorsement here. Ascher just thinks it's an interesting idea and/or group of people, probly. Otherwise he's a guy in a video game making a movie-within-a-video-game about maybe he's a guy in a video game. (Actually, one interview subject does say that.)
It's a really cleverly put together documentary – I wish more of them would invest this much energy into visual invention. "Witnesses" are interviewed over Zoom and then replaced in the footage with animated characters – robots, lion men, aliens with big brains inside glass domes – but still talking over Zoom from their ordinary homes. At first I thought these were fetishists insisting on communicating through avatars, before realizing it's a conceit of the movie to depict reality as simulated. So people look like video game type characters, exteriors are from Google Street View, a whole sequence is animated in Minecraft. The stories and concepts they discuss are illustrated with computer animation, sometimes crude, but generally with aesthetics in mind – they generally hit a sweet spot between acknowledging absurdity and riding some kind of retro cyberpunk wave.
Yes, that also means there's a synth score – it's by Ascher's usual composer, Jonathan Snipes of the experimental hip hop group clipping. (He also did MASK OF THE NINJA starring Casper Van Dien.)
The title, of course, refers to THE MATRIX, the movie, since it gave many of them the idea. More than one of them seem to think it's an interesting story that THE MATRIX, of all things, was what made them contemplate if they were living in the premise of THE MATRIX. Who'd have guessed that's what did it?
But even more than THE MATRIX, the movie is built around recordings of a Philip K. Dick (NEXT) talk at a science fiction conference in 1977 where he expressed an apparently sincere belief that some of his books, including The Man in the High Castle, were his fragmented memories of alternate realities he'd experienced. He either inspired or came to the same conclusion as the Wachowskis about "glitches in The Matrix" when he declared, "We are living in a computer-programmed reality, and the only clue we have to it is when some variable is changed, and some alteration in our reality occurs."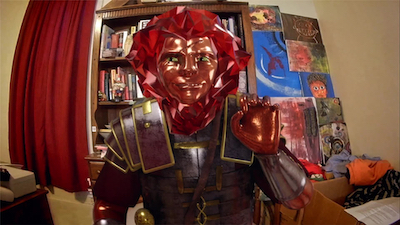 I hesitated to watch this movie for a pretty good reason: the very topic annoys the absolute shit out of me. Sure, it's possible that our life is all an illusion. Or that we live on the back of a giant space turtle, or on a speck in a flower that Horton the elephant is clutching in his trunk. The interviewees have no evidence to support any of these theories, because obviously there is no evidence, could not be any evidence. So they reminisce about the time when they started picturing they were on sets like in THE TRUMAN SHOW, or survived a crazy drunk driving accident that must've been impossible. At their worst they jibber jabber inane quasi-reasoning or, in one case, reverently quote South African emerald mine heir Elon Musk pulling a figure out of his ass for the percentage of likelihood that we live in a simulation. Yeah, I guess if a rich guy says he crunched the numbers, that settles it.
If all we've ever known was a fabrication the whole time, whatever's behind the curtain must be something beyond our comprehension and imagination, right? Nah, these people assume everything is the same as video games. One guy even thinks he's not the player, but an "NPC," since his repetitive tasks and interactions working at a grocery store remind him of something that could be programmed. And I guess he was also programmed to know that he was programmed.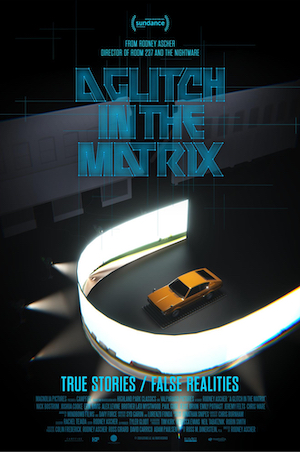 As I was dreading, the movie features my hated foe, "The Mandela Effect" – the idea that if many people share the same incorrect memory about something it must actually be correct but remembered from an alternate reality or dimension. One of the most popular examples of this is that people remembered the weirdly spelled Berenstain Bears books as being spelled Bearenstein Bears. We are living in a time so sick, so self-obsessed and so stupid that what we once called "common misconceptions" are now used as evidence of a split in our very reality.
I come from that other dimension where he says "Luke, I'm your father." I mean, what else could it be? That I misquoted? Impossible.
I have trouble expressing to you how much it stresses me out to think about these motherfuckers choosing to rework their entire understanding of existence around a corny sci-fi movie concept rather than just admit that sometimes they're mistaken about things. But the part of it that most gets in my craw is the name, which comes from author Fiona Broome, who when Mandela died couldn't believe it because she coulda fuckin sworn he died in prison in the '80s. She started a websight about it and has published 15 volumes of Kindle books compiled from reader comments. An Amazon description for one of them warns, "[Do not be fooled by those who want to hide the truth. The insights in this book are not available online. Not since the Mandela Effect website was attacked by those who want to silence us.]"
Most of her other books are about ghost hunting, so she already lives in a different reality than me, but the idea that enough people went along with "the Mandela Effect" to make it a common term makes me pull my hair out. If you were too young to pay attention to world politics during that period, or even if you were too ignorant for the enormity of Mandela's life to have made an impression on you, that's fine! It's also fine that you never saw Spike's MALCOLM X (featuring a Mandela cameo after he was freed), let alone Clint's INVICTUS (starring Morgan Freeman as Mandela in his first presidential term). Don't worry about it. We can't all be aware of everything in this world.
But come on, bud. Come on. When you get to the point of ASSUMING THAT THE FACT YOU DIDN'T KNOW ABOUT THIS MEANS YOU'RE FROM ANOTHER DIMENSION I can no longer be patient with you. I want you to abandon this asinine theory, I want you to apologize, I want you to read about Apartheid, I want you to apologize again, repeat if desired (which it is). That is all I ask for now. Because I'm lenient.
(Sorry. Deep breath.)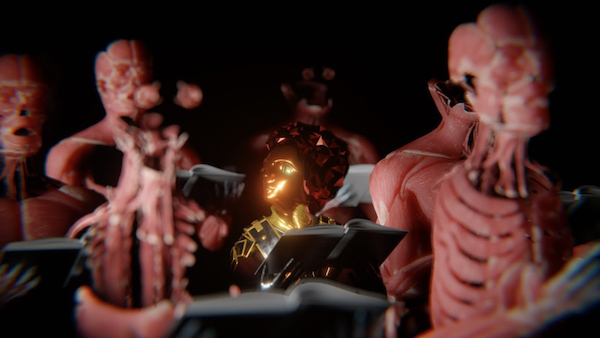 There's one guy A GLITCH IN THE MATRIX keeps coming back to who's talking over a phone. We just hear his voice and don't get an animated avatar. He's this kinda sad, tired sounding guy talking about how much he loved THE MATRIX and how he started always wearing trenchcoats, thinking of himself as Neo and believing life is a simulation. And then eventually, after picking up the phone and reciting Neo's speech from the end of the movie to whoever he imagined was listening on the other end, he went and shot his parents to death.
This is a very dark and upsetting story, of course. Neither the shooter or the documentary argue that THE MATRIX or the nu-metal tunes he mentions are to blame for what he did. But I think this was important for the movie to address. If people believe life isn't real, and the people around them aren't real, doesn't that encourage them to go on rampages like this? Of course not, argues one guy – just because people aren't real doesn't mean you're going to kill them. (I guess I'm not familiar with that video game.)
Most of these people try to argue that "life is a simulation" is the only logical conclusion to come to, so I was relieved when one admitted that believing in something like this is just faith, no different from believing in a religion. Something you believe in because you want to. This comment has the double whammy effect of reminding me to be accepting of people believing this stuff just as I would be accepting of someone's religious beliefs, while also painting religious beliefs as kind of silly by equating them with this. We try to cram the unfathomable into the little boxes of concepts we're familiar with, so hundreds of years ago people figured "I know how this must work, the sun must be a pharaoh, and he's flying on a golden ship." And now they think, "I know how this must work, it's like [popular video game or movie]."
If anything, the fact that we keep coming up with this shit is evidence that life and the universe will always be beyond our understanding. I think you just gotta try to be okay with that. When it comes down to it it doesn't really matter if there's a spoon or there is no spoon. Either way we're dealing with a spoon here.
This entry was posted on Friday, December 10th, 2021 at 4:08 pm and is filed under
Documentary
,
Reviews
. You can follow any responses to this entry through the
RSS 2.0
feed. You can skip to the end and leave a response. Pinging is currently not allowed.