Sadly, David Carradine wasn't the only martial arts star who died yesterday – we also lost Shih Kien, best known as Han in ENTER THE DRAGON. Apparently he's also in DRUNKEN MASTER but I didn't realize it at the time so if anybody remembers which character he played let me know.
DRUNKEN MASTER is Jackie Chan and director Yuen Woo Ping circa 1978, still old school kung fu era, when their movies were always period pieces about masters, training, fighting styles and duels. Jackie plays the Chinese folk hero Wong Fei Hung as a bratty little prick, always fuckin around in class, cheating, getting in fights, stealing. It's all played for laughs but I think you're supposed to think it's charming and lovable. If so I'm not sure it works.
At first he seems kind of heroic because he defends a guy from theft. This guy is selling jade, some asshole tries to rip him off and then breaks the jade and refuses to pay for it. So Fei-Hung duels the asshole and leaves him in a bodycast (his own friend says "he looks like a dumpling.")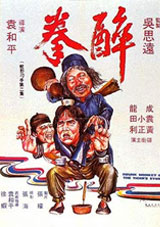 Even in the kung fu days I guess kids would have their parents go chew out other parents, so the dumpling's dad goes to confront Master Wong about this particular beatdown. Most dads would stand up for their kid no matter what, but Master Wong is so sick of Fei-Hung's bullshit that he just disowns him without even hearing the facts. Also he threatens to beat him to death and ultimately allows one of the dumpling's friends to beat him instead, and Fei-Hung isn't allowed to fight back. Fei-Hung survives though, things get out of hand, next thing you know it turns into a duel, he not only beats this new guy up but also further injures the dumpling in the bodycast.
Kind of harsh, but the deck is so stacked against him that you are able to sort of side with Fei-Hung at that point. But minutes later he goes to a restaurant, eats a feast and then tries to stick another guy with the bill. Right after going through all this over a guy not paying for jade! This movie should be called HYPOCRITICAL MASTER.
Unfortunately for the Hypocritical Master though there's a guy called "The Gorilla" (Bolo Yeung, obviously some dude who I am told is not Bolo Yeung) working at the restaurant. And he's not just gonna try to make him do dishes.
Most of the movie is about Fei-Hung going to train with a drifter wino named Su for a year. It's some seriously harsh training so like George Bush in the National Guard Fei-Hung keeps trying to sneak off. The turning  point is when he's off on his own and ends up in a fight with a mean dude with a mustache. He doesn't know it's the notorious assassin Thunderleg. Not only does Fei-Hung get horribly defeated, but also humiliated. Thunderleg is a blackbelt in shit-talking, and obsessed with bodily functions. He keeps ranting about Fei-Hung wiping his ass for him or cleaning up piss and shit. He asks him "what asshole" taught him his kung fu, a double whammy because it insults his kung fu and his father. The worst part is Thunderleg burns Fei-Hung's pants so he has to go crawling back to Su in his underwear.
Unfortunately, Fei-Hung doesn't learn to be a better person after this. But it does make him more disciplined about training. He still tries to cheat sometimes, but doesn't go AWOL anymore. Eventually Su teaches him his secret fighting style, the 8 Drunken Gods. You have to get really drunk to pull it off. Meanwhile, Thunderlegs has been sent to kill Master Wong due to a coal rights dispute (you know how out of hand those coal rights disputes can get), so it's all leading to a grudge match. Thunderleg is a good villain so there's more funny trash talk in this scene:
"Master Wong, it was a real sad day for you the day you fathered that asshole."
"You watch out or you'll have a body with no ass!"
"Dumbhead, I suggest you go clean shit, or I'll have to bury you too."
The fights are mostly good, but Jackie got much better later in his career. In the early fights especially you can tell they're just going through a long sequence of moves, like a dance, it doesn't look like they're making contact. So it gets kind of confusing in the fight where he's not allowed to fight back. He keeps dodging the hits but I wasn't always sure if you were supposed to think they were hitting him or not.
One of the best fights is with his aunt who has some kind of crane or flamingo style. Her leg moves like a fold-out yardstick. The other highlight is the drunken kung fu, a good gimmick because he stumbles around looking disoriented, but stays on his feet and is unpredictable to foes.
I do have to wonder about the long term viability of this style, though. Sure, he wins the fight and keeps his pants, but what about the effects on his health and his family? Su's hands shake if he doesn't drink wine. It can't be good for your liver to be chugging 100% proof from a jug every time you have to fight. Some day soon he's gonna be blacking out, waking up in weird places, discovering he bought a bunch of rice bowls or something he didn't need, and his cousin so she won't speak to him anymore and he doesn't even remember why.
But I guess it's like anything, you gotta make sacrifices in your life to be the best at something. I haven't seen DRUNKEN MASTER II in a long time. I'll have to check in to see how this rough lifestyle has affected his health and relationships later on.
This entry was posted on Saturday, June 6th, 2009 at 12:29 am and is filed under
Martial Arts
,
Reviews
. You can follow any responses to this entry through the
RSS 2.0
feed. You can skip to the end and leave a response. Pinging is currently not allowed.