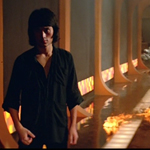 GAME OF DEATH II is a weird proposition. How the hell do you make a sequel to Bruce Lee's unfinished final movie and pretend he's still the star? It's like if they tried to figure out how to keep Paul Walker in FURIOUS 8. It's a little different because some of the best fights Lee ever shot were for GAME OF DEATH and they didn't bother to use all the footage in the first one. But I guess they thought it would be cheating to use that stuff. Instead they took a bunch of his closeups from ENTER THE DRAGON and cut them into scenes of a lookalike always shown either from the back or at a distance. Lee's character Billy Lo is worried about his brother being too into sex and not enough into practicing kung fu. He finds his kama sutra and leaves him a letter and a Jeet Kun Do manual to counter its harmful influence.
Also Billy talks to his master, who tells stories about his youth, illustrated with clips from Chinese movies Lee made at 6 and 15. Instead of letting you figure it out (like Soderbergh using clips from POOR COW as flashbacks in THE LIMEY) they use onscreen text to tell you, breaking any illusion that this is the character Billy Lo, famous movie star who faked his death. In the younger one he's picking on an old man, headbutting him in the gut, pointing a gun at him and saying he's gonna kill him. Weird.
But then Billy's friend gets killed, and to make matters worse a helicopter flies over the funeral and scoops up the coffin with a big metal claw like those arcade machines where you try to win a teddy bear. Have you ever gone to a funeral where that happens? I tell you it is SUCH a bummer.
Billy obviously thinks it's a rude thing to do so he chases and grabs on…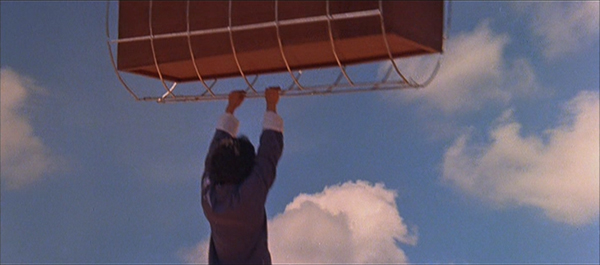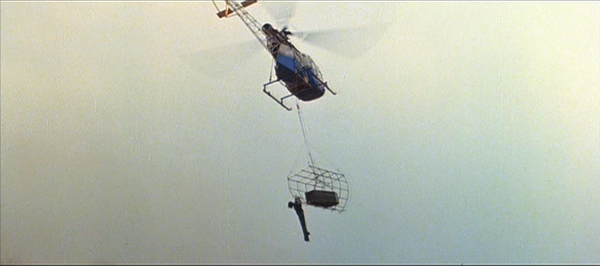 …but someone shoots him with a poison dart and he falls and dies. In part 1 they tastelessly used a montage of Lee's real funeral and photos from his career to represent Billy faking his death. Now they re-use some of that stuff (including real footage of bawling mourners and Lee's body in the coffin) to represent Billy dying for real this time. Nobody complains about already having gone through all this or accuses him of crying wolf.
After Billy's death it's the story of his horny brother Bobby (Tong Lung, Bruce's double in the first GAME OF DEATH and his ghost in NO RETREAT, NO SURRENDER) trying to avenge him, and that's a much better movie. Bobby suspects a white dude named Lewis (Roy Horan, writer, producer and bit player in NO RETREAT, NO SURRENDER 2), a kung fu master who lives on his own safari and walks around with a baby monkey on his shoulder. As soon as Bobby comes to talk to him he wants to show off his trained peacocks: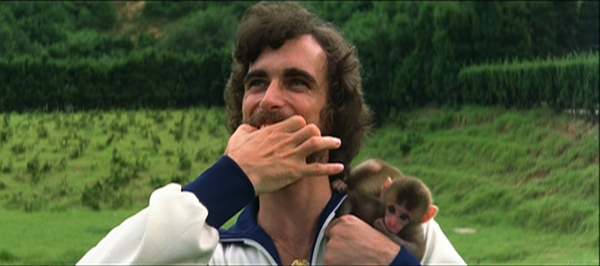 They never do anything, though. I wonder if there was supposed to be a peacock attack scene but it turned out too silly? Anyway he also has a pride of lions who he says get to eat the people who lose to him in his many challenge fights. They have footage of the actors in safari jeeps with real lions climbing on the hoods.
Lewis seems like a supervillain, but he admires Bobby's balls for coming there, and it seems to me like he truly is being a good host, not a bad guy faking friendly like his obvious spiritual predecessor, Han from ENTER THE DRAGON. He even offers Bobby some of his breakfast of raw venison and deer blood (Bobby declines).
But there's also a guy sneaking around in a spooky mask who fights Bobby, and a white girl who comes into his room and takes her clothes off. This scene is crazy. As he decides that yes, he would like to put his penis in her vagina, a split screen shows us that he's remembering his sex books. But then he remembers his brother's letter about kicks before chicks, just as she tries to poison-needle him.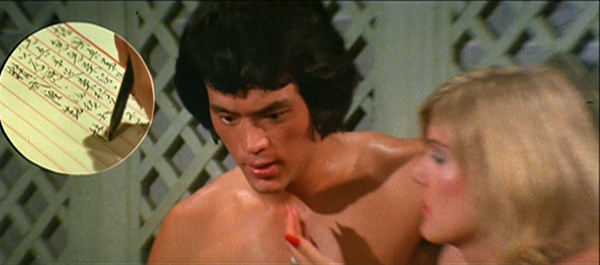 So he follows his brother's advice, he practices his kung fu on her.
But that's not all! Just then the lights go out and a lion jumps through the window and attacks them! Only it's not a real lion like we saw before, it's a martial artist inside a lion costume. But I'm pretty sure within the world of the movie it's a real lion. Bobby kicks him and flips him and breaks a chair on him and he leaps nimbly out the window.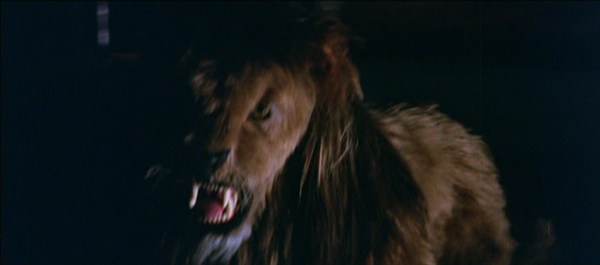 Some other intrigue happens that I won't give away, but it's all leading Bobby to a place called The Tower of Death, described as an inverted pagoda underground. That sounds inspired by Lee's original concept for GAME OF DEATH (please check out the documentary BRUCE LEE: A WARRIOR'S JOURNEY to learn about that) but it turns out to just be an elevator down to a two-room, one-hallway James Bond villain lair. That's cool, though, because it's a nice colorful background for some inspired Yuen Woo Ping choreographed fights that include scarf vs. sword and magic trick vs. double team. Ng See-Yuan (THE INVINCIBLE ARMOUR, BRUCE LEE: THE MAN, THE MYTH) is the credited director, but IMDb claims Sammo Hung and Corey Yuen as uncredited co-directors because of their work on the fight scenes, I believe.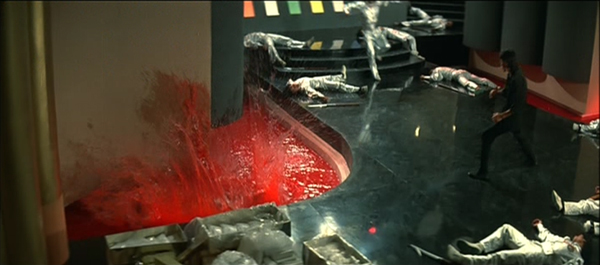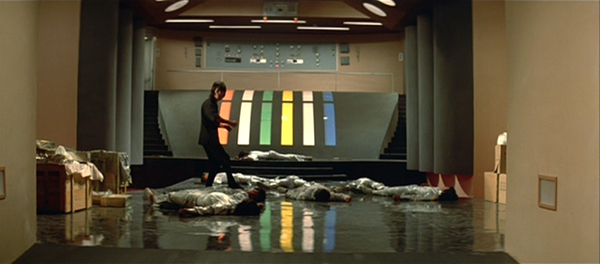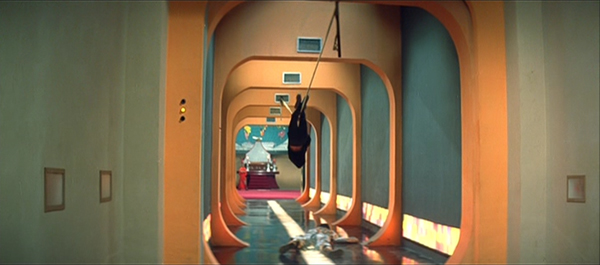 He fights a whole bunch of guys and also has to figure out how to get through a deadly hallway that will burn him alive if he steps on the floor. He could be on the MISSION: IMPOSSIBLE team.
I gotta SPOIL the ending too. He finds the stolen coffin on a platform, but when he approaches it it spins around to reveal his friend, still alive, in a chair. Apparently he faked his death Billy Lo style to keep Interpol off his secretly-drug-trafficking ass. He says now he can live a life of luxury, which I guess means this underground lair with a coffin and a throne with a golden eagle on top in front of a light up map of the world.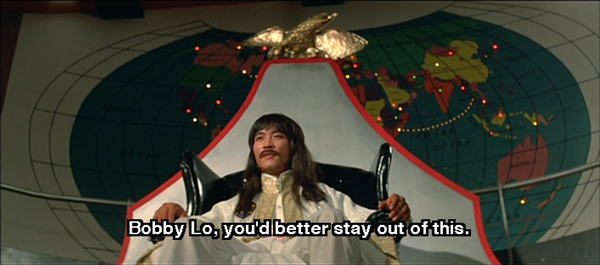 Admittedly any one of us would feel pretty good about that lifestyle too so I'm not gonna fault him. Actually I'm surprised I never saw that throne and map on MTV's Cribs. That would go well with Ice-T's shark tank.
I don't really get why he kept the coffin around, but I'm glad he did, 'cause it's a cool ending for Bobby to kick him into it, shut it, and strut out.
After it gets past the Bruce Lee exploitation sections at the beginning, this turns into a whole lot of fun. Lions, monkeys, peacocks, underground lairs, light up maps… that's what we want to see, right? I was skeptical so thank you to whoever recommended this to me in the comments a while back. I never considered watching it before that, and it was definitely worth my time.
This entry was posted on Wednesday, September 16th, 2015 at 9:54 am and is filed under
Action
,
Martial Arts
,
Reviews
. You can follow any responses to this entry through the
RSS 2.0
feed. You can skip to the end and leave a response. Pinging is currently not allowed.