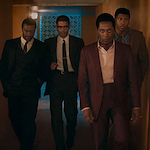 ONE NIGHT IN MIAMI… is a very good straight-to-Amazon-Prime movie in that odd genre of "What if we got to see a bunch of familiar cultural and historical figures spend a night hanging out together?" In other words, it's based on a play, in this case written by SOUL co-director Kemp Powers, who also wrote the screenplay for first-time-feature director Regina King. Of course we've known King as an actress since 227 and BOYZ N THE HOOD, and then she played Huey and Riley and got an Oscar for IF BEALE STREET COULD TALK and was a Watchman, but she's also been directing TV since 2013. Her million dollar quartet here is made up of important Black Americans of the '60s who really were friends, but it's a fictional story about them getting together at a hotel after Cassius Clay (Eli Goree, "PO No. 3," GODZILLA)'s surprise victory over Sonny Liston on February 25, 1964.
In town for the fight are Clay's spiritual advisor Malcolm X (Kingsley Ben-Adir, KING ARTHUR: LEGEND OF THE SWORD, THE COMMUTER), the singer Sam Cooke (Leslie Odom Jr., RED TAILS) and NFL great Jim Brown (Aldis Hodge, DIE HARD WITH A VENGEANCE), there to do color commentary. After the fight they meet up at Malcolm's humble hotel room, guarded by two Fruit of Islam, the very serious Kareem X (Lance Reddick, JOHN WICK) and young Brother Jamaal (Christian Magby), who does a really funny double take and star struck grin when he realizes the guy he's letting into the room is Sam Cooke.
Of course we're gonna get some of the standard features of this type of story: each of these men is at a crucial juncture in their life that we are familiar with from their history. They've all recently faced a setback of some kind, are rethinking things and considering their place in the struggle. Clay plans to announce that he's a Muslim, X plans to leave the Nation of Islam, Brown wants to leave the NFL to act in movies, and Cooke will soon enter the last, best remembered phase of his career. They will stew on these things and then discuss them with each other, and the events of this seemingly uneventful night will inspire decisions that we know in retrospect to change history. To enjoy it we have to accept a certain amount of contrivance to perfectly line up things that happened around this time as if they all happened on this exact night, and because of this meeting.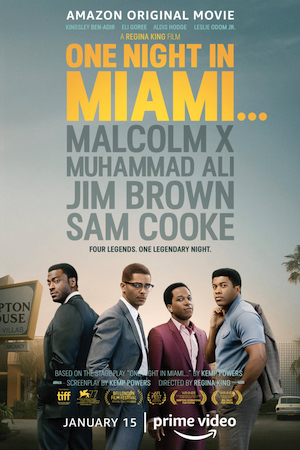 But what makes it really good is that all four of these leads, who range from kind of resembling who they're playing to not really resembling them much at all, give really strong performances that both capture the familiar icon and add a layer of humanity that we don't get as much in the photos and clips. Some of it comes through their friendship, which builds to dramatic arguments (and then amends), but starts with joking around, giving each other shit. As much as I've seen and read about Malcolm X and known about his relationship with Ali and all this, I hadn't much considered the scenario What if you went to Miami to hang out with your buddies but then you realized that having Malcolm X as one of your buddies really puts a damper on the party prospects?
It's really funny to see Cooke and Brown getting increasingly annoyed that they're in Miami with the freshly minted heavyweight champion of the world and they're just sitting in Malcolm's hotel room. Cooke can't even get them to go to the hotel bar, or to the nicer place he's staying at. He starts looking through the cupboards and the refrigerator, because what else is there to do here?
Each of these actors has a particular challenge to their role. Goree has to capture the very familiar aura of Ali without feeling like an also-ran to already existing biopics starring Will Smith and Ali himself. Similarly, Ben-Adir has to give an impression of someone we've seen many speeches from, but he's also working in the shadow of arguably Denzel Washington's best performance ever. I'm sure I'm not the only one who's more familiar with Cooke's songs than what he looked or talked like, so Odom Jr.'s got that in his favor, but he also has to sing multiple songs and sound like Cooke. And as far as I can tell he sung them live (he's a stage musical guy, known for Hamilton, so he's used to that). Hodge has probly the least dramatic character – he's kind of the guy trying to make peace between the others – but he pulls the impressive feat of capturing an authentic Jim Brown voice and vibe while not looking much like him at all.
Goree as Ali – well, still Cassius Clay, or Cash for short – gives the best straight up impression. He does the voice and the accent so well, and he gets down his jokes and braggadociousness, but what's novel is showing his vulnerabilities. Allowing him to be a bit of a doofus in the ring when he almost loses to Henry Cooper, scared of his decision to convert to Islam, and more scared to tell Malcolm that he's scared.
The best argument that happens is X vs. Cooke. It's pretty amazing to see Malcolm X make fun of "You Send Me" – a hit then, and still a beloved classic today – and pretty much convince us that yeah, it's corny. Sam takes it personally, gets fed up with Malcolm's self-righteousness and tells him off with a pretty great story about selling a Bobby Womack song to the Rolling Stones, getting royalties on a much bigger hit than he could've made, and having white people not even know they're working for him. Malcolm counters by digging out a record of Bob Dylan's "Blowin' in the Wind" to disprove Sam's claim that he can't write deeper lyrics if he wants to sell records. And it hurts him! If you know even a little bit about Sam Cooke you can see where this is going… look it up, sure enough, he put out "A Change Is Gonna Come" at the end of the year. It's kind of corny and obvious as a story development, and still a thrill when he sings it at the end.
(In reality, the recording of the song and the performance we see on the Tonight Show happened shortly before the Sonny Liston fight. But that's the magic of cinema and/or plays.)
Ben-Adir, who I know as ex-boyfriend Russell on Hulu's great show High Fidelity (that only got one season, which is bullshit), gets both the charm and the seriousness of Malcolm X. He starts out as their supportive buddy who's maybe a little uptight, builds to fiery judgmental orator, calms down and pays loving tribute to his friend who he has offended. We get to see him laugh at jokes. We get to see him show regret, like maybe he took it too far. We get to see him embarrass Jim Brown by blurting out his secret about wanting to be an actor. Even in the historical context final scenes, when Malcolm's house gets fire bombed, King combines the icon and the human being: Malcolm holds up a rifle much like in his most famous photo, but instead of a suit and tie he's wearing a bathrobe and boxer shorts. A normal, vulnerable husband and dad. Malcolm X, but also just a dude.
I imagine all these great performances are the best testament to King's skills as a director, but she also manages to give a good cinematic feel to inherently stagey material. It's obviously a play, but it doesn't feel like a set – just an intimate location within a larger world that we also get glimpses of. And I'm a sucker for all the early '60s clothes, neon signs and furniture, so it's nice to look at.
One of Brown's most intense scenes is actually his first one, before all this. Returning home to Georgia, he goes to visit an old family friend named Mr. Carlton (Beau Bridges, THE WIZARD), who lives in a big plantation house. Mr. Carlton is thrilled to see him, and goes on and on about how proud he is of Jim, how he tells everyone he's from the same town as the great Jim Brown. Bridges really oozes that quality of the southern-maverick-who-defies-stereotypes-by-being-one-of-the-nice-white-people just long enough for you to think "I guess this is that kind of movie," and then get sucker punched by the degrading racism he tosses out casually like it would never occur to him there was anything wrong with it. It's very upsetting and a perfect way for King to let us know up front that no, this is not gonna be that kind of movie. Sorry Oscar voters.
It's not fuckin around, it's serious-minded, it takes place on the eve of a couple tragedies, but it's not a bummer. It has humor, it has the warmth of friendship, of mutual admiration, of talented people trying to do good in the world. I liked it.
ADDITIONAL NOTES:
One weird thing I noticed: it's FROM THE PRODUCERS OF HOLY MOUNTAIN. By that I mean I noticed the Abkco Films logo at the beginning. I only know that logo from HOLY MOUNTAIN, and know it's the production company of Allen Klein, who was the manager of the Beatles, connected with Jodorowsky because John Lennon loved EL TOPO. So I thought it was weird that Klein – who died in 2009 – is mentioned by name in the movie. I didn't realize he was Cooke's manager too – his company must own the rights to the music, and therefore a stake in the movie. (Also I guess there are conspiracy theories that he was behind Cooke's weird and tragic death later the same year this movie takes place. That would really make it shitty to have his company's logo at the beginning, wouldn't it?)
Another thing I noticed: the great fight choreographer Larnell Stovall (UNDISPUTED III, UNIVERSAL SOLDIER: DAY OF RECKONING, NEVER BACK DOWN: NO SURRENDER, KICKBOXER: VENGEANCE) is the stunt coordinator. Good for him.
There's plenty of room for sequels to this. One obvious choice would be something based around Ali's visit to the set of BREAKIN' 2: ELECTRIC BOOGALOO. Since it's a fictionalization, maybe we can have Ice-T and some of the BREAKIN' 2 extras like Martika and Angelo Moore as characters. Or what about ONE NIGHT IN NEW YORK…? March 31, 1985. Ali, Mr. T, Liberace, Cyndi Lauper and The Iron Sheik go to an all night diner after Wrestlemania. Or whatever. As far as Jim-Brown-hanging-out-with-people scenarios, my vote is for something during the filming of MARS ATTACKS!, with actors playing Pam Grier, Tom Jones and Michael J. Fox.
But who am I fooling? Realistically everything is comic books now – I guarantee you they're trying to talk Regina King into directing BLADE, THE VAMPIRE SLAYER as we speak – so I guess the most likely sequel is to carry over Goree as Ali to an adaptation of the Superman vs. Muhammad Ali comic book. Unfortunately Jim Brown is not among the many celebrities depicted as attending the match, but they could work him in and take their pick of other famous figures depicted on the cover – Andy Warhol, Frank Sinatra, Ron Howard, Lucille Ball, and Johnny Carson (bringing back Christopher Gorham, who played him here).
This one works fine without super powers though.