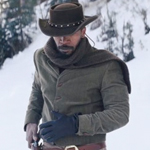 A couple weeks ago the studio "lifted the embargo" as they say, and all the online critics unchained their DJANGO reviews even though non-critics wouldn't see the thing until Christmas. I think that's a silly ritual because I wasn't gonna read that shit! This is the new Quentin Tarantino movie, you go in fresh. I already know I want to see any movie he makes, I don't gotta read everything about it first. In case you're different I've tried to mark the biggest spoilers in this review, but as usual I recommend seeing the movie first.
DJANGO UNCHAINED is the most straight forward movie Tarantino has ever made. It follows one main character from first scene to last, doesn't cut away to another story or even jump around in time other than some very traditional flashbacks. There are alot of long conversation scenes, but it's generally pretty clear what they have to do with the main plot of the freed slave Django (Jamie Foxx, STEALTH) becoming a bounty hunter and trying to rescue his wife (Kerry Washington) from a plantation. And that's not a misleading description, that's really the movie, a racially charged western (or "Southern," Tarantino likes to say) in the tradition of those CHARLEY movies I just reviewed.
So in a way it feels uneventful for a Tarantino movie, the first time he made one that was pretty much what I expected from the commercials. On first viewing it seems low in my rankings of the QT filmography, but that doesn't say much. Tarantino sure knows how to entertain, and I happen to love this genre of badass black cowboys out for frontier justice against practitioners of the slave trade. For his first straight up genre picture that's a good genre to pick. I love this movie.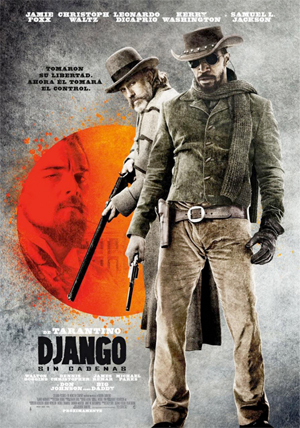 For a blaxploitation movie it's weird how much this centers around white man Christoph Waltz as German bounty hunter Dr. King Schultz (the meaning of the Dr. King reference is never clear). As an immigrant he's mystified by America's practice of slavery. He despises it and gets a kick out of punishing slavers even as he's sure to follow the letter of the law in paying for Django and "acquiring a bill of sale" since he thinks Django can help him identify three outlaws with a large bounty on their head. Schultz likes to talk and show off his smarts as much as his INGLOURIOUS BASTERDS character Hans Landa, but now we can feel better about being charmed by him because he's not a Nazi, he's a quasi-abolitionist. (Also this seems like a nice gesture to the Germans, acknowledging not only that they are not all Nazis, but that at this particular time in history they were clearly more enlightened than we were.)
Anyway, since Django is a very stoic sort of character this means Schultz starts to dominate the movie. He's the guy who rescues Django, mentors him, comes up with the plans, doesn't even always tell him what they're up to. Obviously as a talker he's the character Tarantino can relate to, so he starts falling in love with him. And it's fine because he's such a great character, but at a certain point I started thinking you know what, a movie about this shouldn't focus on the white guy. Luckily it eventually becomes only about the unchained gentleman and he gets to fulfill his mission and also kill a whole lot of bad people and destroy highly symbolic structures. And I should've known he could do it by the way he handled his first mission. He's just supposed to identify these guys but he handles them by himself, quickly achieving a goal you expect to take up more movie time.
It's really an origin story, and therefore the first Tarantino movie that ever made me want a sequel. I mean, if he decided to do that sequel to KILL BILL where Vernita Green's daughter tries to get revenge on Beatrix of course I would be excited, but otherwise you wouldn't want to see any part 2s of his work. But DJANGO immediately calls for further adventures. By the end he has achieved full badass icon status. There could definitely be a BLADE II of the DJANGO series.
When Foxx was cast I knew he could do well, but he seemed like a less exciting choice than some of the other people who were considered. It would've been an unusual role for Will Smith if he'd taken it, and I was excited that Tarantino had considered Chris Tucker. But Foxx turns out to be perfect. He begins the movie as a dehumanized slave trained not to speak up or make eye contact with a white man, but when he sees his window he quickly becomes a black superman. Foxx carries himself in a badass manner worthy of Wesley Snipes or Michael Jai White, a full understanding of expression and posture that can't be faked.
One of my favorite things in the movie is when Django is newly freed and told to pick out a costume to wear to portray Dr. Schultz's assistant. He's excited that he gets to choose anything he wants and this is what he goes with: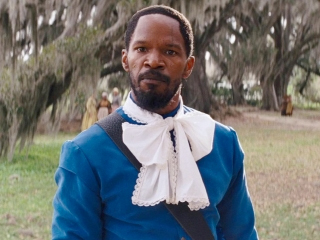 It gets a huge laugh I think mainly because it looks silly, but it's also an act of defiance. Foxx's whole manner says "I will knock your head off with one punch" and the outfit says "Fuck you, I like wearing this" as well as "What, you've never seen a black man wearing an outfit the kid from SONG OF THE SOUTH would wear?"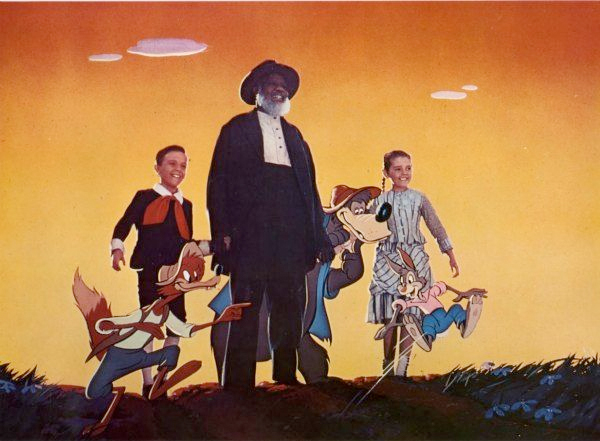 It's so ostentatious and gaudy, I think it's like the Civil War era equivalent of strutting around in a SUPERFLY outfit. Picking out clothes is new to him (the doctor has to recommend against one of the hats he tries on) but he immediately finds a way to use fashion to express himself.
I wasn't really expecting an action movie here, and like most westerns the emphasis is more on people putting their hands on their guns than on actually shooting them. But there are some full-on shootouts and this is post-KILL BILL Tarantino so he turns them into comically excessive bloodbaths  with industrial strength squibs (analog!), shots that send people flying through the air and innovative ways to deliver pain to characters who really, really deserve it.
Foxx and Waltz are the heart of the movie, but there are two marquee name villains worth praising. After flirting with playing Patrick Bateman and Hans Landa, Leonardo DiCaprio gets to combine a bit of both into Calvin Candie, a horrible scumbag slave owner who thinks he's the height of sophistication. Samuel L. Jackson does a different kind of playing-against-type as Candie's disturbingly loyal slave Stephen. Stephen (who at times reminds me of Uncle Ruckus from The Boondocks) hates Django for all the wrong reasons. Note that when they meet Django is pretending to be a slaver, but that's not what Stephen has a problem with. He has a problem with him being free and in some ways treated equal. Over the years it seems like Stephen has figured out a way to be The Man within the system of slavery, kissing Candie's ass and laughing at his jokes in the dining room but then when he goes into the back rooms he's in charge. There's a great shot that follows him from yelling at teasing the other slaves in the kitchen to shucking and jiving for the white men in the living room. He's worked his whole life to get here and now here's Django, they let him ride in on a horse and sit at the table with the whites.
Like MANDINGO, the plot delves a little bit into brutal organized fights between slaves. It's like – to borrow John McCain's description of the UFC – human cockfighting. I noticed a somebody-somebody Perry credited as a stuntman. I looked it up and sure enough IMDb says J.J. Perry (UNDISPUTED 2, HAYWIRE) was the fight choreographer. This is different from alot of his other work though because it's all about looking brutal and horrible, not showy. Tarantino stages it very cleverly so that we see one black body pinning down another, fists hammering down, but we see this over the shoulders of these rich white men sitting casually on couches, their heads often blocking the middle of the action. Unlike, say, the horrendous coverage of the tournament fights in WARRIOR, this is thematically smart. Tarantino is not gonna allow you to enjoy this as a movie fight. It's a horror scene, made more illicit and wrong by the fact that it's taking place just on a floor in somebody's home, not some sort of cage or ring. Reminded me of some scenes in FIGHTING, but the effect is more like COCKFIGHTER when they're having their competition in a hotel room. It's so casual it's creepy.
Despite all the violence and brutality in the movie I think Tarantino's kind of a softie, he loves his good guys and he pulls back before tormenting them as much as he could if he really wanted to upset us. And I'm kind of a softie too so I appreciated the gesture. Thanks for not keeping her pinned down to the table for too long, I thought. I'm happy to have that over with. SPOILER COMING UP. In a vintage spaghetti western Broomhilda surely would have to die, just as O.G. Django's wife did, and as Charley's girl did. But I knew Tarantino would want to give them a happy ending, and I like that. It's sweet.
It does feel a little weird to have the central female character be such a straight up damsel in distress. Like Beatrix Kiddo "That woman deserves her revenge, " but she does nothing for herself, just gets tormented and rescued. Considering the heroines of JACKIE BROWN, KILL BILL, DEATH PROOF and INGLOURIOUS BASTERDS this has gotta be an intentional choice and not just a sexist oversight. Maybe it's to fit the western archetypes, or the Siegfried legend they talk about, maybe to make Django truly exceptional by being the only defiant slave we see, the inspiration for all others. I don't know. I wish she got to do more but at the end she looks at Django so lovingly that I couldn't help believe it and be moved by her.
BIGGER SPOILERS THIS PARAGRAPH. I really like that Dr. Schultz gets a death that's heroic, but not in the usual way. He could very easily get out of there alive, and probly with Broomhilda as planned. But he takes a stand on principle. He has very successfully protected himself by staying within the law, only killing people who are wanted dead or alive, carrying the warrants, knowing who to show them to, trying to rescue Broomhilda through a legal slavery transaction instead of just busting her out, so that nobody can come after her. But now he's faced with the idea of shaking hands with this asshole, and he can't do it. And since he's decided this is where he's gonna draw the line, fuck it, no more law. No more paperwork. He decides he'd rather shoot this motherfucker and die than shake his hand and live.
Although it doesn't entirely pretend to be a vintage spaghetti western (it has 2 hip hop songs in it – I'm torn about how well that works) this has a feeling of being a GRINDHOUSE movie. A more sincere one than Rodriguez would do, but still in that tradition. As good as everybody is in the movie, it does have that sort of "spot the cameo" feel that Tarantino wouldn't usually bother with. But it's fun. I didn't realize that was Tom Wopat, I did guess the masked woman was Zoe Bell, and was pretty sure that was Tom Savini. In case you have poor judgment and are reading this without having seen it I won't spoil the most out-of-the-blue cameo, but it's in the stand out funny scene of the movie and it got me good. Tarantino shows up and does his most embarrassing acting performance of all time (does he really think he can do accents!?) but he's got Michael Parks and John Jarrat (the killer from WOLF CREEK!) with him and makes an exit that justifies the whole thing.
This is not a real criticism, but I noticed a couple things that I think are mistakes on Tarantino's part. One, why does he name Django's wife "Broomhilda" when he means "Brunhilde"? No disrespect to one of my favorite directors, but it reminds me of a kid mixing up words that sound similar. Also, he uses the word "Mandingo" to mean slaves that are forced to fight each other, which seems to be a misunderstanding of the movie MANDINGO, in which of course Mandingo is the name for people from a specific region of Africa who the racist whiteys think are genetically good fighters. I wonder if Tarantino is one of these guys who nobody's gonna try to correct him? Or maybe he knows and just doesn't care, he likes his fake words.
UPDATE: I saw it a second time and as some of you pointed out in the comments Dr. Schultz always says "Brunhilde," so it does make sense. I still don't know about the "mandingo" though.
* * *
I've gone this far without really acknowledging how provocative this is, a white man making a movie about slavery that's looking for a rowdy audience reaction instead of an Oscar. What to make of an enjoyable and funny movie about the most shameful part of our nation's history? Of course there's been plenty of entertainment-media drama over Spike Lee "boycotting" the movie. He's said a few things about it being disrespectful to his ancestors to make spaghetti western entertainment out of their suffering. At least at first he presented this just as his personal feeling, and I think it's completely legitimate for him. I wonder where he would draw the line, though. Is it wrong to have fun watching X-MEN movies, where Magneto is portrayed as a victim of the Holocaust? It's certainly fun to see him killing Nazis in FIRST CLASS. What about SCHINDLER'S LIST? I know it's a bummer and black and white and everything but it's surprisingly entertaining in my opinion. It's a great thriller. How do we know if it's okay or not?
I don't agree, but it's easy for me not to agree, having not had ancestors made victims of slavery or genocide. Who am I to say?
I've never been a movies-on-Christmas person, but I made an exception for DJANGO, and it felt weird watching this on Christmas. The theater was sold out and very racially diverse and this made for a weird dynamic. To be honest I felt uncomfortable hearing some of the things my fellow white people were laughing at or saying to the movie. I was pretty self conscious about the guy next to me saying "Niiiice!" for any bloody part and just treating it like a shitty slasher movie or something while others had to see this as a depiction of horrors their own family may have experienced a few generations back. Something creepy about it.
We like to say a character like Django is an empowering black hero, but maybe he's also empowering us whites. We love seeing Indiana Jones punch a Nazi, but Django blowing away slavers has even more of a kick to it because his beef is so personal and so long overdue. Like Hitler getting blown up in INGLOURIOUS BASTERDS it's a justice we didn't really get, and the world is still damaged because of it. To cheer for Django righteously whipping the white man who whipped him probly makes us imagine some kind of ancestral absolution. Since we enjoy his revenge so much we're on his team, we're not with those of our ancestors who were on the wrong side of things.
That's the mystifying thing about whoever it was on the right who was criticizing this as an anti-white movie: they're admitting that they identify with the bad guys, because of the color of their skin, instead of the good guys, because of their hatred of slavery. I mean, that pretty much tells you everything right there. The content of their character and all that.
If somebody's worried about us becoming desensitized to depictions of slavery and extreme racism, where we've seen it all and it no longer seems shocking, that might make some sense. But I don't see that happening now – look at how absent this part of our history has been from our modern culture. Roots was a long damn time ago. How many movies really even deal with slavery directly? I think AMISTAD is great, but it mostly deals with white men in a court room, and tends to be seen as the also-ran Spielberg historical drama. As a culture our answer to the question of what to do with this history is to not talk about it, or to treat it as homework. I like Tarantino's (and Fred Williamson's) answer better.