In the video store recently I overheard two college kids talking nerd shit. As they walked by me mid-conversation I heard one of them grumble, "And now he's playing Green Lantern. Fuck you, Seth Green!"
And then a second later, "Er, Seth Rogen, I mean." He realized that he said the wrong actor, but not that he said the wrong super hero.
Personally I think Rogen is a likable enough guy, most of his movies are funny, he's a talented young pothead. But that little snippet brings up some issues with the world's readiness for this movie. 1. there is kind of a super hero burnout where we even have more than one super hero movie in a year that has "Green" in his name, and B), people are sick of Seth Rogen and/or jealous that a regular dude like him gets to dress up as a super hero, even if he has been working out.
To me the second one seems like it could theoretically cancel out the first one. This is a weird casting for this character, he wrote it with his SUPERBAD writing partner, and the director is crazy Frenchman Michel Gondry, who's never done a movie anything like this or this mainstream. So they oughta have a pretty interesting take on this type of movie, right?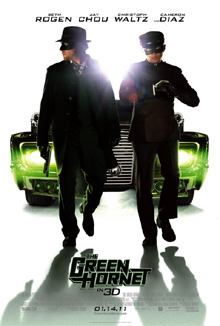 Well, partly true I guess. This is an okay movie with some funny lines and good moments, but not enough to overcome the been-there-ness of many generic super hero plot elements. Although I liked it better it kind of reminded me of KICK ASS: a half-assed "real world" where "real" criminals face nerds who want to dress up in costumes for fun. If it was really well executed it might not matter how many times we've seen it before. But, you know, that's a theory, it's hard to know for sure without a movie to demonstrate it.
Not that it's all bad. There's some inspiration there, little touches that at least are different. Since the Green Hornet TV show is primarily remembered for Bruce Lee as the sidekick Kato, this version is based around Green Hornet Britt Reid coasting off the awesomeness of his partner, played by Jay Chou (the Taiwanese pop star who played "the God of Wushu" in TRUE LEGEND). This way it's able to still be a Seth Rogen comedy – he's a rich dumbass who becomes a masked vigilante as a way of making something of his lazy, entitled life. And he convinces Kato that using his great inventions and asskicking skills to fight criminals is a better use of his time than fixing rich people's cars and coffee.
The tone is unusual. It's not a parody, wants you to take it somewhat seriously, but is definitely a comedy. Maybe a little more serious than PINEAPPLE EXPRESS, but it still has a scene where they're driving around and he starts rapping "Gangsta's Paradise." I guess Gondry was against that scene but Rogen convinced him it should be in there and would be a big laugh. Gotta side with Gondry on that one, but it's funny when Kato sings the chorus.
The whole useless heir thing has already been done better in IRON MAN, but at least they make an effort to tweak it a little bit. I like that his super hero thing is not done to avenge his father's death, it's just what he decides to do instead of taking on the responsibility of running dad's newspaper. He actually doesn't realize that there was any foul play in his father's death, and mostly remembers him as an asshole.
There's not much noticeable Gondry here. I'm sure he wanted to try his hand at a more normal movie for once. The fight scenes are pretty cool though, with slo-mo Kato-POV shots that diagram just how he figures out which weapons and attackers to go after and in what order. There's a nice friendship moment with the heroes floating over the city on a parachute listening to classical music on vinyl, and some enjoyably ridiculous mayhem (a whole scene with Kato driving only the front half of Black Beauty [the car not the horse. This would be a more positive review if it was a bisected horse] through a building shooting and running over people). But somehow they still made the characters feel down-to-earth enough that when Cameron Diaz was gonna do the ol' bullet-removal-with-kitchen-utensils routine we've seen in so many movies it really made me think "Oh jesus, don't do that! That's a terrible idea!"
On the other hand the characters are also set up well enough that when Green Hornet decides he has to fight Kato it doesn't make any sense that he's able to get any shots in. I didn't get that part.
Christoph Waltz plays the mafia leader, and he's as good as you'd expect, but he goes from that all time classic villain in INGLOURIOUS BASTERDS to a pretty limp one here. He's got a couple funny lines and a cool gun, but mostly just works with a weak concept where he wants to have a nickname and gimmick like his nemesis. That shit again.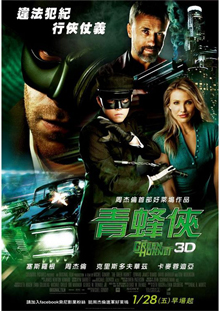 I think Jay Chou is pretty good, he has a good presence, not like Bruce Lee but more like some James Dean-esque guy who drives a motorcycle and wins over women without even saying anything. And I like the surprise and delight Britt shows every time Kato casually reveals a new skill or weapon. Also it's a funny idea that the Green Hornet's trademark non-lethal gas gun was actually made because Kato doesn't trust him with a real gun.
Also (small-to-medium-sized SPOILER) I gotta give it partial credit for attempting to subvert that "secretly record the crooked politician saying bad things" cliche I hate so much. They make you believe that's what's going on, but Green Hornet later realizes that he incompetently failed to record anything.
Oh yeah, and for giving Edward "John Connor" Furlong a cameo as a meth dealer.
So it's a likable enough movie, but not a radical enough re-invention or a good enough retread to be very memorable. I'm afraid its place in history will be as the final proof that "post-conversion 3-D" (rejiggered in a computer instead of shot with 2-lensed 3-D cameras) is a waste of everybody's time. I didn't see CLASH OF THE TITANS – everybody said the 3-D was terrible, but they had an excuse that it was rushed to meet a release date. Here's a case where they said it was planned for 3-D and they delayed its release to give it enough time, but still it just doesn't have enough depth to add anything. I'm not one of these 3-D complainers, I'm an old timey 3-D buff and "yes it's a gimmick and that's the way I want it" true believer, and I'm against this. It's jarring when the end credits come on and the words are flying around and you think "hey, why wasn't the rest of the movie 3-D like that?" Only a few shots really look bad, but nothing looks impressive. If Gondry can't figure out a way to do it then the technology ain't there.
But that won't stop them from releasing THOR in crappy half-3-D.
* * *
I know some people say that the comic book movie is such a big genre now it's like what westerns used to be in the old days. I might've even said that before, although I also said it about DTV underground fight tournament movies. Anyway, the difference between a western and a comic book movie is that in a western you don't gotta spend half the movie explaining why anybody would want to become a cowboy. They're just a cowboy at the beginning, they already got the hat and the horse, and nobody's surprised when they start shooting people. In the comic book movies almost always the guy starts out regular, you gotta see all the lead up to why he becomes super, how he decides on what to wear and what to call himself and all that shit. I don't know about you guys, but I feel like I've seen that story at least three times, probly more.
Fortunately GREEN HORNET is not based on a comic book, it's an old radio show, so none of that is relevant here.
This entry was posted on Friday, January 28th, 2011 at 2:08 am and is filed under
Comedy/Laffs
,
Comic strips/Super heroes
,
Reviews
. You can follow any responses to this entry through the
RSS 2.0
feed. You can skip to the end and leave a response. Pinging is currently not allowed.