I'm kind of interested in this Kurt Wimmer guy. My favorite movie by him is before he made it big, the first of his three directorial works so far, ONE TOUGH BASTARD a.k.a. ONE MAN'S JUSTICE (1996) starring Brian Bosworth and MC Hammer. And I just discovered that his first writing credit was DOUBLE TROUBLE starring the Barbarian Brothers. But since then he's had some success in much bigger, studio-backed b-movies: he wrote LAW ABIDING CITIZEN, SALT and the remake of TOTAL RECALL. He also wrote the remake of THE THOMAS CROWN AFFAIR, which I liked.
But as a writer/director his best known movie is EQUILIBRIUM (2002), that sort of asinine dystopian one where Christian Bale rebels against A World Where Love Is Against The Law because they try to make him kill a puppy. ULTRAVIOLET (2006) is Wimmer's only directing job since then, and his biggest budget one. I heard it was kind of dumb fun, so I rented it.
"Kind of" is right. The movie takes place in one of these dystopian vampire futures like PRIEST or DAYBREAKERS except way more cheapie video game looking. Well, I think they're supposed to be like vampires. They're called "hemophages," they get a blood infection that makes them have sharp teeth and sometimes different abilities and then they die. Nothing with sunlight or garlic and I think the blood somebody's trying to steal at the beginning is actually just for medical purposes, not refreshment, so I don't know. Maybe they're mummies.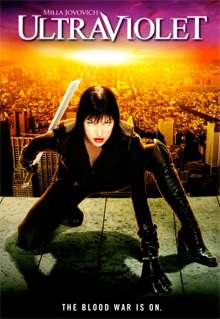 Milla Jovovich plays Violet Song Jat Shariff (most people just call her "V"), who has the disease and is part of the resistance against the corporations that are trying to wipe them all out. V sees the world through rose-tinted glasses. I mean that only literally – she's kind of a gloomy gus who uses the existence of bad things as an excuse not to be in love with William Fichtner – but in the opening her lenses match her pink hair.
She has some goofy fashion choices, actually. She wears all white to fight a bunch of guys in all white haz-mat suits. When she bleeds for some reason the whole outfit automatically changes to red. And she has leather shorts with a serious camel toe in one part. That takes balls. I'm for it.
She impersonates a messenger in order to steal a little case that looks like the head of a guitar and she thinks is a weapon but is actually some kind of dimension-warping box with a human child inside. He's a creepy weird kid with unknown super-abilities, so obviously he's played by Cameron Bright (X3, BIRTH).
The tyrannical head of the medical company she stole it from (Nick Chinlund from CHRONICLES OF RIDDICK SAGA: CHRONICLES OF RIDICK) comes after the kid, cue the shooting, slow motion, kicking, etc.
One thing you will notice if you have seen EQUILIBRIUM and then you see this: yep, Kurt Wimmer has still seen THE MATRIX. In particular he has seen that whole thing with the bullet time on the roof and the helicopter crashing into the building and all that. There's a big chase scene where Ms. Song Jat Shariff comes across a bulldozer in traffic and uses it as a ramp to launch her motorcycle onto the side of the bus, then continues onto the sides of buildings, using a "gravity shifter" device to make this possible as bad guys shoot at her and explode all the mirrored windows of the buildings. These are the type of stupid ideas I love, but the digital effects in the movie are so primitive that I just couldn't get into it. It seems like they were very ambitious but stretched their budget way too far because there's a ton of effects and most of them are crappy. At times the look kind of reminded me of SPEED RACER, except it doesn't seem like a deliberate stylistic fakeness. There's a ton of distracting green screen and, worst of all by far, some kind of blur effect that they keep using to smooth out the character's faces, but it looks like somebody got finger grease on the lens or something. (It's possible this looks worse on the blu-ray than it did projected on film.)
ULTRAVIOLET doesn't feel like it's trying to be Important like EQUILIBRIUM, so it's easier to forgive its sins. But it has that same tendency to do things for the sake of coolness that make no sense, which would be fine except come to think of it they're not really that cool. For example, the building that she infiltrates in the opening scene is shaped like a giant biohazard symbol, and then there's a hallway that from the correct camera angle forms the yellow and black triangles of a fallout shelter sign, and then there's a vault door that looks like the radiation symbol, and another place that looks like a Christian cross when seen from the sky.
But why? Why would they do that? Why is it cool? I don't know. No one does. How 'bout a sewer lid that looks like Mr. Yuck? A helicopter rotor that's a skull and crossbones? An irrigation system that forms the Van Halen logo? A rich kid who has bushes and swimming pools shaped like dollar signs?
I think at some point somebody wondered how audiences were supposed to accept all this silliness, especially with visual effects that do not exactly put in a strong effort to sell it all, and they decided "it's like a comic book." So the opening credits is a montage of different covers for the non-existent ULTRAVIOLET comic book, and the end credits are done in a comic book font. Because hey everybody, imagine what it would be like if a comic book were made into a movie! This is what it would probly be like! ULTRAVIOLET!
I shouldn't be making fun of the silliness though, because those are the things that make it watchable. Honestly if this was a DTV movie I would find it an impressive try. But as a theatrical release it seems more like a shitty movie that I kind of enjoyed. The cheesy look seems unacceptable and the combination of post-BLADE vampire-action, MATRIXy shit and Big Brother stuff doesn't add up to anything very memorable.
But there are a bunch of gimmicks I liked: the (for some reason) glass armor that she shatters on the guards, the way she runs out of bullets and takes the rifle apart to use as a different type of weapon, the way some guys shoot themselves into the side of a building inside giant marbles, the paper disposable phone that prints out of a vending machine, the villain's giant-steak-knife serrated sword. There's an interesting but hard to follow visual storytelling bit that follows a series of reflections off of sunglasses in a Mexican standoff. Wimmer is really into CGI reflections, actually, so there's a shot of a face reflected on a tear drop, even a victim's face reflected on a bullet as it hurtles toward him.
There's alot of ectro-music-and-martial-arts scenes (I hope Blade gets residuals every time this plays on cable) and they're not the greatest but they're cute. It's funny that Milla has become so known for these things. She's a waify little model but I guess THE FIFTH ELEMENT got her associated with sci-fi and she has fun pretending to be a futuristic tough girl in all these video game type movies now. Why not? In this one she has a crazy modern dance type fighting style, lots of spinning, flailing, and crouching down like a spider. She has some kind of thing that makes machine guns and swords appear in her hands like holograms. Because of… futuristic, you know.
There are a bunch of good gags in the fights. I like all the feet sliding around on the smooth floors. They oughta get better traction on their boots if they're in these sterile futuristic buildings. There's a scene where she's surrounded by henchmen who all run at her at the same time and she takes them all out with one 360 degree sword slash. So remember that, all you wiseasses who always point out that the thugs take turns running at a guy in martial arts movies. Maybe they're actually improving their odds that way.
My favorite move is when she takes out two cocky fighters with long hair. There's a white guy with a long braid in the back, she grabs him and swings him by it! She does the same thing to the guy with the long dreads, but she also tears a couple of those off. These futuristic henchmen gotta learn the same thing they learned in the early UFC: if hair pulling is allowed you should probly have short hair.
And how 'bout this exchange:
"But Violet, I'm unarmed."
(Gripping her sword and eyeing his limbs) "Not yet you're not."
See, she creates the Arnold-style pun in your head instead of saying it out loud. Very modern. I like it.
Chinlund's character is kind of funny because he's a total germophobe. He wears nostril-plugs, he handi-wipes his mug before he pours coffee in it, he even has guns in hermetically-sealed packages that he tears out when he needs them. Otherwise you don't know where that thing's been.
Of course she has the best way to deal with him during the climactic showdown: she splashes some of her own blood on his face. When he copies the bodily fluid idea and spits at her she blocks it with her hand, then slaps him.
The relationship with the kid is poorly developed, but I like the idea of it. At first she's supposed to just treat him like treasure, so after dragging him through a gun fight she doesn't ask him "Are you okay?" or "Are you hurt?"," she yells "Damage! Are you damaged!?" But I didn't really catch the transformation from that to her being the only one who cares that he's "a human child" and wants to protect him. At the beginning they mention a terminated pregnancy as part of her origin story, which seems irrelevant at the time, then later you realize that it's one of those things that's supposed to explain that the kid is a surrogate son to her.
There's a twist (SPOILER) that the kid is actually a clone of the villain, and I thought that was kind of a cool touch, because of how it leaves things at the end. She (SPOILER) kills the guy to rescue… a young version of the same guy. I don't think I've seen that one before. Usually the bad guy gets to reveal that he's the father, here the hero gets to become the villain's mother. Take that, asshole.
This entry was posted on Monday, April 9th, 2012 at 1:24 pm and is filed under
Action
,
Reviews
,
Science Fiction and Space Shit
. You can follow any responses to this entry through the
RSS 2.0
feed. You can skip to the end and leave a response. Pinging is currently not allowed.