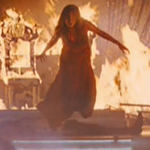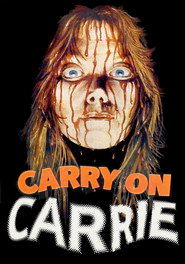 Like THE RAGE, the 2013 remake of CARRIE is directed by a woman. This one comes courtesy of Kimberly Peirce of BOYS DON'T CRY and STOP-LOSS fame. The screenplay is credited to two men, Lawrence D. Cohen (GHOST STORY) and Robert Aguirre-Sacasa (THE TOWN THAT DREADED SUNDOWN remake). The weird thing is that Cohen wrote the DePalma version, and this is his first credit in 9 years, so I don't know if that means they started from an old-screenplay base. It kinda seems like it. It doesn't do its own thing as much as I'd like. It's not DePalma, but it's not a drastically different take either, so I'm not sure how much the female perspective was able/allowed to add in this instance.
Part of the fun of a remake or re-adaptation is seeing who they have playing the different roles. There are some familiar actors in the leads here. Chloe Grace Moretz (TODAY YOU DIE) plays Carrie, and she's the first actual teenager to ever play the character on screen. At 15 I believe she's actually younger than Carrie was in the book, and there's something to be said for authentic youthfulness in this role. Julianne Moore (ASSASSINS) is Margaret White, because of course she is. It would have to be her. Judy Greer, known for thankless roles in every major movie of the last few summers, actually gets things to do in the Betty Buckley role as the sympathetic gym teacher.
I was not familiar with the young actors playing the do-gooder couple of Sue and Tommy. Sue is Gabriella Wilde, a tall blond model who was in the Paul W.S. Anderson THREE MUSKETEERS, and Tommy is boyish Ansel Elgort, a rookie actor who has since been in the DIVERGENT series of trailers that seem to come out every few months, was the boy lead in THE FAULT IN OUR STARS and reportedly on the short list to play Young Han Solo in I HAVE A BAD FEELING ABOUT THIS: THE ADVENTURES OF ALL NEW HAN SOLO. Both actors won me over after initial skepticism. Meanie blood-dumper Chris Hargensen is played by Portia Doubleday, who I know from looking like Amanda Sieyfried on that tv show Mr. Robot. (She was also the surrogate date in HER, and her older sister Kaitlin plays Rhonda, the only major white character on Empire.) Chris's bad boy boyfriend Billy Nolan (Travolta's character) is Alex Russell, who I guess was in CHRONICLE and later Angelina Jolie's UNBROKEN.
I think the main reason this remake didn't seem to blow anybody away is that it doesn't do anything drastic to distance itself from DePalma's approach. But it's fair to consider it a re-adaptation instead of a remake. It has some bits that are clearly based on the '76 movie, like the montage of the kids getting dressed up before the prom (the boys even try on '70s style ruffled shirts) and even the hanging star decorations at the dance, but those could be considered homages to what has come before. There are also ways it goes back to the book. They use King's name for the school, Ewen High School, and his name for the gym teacher, Miss Desjardin. They have Carrie leaving the prom and doing some damage to the town, as well as Sue not being at the prom and coming to find Carrie later as she's dying. They have the scene I talked about that's in the TV version, where Chris's lawyer dad comes to threaten the principal (Barry Shabaka Henley, MIAMI VICE, FEAR OF A BLACK HAT) to fire Miss Desjardin. Her dad is real sleazy, real douchey. He seems like the kind of guy that would brag that he negotiates million dollar deals for brea–
Wait a minute.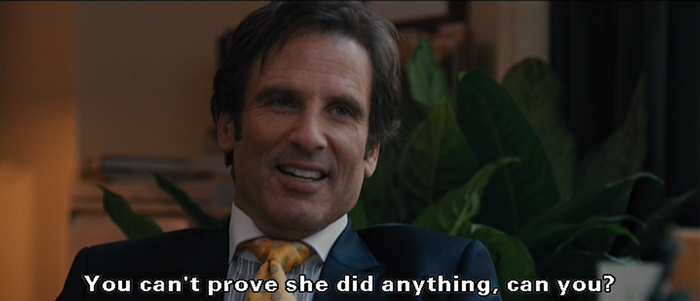 Holy shit. Yeah. That's Hart Bochner. That's fuckin Ellis! Chris Hargensen's dad is Ellis. That makes so much sense.
They also bring in the rocks falling from the sky into the house, but they combine it with the climax instead of having it as a separate childhood incident.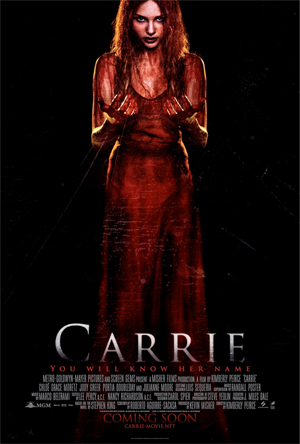 Ironically there's one element of the book that totally fits with modern filmmaking trends, and has never quite been adapted, including in this one. As I mentioned in the review of the tv movie, the book is full of book excerpts, AP wire reports and testimony transcripts that could easily be adapted into quasi-documentary elements throughout the film. I'm actually surprised and relieved that they didn't do that. It works well in the book but I think wouldn't work as well cinematically. (They do have one tiny scene at the very end where Sue is testifying at some sort of hearing, and it does sound like they shot some other scenes like that, judging by this insanely detailed petition for an extended cut that scrutinizes post test-screening changes like it's the fuckin JFK assassination.)
I tried listening to a horror podcast comparing DePalma's CARRIE to Peirce's. They kept disgustedly mentioning that this movie had Youtube in it. I had to turn it off after one of the hosts complained that they were trying to make this appeal to teens. It's a funny thing about horror fans: we get hooked when we're young, watching movies designed to appeal to us. Then as soon as we get a little older we kneejerk-reject new movies we think might be aimed at that age group, similar to the way kids turn 10 or 11 and decide that cartoons are for babies. Yeah, we love HALLOWEEN, ELM STREET, maybe SCREAM and other movies about high schoolers, but that was different. When they do it now it's just some teen bullshit. God damn teens!
Well, this is a movie about high school, and the heightened emotions you feel at that age, and in some sense I feel like I've outgrown the story. So it makes perfect sense to me that they slightly alter it to reflect the lives of 2013 kids. Of course they have Youtube. Of course they have phones. It doesn't seem like gimmicky tech exploitation, something that will seem dated soon. It's organic. When Chris records the infamous "plug it up" period-in-the-locker-room-shower and then posts it online it seems believable and echoes real life bullying cases that have ended in (admittedly non-psychic) tragedy. Text messaging between the characters is realistic and casual, and subtly separates the modern, normal kids from the archaic lifestyle Carrie's mom forces on her. Playing the footage of the shower incident on screens at the prom compounds the embarrassment and underlines that the bucket of blood is a reference to her menstruation humiliation. A cruel reminder that although she's moved on from that day these pricks have not.
Well, now they'll always remember Carrie for something else besides having her period.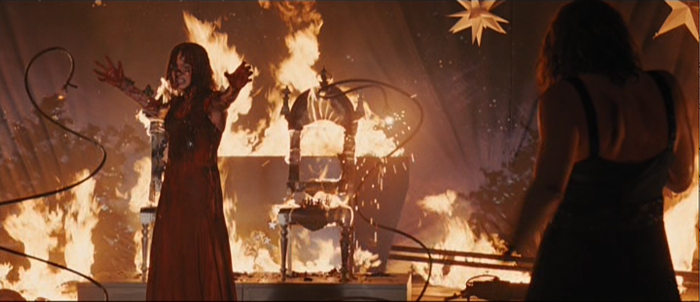 Unsurprisingly, Peirce also takes advantage of modern technology in the making of the movie. The attack on the prom is more detailed, with sparking cables dancing around like snakes, people (including Carrie) being lifted off the ground, dancers and objects being blown away by a tidal wave of telekinetic energy, and when she wrecks the town and blows up a gas station and stuff it's much better FX than in the tv movie. The actual bucket dump might just be a real bucket dump, I'm not sure, but they re-show it from three angles like a Jackie Chan stunt. Then there's a cool effect where blood is flying up off of her as she stalks the stage, scaring the shit out of everybody.
Actually the most impressive bit looks like a real stunt. One of these girls drags her pretty dress in fire, then spins around in slow motion, a flaming pirouette.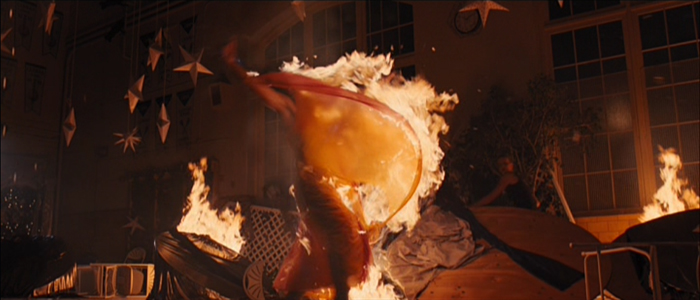 But Peirce saves the best death for Chris. Remember, in DePalma's take Carrie causes Chris and Billy's car to flip. In this one she stands in the road and stops the car HELLBOY style, and Billy graphically bangs his head on the steering wheel. But Chris survives the initial car crash, so Carrie makes her seatbelt come up and start strangling her. Then she decides no, I should kill her by having her not wear a seatbelt. So she picks up and drops the car and this happens: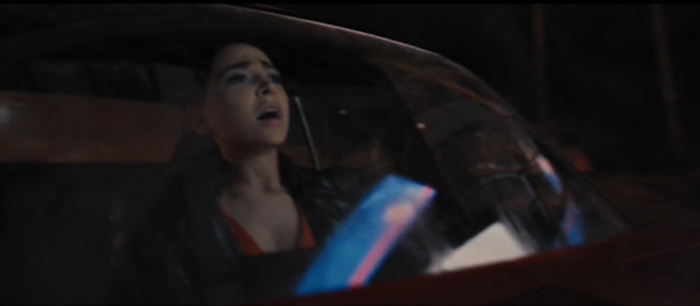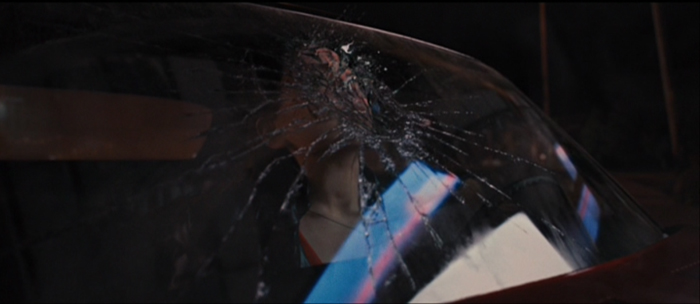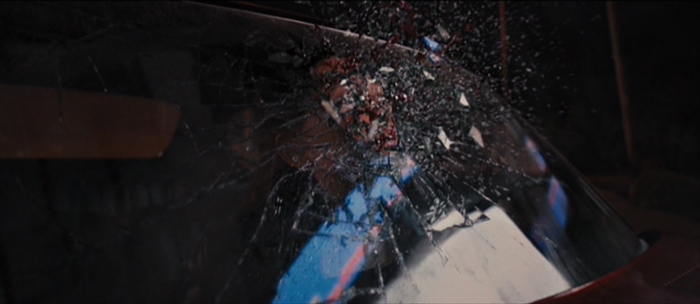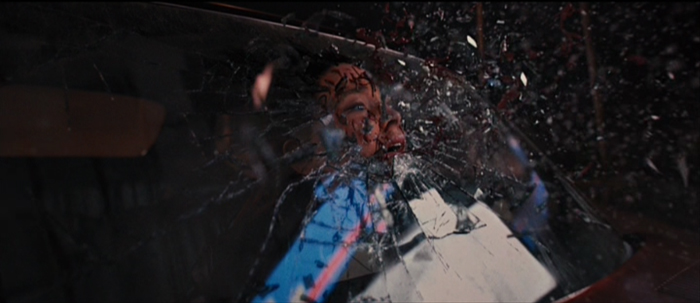 I mean, you gotta respect that. That's in the movie. I can't write off a movie that has an effects shot that nasty in it.
I gotta give it up to Doubleday, who really earns that death for Chris. She makes her really despicable; bitter, hateful and delusionally convinced that she is the wronged party here. As in the book there seems to be something kinky and fucked up in her relationship with Billy, who is suspiciously good at killing a pig in one swing and suspiciously ready to leave town for good the second the school catches on fire. I don't know if he even gets his go-bag. This super-villainous vibe makes the bullying less universally relatable than it could be, but it works for the story.
Of course, Margaret White is the more iconic villain of the story. I can't quite say Moore's version of her is sympathetic, because she's so crazy and judgmental, but she's a tragic figure. That it opens with her in terror about giving birth (which the TV movie also did, but here it's longer and more graphic) makes you feel sorry for her. She's also a cutter, and will repeatedly bang her head against the wall when she's upset at Carrie.
Carrie does care about her. Maybe it's Stockholm Syndrome, or low self esteem. But it's pretty sad when she's carry/floating her mother's corpse, crying about wanting her back, this woman who has treated her so horribly, who literally believed she was a witch and who she killed only in self defense.
Even before that there's a nice mother-daughter moment in the scene where Tommy comes to pick Carrie up for the prom and she locks her mom in the closet to avoid being embarrassed by her. In this version Margaret is screaming and pounding to get out, so Carrie turns on a radio playing old timey religious songs. It could be to mask the sounds when she opens the door but it also could be meant as an act of kindness to let her mom listen to the songs she likes while she's locked in there. It's not like she turned on Hot 97.
Elgort as Tommy is probly the best casting in the movie. He's a more down-to-earth kind of hunky than William Katt was, but has a really good chemistry with Moretz. You can see how he could charm her into trusting him. He seems like a cool guy.
Later, when the shit (well, pig's blood) goes down, this Tommy angrily yells, "What the hell!?" But then the story demands he stand there uncomfortably long before the bucket falls and hits him on the head. After seeing all these takes on it it starts to bother me that he doesn't do anything. The character that we've come to know would be more protective of Carrie, and go after whoever did this like he did the asshole teacher who made fun of her in class. But he hesitates too long. Only the DePalma version, with all its slow motion, makes sense out of it. We see it slow, but it happens too fast.
By the way, the book is the only version where Carrie explicitly killed Tommy. Here it was definitely the bucket. If you think about it it's really a major change, because if she kills Tommy that means she believes Sue and Tommy, the people who really were trying to be nice to her, were just setting her up for this humiliation, and that's why she lashes out at everybody. In this version she's getting revenge in part because their prank killed Tommy. She knows he was sincere. It takes some of the messiness out of the situation, part of what makes it uncomfortable, but because we like Tommy it works, it's still a tragic death. Also, she still blames Sue for what happens, because "Why couldn't you leave me alone?" and "Look what you turned me into!"
There's alot I find interesting about this remake, but there's a major thing that sinks it. Moretz gives it a shot, and I think she's best in the scenes at home with her mother, where she's quiet and timid and managing to never seem like she's imitating Spacek's interpretation at all. (Maybe she's too young to be very familiar with it.) But in my opinion she is miscast. Try as she might to hide it, Moretz has the aura of a girl who has been the center of attention for her entire life, and is just not believable as a shy kid who doesn't fit in at school. Of course, bullying doesn't always have the same reasoning, and a traditionally good looking or outgoing kid can be hated by somebody just the same as a weirdo. Maybe they could've found a way to interpret it so that Chris just has an irrational mean girl hatred of Carrie not based on looks and socializing, with more of her secondary motives of not wanting to admit her own wrongdoing and claiming to feel judged by Carrie's religion. But this movie wants Carrie to be a socially awkward outcast, and the story requires a makeover. So they rat up Moretz's hair, give her frumpy sweaters and have her hunch over and bug her eyes out, and to me it's hard to forget that it's an actor playing dressup.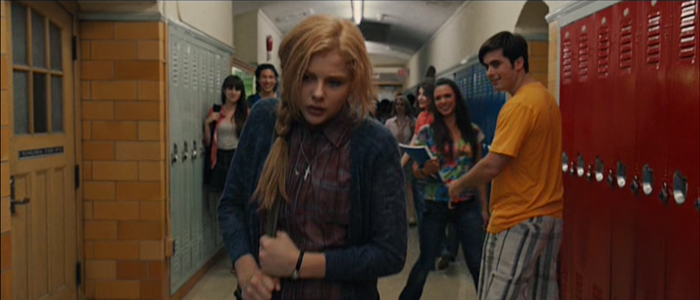 Moretz says on the making-of featurette that she's been bullied before, but Peirce later mentions that it was for being famous and successful. Not to disregard her experience, but obviously that's pretty different from what Carrie goes through. And that's okay too, she is an actor, but in my opinion she wasn't able to completely pull this one off.
By the way, the Carrie of the book is described as being a little chubby, and in all the versions the asshole kids compare her to the pig that they're killing. Maybe if they ever remake this again they should get a Carrie with a little meat on her bones.
I also don't really buy the transformation into killer Carrie. Instead of being in a spooky trance like Spacek, Moretz waves her arms around like a dancer or a conductor, somewhat gleeful about what she's doing. It's a pretty big leap for the character and not a very sympathetic one.
The book ends with a scene about a little girl, entirely unrelated to Carrie, who exhibits telekinetic powers. In King's world this is a rare occurrence but not a freak one, it will keep happening, and continue to be a potential danger in a world where people can't be trusted not to be a bunch of fucking assholes to each other. Peirce's film has kind of a cyclical spin on the story that's more hopeful. She opens with the horrific scene of Carrie's birth. Margaret is screaming for help from God, and much like Carrie with her first period she seems to think she's dying, ignorant of what's happening to her body. Then she almost stabs Carrie with a pair of scissors, but stops herself. As a newborn Carrie couldn't have seen or known what's happening, but it's still a fucked up way to be welcomed into the world.
Much later there's a scene where Sue suddenly gets sick, implying that she's pregnant. Carrie later confirms this, telling her that it's a girl and sparing her life because of it. We don't hear anything more about it, but the implication of course is that Sue, like Margaret White, will have to raise a girl by herself. But I have faith that Sue will do a better job.
* * *
I've enjoyed comparing these different takes on the story, because it's good enough and simple enough to hold up through multiple interpretations. The basic rituals of teenagerdom have stayed about the same, while the culture continues to change so that updates can add new, contemporary trappings. The only problem is that the first adaptation is so good, so filmatistically potent, and so iconic in our culture that it seems unlikely or impossible that anyone will ever make another version that can step out from under its shadow. Or at least it hasn't been done yet.
After going through the story in four(ish) incarnations I think the aspect that seems a little dated is the makeover. Miss Desjarden shows Carrie that she's pretty. Comb your hair and put on makeup, you'll be one of them. But what if she didn't clean up well? Or what if she was gay or didn't fit in for some other reason that can't be covered up with makeup? Then she wouldn't even get that one nice night before dying. But I guess maybe that's part of the point. Miss Desjarden is being nice, but she's putting the emphasis on the fairy tale. Dressing up and participating in the fantasy instead of being happy with who you are despite what those assholes think. In a way, Carrie going to the prom is just George telling Lennie about the rabbits. It keeps her happy and distracted before it all ends. Sue is the popular girl. She wants to help, but she only knows to do it through the medium of the popular girls, the school dance. And that's not gonna work. She would've had to go outside the system.
But I don't know, it always feels to me like we're supposed to believe in the institution of the nerd-to-babe makeover, even if it doesn't work this time. I don't think it's a denunciation.
Another thing that started to strike me: crazy fuckin Margaret White is actually right about most things (other than Bible quotes). They all are going to laugh at Carrie. She is being tricked. She should stay home and pray and burn her dress rather than go where she's gonna end up killing hundreds of people. In fact, if Margaret had "not suffered a witch to live" any of the various times she contemplated killing her daughter, she would've saved scores of lives including her own. She would've been a hero. That kind of messes me up to think about that. I don't want to be on her side.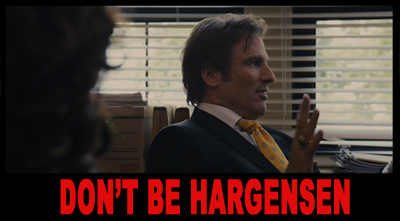 I'm not sure if this story has a coherent moral, or if it needs to. Obviously don't be like Chris and the other mean bully kids. If you do you'll get punished. (By the way, are there kids now who would be willing to butcher a pig and save its blood for a prank? I think that would be considered even more extreme now, not just for cruelty but for amount of effort and planning.)
It's designed so we identify most with Carrie, and she doesn't do anything wrong… but then she kills everybody and then kills her mom and then dies. So we don't want to be like Carrie. It seems like we should be like Sue and Tommy and Miss Desjarden, the nice people who try to help someone who's being picked on. Particularly Sue, who recognizes her own bad behavior and goes out of her way to make amends for it. That is a quality we should respect. But these characters are punished just as much as anybody. There is no way to navigate this situation and expect a positive outcome. If you're in high school, you're fucked.
King, who was still in his twenties when he wrote the book, was able to really capture those raw teenage feelings of not knowing how to fit in, of dealing with mean kids or with your parents who don't want you to do what you want to do, and of every bit of drama being the end of the world.
Because of that there's one subtle addition to Peirce's version that I think is pretty powerful. In the book and all adaptations there's some trepidation as they arrive at the prom. "All of them turned to look at Tommy and Carrie when they came in, and for a moment there was a stiff, awkward silence." In all versions Tommy runs into a friend and they play fight and/or high five each other, and the friend's date says some variation on King's line, "If they kill each other, I'll dance with you."
(The book is the only version where Carrie makes a joke back, and is thrilled to get a smile out of it. Movie Carries don't know how to joke.)
Then they talk about dresses and Carrie surprises them by saying she made hers. She says it kind of embarrassed, it's a sign of poverty, but to her surprise it seems to impress everybody. In this version Tommy's "best buddy George Dawson" (Demetrius Joyette, Degrassi: The Next Generation) and his girlfriend Erica (Mouna Traore, Hemlock Grove) are instantly, genuinely accepting of Carrie, and here's the crucial detail: Erica goes to a different school. She doesn't know anything about "Creepy Carrie" or "plug it up," she's just meeting a girl who must be cool because George's friend likes her and she made her own dress and she seems nice.
With this scene, Peirce's version is saying that whatever these kids have against you growing up, going to school together, teaming up against you, there's a whole world of people out there who don't know any of that shit, who will meet you for the first time and see you for who you are now. The "it gets better" message. One we wish Carrie could've had more time to learn about.
CARRIE is a story that lends itself to retellings for new generations. If they keep making 'em I'll keep watching 'em for the little touches like this. And who knows, maybe some day they can find somebody else to do it with a knockout combination of filmatistic chops and finger-on-the-pulseness like DePalma had.
It could happen. Maybe. I don't know.