Let's say you are a feedback and distortion fetishist. Fuzz and blips, pixelation, video lines, VHS rolling from bad tracking – these things get you hard. That's fine. We are all beautiful snowflakes. What you do in that case is you make a video of all that stuff, you hide it under your bed, you get it out when you're lonely. What you don't do unless you have no self control is make a feature film needlessly slathered in that shit and release it in theaters and on home video to paying audiences who want to be told a story and not just watch little flickers and shit.
More to the point, let's say you are also a wiseass camera operator who enjoys running through explosions in a firesuit or rollerblading around holding a camcorder, but have not yet developed an interest in some of the other elements of photography such as framing or holding still. Fine! Great! That is your calling, you should rollerblade all you want. It is probly good aerobic exercise. But I have one caveat: if your plan is to incorporate that footage into an actual movie and not just an episode of JACKASS then you have a responsibility to look at the footage first and ask yourself if somebody could watch it and understand what in God's holy name is being shown. And if the directational fraternity duo Nevildine/Taylor were being honest with themselves the answer to that question would usually be "No. No, not at all. Oh jesus, no, are you kidding me? Uh uh." I'm thinking maybe these guys should forget about the cameras and just be stunt men. They seem more interested in carrying the camera through risky situations than actually pointing the lens of it at specific things.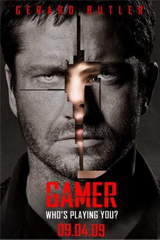 The CRANK movies gave me that impression too, but they took place in a 14 year old boy's cartoon dream world and the hero had to keep his adrenaline up or he'd die, so it seemed like a conscious artistic choice, at least. But now here they are trying a more serious RUNNING MAN/DEATH RACE type sci-fi action story and they're using the same god damn Robin-Williams-riffing-on-a-talk-show visual approach. In other words, no, CRANK was not a conscious choice, they just don't have a clue how to film an actual movie. They got one bag of tricks, and it doesn't close.
Like with CRANK it has a cool enough premise that I want to like it: death row inmates are controlled by videogame nerds in deadly battles, and if Gerard Butler survives one more they'll let him go. Unfortunately they don't do much with the premise. They barely seem to sense the fucked-upness of a kid controlling a murderer for fun. They don't really explore at all what the kid's life is like or even get any mileage out of the idea of some dumb kid having this power over an adult. There's definitely no Verhoeven meat on these bones. These jokers are much more interested in a subplot about a disgustingly obese shut-in controlling Butler's hot wife in another game. They keep coming back to it like they're real proud of this observation that a hot chick on the internet is probly a gross fat dude, but they do nothing with it at all, no insight into why he's doing it or anything. They come up with a concept and that's it, that's the end of their work. No time to take ideas anywhere, gotta rollerblade.
One example is the title. Why is it called GAMER? That's a word that only sounds cool to a gamer, if anyone. In the movie I guess it refers to the kid who controls Gerard Butler as a video game. But why is he significant? Admittedly none of the characters are developed much at all, but clearly the avatar is the focus of this one, not the gamer. There's no significance to the title. They just wanted to call a movie gamer because they're gamers. Lots of movies have dumb titles, but this one is fitting because it represents the low level of thought they give to every aspect of the movie.
Okay, so it's not a smart movie. It's really, really, really not a smart movie. It makes DEATH RACE look like DR. STRANGELOVE. But it would get away with that if it had great action scenes. Or maybe if it had good ones. If not, I would accept acceptable ones. Instead they have inexcusably shitty ones, just a bunch of shaky camcorder looking footage (with added blips) of dudes running around shooting guns behind a warehouse somewhere. There are some sparks. I think a car flips in one part. Possibly explosions. I initially turned the movie off after about 15 or 20 minutes because I couldn't wait for the action scene to be over and then it got into the parts between action scenes and I couldn't decide which one I hated more. It picked up a little when I continued watching the next day, but not enough to recover.
There's a scene in the movie where Butler gets a missile shot at him or something and then the camera feed for the pay-per-view coverage shuts down. And it shows some fan watching the fight and she yells, "What the FUCK just happened?!" And you find yourself saying, "Exactly! Exactly!" Even the characters in the movie agree that the battles are poorly filmed and edited.
Okay, I got a good example here. The end credits listed Zoe Bell. I said what? Zoe Bell was in this? Where? So I found a picture of her from the movie online, and clearly she was one of the other fighters in the game. So I went back and fast forwarded through the movie and I figured out what scene she's in. She's sitting right next to Butler and she introduces herself to him, but it's in a dark room with a strobing light, so she's hard to make out. I swear on Christ's pacifistic nuts that when I watched it the first time I thought it was a voice speaking to him from behind the wall or through a hidden speaker or something. I really didn't know somebody was sitting there talking to him, let alone that it was Zoe Bell. After that she's running next to him in a battle but it's all the handheld shit and you don't see her face clearly. Yes, she's a stuntwoman, but in this one she's supposed to be an actor, you don't try to obscure her face. You're thinking backwards, guys.
N + T Movie Factory also make the rookie mistake – or ROBOCOP 3 mistake – of having a righteous resistance for the hero to team up with. Screen Actor's Guild Award winner* Chris "Ludacris" Bridges has the Ice-T-in-JOHNNY-MNEMONIC role of the prophet who pirates the airwaves to make useless speeches about rebelling. I compare it to ROBOCOP 3 because that was a movie where they took a perfectly good nightmarish dystopia that speaks for itself and then ruined everything by having rebels point out just how bad it is. These ones have the usual futuristic hippie look – in the role of white girl with dreadlocks is Alison Lohman, who was so good in DRAG ME TO HELL. Here here line readings are so stiff I honestly thought she was some non-actor friend of theirs they wanted to give a bit part to.
To be fair, these rebels don't preach as much as the ones in some other crappy sci-fi movies. More than militants or subversives they seem to be a radical exposition cell. They're there to read long sentences of techno-gibberish to explain the sci-fi concepts of the movie. I guess if they weren't in the movie there wouldn't be a villainous master plan, because they're the ones that explain what it is and then it never happens.
The best reviewed role is Michael C. Hall as the annoying billionaire creator of the game, frequent talk show guest and aspiring conqueror of humanity. I guess Hall is supposed to be good because he does a different accent than on his TV show DEXTER. Okay, fine, but his drawl and random dance scene can't really make him into a good villain. He's evil for no reason, doesn't have anything else going on in his life and doesn't even have any funny lines.
Kyra Sedgwick is also in the movie as a talk show host who gets sort of involved and doesn't turn out to be important. I assume the casting agent pointed out to her that Joan Allen was in DEATH RACE.
Like the action scenes, the story has no build and an underwhelming climax. They don't do anything with the concept of him being controlled by a kid. Instead the kid somehow lets him loose, so he becomes an even better fighter. The villain still can control him though so he holds a knife up to him and can't stab. Oh wait, he tried real hard and then it worked! The end. This is an action movie where the climax is the hero and villain standing there and the hero stabs the villain.
If none of that can un-sell you on this movie, I feel it's important to tell you that the opening scene is a montage set to Marilyn Manson's cover of "Sweet Dreams." Then, a little later in the movie, there is an action scene set to the same song! I guess they got the bulk rate on music rights.
So, sorry guys, but I gotta give up on Nevildine slash Taylor. As moviemakers I realize I really hate these motherfuckers. They got a couple ideas but no talent for communicating them and no brains to put anything behind or in front of the ideas. If anything, they should write loose outlines that other writers and directors then flesh out into actual movies. Or they should be an executive producer that comes in and suggests possible gags, like the guy putting out the cigarette inside Jason Statham while he's getting heart surgery in CRANK PART 2. It's nothing personal, I'm sure these guys are cool to hang out with if you like playing video games and giggling about balls for hours on end, but in my opinion they are not ready to tell stories through a series of photographic images.
*2004 Best Ensemble for CRASH
This entry was posted on Wednesday, January 20th, 2010 at 12:05 pm and is filed under
Reviews
,
Science Fiction and Space Shit
. You can follow any responses to this entry through the
RSS 2.0
feed. You can skip to the end and leave a response. Pinging is currently not allowed.